As a digital nomad, you have the freedom to work from anywhere in the world, and that includes Thailand.
With its warm climate, beautiful beaches and vibrant culture, Thailand is a popular destination for online workers seeking a unique and inspiring work environment.
However, like any location, Thailand has its good and bad points, and it's important to be aware of this when you're making a decision on where to be based.
In this article, I'll explore the pros and cons of working online as a digital nomad in the Land of Smiles.
Pros of Being a Digital Nomad in Thailand
1. Affordable Cost of Living
Thailand is known for its low cost of living, which makes it an ideal destination for those looking to save money on living expenses. Accommodation, food, and transportation are all relatively inexpensive, especially outside of the major tourist areas.
Over the years, I've met people doing all sorts of work from their laptops, and the low cost of living really suits those who are in the early stages of setting up an online business.
At the incubation stage, you aren't likely to be earning enough to support yourself full time back home, and you're found in a catch 22 situation because your 9-5 doesn't allow you to invest enough time into running your new business. Thailand gives you the financial breathing space you need to really kick on and start making waves.
Even if you have already have an established online business, income can fluctuate month-to-month. Back home this could mean that some months you struggle to pay the bills. In Thailand, however, your rent is most likely a third of what you would be paying back home. Relieving that financial pressure gives way to greater inspiration and higher productivity.
2. Plenty of Co-Working Spaces
Co-working spaces offer a flexible and collaborative environment that allow you to work productively while enjoying the benefits of social interaction.
These spaces bring together nomads from different fields, creating a network of like-minded individuals who can share knowledge, ideas and contacts. This can lead to new business opportunities, whether it be finding new clients or partnerships.
It can also lead to new friendships and social interactions outside of work-related conversations, helping you maintain a healthier work-life balance.
Co-working spaces offer the best of both worlds, providing the structure and amenities of a traditional office, while also providing the flexibility and social interaction that most digital nomads crave.
There is an abundance of co-working spaces in Thailand, all providing access to high-speed internet. Many also have meeting rooms and other professional amenities that you won't have access to while working remotely.
Most co-working spaces in Thailand offer flexible membership options that allow you to pay only for the time you need, whether it be a few hours a day or a few months. This helps you save money and avoid committing to a long-term lease on an office space.
3. Inspiring Environment
Thailand is home to some of the most beautiful scenery in the world, including golden sandy beaches, lush jungles and breathtaking mountains.
Working from a beachside cafe certainly beats a busy road in London, Paris, or New York. And even if you are based in the concrete jungle that is Bangkok, working online gives you the freedom to take advantage of cheap travel to picturesque locations such as the southern islands.
I find Thailand very inspiring. I don't know what it is, and I've said this to so many people over the years; there's this air of possibility here. I feel way more positive and upbeat here than back home.
I think it's because I still, after all these years, feel like I'm on holiday. It's also the stress-free atmosphere and cheaper cost of living that makes life feel that much better.
4. Cheap Domestic Travel
You can fly from Bangkok to Phuket for as little as $50, or down to Krabi, or up to Chiang Mai. Thailand is blessed with so many locations that will inspire your online creativity, which is perfect for designers and online entrepreneurs.
Trains and buses are even cheaper, and with the luxury of not having to wake up at a specific time to be at an office desk, you can travel overnight and as and when it suits you.
Honestly, I speak from experience. I've been taking my laptop all over the country since 2008, and nothing makes for inspiration quite like a fresh location.
5. Welcoming Culture
Thailand is famous for its friendly and welcoming culture, which makes you feel at home very quickly. Thai people are generally very warm and hospitable and are accustomed to the digital nomad community, particularly in Bangkok and Chiang Mai.
In addition, the country has a thriving nomad community that is supportive of others in the same boat.
It's very easy to live here, and while moving abroad on your own may feel daunting, Thailand's laid back, friendly vibe makes for an easy transition.
6. Great Social Life
Whether you're interested in business-related meet-ups, yoga classes, pool competitions at local pubs, go-go bars, or partying all night at a full moon party – I'm assuming the latter – in terms of a social life, Thailand has something for everyone.
The low cost of living makes socializing more accessible, even if socializing is a simple trip to the cinema or dinner for two and in bed-before 10pm; you can do it often here, which makes for a happier life.
One thing I love about Thailand is the impromptu shows I often see at malls, which range from Traditional Thai dancing to live bands and fashion shows. I'll be shopping with my family, turn a corner and there's a crowd watching a show that no one had to pay for. It's great.
Cons of Being a Digital Nomad in Thailand
Okay, so we have explored the upside, but it's not all roses. So what are the cons?
1. Visa Restrictions
You can't just walk into Thailand and stay for good. In fact, staying in Thailand long-term isn't straight forward, but there are options.
As a digital nomad, your business affairs are likely registered in your home country (clients, taxes and company registration). This means you don't have a work permit attached to a visa that allows you to stay and work in Thailand.
Working online in Thailand is allowed, but only if you are not working with or for Thai businesses, or employing Thai staff or services. Doing any of those things would be considered working in Thailand and you would need a work permit. See more about working online here.
The only way to get a work permit is to be employed by a Thai business or to set up your own, which requires quite a large monetary investment and the employing of Thai staff.
I won't get into all the details here, but you can read more on setting up a Thai business in this post.
Types of Visa
What you can do is get a Tourist Visa, either a single or multiple entry.  A Tourist Visa only allows for stays of up to 60 days, which can be extended for an additional 30 days at an immigration office, so 3 months in all.
At this point, you could then leave Thailand and obtain another Tourist Visa from the Thai embassy of a neighboring country via the online eVisa system.
The Multiple Entry Tourist Visa lasts for 6 months, and allows for a 60-day stay in any given entry. So once 60 days is up, you can leave and then re-enter to activate a further 60 days. You can simply do what we call a border run.
More on Tourist Visas here.
One other option for a long term stay, and one many choose, is to study Thai at a language school on an Education Visa. This could get you a stay of up to 1-year, depending on what the school offers. This can also be renewed if you keep studying.  More on the Education Visa here.
Lastly, if you have the cash, you can consider the Elite Visa, which will give you a hassle-free long-term stay. More details on the Elite Visa here. And, if you're a digital nomad over 50, you can get a 1-year extension of stay based on retirement. See the details here. 
2. Language Barrier
While many Thai people speak English, overall proficiency is low. According to the English Proficiency Index (EPI) published by EF Education First, Thailand ranks 74th out of 100 countries.
English proficiency varies widely depending on factors such as age, education level and location, and in general English proficiency is higher in urban areas and among younger generations who have had more exposure to the language through education and media.
This means there can still be a significant language barrier for those who don't speak Thai. This can make it difficult to navigate everyday tasks, such as ordering food or transportation.
However, you shouldn't let this dissuade you from living in Thailand. Instead it should motivate you to learn the language and integrate with society.
3. Cultural Differences
As a super productive and highly efficient digital nomad, you may find Thailand very laid back and, well, not so efficient. Things get done much slower here, and processes such as banking and immigration administration can feel quite bureaucratic when compared with Western standards.
For some the "Mai bpen rai" approach to life can become increasingly frustrating over time – particularly when it comes to health and safety – yet for others the stress-free approach to life here rubs off a tad and makes for a healthier mind.
There are a number of specific cultural differences you should be aware of such as not pointing at people, taking off your shoes when entering a home, not touching someone's head and not raising your voice – even in debate, but it's nothing to worry about.
In truth, most people adapt well to the culture and enjoy joining in celebrations like Songkran and Loy Krathong. But if you're really stuck in your ways and refuse to accept anything less than high-level efficiency across society as a whole, you will struggle to get to grips with the Thai way of doing things.
I've written about a few interesting cultural customs here.
4. Environmental Challenges
Thailand's tropical climate means it is always hot, and humidity can get very high. In short, if you don't like the heat you'll find yourself staying in doors most of the time.
Air con is everywhere: in malls, restaurants, condos, etc., but as soon as you step outside you will feel the impact, so you need to get used to sweating and feeling hot.
On the flip side, the rainy season can bring intense downpours, storms and even flooding. This can knock out electricity and restrict going outside.
If you choose to live up north, in Chiang Mai, for example, you should be aware of the crop burning season. Crop burning causes dangerous air pollution, and many expats move away from the area at this time of year.
Furthermore, due to a high level of traffic and industry, Bangkok can experience high levels of air pollution, which may impact your health.
——-
Digital Nomad Insurance
Speaking of health, let me just jump in here and remind you that if you are planning on embarking on a digital nomad lifestyle, you will need insurance to cover illness and hospitalization, medical emergencies, flight delays, personal liability, theft and loss of belongings and all those other things we'd rather not think abut.
In the event of an accident, it's so important to be covered. Hospital fees can run up a huge bill, and you won't be able to leave if you can't pay. Insurance provides peace of mind and financial protection during your stay in Thailand
The thing is, run of the mill travel insurance isn't going to be applicable here; because you will be staying long-term and most likely won't have a return flight date (required by most policies).
I use the SafetyWing Nomad Insurance plan, and was even able to have my kids on it. It covers travel and medical across multiple countries, and for visits back home (up to 30 days).
You can get cover at any point in your trip, and end your policy whenever you like. It's super flexible and specifically designed for people like you and me.
+ Read more about Nomad Insurance here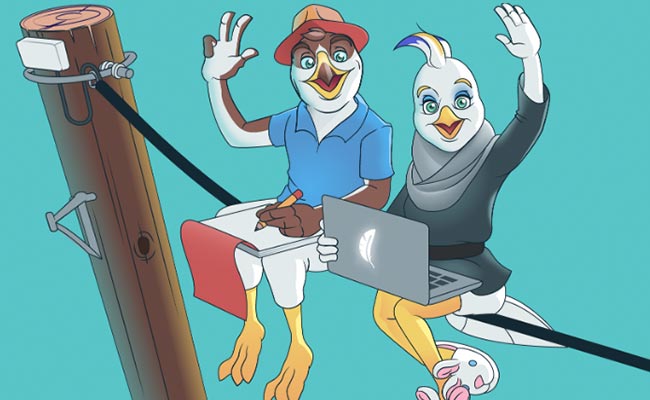 ——
In Summary
While being a digital nomad in Thailand has its challenges, including getting used to the heat and trying to figure out the easiest way to stay long term, the advantages of living and working in this beautiful and welcoming country certainly outweigh the disadvantages.
With its affordable cost of living, friendly people and diverse cultural experiences, it is no wonder Thailand has become a popular destination for digital nomads looking for freedom, adventure and inspiration.