I've been using ThaiPod101 since 2011, and fast-forward to 2016 and its still very much a core tool in my ability to speak this wonderful language. I update this review yearly to reflect newly added features and changes in the format.
You'll notice that I promote this program around my blog as my recommended go-to learn Thai resource, and  the reason for that is that it's simply the best there is. The platform keeps being improved and has everything required to take you from beginner phrases to advanced conversations.
In this review I will give you a comprehensive overview of what to expect from the tools and materials provided with your free account, and those you'll get when you take up a paid subscription.
My Personal Learning Experience
Initially I started using the program to get ahead of my fellow students at Thai school, but with work commitments pulling me away from classes, I ended up leaving school for a while and studying solely with ThaiPod101 in the evenings and on weekends.
When comparing my progress at school with the program, I found I learnt faster with ThaiPod101. The reason for this, I think, is because with the program I could study as and when I wanted, while in the evening school classes I was often too tired to really focus on what the teacher was saying – there's a point in the day when my brain just stops responding well and won't soak up the learning.
That being said, I did go back to school because  I enjoyed the social interaction of the classroom and meeting new people.
I am not really a fan of learning out of textbooks, preferring interactive methods over repeating things to myself, parrot-fashion. I guess this is why I struggled to do my homework outside of class, yet excelled inside the class during group-learning exercises. When something is fun you naturally get into it more.
ThaiPod101 is exactly that; fun and interactive. The program avoids the repetitive school-like learning process by providing you with a diverse range of interactive materials and tools, including an awesome app, which I'll get onto in a moment.
New lessons are released every week, which keeps you motivated to get past your current level and learn new stuff. There's also the huge database of existing learning resources to take advantage of, such as the MyWords app, which focuses on learning 10 new words a day, and Gengo Flashcards, which use images to help you learn new words.
This interactive mobile-friendly stuff is great because I have a Tablet and a Smartphone, which means I can learn on the go; on the BTS, on planes, in hotels, in bed on a Sunday morning…you get the picture.
How the Lessons/Levels Work
Lessons are grouped into five levels: Introduction, Absolute Beginner, Beginner, Intermediate, and Advanced.
Under these five levels, the lessons are further grouped into series, with more specific levels. Under each series are different seasons, which are lessons grouped into sets of 25.
At the end of each lesson, you'll be given an oral quiz to improve your speaking ability and a chance to see how you are progressing. Of course you can go back and re-study any of the lessons and use the learning tools at any time you wish. I often find myself listening to some old basic phrases, just to rejig my memory on words I've neglected using.
This to me is the most useful thing about having a program like this, and the biggest advantage over a school. Because it's so handy to be able to revisit the basic foundations of a language from time to time.
The first 200 odd Thai words you learn will fast become your grounding, and from there you will begin to piece together sentences and start small conversations. It's a great feeling to talk to people in Thai, and really opens up a new Thailand that others who don't speak Thai don't get to experience.
The Thaipod101 Learning Resources
Depending on your level of membership, there is a huge range of learning materials available for use:
Video and Audio lessons with full transcript notes
Flashcards
Word/grammar bank
Interactive lesson quizzes
English – Thai dictionary
Pronunciation & accent review (interactive voice recorder)
Professional assessment (Premium)
Personalised self-study plan
1-on-1 instruction (Premium)
NEW FOR 2014: Thaipod101 App for Android & iOs (free on all plans)
**Remember that a basic account is free, so you can take advantage of the basic resources immediately.
The Brand New App
In 2014, parent company Innovative Languages released an app for each language they cover. In my mind I thought the Thai one might be neglected a tad because it isn't as popular as say Spanish or Japanese, but boy was I wrong. The app is absolutely awesome!
Here's a few screenshots I grabbed from my phone for you. I have the Premium edition, so you may not see all these settings on basic, but regardless there is loads to learn:
Nice easy home screen helps you navigate to the tools you need.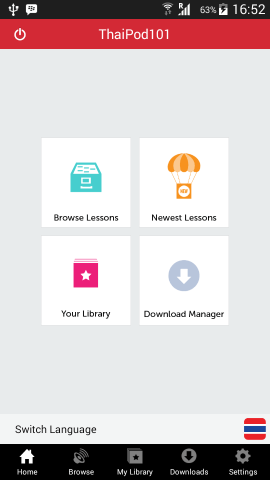 On the settings page you can upgrade, downgrade, sign out and request support.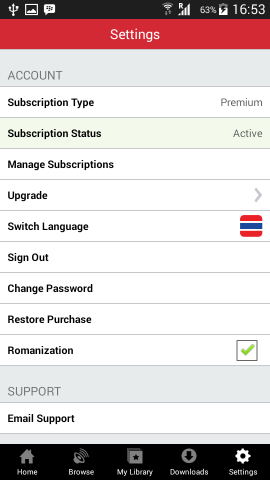 For each audio lesson you'll see these options. Notice that you even get PDF lesson notes that you can download.
Here you can dive straight into useful phrases.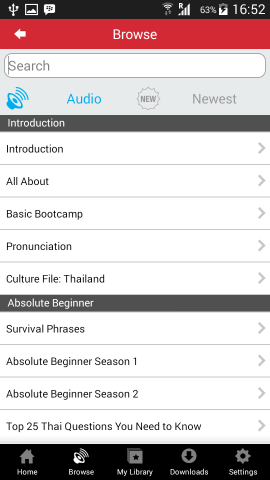 On this page you listen to the audio and are given the Thai and English scripts.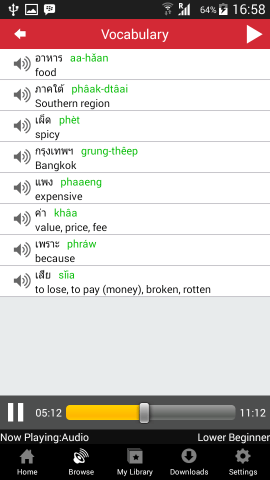 Expansion digs down into the audio conversation you are listening to and gives an in-depth learning experience.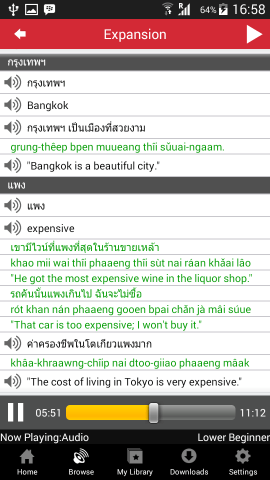 Line-by-line audio learning lets you swap between the Thai, the romanization and the English alphabet. Just keep clicking play to go back over and try again.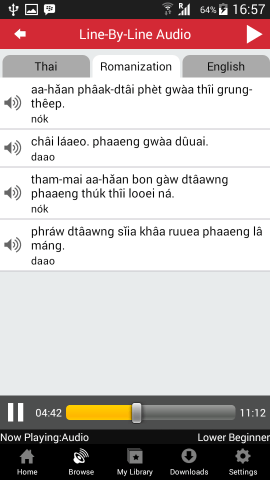 Intermediate steps things up with deeper conversations. At this level you will really be able to start picking out the everyday conversations others around you are having.
Again, digging deeper into conversations where you will learn to express opinions and understand them.
Thaipod101 Membership Levels
As mentioned previously there's a FREE membership option that gives you access to some basic language and cultural learning lessons. Outside of that there's Basic, Premium, and Premium+.
For the first year I had Premium+ membership, which costs $23 a month. In pounds this works out at like 15 quid a month, which gave me the personalised curriculum, 1-0n-1 instruction when I want it and professional assessment.
I've since downgraded to Premium for $10 a month, purely because my Thai is getting pretty good and I'm at a stage where I learn mostly through daily conversation with my wife and friends. However, I am loving the new Thaipod app and still use a lot the tools for refresher study.
If you don't have the budget to  go Premium+, then Premium is good enough if you are just starting out. If you are on a real shoe string budget but still want to crack on with learning Thai then grab the basic membership at $4 a month; it's still awesome value.  It's also worth noting that there's a money back guarantee with your purchase and you can cancel your subscription at any time.
Whatever plan you choose, consider this:  I was paying around $1,200 per year for my Thai school lessons. My Thaipod membership is less than a quarter of that!
And I can learn at my own pace, using a variety of multimedia, from my phone, iPad or computer. Believe me, being a tight-fisted Englishman (hehe) I've done the math. Even if I get a study visa for a language school in BKK for 24,000 Baht (per year), I still save over $600 learning from home with this program. Of course, if you have the money, you can still go to school, but in my experience, the confines of those school walls can really hold you back.
Learn on the go and get out into the real world to speak with locals.
All the guys and gals in my class would say the same thing: "I'm intermediate level and Thais still don't understand me!"
Why?  Because many of the school curriculums are outdated. It's rote learning, with not enough emphasis on colloquial (everyday) Thai. I'll never forget coming home and trying to ask my girlfriend (now wife) whether she'd seen a rainbow before. She almost wet herself laughing! "Why don't they teach you something useful", she said.
Don't get me wrong, I met some cool people at school and I loved the teachers (blush), but it's a fairly rigid way of learning Thai. School is good for study-discipline and banging those words you keep forgetting into your head, but a program like Thaipod101 makes the learning process diverse, fun, flexible and personalised; oh, and cheaper!
Do both if you can, but if I had to do one I'd choose to learn in my own time, my way, at my own pace. Either way, however you learn, get out there and start speaking Thai with Thai people – that's the fastest way to advance.
In Summary
ThaiPod101.com makes learning Thai fun and easy to fit in around your lifestyle, meaning you don't have to commit to classroom times or schedule one-on-one lessons with a teacher.
It 's very affordable, and the amount of existing and newly added content available keeps things interesting and progressive. The creators think outside the box, giving you useful colloquial Thai not often found in school textbooks, and with the introduction of the Thaipod app, the program is streets ahead of any other learning resource on the market.
Thaipod101 has been a major contributor to achieving my current conversational Thai ability. Whether you're an absolute beginner, or you've been learning adhoc from phrasebooks and/or your Thai partner,  you'll enjoy making rapid progress with this program. Click here to visit the ThaiPod101 website.