Traveling is an incredibly rewarding experience, and while we're in the full flow of excitement the mundane world of insurance seems incredibly dull.
But trust me, whether you are a backpacker or a flash traveler,  it's worth your while doing a little research when it comes to finding the right travel insurance, and that's what I'm going to help you with today.
The temptation is to just go with the cheapest quote and hope for the best. After all, the odds of something bad happening are pretty slim. But why risk your health and bank balance during the trip of a life time.
You want to travel with peace of mind, knowing that if the worst does happen, you and your belongings will be safe under the cover of a solid insurance policy.
Aside from the obvious medical cover, I like to have my laptop with me at all times, while you might have an expensive camera to document your travels. Even what we might consider travel basics like good hiking gear could be cause for an untimely end to an adventure if it gets stolen or damaged.
Another point is that most standard travel insurance companies are geared more towards holiday makers with a set return date. But most travelers to South East Asia and beyond are adventurers looking for more than two weeks on one beach.
This set return date can cause an issue, because not having a return flight date invalidates most policies — as I discuss in this post here.
And what if you want to extend your travels at a moment's notice. I mean, you might decide to spend a month in Cambodia after Thailand.
So with all this in mind, you need a travel insurance company to meet these potential needs. And having been there, done it and bought the t-shirt, so to speak, I know the best two firms for the job…
My Travel Insurance Recommendations
I'm going to walk you through some of the more common oversights I've come across when searching out insurance, while showing you two company recommendations, both of which cater for backpackers and standard travelers, and both of which I have used before.
Note that the quotes below are in British Pounds because that's my home country, but I have done some $ conversions for you in my comments. Both companies offer insurance for US, Canadian, Australian and many other citizens of the world too.
Option 1: True Traveller:
First up is True Traveller. The screen shot below is based on a quote for visiting Thailand for 3 months, between July 1st – October 1st.
The company does a great job of keeping the process of looking for insurance simple, and for any advance queries you might have there's a live chat box to speak to someone.
As you can see, there are options for trip delay coverage, the option to extend the cover if I decide to keep moving and clear details on repatriation expenses if something drastic happens.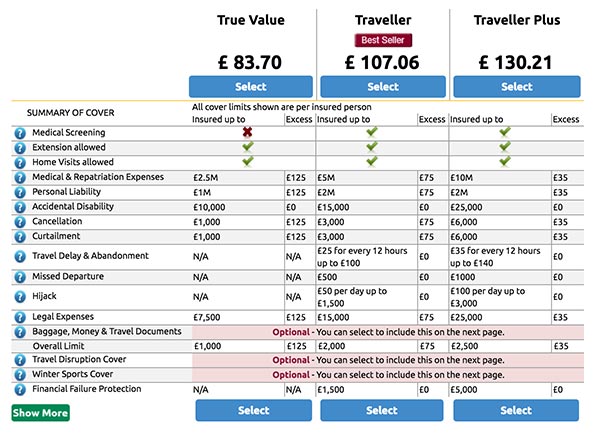 Of course,  you'll no doubt be immediately drawn to the reasonable pricing tiers.£130 for 3 months ($180) of cover works out to less than £1.40 ($1.96) per day.
Here's a sample quote from their Trustpilot reviews:
I was unfortunately hospitalised in Nepal with an undiagnosed tropical disease and TT paid out for everything I required at the time including hospital costs as an inpatient for eight days and hospital fees as an outpatient for three weeks after, enabling me to continue my trip.
That's actually something I hadn't considered. This chap came down with an unidentified tropical disease, and True Traveller fixed it so he could continue his trip. There has to be nothing more galling than having to pull out of a great adventure, so that really is above and beyond great customer service.
Option 2: World Nomads
An alternative for those seeking a tad more customization to the insurance policy comes from World Nomads. The quote seen below is based on the same trip as before, 3 months in Thailand.
Now, the first thing to notice is that it is slightly more expensive than True Traveller, though not by much at all. The basic package comes in at £141 ($197), that's £1.51 per day, or $2.12 for my American friends.
Consider that you get extras thrown in which are only optional on True Traveller, like the loss of passport cover.
On the Total Explorer package (an extra £30, or $42), you get Natural Disaster coverage (earthquakes, tornados, etc), Missed Departure (can happen after a Full Moon party), and 10k for Political Unrest and Disaster cover — this is a wise choice in Thailand; there have been 19 political coups d'état since 1932.
In addition to some sweet extras, where World Nomads comes into their own is the flexible tiered pricing for adventure sports.
Personally, I do like a kick about with a football, and in the past I have done white water rafting in Laos. So I need to make sure I'm covered if I pull one too silky skills showing the locals how to play ball, or hid a rock riding the rapids afoot a rural waterfall.
With WN you can specify the level of cover you are likely to require. Think carefully though as there's no need taking full insurance if you're not going to use it, after all. If you are just flying out for a few weeks in Samui or Pattaya, then the standard package will probably do you nicely, and for that duration will be super affordable.
Lastly, World Nomads also has an option to donate to local charitable causes with your cover, which in my book is a pretty cool thing to do.
How to Make a Claim
So, the worst has happened and you've fallen off a mountain. Luckily, you will be insured. But what you do?
Here's what a World Nomads customer had to say after making a claim on a similar event:
I fell off a roof in Argentina and shattered my arm. Waking up in a local hospital after an operation was terrifying and World Nomads immediate help saved my arm, perhaps my life and got me home. I can't imagine navigating that experience without World Nomads.
On the insurance documents there's a number for a 24 hour emergency service, which you should ring as soon as possible if admitted to hospital. If you're unlucky enough to not be able to call yourself, the hospital who admit you can do this, or a friend, if you have one.
Now, what must be made clear is that you do not pay the hospital directly for a major incident like this. You will be liable for the excess on your insurance, but the business end of things is covered by the company, not you.
For more ordinary cases — think a bad cold or bout of food poisoning, or material stuff like repairs to your camera or adventure gear, it really is as simple as keeping hold of your receipts and reporting the issue to the company reasonably quickly. You will send off these receipts (usually when home) and they will reimburse you.
Insurance in a Nutshell
The cold hard truth is that you need to get solid insurance that covers all eventualities. We've all read about the many foreigners without travel insurance who've had accidents in Thailand (usually on a motorbike). They get stuck in government hospital, wrack up a massive bill that they can't pay and have to start a fund raising page to get home. Don't be that fool!
Let me know about your experiences with these insurance companies on your adventures in the comments below.