Traveling is an incredibly rewarding experience that changes your perspective on the world, on life, and on yourself.
It's exciting and, once you've booked, all that's on your mind is taking off starting your adventure.
But while traveling is a largely positive experience, things can go wrong.
You're stepping into the world of the unknown, and with that comes an element of danger.
Whether you break your arm trekking, or have your camera stolen while enjoying a drink with friends in a bar, you need to protect yourself with reliable travel insurance.
I've travelled for over 14 years now, throughout SE Asia and all over Thailand.
I've seen everything from motorbike accidents in Chiang Mai to baggage lost in Luang Prabang and travelers cheques stolen in Vietnam.
Along the way I've met numerous travelers whose plans were ruined because they didn't have adequate insurance, and I don't want that to be you.
To help protect your travel plans, I'm going to tell you what you need to look for in a travel insurance plan, including some little-known information that could invalidate your policy.
I'll walk you through genuine policy quotes from my recommended companies, and provide options for cover for over 70s, too.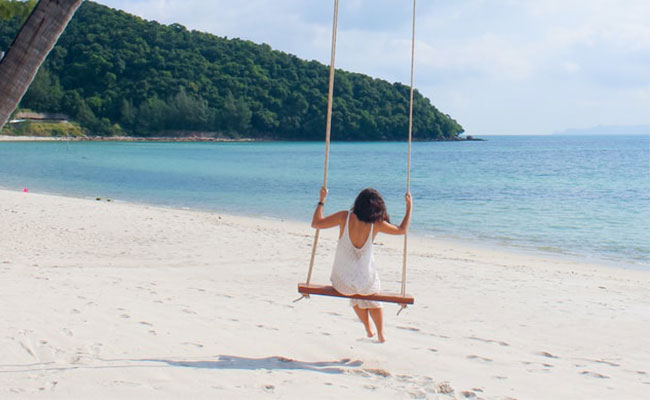 Travel Insurance: Key Policy Considerations
The temptation is to just go with the cheapest quote and think, "That'll do"!
After all, the odds of something bad happening are pretty slim. But why risk your health and belongings during the trip of a lifetime?
Peace of mind is everything when it comes to travel. These moments will be moments to remember, for the rest of your life.
I'll cover these policy points below as part of a review of each company, but as a quick top-level overview, consider the following:
Personal Accident Cover: Sufficient medical cover is of course necessary, but also consider personal accident cover. This will compensate you if you're temporarily or permanently disabled, and on some policies will cover loss of income.
Expensive Items Cover: I always travel with an expensive MacBook. You, on the other hand, might have an expensive camera to document your travels. Make sure these items are covered under the policy, as some cover has a ceiling for expensive belongings.
Adventure Sports: Will you be partaking in any risky sporting activities like mountain climbing or deep sea diving? You might need extra cover for these activities as they fall outside of the category of general activities.
Return Date: Another key policy point to look out for is whether or not the insurance company requires a return date when taking out the policy.
The Return Flight Date Rule
Not having a return flight date invalidates most policies and is something commonly overlooked.
This is because the majority of insurance companies create policies aimed at short-term holiday-makers with a set return date. Moreover, those entering Thailand without a visa (on a 30-day exemption stamp) require a return flight date, anyway.
The thing is, you might not want to book a return date, as most travelers to South East Asia and beyond are adventurers looking for more than two weeks on one beach.
In addition, perhaps you have a return date in mind but might want to extend your trip and take out another policy while traveling.
Again, the problem is that the majority of companies do not insure people who are already traveling.
So with all this in mind, you need a travel insurance company that understands the flexible needs of backpackers and long-stay travelers.
And having been there, done it and bought the t-shirt, so to speak, I know the two best companies to use to ensure you are covered, even without a return flight date.
My Thailand Travel Insurance Recommendations
I'm going to walk you through my two top recommendations, both of which cater for backpackers, long-stayers and standard holiday tourist travel. I have personally used both companies over the years.
The example quotes are based on the following criteria:
Home country: UK
Travel duration: 3 months
Cover: Worldwide (excl. US & Canada)
Age: 39
Obviously your criteria will be different, but this will give you a good idea of the type of quote and level of cover to expect.
Option 1: SafetyWing
My first recommendation is SafetyWing.
I started using this insurance company a couple of years back because of its policy flexibility, transparency and ease of use. It's super easy to take out a policy and really easy to understand what's covered.
Headquartered in San Francisco, California, SafetyWing is a travel medical insurance company. It provides coverage for travelers, expats, and digital nomads for unexpected medical emergencies, trip cancellations, and other travel-related issues in more than 190 countries worldwide.
SafetyWing also provides assistance services, such as help with finding a doctor or hospital and arranging for medical transportation.
The company offers a range of insurance plans that can be customized to your needs, including coverage for preexisting medical conditions and adventure sports.
Pricing
When you head on over for a quote you'll see that the standard quote is for 4 week's travel, but this can be amended to cover any length of trip. The good news is that it is highly affordable for 1-3 month trips, which tends to be the duration bracket my readers fall into.
The cost of SafetyWing travel insurance depends on a number of factors, including the destination you are traveling to, the length of your trip, your age, and the type of coverage you need.
Of course, for this article I'll look at a quote for coverage in Thailand.
As you can see below, the quote is $135 (USD), for a 3 month (90-day) trip. That's £111 at the current USD-GBP exchange rate.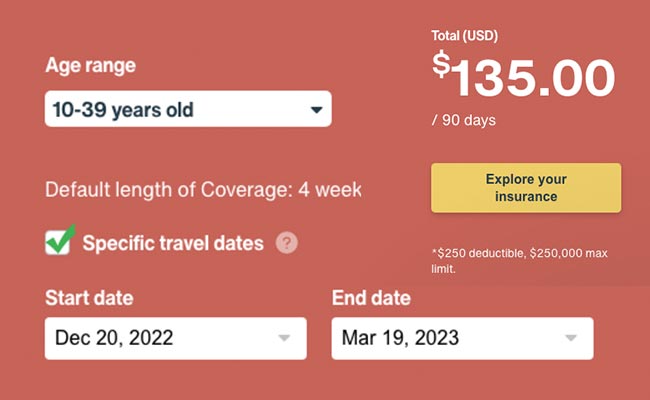 This policy has a standard $250 excess, which means you pay the first $250 of the claim. That's approximately £200.
What Does SafetyWing Cover?
The policy is comprehensive and generous in its coverage, giving you peace of mind on a range of potential outcomes. Here's the important stuff:
Medical expenses: Coverage for medical treatment and hospitalization due to injury or illness while traveling. Max limit up to $250,000.
Emergency evacuation: Coverage for transportation to a medical facility or to return home in the event of a medical emergency. Up to $100,000, or up to $25,000 for a pre-existing illness or condition.
Emergency dental treatment: up to $1,000 for the onset of acute pain, as long as you seek treatment within 24 hours.
Physical therapy or chiropractor: up to $50 per day.
Unexpected quarantine due to Covid-19: Up to $3,000 per certificate, and $6000 lifetime limit.
Trip interruption: Coverage for expenses related to interrupting or canceling a trip due to unforeseen circumstances, such as illness or a natural disaster. Up to $5,000.
Trip delay: Coverage for expenses related to delays caused by unforeseen circumstances, such as missed connections or severe weather.
Baggage loss: Coverage for the loss, damage, or theft of luggage and personal belongings while traveling.
Accidental death and dismemberment: Coverage for accidental death up to $25,000 paid to a beneficiary.
Personal liability: Up to $25,000 for third person injury or liability.
Robbery and abduction: Lifetime up to $10,000 and $1,000 cover per personal belonging.
[Important] Motorbike Accident Cover
The likelihood is that you will ride a motorbike/moped, or be a passenger on one, in Thailand. Now given the number of accidents we hear about involving foreign nationals, it goes without saying that you must have cover.
As we've seen in recent times, many travelers have come unstuck after an accident because their insurance company has turned around and said you're not covered. True, you should always read the small print, but most people rightly expect this to be covered.
The good news is that SafetyWing does cover motorbike/moped accidents. Here is the exact wording:
In case of an accident, while riding a motorbike, moped, or scooter, you are covered for your own eligible medical expenses as long as you are properly licensed for the area where you are driving and you are wearing proper safety gear such as a helmet. Driving while intoxicated and racing are excluded. Personal liability is excluded for operating any vehicle.
The bottom line is that you must have a license to ride, and that must be accepted in the country you are traveling in. I am from the UK and my license is accepted in Thailand, as most licenses are. But do check!
Making a Claim with SafetyWing
So you had a fall and sprained your wrist. Luckily you are insured, but will the company pay out?
It's all well and good a policy being competitively priced, but what you really want to know is whether the company will cover you in the event of a claim.
SafetyWing has a very good reputation when it comes to claims.
Here's a couple of recent review left by customers who made claims: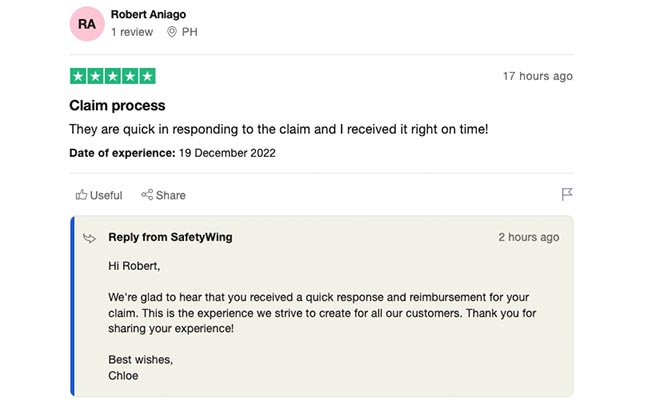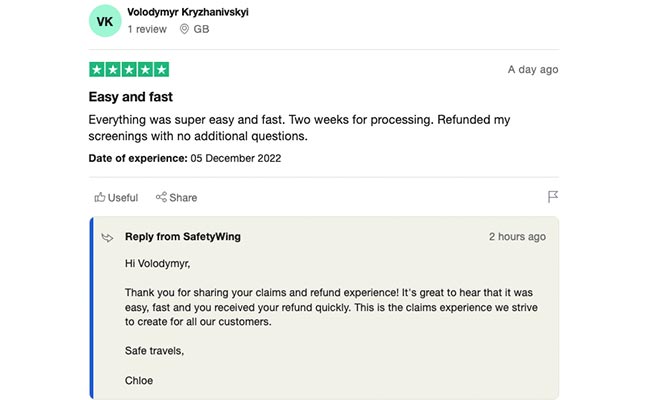 To initiate a claim with SafetyWing, you will typically need to do the following:
Login to your account and being a claim. If you are filing a medical claim, make sure to attach

(a) your medical report (a note from your doctor which include symptoms, diagnosis and treatment),
(b) a detailed invoice outlining what you paid for and (c) proof of payment or receipt.

Wait up to 3 business days for a confirmation email that your claim is in processing. Your claim should take less than 45 days to be processed
If approved, you will receive the reimbursement to your bank account by a wire transfer. If your claim is less than the USD $250 deductible and this is your first claim, your refund will be subtracted from your deductible and there will not be a reimbursement until your total claim amount for the certificate period (max 364 days) is more than $250.
If you have any questions about the claim process or need help initiating a claim with SafetyWing, you can contact the company directly for assistance. It's always a good idea to review the details of your insurance policy before you travel to make sure you understand what is and is not covered, and to familiarize yourself with the procedures for making a claim.
+ Get a quote from SafetyWing here
Recommendation 2: True Traveller
Next up is True Traveller.
True Traveller covers every country in Europe. If you are from the US, Canada, Australia or other, use SafetyWing.
Like SW,  True Traveller has a streamlined offering that is transparent and easy to understand.
The company offers three policy types, with the 'Traveller' option the most popular.
The excess for each policy is 125, 75, 35, respectively. Essentially, the less you pay the higher the excess.
There's a handy feature that simply allows you to turn the excess down to zero and compare the two prices.
Let's start with the excess on:
Now, here's what the prices look like with the excess at zero.
Medical cover on the 'Traveller' and 'Plus' packages is more than adequate, as is personal liability.
You can exclude the baggage cover to make the quote even cheaper. I always keep that in as I think it's an important inclusion for any trip.
There is an additional option for trip delay coverage.
You also have a choice of 3 activity packs to include in your policy.
The 'Traveller Pack', which covers 91 activities, is included as standard, but if you're doing outdoor pursuit courses you might need the 'Adventure Pack'. Or if you're flying an airplane, you'll need the 'Extreme Pack'!
Winter sports is an optional extra too.
Website tip: Hover over the ? sign to see all included activities in a given package.
I'm sure you'll agree that this is great value. £137.57 ($181) on the 'Traveller Plan'.
That works out at £1.52 ($2.00) a day!
Even with the 'Extreme Pack' included, which most people won't need, the 'Traveller Plan' comes in under £168 ($221).
[Important] Motorbike Accident Cover
Like SafetyWing, True Traveller does provide cover for motorbike accidents, but you must adhere to the following:
You must have the correct licence in your Country of Residence to drive a motorcycle or cover is not available. If you are from the UK, you are only covered if you have either a full Motorcycle Licence, or in the absence of that you have taken a Compulsory basic training (CBT) course in the past two years. A helmet must be worn when riding a motorbike.
Making a Claim with True Traveller
The good news is that TT gave a good reputation when it comes to claims and reimbursing customers. Have a look at this testimonial sent to me by a TheThailandLife.com reader (cheers Achim).
To check this wasn't a one-off, I browsed their Trustpilot reviews and found so many other positive stories. One that caught my eye was this:
I was unfortunately hospitalized in Nepal with an undiagnosed tropical disease and TT paid out for everything I required at the time including hospital costs as an inpatient for eight days and hospital fees as an outpatient for three weeks after, enabling me to continue my trip.
This is an eventuality I hadn't considered. This chap came down with an unidentified tropical disease, and True Traveller paid for all the care so he could continue his trip.
There would be nothing more upsetting than having to pull out of a great adventure due to illness, and this story shows True Traveller go above and beyond with their customer service.
+ Click for a True Traveller Quote
Travel Insurance Policies for Over 70s
Option 3: Insure My Trip
Some insurance policies have a maximum age restriction of 70, and most don't take those aged 75 and over.
This is the reason why I get so many emails from seniors saying that they've been hunting around and can't find cover for their age.
Don't worry, though, all is not lost, you can get cover.
In this situation I recommend Insure My Trip.
This is an online broker service that scans all available policies from numerous providers and returns relevant results based on your criteria.
Below are a few quotes I got from Insure My Trip with the following criteria:
Destination: Thailand
Travel Dates: 03/26/22 – 04/09/22 (2 weeks)
Traveler age: 75
Total trip cost: $2,500 (I entered an approximate figure based on a hotel for $125 a night plus a $750 flight).
The system returned 19 quotes in total, ranging in price and level of cover. Anything under $200 at age 75 is an absolute steal in my opinion.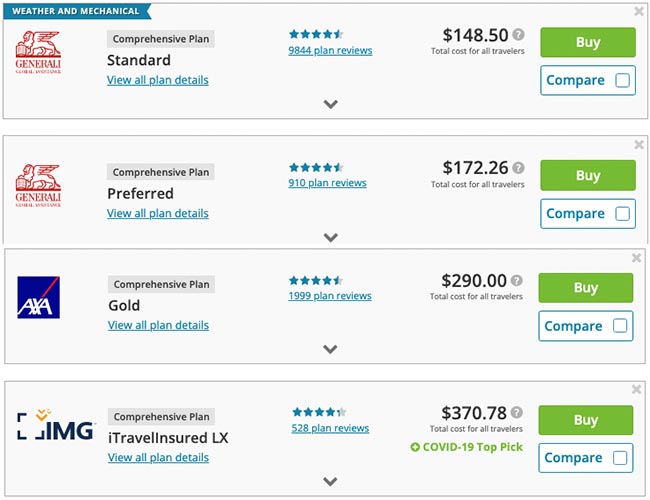 + Click here to get a quote from Insure My Trip.
* Bear in mind that the companies you are quoted from on IMT may require a return flight date for the policy, and may not offer cover if you are already traveling, so you wouldn't be able to extend. However, if you are over 70 then you probably have a fixed flight date, anyway.
Choosing Your Policy
Generally speaking SafetyWing is slightly cheaper than True Traveller, though if you pay that little extra you can get a lower excess. My advice would be to get a quote from both and see how they stack up.
If you are participating in extreme sports then you need to deep dive on the policy terms and see if your particular activity is covered. And don't forget, you will need a license that covers you to ride a motorbike up to 125cc, as this is usually what the smaller rental bikes are in Thailand.
By the way, if you're reading this and panicking because you've already left home and forgotten to get ravel insurance, or because you decided that going home sucked and you've opted to travel for longer, you're in luck.
Both of my recommendations will cover you while you are traveling in Thailand. True Traveller even has an 'Already Traveling?' box to tick on the main quote page.
In Summary
It's important not to overlook travel insurance cover, especially in a country like Thailand.
Saving a dime here or there just isn't worth it, because this policy will protect you in the event of an accident, illness, lost luggage or missed flight.
Save your haggling for the Thai street markets and give yourself peace of mind with a solid policy from a reputable provider.
We've all read the stories of foreigners without travel insurance having terrible accidents in Thailand (usually on a motorbike). They find themselves stuck in a government hospital, wracking up a massive bill that they can't pay, and end up having to start a fund raising page to get home.
Don't let that be you. Policies are very affordable, especially when compared with the entire cost of your trip.
Safe travels.