The express 1-day service is not currently available to foreign nationals, only Thais.
This means that technically it is no longer possible to do this entire process in one day, because you won't be able to go to your embassy, get the translations done, and receive your documents back the same day.
You will have to wait 2 working days to get all your paperwork back.
Please also bear in mind that some district offices (amphur) now have a marriage limit of 8 couples per day, and may require you to make an appointment in advance.
I strongly suggest reading through the latest comments from other readers to get their most recent experiences.
---
Okay, let's begin.
Whether you're a foreign national marrying a Thai national, or a foreign couple coming to Thailand to get married, you'll need to jump through three hoops before you can legally register your marriage.
The marriage will only be recognised under the law of your home country if it is valid under Thai law. In other words, simply having a ceremony in Thailand doesn't mean you are legally married.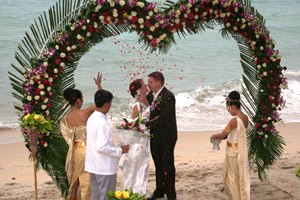 It is still very possible to complete the process of getting the correct documentation together in one day, although without the express service at the Ministry of Foreign Affairs, you will have to wait to get your finalised documents back.
Realistically, you will need one day for your embassy appointment, translations and MFA submission. Then you will get a slip that tells you when you can pick your documents up (from the MFA), which is usually within 2 days. You'll then need another day for the marriage registration.
Remember, if you are both foreign nationals, you will need to consider this process for two persons.
Should I Hire an Agent?
This post focusses on completing the process yourself without an agent. Personally, I prefer to handle things myself, having complete control over efficiency and organisation.
Also consider that having an agent doesn't eliminate the first step of the process (the trip to the embassy), and costs considerably more.
Quotes range from 8,000-25,000 Baht for the agent's fee. Do shop around for quotes. A good tip is to get your Thai partner to Google for an agent in Thai, as this will likely yield cheaper quotes.
Make sure you ask if the quote includes the embassy affirmation fee and the translations.
Step 1: Embassy: Freedom to Marry Affirmation & Passport Authentication
Affirmation of Freedom to Marry
You must first go to your embassy to obtain an Affirmation of Freedom to Marry in Thailand.
Your embassy will most likely require you to make an appointment to get your affirmation done. Some do, dome don't.
British nationals DO need to make an appointment to get an affirmation. The consular accepts appointments 08:00 – 11:00 on Monday – Friday.
The cost depends on the embassy, but will be around the 3,500 Baht mark.  It costs 2,860 Thai Baht at the British embassy.
Yes, it's an expensive stamp.
Get the earliest appointment you can, closest to the opening time of the embassy, which should be 8am.
If your embassy has the affirmation form online, print it out from embassy website before you go, and fill in the relevant sections. For the British embassy, you will need to print the form.
You will need your passport, and if you've been married before, make sure you have documentation to prove that any previous marriages have been dissolved/terminated (an appropriate death certificate or divorce certificate).
This certificate, if not in English, must be accompanied by an English translation. Only the original or an official certified copy will be accepted – photocopies will not be accepted under any circumstances.
Passport Authentication
Due to a new requirement, as of 2017/18, you also need your passport certified by the embassy and then translated into Thai.
That means the photo page and the page above or below it, (depending on which country you are from).
Book an early appointment. If your embassy offers a walk-in service, get there at opening time.
NOTE: Also take a photocopy of your passport with you when you leave the house. You will need this for Step 3. 
Step 2: Affirmation & Passport Translation
You now need the affirmation and your passport authentication translated into Thai.
This will cost between 300-600 Baht, per document, depending on where you go.
The officer at Chaeng Wattana (Ministry of Foreign Affairs) will stamp your affirmation and passport translation. You will then show this at the Amphur (district office) at your appointment to marry.
For the translation, you have two choices.
Because the majority of embassies are in and around Wireless Road, for most it will be easy to get a translation done in this area.
If you walk to the top of Wireless Road (back toward Pleon Chit BTS station) and up over the bridge onto the other side of the road, you'll be standing outside a language school called Language Express.
Go past the school and turn right. Along this side road you'll find a number of reputable translation services.
* Please note that the UK embassy is now located at the AIA Sathorn Tower, Floor 12 A 11/1 S Sathorn Rd, 10120.
Don't dilly dally: choose a translation centre quickly and make it clear you are on a deadline, otherwise you won't get to the MFA before lunchtime.
They should be able to do the translations within 1 hour. If they say they can't do it so quickly, let them know you can pay a little extra.
Alternatively, get in a taxi and go straight to Chaeng Wattana to the Department of Consular Affairs.
This might be preferable because the traffic will be dying down just after rush hour. This journey will cost around 150 Baht.
Do take the tollway (60 Baht) if the driver suggests it. This route is much quicker.
You can get your translations done at the Ministry of Foreign Affairs, although it may cost more because the touts will be aware you have no choice but to pay to have your documents authenticated there. However, if option 1 doesn't work out, this option is a sure thing.
Immigration Office Address:
Tell the taxi you want to go to the "Chang Wattana pass-a-bort (or immigration) off-ice!"
Show him/her the address in Thai: สำนักงานหนังสือเดินทาง ถนนแจ้งวัฒนะ เขตหลักสี่
If you have a smartphone with a decent size screen, show him on this Google Map.
The  Legalisation Division
Department of Consular Affairs
123 Chaeng Wattana Road,
Laksi District, Bangkok 10210
Tel : +66 (0) 2 575 1056–59,  0 2981 7171
Fax : +66 (0) 2 575 1054
(08:30 – 15:30 hrs)
Note that you can also get this process done at the new office at Klong Toey MRT station. The new office is in the Metro Mall area of the station:
Klong Toey MRT Station
ถนน พระรามที่ 4 คลองเตย
Bangkok, 10110
(08:30 – 15:30 hrs)
Here's a link to a Google Map.
Step 3: Thai Consular Affairs Authentication
If possible, I  recommend doing your embassy visit – to get your freedom to marry affirmation and your passport verified (and your translations too) – and trip to the  Ministry of Foreign Affairs in one day.
If you can get an early appointment at your embassy, you should be able to make it to the MFA before lunchtime. Remember: the express 1-day service is only available if you get your documents in before 9.30am.
When you arrive at the Ministry of Foreign Affairs, if you still need your documents translating, you can choose one of the services downstairs.
You will be approached as soon as you enter by touts for the translation services, so do a bit of bartering – starting at 300 Baht. Don't stress too much over 100 Baht or so, just get it done with the company offering the fastest service and move on.
Note: staff take lunch at 12pm. You'll have to wait an hour until they come back on duty.
Try to get a ticket and get in the queue before they go to lunch. If you make it through processing before lunch, then great. If not, no worries.
Once you have the translation, go to the 3rd floor: up the escalator, turn right and up the stairs.
Go to the desk straight ahead of you and give in your affirmation and its translation, passport translation and photocopy of your passport to the lady at the desk.
Now proceed through the white door over on the other side of the room; the lady will direct you.
Here you will get your documents checked by someone who looks very official. Once you get the okay, you will be asked to take a seat and wait to be called. Keep your eye on the queuing system, you don't want to miss your number.
Once called, you will be given a day to collect your authenticated documents and the option to have them posted to you. The standard pick-up/delivery time is 2 days.
When you get your documents back, you have completed the process. Keep everything safely together in an envelope. You will need all these documents to present to the Amphur office (government office) of your choice when you go to register your marriage after the ceremony.
Of course, you can register your marriage before the ceremony, it's up to you.
If you've finished early, you could go to a local district office and book an appointment to get married. You might be able to get an appointment for the next day.
What Marriage Documents to Take to the Registrar
When you go to register your marriage at the government office, you will need to take the following documents:
Your passport – 2 copies
Your visa – copy this too
Your fiancee's ID card (for Thai nationals only) – 2 copies
The Letter of Affirmation of Freedom to Marry (the original & the certified translation, plus copies of both)
The MFA stamped translation of your passport
Your fiancee's Tabien Baan (house log) (Thai nationals only) – 2  copies
You will also need two witnesses. The rules may vary between district offices regarding who can be a witness. We used two Thai friends, but some offices may require one or two family members, and some may even offer a witness service for a fee.
Where to Marry – District Offices in Bangkok (Amphur)
In the old days you could pretty much roll up and get married on the spot. You'd grab two members of the public as witnesses and do it Vegas style.
Nowadays, some district offices (amphur) require you to make an appointment, while others will only accept two family members as witnesses, and some even go as far as to send your documents back to the MFA for verification.
If you are marrying a Thai national, the easiest place to get married is most likely going to be the district office in your partner's home town.
This is because, chances are, someone at the local amphur knows your partner, or a member of her family, or perhaps a close friend. There is usually some connection that makes for an easier ride. Being a local means others are generally more willing to help.
However, if you're in Bangkok, then you might as well get the job done there.
The best place to check for varying experiences with at district offices is in the comments section below, but here's a few you might try:
Lak Si: Marries 8 couples a day. Make an appointment in advance.
Bangrak: Requires two family members as witnesses.
Huay Kwang: Accepts friends a witnesses.
*Where possible call the district office first and ask what their requirements are.
Native Translation
You may also wish to obtain a sworn translation of your marriage certificate into your native language so that it can be used as a legal document back home. You may also require this translation for visa purposes.
A note for British nationals: You no longer need to file your marriage certificate back in the UK. They did away with that requirement a few years ago.
Congratulations! I wish you a long, happy, marriage.
One Last Thing!
If you're planning on getting married in Thailand, then you'll want everything to go as smoothly as possible.
That means making sure you have travel insurance with adequate coverage, just in case the something doesn't quite go to plan. Maybe you lose your case, miss your flight, break a finger, lose your wallet.
Don't chance it.
Click here to read up on the two companies I recommend for solid insurance that covers a broad range of eventualities.
And if you want the best prices on hotels in Bangkok, Samui, Phuket, Pattaya, Chiang Mai and more, check out this page. 
More Tips for Married Life
Improve Your Thai Skills:
Learning Thai makes life here easier and more fun. I use Thaipod101. It is free to get started & easy to use.
Send Money to Thailand:
Use Wise. It is fast, cheap, and gives you the market exchange rate. Me and the majority of my readers are using it.
Get Help with Pension or Investment Planning
Connect with my trusted, personal Independent Financial Advisor using this form