It's no secret that hundreds of thousands of tourists flock to Thailand each year for the naughty nightlife.
This has given Thailand a reputation as a "sex tourism" destination, which is a little unfair, since it is just a small part of Thailand and, while somewhat unique in its delivery, is not something you can't find elsewhere in the world.
Some holidaymakers are put off coming to Thailand because of this reputation, while others are intrigued to see what all the fuss is about. The reality is that it is easily avoided if you don't want to see the neon lights, and easily found if you do.
Indeed, if scantily clad bar girls aren't what you're looking for, there are plenty of other nightlife options: regular pubs and bars, cabaret shows, nightclubs, night markets; and of course, lots of restaurants.
And while some bars in the likes of Patong in Phuket, Chaweng in Samui, and Soi Cowboy and Nana in Bangkok will come as a bit of a shock to the average holiday maker, many bars that have girls walking around offering conversation and company are generally very relaxed. You can have a drink, play some pool, have a laugh and then leave. There's no obligation to talk to or sit down with the working women.
If you're planning on visiting Thailand and are new to this type of nightlife, have a read of this guide to better understand how the bar scene works, and to familiarize yourself with some of the terminology you're likely to hear.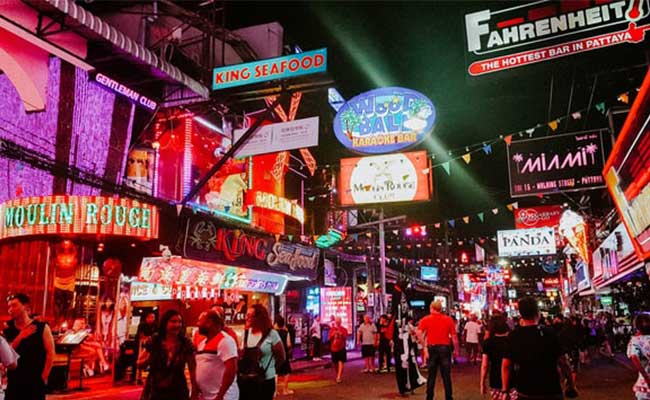 A Tourist's Guide to Thailand's Naughty Nightlife
What Is a Bar Girl?
A bar girl is exactly that: A girl, or woman, rather, who works in a bar. But we're not talking your typical bar tender or table staff here.
A bar girl dresses provocatively, exposing a teasing amount of skin. She is employed to flirt with customers and make sure they enjoy the bar enough to stay and buy lots of drinks, and hopefully come back again. A bar girl is like a hostess, just more tactile.
Depending on the bar, the women are usually working an angle with the customers. This is certainly the case in hotspots like Pattaya's Walking Street and Soi Cowboy in Bangkok.
The goal is to be taken back to the customer's hotel room (or home). Although often not explicitly discussed in the bar, the fee for this sexual service will cost somewhere between 1,000 and 3,000 Baht, depending on the location and the arrangement between woman and client.
This is of course prostitution, though it is not openly discussed in these terms by the bar or the service provider.
* For the record, I'm using girl, woman and lady interchangeably in this article. All girls working in bars in Thailand must be over 18, so legally speaking they are women, though the term used in Thailand is "bar girl".
What Are Lady Drinks?
Most bars that employ bar girls operate a commission structure on drinks. These drinks are considered "lady drinks". If you buy a bar girl a drink, the girl receives a commission from the bar.
You don't have to buy a girl a drink, but if she is sitting with you and entertaining you it is considered par for the course. It also reflects well on her job performance, as her boss will consider that she is doing a good job by getting you to splash your cash on more booze.
Bear in mind that these lady drinks usually cost more than regular drinks. This is certainly the case in go-go bars, which we'll come to in a moment.
The reason for this commission structure is that most bars pay a very basic wage for the girls, and the drink commission tops up their wage – similar to the tipping structure in a restaurant.
Note that some bars don't pay a basic wage at all; the girl is simply attached to the bar by way of association and allowed to ply her "trade" there.
Part of the job description is to get punters drinking more, and part of the girl's intent is (usually) to get a punter tipsy and lure him into her honey trap, so to speak.
If a punter doesn't end up taking the girl home, a few lady drinks is a nice little commission for the time she has spent sitting and chatting with the punter. Time is money, as they say.
What Is a Go-Go Bar?
Go-go bars (also called a-go-go bar) are similar to strip bars.
The club has a stage, complete with poles and space for approximately 10-20 girls to dance. The stage is elevated and surrounded by seats for punters.
At the back of the club you'll find sofas and tables, and depending on the budget the club is usually quite glamorous – decked out with fancy lighting and a swanky bar.
Go-go bars tend to have a lot of girls milling about in between dances. Some may not be dancing and will be working the floor instead – approaching tables and sitting with customers in the hope of getting a few "lady drinks".
In this type of bar you should be careful of getting into a situation where you are sitting with a few girls at your table at the same time. Before you know it, you may have bought three rounds of drinks for your companions and clocked up a hefty bill!
Upon negotiation, the girls dancing in go-go bars are, generally speaking, available to take home. Like a regular "bar girl" bar, you will most likely have to pay a bar fine.
What Is a Bar Fine?
If you want to take a lady home with you before the bar closes, you will have to pay a "bar fine".
This payment is to compensate for the bar losing a worker for the evening, who would have otherwise generated revenue through encouraging punters to buy drinks.
The bar fine is usually set at 300-500 Baht, depending on the location and bar's reputation. You can always avoid this fee by waiting for the bar to close, but by that time another customer may have stepped in and taken your preferred companion home.
The price for the lady's companionship is decided between the lady and the customer, not by the bar. The bar has nothing to do with this aspect of the transaction.
The lady usually gets a cut of the bar fine fee too.
What Is a Ping Pong Show?
A Ping Pong Show takes place in a strip club or go-go bar type setting.
It's a pretty degrading spectacle, in which women use their pelvic muscles to retain and then eject Ping Pong balls from their vaginal cavity.
Other variations on Ping Pong balls include razor blades, candles and even live animals such as eels, goldfish and frogs.
This type of show is available in the red light areas of Bangkok, Pattaya, and Phuket. Touts canvas customers with a promise of "a night you'll never forget".
The entrance fee is usually somewhere around 300 Baht, but be warned, you'll likely pay a lot more.
These seedy shows are notorious for scams. You'll overpay for drinks, be pressured into tipping the girls, and may even be accosted for an "exit fee" when you want to leave.
I've never been to a Ping Pong Show, but from what I've heard it's best to stay well away.
What Is a Freelancer?
Outside of lady bars and go-gos there are women who work as freelancers (independent prostitution).
They may hang out in regular bars, in clubs, and even on streets like Beach Road in Pattaya or Sukhumvit (lower) Road in Bangkok.
These ladies are not attached to any bar or pimp (usually) and are working independently to secure clients for sex in exchange for money. This is your more typical type of prostitution.
Quite often tourists encounter such women in nightclubs but are unaware that they are working an angle until much later in the evening when the lady asks about a fee for going home. This can be quite awkward, and freelancers in clubs are often shy about asking, choosing their words gently such as "Can you pay?"
How to Avoid Bar Girls & Go-Go Bars?
Perhaps you're on holiday with kids and you don't want to be around the naughty scene at all, and you certainly don't want to hear women in short skirts and high heels hollering, "Hey handsome man, I like you!" as you stroll by with your daughter of an evening.
Fortunately, it's very easy to avoid.
Such bars are usually housed on a particular strip (no pun intended) or down a side road. The neon lights, obvious signage, loud music and girls luring people in are dead giveaways and will allow you plenty of time to take another turn.
Moreover, if you're back at the hotel by 10 pm, you probably won't see much action at all, as the night-time scene doesn't really get going until then anyway.
Knowing where to book a hotel is also an easy way to avoid any such bars. For example:
Booking in Bangkok? Don't book too close to Soi Nana. Soi Cowboy is another strip to avoid, though it's an easy road not to walk down anyway, even if your hotel is close by. Patpong is similar.
Don't go to Pattaya. You might choose Jomtien, about 3 km south of Pattaya .
Booking in Phuket? Choose a location away from Patong.
Booking in Koh Samui? Avoid the Green Mango and Soi Reggae strips. Probably best to stay outside of Central Chaweng, but the bars are easily avoided anyway.
Safe Sex in Thailand
If you are planning on participating in "pay for play" in Thailand you should take precautions. Thailand has the highest prevalence of HIV and AIDS in SE Asia, with approximately 500,000 people living with HIV.
While most (40%) of new infections arise through men having sex with men, sex workers and their clients account for around 10% of new infections. STI cases are also fairly high, at approximately 90 per 100,000 people (1).
It is safer to bar fine a girl from a bar over paying for a prostitute on the street, and potentially safer than hooking up with a freelancer in a club. This is because most bars have testing policies in place that requires workers to get sexual health tests on a regular basis.
In Summary
The bottom line is that company is easily bought in Thailand.
Whether it's the company of a bar hostess for a few drinks and a chat, or a companion for the evening back at your hotel, one of the loosely estimated 250,000- 2 million sex workers in Thailand will be happy to oblige.
Conversely, avoiding this side of Thailand's nightlife is easily done. The red light areas are fairly small and restricted to main tourist hotspots. Plenty of families holiday in Thailand without ever seeing this side of the land of smiles and instead enjoy mixing with the millions of Thais who work elsewhere.
It's up to you!
Tips for a Better Trip to Thailand
Get Affordable Travel Insurance:
I have been traveling for 15 years and always use insurance. You should too. See my top recommendations.
Get Heavily Discounted Hotels:
Check out the Agoda website for exclusive discounted hotels in Thailand.
Compare the Cheapest Flights:
Try Momondo. It compares all the operators that fly to Thailand, so you can find the best deal for your holiday.