Let's face it, one of the main reasons people move to Thailand is because it's pretty cheap, and damn awesome, of course.
But aside from hearsay and anecdotal stories, what is the cost of living in Thailand?
Well, while housing is very affordable, food items can be pretty expensive, particularly if you're partial to imported foods such as wine, olives and, errr… Marmite.
Additionally, branded clothes and beauty products can be pretty expensive too – think Nike (real) trainers and anti-wrinkle skin creams.
But overall, Thailand still ranks as one of the cheapest places to live in SE Asia; cheaper than Laos, Malaysia, and Cambodia, and most certainly Singapore.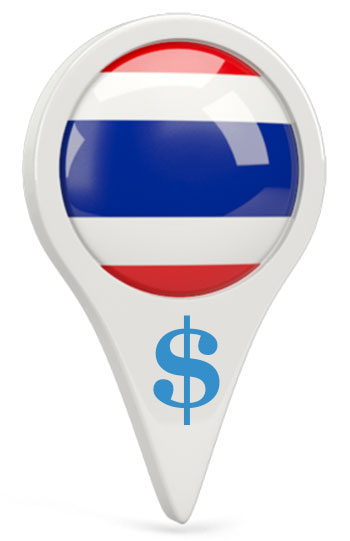 The Cost of Living in Thailand
Initially I planned to cross reference some cost of living sites and provide averages, but I found them to be pretty off the mark, particularly when it came to housing.
So I decided to walk around the shops myself and compile my own list based on my personal everyday experience of the cost of living in Bangkok.
Please note that if you're thinking of living in other cities like Chiang Mai in the North, or Khon Kaen in the Northeast, the cost of housing is likely to be a lot lower.
However, supermarket food items and entertainment are likely to be about the same.
I'll be adding items to this list and updating it periodically, but if you want to know the price of a particular item or service in the meantime, please let me know and I'll do my best to research it for you.
You can use the currency convertor to convert from my figures in Baht to your native currency.

Popular Food Items:
12 organic eggs – ฿89
Semi-skimmed milk (Meji 990 ml) ฿44
Cheddar Cheese (Mclelland – UK import) – ฿275
Chicken breast 200g (S Pure Healthy) – ฿59
Loaf of brown bread – ฿57
Penne Pasta (500g) – ฿55
Olive Oil (500ml) – ฿199
Litre of Pepsi Cola – ฿20
Oreos (standard pack) – ฿30
Heineken (490ml can) – ฿59
Bunch of 8 bananas (local stall) – ฿30
4 fresh mangoes (local stall) – ฿60
**Prices sourced from Big C & Topps supermarkets. Please note that as with any country, supermarkets are competitive and pricing varies for different items, albeit by a few Baht.
The cost of food in Bangkok is 56% cheaper than New York
Approximate Housing Costs: 
The following condo rental prices are averages based on a pool of property listings for Bangkok, and on condos within walking distance to an MRT/BTS station.
Modern 2 Bed 2 Bath Condo, 65 Sq. m (central Bangkok) – ฿40-45,000
Modern 2 Bed 1 Bath 65 Sq. m (4 stops to central – ฿17-20,000
Modern 1 bed, 50 Sq. m (central Bangkok) – ฿30-35,000
Modern 1 bed, 40 Sq. m (4 stops to central – ฿12-20,000
Modern studio, 30 Sq. m (4 stops to central – ฿8,000-9,000
Modern studio, 30 Sq. m (central Bangkok – ฿13-16,000
Utilities, 1-month, 2 people, 65 Sq. m condo – ฿2500
Internet – 16 MB (True) – ฿799
Cleaner (per month, 3 x per week) – ฿3,000
If you're thinking of buying a condo in Thailand? You'll want to read this first.
The cost of rent in Bangkok is 67% cheaper than London
Tip:  You will always pay more if you secure a condo rental contract through a website or agent. The best deals to be had are always found through putting the on the ground.
I recommend that you first find temporary accommodation in an area that you are interested in, and then explore the area and identify where you want to live. You can then walk into apartment blocks and speak with reception about their rates.
Of course, if you are renting privately from a private owner, then you are likely to find those condos listings on websites.
Clothes:
1 pair Levi 501 jeans– ฿3,790
1 summer Maxi dress in Topshop – ฿3,550
1 pair of Nike Air Max ฿2,000- 5,700
1 tailor-made business suit – ฿3,000-8,000
1 FBT running vest from Tesco – ฿189
1 pair of kaki shorts from the local market – ฿250
The cost of clothes in Bangkok is 53% cheaper than Sydney
Tip:  Being from the UK I'm used to finding bargains on branded clothes pretty much everywhere, especially in the January sales. But as you can see from the above, buying branded clothing in Thailand not a good idea if you are on a budget. Instead, you can find great T-shirts, shorts and vests in the supermarket chains Tesco and Big C.
You can also get great bargains in markets and support local sellers.
Transportation
1 litre of premium gasoline – ฿30-40
Public taxi trip (8 Km) ฿180 (Base rate ฿35)
Monthly train ticket: BTS – ฿1,100 (Rabbit card) – MRT – ฿1,499
The cost of transportation in Bangkok is 37% cheaper than Berlin
Personal Care:
Deodorant, Nivea roll-on, (50ml): ฿92
1 box of 16 tampons (Laurie Slim): ฿75
Gillette Mach 3 Sensitive (4 blades) ฿459
Hair shampoo 2-in-1 (400 ml ~ 12 oz.): ฿89
Tube of toothpaste (large Colgate standard): ฿55
Nappies: 64 Pc (Mamy Poko – medium) – ฿669
Toilet rolls (Scott 6 roll pack) – ฿79
The cost of personal care in Bangkok is 73% cheaper than Bern
Tip: Personal care items can be pretty expensive. I can't use any other razors other than the Gillette Mac 3, or Fuzion series. But this costs me £10 for four blades in Thailand!  Similarly, if you are used to using very expensive face creams, expect them to be even more expensive here.
Of course there are alternatives, but if there is a particular brand that you do not deviate from, then you will do well to stock up on it before you arrive – and then ask anyone who's visiting you to bring you a top up.
Entertainment:
Lunch for 2 (Black Canyon café): 2 coffees, 2 main meals – ฿400 Baht
2 adult tickets to the movies – ฿360
1 cocktail drink in downtown club – ฿250
Grande Cappuccino in Starbucks – ฿120
1 beer in neighbourhood bar (500ml or 1pt.) ฿100 Baht
1 month prepaid mobile tariff with 3GB (DTAC) – ฿399 + vat
1 month gym membership at True Fitness (Asoke) ฿2,099 (dependent on sales rep and promotions)
1 package of Marlboro cigarettes – ฿90
The cost of entertainment in Bangkok is 39% cheaper than Paris
Tip: The trick to saving money on entertainment is to know where you are going and what prices to expect. Tourists tend to get stung because they are eating out in tourist areas in restaurants known to be expensive.
Also consider that some restaurants are considered more prestigious because there secular area or entertain a certain type clientele, and that seafood restaurants are usually going to be more expensive than your average standard Thai food restaurant –  and also more likely to give you food poisoning, by the way.
If you are going to live in Thailand then you will want to avoid the tourist traps and overpriced "hi-so" joints and eat locally and smartly. You'll soon get a handle on scoping out local places that sell the same food & drink as they do in tourist-targeted restaurants and bars but for half the price.
You will also find that Starbucks really isn't much cheaper than is back home, and it's easy to run up $150 worth of lattes in a month. Beer is cheap, but if you're drinking double the amount and going out every other night it's going to burn a hole in your pocket.  Good budgeting is largely about self-discipline, right?
School Fees!
Up until this point you're probably thinking how amazingly cheap it is here. But one thing that isn't she is a private school education.
The reality is that you probably won't want to put your child in a public school because standards are poor and the first language is Thai, of course.
To achieve a similar education standard to that which you find in the UK, France, Germany, Sweden, Switzerland US, and Canada, you will need to pay privately.
In Bangkok, specifically, private school fees start at around 350,000 Baht per year and go all the way up to 1m Baht per year depending on the school and age of the child.
If you are a teacher and you have secured a job at a private school, the likelihood is that your child will get a place at that school as one of the benefits.
Similarly, if you are relocating to Thailand for a job with a multinational company, particularly a financial firm, they may allocate a subsidy for your child's education.
But for those who are teaching in a public school, or working for a company that does not provide a subsidy, schooling can be very expensive.
And when it comes to private schools, it isn't just the set fee that you have to consider but also additional costs such as transport, after-school clubs, school trips, and all the other stuff that comes with schooling.
So before you plan your move,  you need to factor in the cost of education.
You can see a list of private schools in Bangkok and their associated fees by clicking here.
How Much Do You Need to Live in Thailand per Month?
From my own expenses living in Bangkok, I'd say that presuming you enjoy an average standard of living in Europe or the US, Canada or Australia, you will need the following amount(s) to maintain that standard in Thailand:
Single male/female in Bangkok – ฿50,000
Couple in Bangkok – ฿75,000
Couple with baby under 2 years old in Bangkok – ฿80,000
Couple with child over 2 years old in Bangkok – ฿85,000 (not including school fees)
This includes rent, food, Internet access, gym membership and going out socializing once/twice a week.
If you plan on living up country somewhere, you may be able to shave as much as 30% off these amounts.
If you plan on living in Koh Samui or Phuket, then you can expect to spend about 10-15% less, depending on your drinking habits.
In my experience, you pay less rent on the islands, but eating can be a tad more expensive and you tend to spend more on socializing.
I haven't lived in Chiang Mai for some time, but when I did I found rent to be about 25% cheaper than Bangkok.
Final Thoughts & Tips on Living Costs
If you're reading this and thinking, "Man, I thought Thailand was a lot cheaper", don't let these numbers put you off.
If you don't mind living in a 27 Sq.m studio apartment, travelling that little bit further into town and aren't fussed about eating street food and generally living frugally, you can get by on 30-35, 000 Baht per month.
There are many teachers living in Thailand on such a salary.
If you're smart, you can make cut backs doing things like buying an Internet phone package and tethering to your computer to save money on home WIFI.
You can buy fruit in bulk from the market instead of buying daily from stalls, or choose to take public transport instead of taxis.
There's always ways to save money and, at the end of the day, many Thai people live reasonably well on a salary of 20-30,000 Baht.
My Personal Living Situation
I map out my expenses by working out what's required for my family to be happy, healthy and enjoy a convenient life.
For example, we live within walking distance of the MRT (train) station, and have the luxury of a cheap restaurant on site at our condo block.
Being able to walk to the station will save you money on taxis. And having cheap food options just a phone-call to downstairs away is super-handy
Our apartment is a few stops outside of central Bangkok – mainly because I wouldn't want to live in Sukhumvit – but the money we save on not being so central allows us to take regular holidays and stay in nice hotels.
I don't drink or smoke anymore, so I save money on buying beer and smokes. I am able to invest this money in having good food at home, which is where a lot of my money goes.
I used to spend 1,500 Baht a month on gym membership, until I found one for less than 2 quid a year.
I have a wife and a daughter, so I pay medical insurance and life insurance – but you might say this is paid in part by money I save from giving up that gym memberships.
It's about finding a balance that works for you.
Work out what's important to you: what are your "must haves" and "can do withouts".
If you're retired with a tidy pension and savings account, then keeping a tight ship might not be on your agenda.
On the other hand, if you have kids or other dependents that will need a nest egg when you walk through the pearly gates, it makes sense to be smart with your money.
It's also worth bearing in mind that expenses do pop up here and there, and you'll need to make provision for these; think visa run/renewal expenses, travel insurance, trips back home, replacing a broken phone or computer, etc.
So make sure you have some back up savings for emergencies.
> Find out what visa you will need to travel/live in Thailand
——-
Think I'm way off the mark?
How much does living in Thailand cost you?
How do these prices stack up to what you pay in your home country?
Leave your comments below.