One thing everybody enjoyed as a child was a good water fight, especially when the summer came around.
Along with food fights and thumb wars, chucking a water bomb over a friend never got boring.
Unfortunately, once you had accidentally splashed an adult or made another kid cry, the fun would be brought to a quick halt and you'd be ordered inside to get dry.
These days it seems kids are too busy tampering with their mobile phones and sitting indoors playing Xbox to get out and enjoy this type of fun.
But for us expats, every year in Thailand, we're given a three-day licence to relive those childhood water fights and throw water at almost any person, at any time of the day!
What is Songkran?
Songkran is the Thai New Year. The festival takes place every year from April 13-15.
Songkran is a Buddhist festival. The word Songkran is derived from Sanskrit and means "Astrological Passage".
Traditionally, the dates for the festival were set by Brahmin priests, but these days the dates are fixed.
Songkran marks the end of the dry season and the beginning of the annual rains in the fifth month of the Thai lunar year.
When not dousing each other with water, Thai people go to temples for prayer and make merit by giving food and aid to monks.
Buddha images are cleaned with water and Thai perfume to encourage good luck and prosperity for the New Year, and in some cities Buddha statues are paraded through the streets so that people can wash them as they pass by.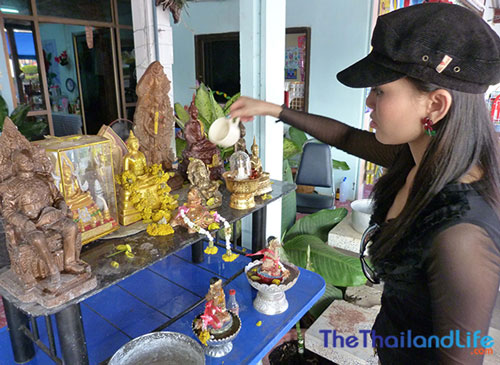 People also carry sand to their local temple in order to recompense the dirt that they carry away on their feet during the rest of the year.
The sand is then piled up and decorated with colourful flags.
New Year's resolutions are also made in the same way we do in the West, and Thai people also tend to give their house a good cleaning, as we do at the beginning of spring.
Traditionally, Songkran is a time for people to return home to their parents and pay respects to their elders by way of small gifts. In return, blessings are given by elders to younger folk.
It is a time for people to reflect on all that their parents and elders have done for them in the past, and most importantly for Thais, an opportunity to have a darn good party.
Like Christmas and Easter in the UK, the real meaning and traditions behind Songkran have wilted slightly over the years; though one aspect that has increased in popularity is the indiscriminate throwing of water.
Water throwing has its roots in the pouring of purified water on the hands as a sign of respect, which a number of Thais will do to in addition to patting talc onto your cheeks.
However, due to the increasingly hot summers in Thailand, and the excitement of youth, this subtle pouring of water has evolved into mass water fights that help cool the nation down over the holiday period.
The World's Biggest Water Fight!
I remember a few Songkrans ago: I was in Bangkok and armed with a Super Soaker, a garden hose and industrial bins full of water.
Seven of us stood outside of my apartment block by the roadside and drenched every moped that drove by.
My favourite soaking of the day was the lady who looked like she had just stepped out of a salon; her hair immaculately brushed and her make up flawless, well at least it was until I poured a bucket of water over her head.
Unfortunately, I was informed by my fellow Thai water thrower that she had clearly stated: "Ok, wet me, but please not my hair".
Oops, sorry!
So remember: if someone has a reasonable excuse such as ill health, old-age or being a new born / very young child, you must make an exception and let them pass by without a soaking.
For Thais, Songkran is a wonderful time spent with family and friends.
While modern day Songkran may be frowned upon by traditionalists, for steering away from its origins and traditions, it remains a festival that unites the country with an incredible sense of togetherness and pride.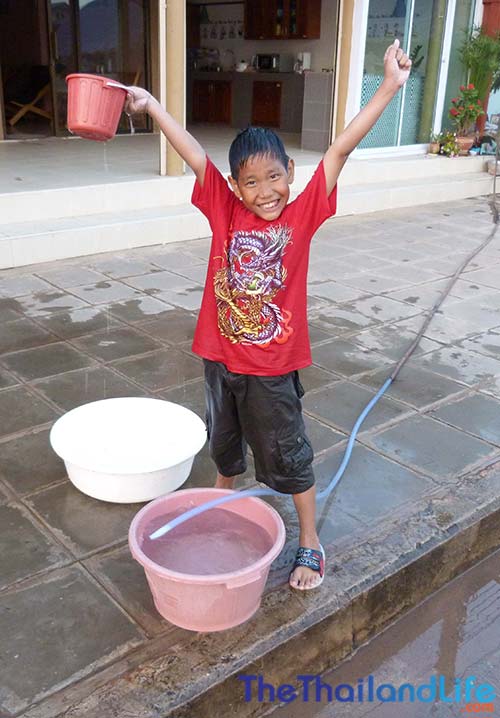 The Tragic Side of Songkran
Unfortunately, the festivities of Songkran are marred every year by the large volume of road traffic accidents.
In 2017, over the six days of the Thai New Year holiday, 335 people died in road accidents and another 3506 were injured.
The majority of accidents are caused by people driving under the influence of alcohol, marking the tragic consequence of such extended enjoyment.
In addition, hundreds of thousands of Thais rush to leave the big cities and get home to see family over the holiday period, and then rush back again to work once its over.
Inevitably, this increase in freeway traffic, and subsequent local traffic in the provinces, means an increase in road accidents.
My 10-Tip Songkran Survival Guide
For many, Songkran is the most fun time to be living or holidaying in Thailand.
It's baking hot, the beer is flowing, the music pumping and laughs and smiles are in abundance, even more so than usual.
However, for those experiencing Thai New Year for the first time, and those who got too drunk last year to remember the event, there are a number of safety and water-war survival tips you should take into account before you hit the road in your flip flops.
Make sure you follow my 10-tips list to have a safe and happy Songkran!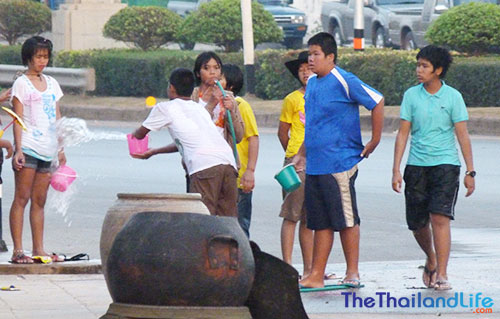 Tip 1: Ziplock It
Make sure you put your phone and wallet in a ziplock bag whenever you leave your home during the Songkran period.
You never know when a couple of kids will roll up and give you a soaking, leaving your mobile dead and banknotes dripping.
Tip 2: Tool Up!
Pre-empt attacks by carrying a water pistol in your inside pocket and a super soaker strapped to your back – Rambo style!
Never roll out half loaded. Keep a full barrel at all times.
Tip 3: Protect Your Eyes
Wear sunglasses when walking around during Songkran, and also when engaging in water fights.
As you can imagine, not all water used to fight is clean, and the quickest way to get sick is bacteria through the eyes.
Tip 4: Close Your Mouth
Similar to tip 3, keep your mouth closed when engaging in water combat. The last thing you want is dysentery from a gulp of dirty water extracted from a dirty pipe.
Tip 5: Ladies, Wear Dark Colors
If you're female, it's best to wear dark clothing. A few buckets of water will make lightly coloured clothing see through, and before you know it you'll be an unwitting participant in a wet t-shirt competition.
Tip 6: Don't Throw Water at Moving Vehicles
Don't throw water at moving cars or motorbikes. Doing so is likely to cause an accident, and possibly death. Don't be an idiot. Don't end up in jail.
Tip 7: Leave Your Car/Motorbike Keys at Home
Don't drink and drive. Period. Yes, you can get away with it in Thailand, but it endangers people's lives.
The Songkran period sees the highest volume of road accidents and road deaths each year. Lead by example.
Tip 8: Respect Songkran Cultural Boundaries
Don't throw water at monks, the elderly or babies. This is disrespectful, and where young children are concerned, potentially dangerous.
Monks and the elderly are exempt from the compulsory Songkran soaking.
Tip 9: No Ice!
I'm not talking about methamphetamine here, but yes, avoid that too.
Don't throw water containing lumps of ice. It might sound like more of a laugh to make the water that much colder, but this stupidity causes numerous cut heads and limbs each year.
Tip 10: Keep Your Bits Well Hidden
Ladies, no matter how drunk, wet and liberated you feel, it is not okay to strip down to your bra or get your boobs out in the street.
Men, keep your pecker in your pants, this isn't a varsity party!
You are likely to get arrested, and end up on someone's Facebook wall!
That's it!
Sawadee Songkran tuuk khon. (Happy Songkran everybody).