If you're working, retiring, or frequenting Thailand then it makes sense to have a bank account.
Why?
Because using foreign credit and debit cards involves high fees, on top of local ATM charges. And then there's the frustration of cards being rejected by ATMs.
Opening a Thai bank account isn't the same process at every bank. There are different requirements for each. I tried at least five different branches of different bank brands before I had success in opening an account.
What struck me was that quite often the bank staff cited different requirements to that on the bank's website.
When I did cite the requirements stated on the website, I was told that "things had changed", or "the manager said…"
So I figured others must be struggling too and decided to write this article to help other foreign nationals, like you.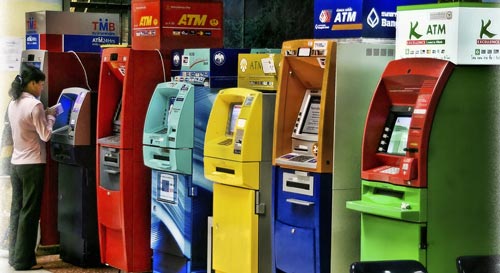 My Current Banking Arrangements
My Thai Bank Account
Since writing the first version of this post, hundreds of people have reported their experiences of opening bank accounts in Thailand, making this post a solid resource for others wanting to do the same.
I still bank with Bangkok Bank, with a debit card, with access to Bualang online banking.
The online banking was set up for me at the ATM of the branch where I opened the account.
The ATM card was issued on the spot, for a 300 Baht fee, and I've had to replace it once due to wear and tear.
Transferring Money
I now regularly transfer money to my Thai bank account via Wise.  This is an international money transfer service, and usually the cheapest option.
Using this means I can avoid the sending and receiving bank charges and inflated currency conversion fees involved in money transfer.
It feels so good to beat the banks!
Multi-Currency Account
I also have a Wise account, which, by the way, is a great option if you don't want to open a Thai bank account, or need a pre-move banking solution until you are able to set one up.
This account lets me hold money in different currencies (GBP, USD, Euros, whatever) and then convert the money to THB whenever I like. I can do this at a time when the exchange rate is favorable.
Or, I can allow the currency conversion to take place in real time as I spend money in Thailand on the debit card (MasterCard), which is issued with the account.
If you are someone who has a regular income paid in a one or more currencies, this is a good solution for getting paid into an account that you can readily access in Thailand.
+ More on this type of account here
So I have my Bangkok Bank card, my TW Borderless card, and my home bank cards – which I never really use.
How to Open a Thai Bank Account
Things are a hell of a lot easier in Thailand when you have a Thai ATM card and an account to transfer money into.
But despite the permission to stay you have, be it a retirement visa, work permit, or Non Immigrant O Visa based on marriage, opening a bank account can be frustrating.
Indeed, I've heard from people on tourist visas who've had less hassle opening an account than someone on a long-stay visa who is married to a Thai national.
So before you trudge around town and get frustrated as hell, read this post and see which bank is most likely to work best for your situation.
What you'll find below is the requirements for each bank, and a summary of reader experiences reported in the comments section.
Since starting this post many moons ago, it seems that the overwhelming consensus is that Bangkok Bank is the most friendly bank when it comes to opening accounts for foreigners.
The easiest, however, may very well be K-Bank, depending on the branch.
There's a bit of a gap in 2019/20, where, because of COVID-19 not many foreign nationals were opening bank accounts, but you'll see some recent experiences starting in late 2021 and some new ones for 2022.
1. Bangkok Bank
Requirements:
Passport and one other official identification document: for example, a reference letter from your embassy, your home bank or a person acceptable to the bank.
You will also need to provide evidence of your address in Thailand as well as your regular address in your home country.
UPDATE: In some cases Bangkok Bank is now asking for a certified letter from your Embassy. This letter must state that you have presented your passport to the Embassy, and that it is indeed your passport. Depending on the Embassy cost will be between 1150-1750 Baht)
If you have a work permit, are a permanent resident, or hold a long-stay visa, you can apply for a wider range of services such as a cheque account, internet banking and online international funds transfer services.
I opened my account with my passport, Non Immigrant O visa and my driver's license. This got me internet banking too. This was done at the Exchange Tower branch in Asoke, Bangkok. The rule regarding a letter from the embassy was not in place when I opened my account.
Reader Experiences:
(2020) Alex opened an account in Khon Kaen with a Dutch marriage statement, his identity papers, Thai wife's ID card, and a written guarantee from his wife.
(2020) At the second branch he tried in Isaan, John opened an account with passport, original marriage certificate, Thai wife's Tabien Baan, and drivers license (Thai and Australian).
(2021) Sebastian was able to open an account at Bangkok Bank (Central Embassy Branch) with the following documents:- Passport
– ED Visa
– Acceptance letter from Thammasat University
– 500 THB opening deposit
(2021) John managed to open a Bangkok Bank account at Lotus's Branch Thalang (Phuket) with a Tourist Visa, UK Passport and a letter from immigration (300 Baht.)
(2022) Nishan opened an account on a Tourist Visa in Phuket (Patong) with a passport and letter from immigration. He got an ATM card, mobile banking, but had to take out a life insurance policy for 7,900 Baht.
---
2. Kasikorn Bank (K-Bank)
Requirements:
Individuals who have base in foreign countries:
Passport
Work permit or education-based visa (seems these are not required at every branch)
Reader Experiences:
(2019) Anthonin opened an account at Pantip Plaza Pratunam with his passport, an address in Thailand, and a confirmation letter of internship.
(2021) Phil opened a bank account with his passport and UK driving license. He was set up with telephone banking, mobile banking.
(2021) Reetus opened an account at Kasikorn Bank Central Festival Pattaya with his passport (ED visa) and a letter from his language school. The ATM card was issued on the spot.
(2021)  Justin was able to open an account with Kasikorn at the Thanon Sri Nakharin branch, across the street from Paradise Park in Bangkok, using his education visa (technically an education guardian visa). He also showed them his townhome lease.
---
3. UOB Bank
Requirements:
Individual Non-Resident Account:
A copy of passport
A copy of work permit (seems this is not always required, depends on the branch)
50,000 Baht deposit
Phone number
Reader Experiences:
Danny opened a UOB account with a passport, phone number, proof of address and 50 000 baht. He g

ot a bank card on the spot.

(2021) Sebastian also opened an account with UOB Thailand to have an alternative. They  required the following:
Passport
– ED Visa
– Acceptance letter from Thammasat University
– A 50,000 THB opening deposit, which can be immediately withdraw after opening the account.
---
4. SCB
Requirements:
A work permit and passport are required to open an account.
Non-Resident accounts are for:
Branches or representative offices of Thai corporations established in countries outside Thailand.
Tourists and other overseas visitors.
Foreigners temporarily working in Thailand.
Foreign government agencies, including embassies, consulates, or specialized UN agencies such as ESCAP, FAO, UNICEF, etc.
International organizations or institutions located in Thailand, but established by the government of the country to which such organizations belong.
Note: The implication is that any non-resident can open an account.
Reader Experiences:
Scott opened a SCB savings account at the Tesco Lotus Fortune Town branch, with nothing but a passport and money to open the account. He had previously tried at the Central Rama 9 branch and failed.
---
5. Bank of Ayudhya (Krungsri)
Requirements:
At least one or more of the following:
Work permit
Condominium Lease Agreement (at least 1 year)
Thai Driver's License
House Registration Documents (proving you live in a particular house)
A Thai wife's ID card and Marriage Certificate
Reader Experiences:
Joe

opened a bank account (with a debit card) with just his passport on Sukhumvit Road (near Robinsons, between Nana and Asoke BTS stations). He showed his Non-Immigrant O-A visa (retirement visa). He used his girlfriend's address, but they did not require evidence of this. The visa card cost him 350 Baht.
(2019) Tim opened a savings account with Krungsri (Onnut branch) with a 1-year lease contract for his condo and his passport.
(2019) ASDF opened an account at Central Festival in Phuket. only a work permit was required.
---
6. CIMB
Requirements:
Citizen ID card or passport (for foreigner)
Savings account book or Current account number
Applicant Qualification:
The applicant must be aged 15 or over.
The applicant must own an individual savings and/or current account or a joint account that authorizes either owner to withdraw cash or a merchant account with single account owner.
Other terms and conditions are as specified by the Bank.
Reader Experiences:
Theo opened a CIMB Thai bank account using his friend as guarantor.

Only his passport was needed and his friend's contact details, address, etc.
---
7. KrungThai
Requirements:
For foreigners: Passport, alien certificate, work permit issued or endorsed by any credible organization or visa which is valid for at least 3 months.
For international students: Passport and student certificate issued by school/college.
Reader Experiences:
John

 

was able to open a KrungThai savings passbook account in Chumphon.

He used his passport and Non-Immigrant O visa.

JP

opened a savings account at Krung Thai on his Non O marriage visa, and also one at the SCB branch in Kalasin, which only required his passport and a deposit.

(2018) Robert opened an account at Kuung Thai in Sattahip, with passport and address information.
---
How to Transfer Money to Your Thai Bank Account & Avoid Fees
Once you have opened your Thai bank account, you'll want to start transferring money into it from your bank in your home country.
Unfortunately, this can be a costly process, especially if you are transferring money every few months, or even more frequently.
Your home bank (the sending bank) will change you a fee of between $10-20, and the receiving bank will charge you around $10.
In addition, you will be charged a currency conversion fee – because the banks don't give you the mid-market rate, but instead a rate they decide on.
So, on $1,000 or £1,000, you could be looking at saving $50 or more in fees.
The good news is that you can avoid these fees using a great service that I've used for many years now.
Transferring Money Out of Thailand
So that's the best way to transfer money in, but what about transferring out?
if you want to know the best way to send money from your Thai bank account to an account overseas, check out this post for a run-down of all the options.
——
Share Your Experience & Help Others
It would be great if you can let me know what bank account you have and on what terms you acquired it.
This will save other readers time and hassle, and help them find the most "farang-friendly" branches, so to speak. I will then add the information to the list below.
——
More Tips for a Better Life in Thailand
Improve Your Thai Skills:
Learning Thai makes life here easier and more fun. I use Thaipod101. It is free to get started & easy to use.
Get Good Health Insurance:
Start with a quick quote from Cigna. Then compare my other recommendations here.
Protect Your Online Privacy:
A VPN protects you against hackers and government snooping. I always use one. You should too. Read why here.