With all the tech startup ups that have emerged in Thailand over the past 5 years, I always wondered when someone would take on the fragmented ticket industry and bring it together under one easy-to-book website.
With multiple operators, middle men, variable pricing, terminal booths and everything done by good-old fashioned stamps and tickets, it was always a minefield.
But it took an outsider to take on the task. Enter 12Go, an international travel company that serves Thailand, Vietnam, Cambodia, Laos, Myanmar, Singapore, Malaysia and the Philippines, and looking to revolutionize transportation in and between countries with a new multi-modal ticketing system that allows you to book travel anywhere, at anytime.
I personally think they do a very good job of simplifying what must have been a nightmare to get off the ground. If you travel by bus, train, ferry and even by air in Thailand, or are planning a trip as you read, this review will most certainly be of value to you.
In a nutshell, if you're booking a family trip by ferry or bus, or a trip for 1 or 2 that involves a couple of legs across the country/border, it's a neat platform to consolidate your bookings.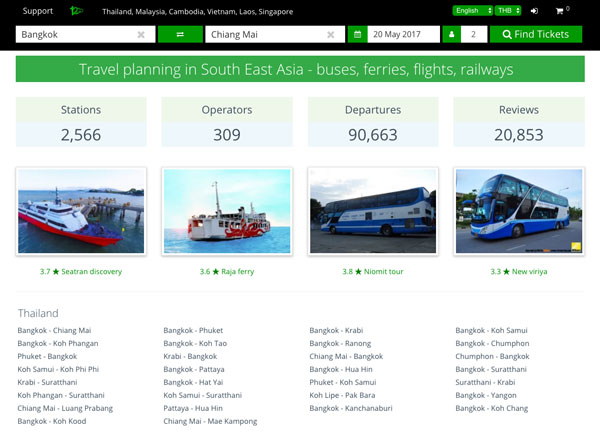 How Does 12Go Work?
If you've ever tried to purchase tickets for a train or bus in Thailand, you know it can be a bit of a hassle.
In fact, don't even think about trying to book the same day you'd like to depart. Prices often vary between agents, and more than likely  there will be issues getting a good seat. Tip: don't sit over the wheel arch on a bus/minibus!
If possible, book ahead and avoid the prospect of waiting in queues and worrying about whether or not you'll be able to travel. Holidays/trips should be stress free. That's sort of the point!
With 12Go, the tough part of travel is already dealt with: You can research information on the route on-site and then book your tickets. They'll confirmed within 24 hours and a ticket pickup location will be sent to your email address.
There is also the option to receive tickets through the mail or by EMS. With 12Go. It's also relatively easy to change your reservation or receive a refund.
What Routes Does 12Go Cover in Thailand?
12Go covers some of the most well traveled routes in Thailand, including:
Bangkok-Chiang Mai / Chiang Mai- Bangkok
Bangkok- Koh Phangan
Phuket-Bangkok
Koh Samui- Koh Phi Phi
Krabi Suratthani
Koh Phangan – Suratthani
Chiang Mai- Luang Prabang
Bangkok- Phuket
Bangkok – Koh Tao
Krabi- Bangkok
Bangkok- Pattaya
Bangkok- Hat Yai
Pattaya – Hua Hin
Bangkok- Krabi
It's also worth noting that the Hua Hin ferry from Pattaya to Hua Hin will gain two new vessels starting in May 2017. This will improve transportation between the two places and provide more frequent trips for passengers. More on that here, if you're interested.
In addition, the transportation department noted that two new routes would be added: Sattahip to Hua Hin, and to Koh Chang.
But Is Buying Tickets Cheaper This Way?
12Go charges a small commission to cover the cost of sending staff into the field to hunt for the best prices and make life easier for us travelers. You may be able to find cheaper prices if you search hard and are willing to sacrifice time, and possibly comfort during your journey; however, it may be difficult if you don't speak Thai.
I've heard a few horror stories over the years of tourists purchasing tickets in overflow seating and having to spend their journey on the floor of a train or bus. The couple of extra dollars it costs to book with 12Go is definitely worth the hassle that can result from self-booking.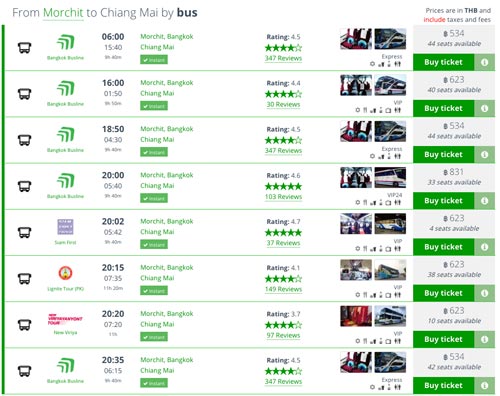 How to Bus & Train Fares Compare with Flights?
At times the prices between flights and trains aren't that different, if you book first class on a train and find a cheap economy ticket on a flight, that is. So let's have a look at a couple of quick "popular route" comparisons.
The popular Bangkok-Chiang Mai train route will routinely cost you between $20-$25 USD. A flight between the two cities averages around $75 USD.
Buses between Bangkok and Phuket could cost from $12-$35, while a flight would average at about $40-55 depending on the time and class.
While flying is certainly the faster way to travel, going by train or bus can be scenic, comfortable and more affordable.
Are There Any Luggage Restrictions?
Obviously 12Go just follow the operator and industry guidelines, but for the record they advise that you bring along luggage that is 'reasonably' sized, which includes backpacks and suitcases that can easily fit under knees or the seat in front.
If traveling on a minibus and you have a couple of backpacks, you may have to purchase an extra seat for excessive luggage. My experience is that a minibus will accommodate one large bag or backpack in the trunk.
They also advise that you stick to standard airline luggage weight limits to avoid excessive fines on flights too, and  discourage against high volumes and weights on larger buses, as well as luggage compartments can only accommodate a limited amount.
Can I Book On Mobile?
Yes, but while there is a mobile app, 12Go recommends that you book from the desktop version of the website as it has more information on routes and allows you to pay easily with international credit cards. You can then check your booking on the app.
What's the Deal with Kids?
If your child is under 3 years old, he/she can travel for free, provided that they share a seat with an you/adult.
If your child is under the age of 12 and under 150 cm, their ticket can be purchased on a reduced fare basis (with a discount of 10%). The 10% will be refunded in cash after all tickets are picked up.
Please note that for safety reasons children are only allowed to travel in the lower berths on trains.
Can Pets Travel on Buses & Trains?
In most cases, transportation operators will not let animals on board, but 12Go has partnered with one minivan company that has a pet-friendly policy. With this company, pets are allowed on board without a cage, provided that they do not require more space than a human passenger.
Damn, I really wouldn't want to be in a minivan on the way to Chiang Mai with 4 yapping designer dogs on board.
Note that unusual animals, like reptiles, endangered species or farm animals, are not permitted on board. Do not take your pet cow.
Do I Need to Print My Ticket?
Most bus and ferry companies require that the first page of the voucher is printed.
For trains in Thailand, operators generally only require a screenshot of the voucher or even just the booking number to confirm ticket purchase.
My advice is that it is generally a good idea to print the voucher regardless of company policy, so that you have easy access to the included map and address in Thai.
Can I Pick up My Ticket Prior to Travel?
Yes, and you can have it sent to you by post too. After you pay for your tickets you'll receive a payment confirmation via email. The 12Go staff will then purchase the tickets in person, after which you'll receive a ticket confirmation. Once you receive this email, you can go to the 12Go office during business hours and pick up your tickets anytime before your trip.
The team recommends that you pick up tickets no later than an hour before your planned departure time.
If you do plan to pick up tickets early, let the 12Go team know via email to make the hand off easy. Please be sure to bring ID! You can also arrange for a friend or family member to pick up the tickets on your behalf- be sure to indicate this to the 12Go staff.
For most trips, like bus trips to Laos, for example, you collect your tickets at the operator booth.
What Is the Cancellation & Refund Policy?
Cancellation depends upon the operator you intend to travel with. Always check on their cancellation policy beforehand as many offer refunds within a specific period, but some do not! Fees are generally not refunded.
For trains: cancelling a ticket before it has been issued incurs a cancellation fee of 20%. Once issued, cancelling a ticket costs 50% of the ticket. If it is 72 hours or less until your scheduled departure time, a ticket refund is not possible. Online booking fees are not refunded.
In Summary – 4 Key Benefits of Booking with 12Go
I am a fan of anything that organises my life that bit better and saves me time. I like efficiency.
1. Peace of Mind
The best part of 12Go is truly the peace of mind. Traveling in Thailand can have its bumps and bruises, but 12Go is a great tool that you can use to plan a holiday in advance and not have to stress about booking on the day, or even going through local travel agents – which is typically where mistakes/mis-communications happen.
2. Book on the Fly
12Go allows you to book from anywhere, at any time, for 8 countries in the region. Need to get to Laos ASAP? Want a ferry between the islands?
3. Guarantee a Seat
Purchasing with 12Go guarantees you a seat, which is great for train travel. No one wants to sit on the floor. It happens, trust me.
4. Decent Customer Support
The customer support is good. I emailed them twice with queries for this review and got an answer on the same day. The website is a hub of info on travel too. Compare this with the terrible operator sites and you'll soon appreciate it.
It's a well overdue thumbs up from me.