Thailand is an interesting place. The fact that so many tourists are drawn here on holiday, and that so many end up moving to live here, is testament to its allure.
But outside of Singha beer, Thai massage and "Sa-waa-dee-khrup", how much do you know about Thailand?
It's time to become a quiz master! Not that any of this will ever come up in the pub Christmas quiz, but hey, it's interesting all the same.
100 Interesting Facts About Thailand
Heritage and Geography
1. Thailand was known as Siam until 1939, at which point it change its name to Thailand, only to change back to Siam again in 1945. The final change back to Thailand was made on May 11, 1949. The word Thai means 'free', which makes Thailand 'the land of the free'.
2. The nickname 'Land of Smiles' is derived from the fact that Thais seek harmony over social conflict. The smile is used to defuse aggression, avoid confrontation and promote happiness.
3. The Thai language is a tonal language and belongs to the Tai-Kadai family of East Asian languages. The Thai alphabet is derived from Khmer script, which descended from the Brahmic Indian writing system. Written Thai can be traced back to around 1292 A.D. The Thai alphabet contains 44 consonants, 32 vowels and 5 tones.
4. 67,091,089 (67 million) people live in Thailand, of which 21,305,000 (21 million) live in the northeastern region of Isan. 75% of the population are Thai, 14% Chinese and 11% are made up of other nationalities. (2010).
5. According to government statistics, an estimated 12 million people live in the country's capital, Bangkok. The official number of residents is 8,249,117 (8 million) (2010).
6. Thailand is 514,000 square kilometers in size, and is bordered by Myanmar (Burma), Laos, Cambodia, and Malaysia.
7. There are 317 Thais per square mile.
8. Doi Inthanon is the highest point of Thailand, sizing up at 2,565 meters (8,415 feet). The lowest point is the Gulf of Thailand at sea level.
9. The weather in Thailand is tropical and generally humid, with an average temperature of 28.1c.
> Read more about the weather by region in Thailand
10. Theravada Buddhism is the dominant religion, making up 94.6% of the population. The remaining population is split between Malay Muslim (4.6%), Christian (0.7%) and other (0.1%). (2010).
11. Only foreigners refer to the capital as Bangkok. The Thai name is Krungthep Mahanakhon (Krungthep), although its real name is extremely hard to remember: Krungthepmahanakhon Amornrattanakosin Mahintharayutthaya Mahadilokphop Noppharat Ratchathaniburirom Udomratchaniwetmahasathan Amornphiman Awa-tarnsatthit Sakkathattiyawitsanukamprasit.
The official translation reads:
The great city of angels, the supreme unconquerable land of the great immortal divinity (Indra), the royal capital of nine noble gems, the pleasant city with plenty of grand royal palaces and divine paradises for the reincarnated deity".
Sukhothai was the first Siamese capital; Thonburi was the second. King Rama 1 moved the capital to Thonburi after the Burmese destroyed Ayutthaya in 1767. It was then moved to the present site (Bangkok) in 1762. The final move is said to have been because Thonburi was prone to flooding.
12. The name Bangkok actually comes from the word Bang Makok. Bang is the Central Thai name for villages situated on the bank of a river, and makok is the name for a tree that produces yellow plum-like fruits (Spondias dulcis).
Politics and Economy
13. Thailand is governed by a constitutional monarchy with a parliamentarian government. The Bangkok Metropolitan Administration (BMA) is divided into 38 districts. The country is divided into 77 provinces, each administered by an appointed governor. The provinces are sub-divided into districts, sub-districts, tambons (groups of villages) and villages.
14. The Thai flag is made up of three colours; red, white and blue. Red symbolizes the nation, land and people. White symbolizes the purity of Buddhism, and blue symbolizes the monarchy.
15. Thailand had the world's longest serving monarch. King Bhumibol Adulyadej ascended to the throne on 9 June, 1946, and reigned for 70 years. He died 13 October 2016.
16. The Queen, Her Majesty Queen Sikirit, and the late King, His Majesty King Bhumibol Adulyadej, had four children: Royal Highnesses Princess Ubol Ratana, Crown Prince Maha Vajiralongkorn, Princess Maha Chakri Sirindhorn, and Princess Chulabhorn. Prince Maha Vajiralongkorn became King on 1 December 2016, and was coronated May 2019.
> 9 videos that commemorate the life of King Rama 9
17. According to Forbes rich list, the late King Bhumibol Adulyadej was the world's richest monarch, owning an estimated $30 billion.
18. Thailand's flag is raised each morning at 08.00 hours and lowered at 18.00 hours in every town and village of the country. The national anthem is also played at these hours over television and radio. People stop what they're doing and stand up and pay respect to the King. The Thai national anthem is also played before each film at the cinema, where people are also expected to stand.
19. Automotive and electronics manufacture comprise 19% of the economy's exported goods. Thailand is the world's largest exporter of rice and largest producer of tin. Thailand also exports large amounts of cassava (manioc), rubber, corn, sugarcane, coconuts, soybeans and canned products such as tuna and shrimp. The financial services sector makes up 9% of the economy's income, with tourism contributing 6%. Approximately half of the Thai workforce is employed in the agriculture industry.
20. An estimated 90% of Bangkok's taxi driver's come from the northeast of Thailand (Isan).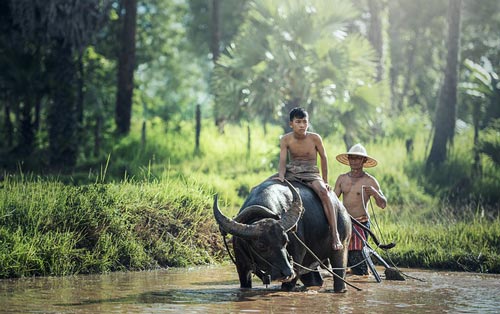 Thai Culture
21. The King and Royal Family are highly revered by Thais. It is illegal to insult the monarchy, and doing so is likely to result in a prison term.
22. Thais have arguably the calmest collective personality in the world, and keeping one's head is essential. Raising your voice or getting angry is a serious sign of disrespect, and likely to land you in a spot of bother.
23. The traditional Thai greeting is known as the wai, which is performed by putting your hands together in a prayer-like grip just below the chin. The wai is performed at varying heights to indicate seniority.
For example, you would wai an elder higher up than you would someone of your own age. When acknowledging a monk, you will required to wai high, raising your palms so that the knuckles of your thumbs are rested on your nose. Don't worry too much about getting the wai correct. The fact that you are using the wai to show your respect and friendliness will be very much appreciated. It should be noted that performing a wai to bar or restaurant staff, street vendors and customer service staff isn't necessary.
24. Thailand is a Buddhist country with its roots in Brahmanism and Animism. As such, there are a number of superstitions and spirit-related worship practices entwined in the culture. One such practice is asking the permission of the phra phum (spirit ghost of the land) when moving into a new home or staying over at someone else's home. Spirit houses can be found outside most properties in the country. These temple-like houses provide shelter for spirits who have not passed on to the heavens. Thais pay respect to the protecting spirit of the property by performing a wai when walking past the spirit house, and through daily offerings of food and drink. Some spirits are considered good and others evil, however, most are said to simply be mischievous.
25. Before entering a Thai home you must take your shoes off. As a foreigner you will often be told "mai bpen rai" (never mind/no problem), but ignore this as a gesture of consideration for your comfort and take your shoes off anyway.
26. The head is a scared part of the body in Thailand. Unlike the west where a pat on the head may be considered affectionate, it is offensive in Thailand and likely to spark an aggressive reaction.
27. Feet are seen as lowly in Thailand because they represent an attachment to the ground. It is therefore considered offensive to raise or point feet. Showing the bottom of your feet is offensive, as is putting your feet above someone's head.
28. Pointing is another gesture considered offensive in Thailand. Never point at a Thai and certainly don't point at Buddha images or images of the Royal Family. If you need to indicate reference to a person, open your palm and tilt your fingers towards the ground.
29. When passing in between people, Thais will duck down slightly as they walk through. This excuses the interruption, and in cases of seniority acknowledges respect.
30. White foreigners are known as '"farang" in Thailand. The origin of the word isn't entirely agreed upon, but it is thought the word originated from the Indo-Persian word farangi, meaning foreigner. This in turn comes from the word Frank, which was used to refer to The Franks, a powerful West Germanic tribe that rose to prominence in the Middle Ages. France also derives its name from this source, which would make sense because the word for France in Thai is "farangsed". The Thai word for guava (a fruit) is also "farang".
31. When going out to eat in Thailand. the inviter pays. A Thai person will usually offer to pay out of "grengjai", a custom of consideration/thoughtfulness. However, you should reciprocate the grengjai and insist on paying.
32. When it comes to dating in Thailand, the general rule is that the man pays for dinner. Among friends the bill will be split equally, unless of course it's your birthday, in which case it is customary for you to pay.
33. Thais love all things beautiful, and as such often categorise things as "suuway" or "mai suuway" (beautiful or not beautiful).
34. If you drop a coin or a bank note on the floor, be sure not to control its movement using your feet. The face of the King, or a previous King, is printed on all money, and such action would cause offense.
35. Whistling in the evening is said to call ghosts into your presence. Refrain from whistling outside at night, as you're likely to spook the locals.
36. In the past, it was said to be unlucky to have your haircut on a Wednesday. Many salons still observe this superstition by scheduling their weekly day off on a Wednesday.
37. Thailand has a slightly different order of priority for occupying public transport seats. It is as follows: monks, the elderly, pregnant women, children, women.
38. In Thailand it is perfectly acceptable to make a fuss of a stranger's child. You will often see people hug, kiss and speak with children they don't know. An extension of this is the fact that adults call not just their own children, but also the children of others, "luuk", meaning child.
39. Historically, all young Thai men entered monkhood for a period of time before their twentieth birthday. A stint in a monastery is said to bring good merit for the family. The tradition is still observed by many.
40. When visiting a home in Thailand and presenting the owner with a gift, don't be surprised if it isn't opened immediately and quickly put to one side. It is rude to rip open gifts in front of the giver, and so Thais usually wait until the person has left the home before opening the present.
41. Giving a pair of Siamese Si Sawat cats to a bride as a wedding present is said to bring good luck for the marriage.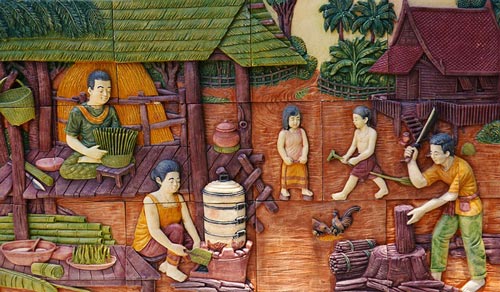 Sex and Gender
42. Thai people are prudish when it comes to public displays of affection, and as such kissing and hugging is unacceptable practice in the street or on public transport. In modern times, particularly in the capital city of Bangkok, couples can be seen holding hands and showing small signs of affection in public.
43. The Thai "sniff kiss" is quite different from that of a western kiss. It involves giving your partner a rather conservative sniff on the cheek rather than a lip-smacking squelch.
44. The first case of HIV/AIDS was reported in Thailand in 1984; this was also the first reported case in Asia. Thailand has the highest prevalence of HIV in Asia, and as of 2009 there were an estimated 530,000 people living with the virus.
45. Thailand is renowned for its sex industry, with many westerners flocking to the country to make use of cheap prostitution. The catalyst for the sex tourism industry was the passing of the 1966 Entertainment Places Act. The act was part of a broader agreement with the US to provide R&R (Rest and Recreation) – known as I&I by the soldiers (Intoxication and Intercourse) – to American troops stationed in Thailand during the Vietnam War. The bars/R&R sites were based outside of military bases. Police tolerance of the activity was encouraged, and once the war finished, many of the women continued to work in newly formed red light districts in Bangkok.
46. The women involved in the sex industry are largely from the poor, rural areas of north and northeast Thailand. On islands such as Koh Samui and Phuket, the going rate for sexual intercourse can be as low as 1,000 Baht, though a woman may charge more depending on the desirability of the client. In Bangkok, the price is usually set higher at around 2,000-2,500 Baht.
47. Prostitution is generally considered illegal in Thailand, but by definition of the law it is the practice of solicitation that is illegal. Under section 5 of the Prevention and Suppression of Prostitution Act, BE 2539 (1996), any person who, for the purpose of prostitution, solicits, induces, introduces herself or himself to, follows or importunes a person in a street, public place or any other place in an open and shameless manner or causes nuisance to the public, shall be liable to a fine not exceeding one thousand Baht.
48. Some 21 UN agencies and NGOs concerned with sex/people trafficking are based in Bangkok.
49. Thailand is well known for its transsexual community, also known as "krathoeys" or ladyboys. Although largely accepted in mainstream society, being transgender is culturally considered to be an affliction of karma, a sufferance of being trapped between man and woman.
50. The seaside resort of Pattaya, located 1.5 hours from Bangkok, has the highest rate of foreign male suicide in Thailand. The town is a popular destination for sex tourists.
51. Pattaya is home to Tiffany's Show, South East Asia's first transgender cabaret show.
52. Thailand's first officially registered ladyboy was ex-actress Jim Sara. She was also the first ladyboy to be legally married in New Zealand. She underwent gender transformation surgery in London in 1976.
> Check out the 10 Sexiest Asian Ladyboys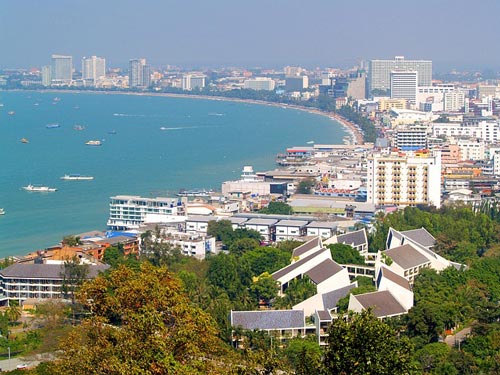 Famous Faces
53. Thai writer Pira Sudham was nominated for the Nobel Prize for Literature for his novel Monsoon Country. Pira was born in the northeastern province of Buriram.
> Check out his books here on Amazon
54. The globally recognised energy drink, Red Bull, was invented by a Thai named Chaleo Yoovidhya. The billionaire died in 2012, aged 89. The drink is known in Thailand as "Krating Daeng". Chaleo was born in the northern province of Phichit.
55. US golfer Tiger Woods is half Thai. His mother Kultida (Tida) Woods was born in Thailand and is of mixed Thai, Chinese and Dutch ancestry.
56. Professional Thai golfer Jaidee Thongchai was the first Asian to win a tournament on a European tour. He won the 2004 Carlsberg Malaysian Open. Jaidee was born in the central province of Lop Buri.
57. Paradorn Srichaphan is Thailand's most successful men's tennis player. Born in the northeastern province of Khon Kaen, he was once ranked 9th in the world. In 2002 he beat America's Andre Aggassi at Wimbledon to break into the world top 30.
58. Somluck Kamsing was the first Thai Athlete to win an Olympic gold medal. He won the men's featherweight boxing in the 1996 Summer Olympics. Somluck was born in the northeastern province of Khon Kaen.
59. Martial arts actor and stuntman Tony Jaa, star of the Ong Bak movie series and The Protector, was born in the northeastern province of Surin. Thais call Tony Jaa "Jaa Phanom".
60. Thailand has produced two Miss Universe winners. 18-year-old Apasra Hongsakula won the title in 1965, and Porntip Nakhirunkanok was crowned in 1988.
61. Ex Thai Prime Minister, Thaksin Shinawatra (2001-2006), once owned English football club Manchester City. He purchased the club in 2007 for £81.6 million, only to sell it a year later to Abu Dhabi United Group for an estimated £200 million.
62. Because of its great weather and broad choice of landscape settings, Thailand has lured a number of Hollywood directors to its shores to shoot movies, these include: The Big Boss (1941), Around the World in Eighty Days (1956), The Ugly American (1963), The Deer Hunter (1978), The Killing Fields (1984), Rambo: First Blood Part II (1985), Good Morning Vietnam(1987), Tomorrow Never Dies (1997), The Beach (2000), Bridget Jones: Edge of Reason (2004), Alexander (2004), Star Wars: Episode III Revenge of the Stealth (2005), Sith (2005), Bangkok Dangerous (2008), The Hangover Part II (2011), The Railway Man (2012).
Amazing Facts
63. The term "Siamese twins" comes from conjoined twins, Eng and Chang Bunker, who were born in 1811 in Samutsakorn province. They were actually labeled the "Chinese twins" in Thailand because they were born to a Thai-Chinese father and Malay-Chinese mother. They left Thailand when they were 17 years old, settling in the US. Each married, and between them they had 22 children. In 1873 Eng caught pneumonia and died. Chang died a few hours later.
64. In 2010, Thailand set the world record for the longest line of washed plates. Thailand managed an impressive 10,488 plates, only to be outdone in 2011 by India, whose team of plate washers smashed the record with 15,295 plates.
65. In 1999, 282 skydivers above Ubon Ratchathani province set the record for the largest number of skydivers in a free-fall formation. The group held the link for 7.11 seconds.
66. The person with the world's longest documented hair growth is Hoo Sateow, a medicine man from Thailand. At the last measure his hair was an impressive 16′ 11″ long.
67. In 2011, the Guinness Book of Records crowned Thailand's Supatra "Nat" Sasuphan as the world's hairiest child. She has one of only 50 documented cases of Ambras Syndrome since the Middle Ages.
68. The world's most expensive pet wedding took place in Thailand in 1996 between two rare diamond-eyed cats. Phet and Ploy were married in a flashy $16,241 Thai ceremony.
69. Thailand holds the record for the largest number of vets operating on one animal. In 1999, 30 vets operated on a cow elephant named Motola. The team amputated her foot, which had been injured by a landmine.
70. One tenth of the world's animal species live in Thailand.
71. Thailand is home to the bumble bat, the world's smallest mammal,
72. Thailand is home to the world's largest living lizard. The monitor lizard can grow to over 7 feet.
73. The world's longest, most venoumous snake thrives in many parts of Thailand. The king cobra can grow to more than 18 feet long. Its bite can kill an elephant.
74. Thailand is home to the world's largest fish (rhincodon typus). Known locally as the "whale shark", it can grow in excess of 12 feet.
75. The Siamese cat originates from Thailand (Siam), with history citing 23 original breeds. Today there are just six known breeds.
76. It is estimated that Thailand houses 10% of the world's bird species.
77. There are 1,500 types of orchid growing wildly in Thailand.
78. In 2010, Thailand set the record for the longest catwalk. The catwalk, part of the Pattaya International Fashion Week, measured 1,584 metres.
79. In December 1997, 10 staff at the Mercure Hotel in Bangkok created the world's largest Christmas log cake. It measured 8.4m (27 feet 6 inches) long and 2 feet wide. The cake was dished out in 19,212 portions.
80. Thailand is home to the world's largest solid gold statue. The Golden Buddha, located at Wat Traimit in the Chinatown district, weighs 5.5 tons. The statue spent centuries hidden under a layer of plaster, which King Rama III used to disguise its value in transit from Ayutthaya to Bangkok. An accidental crack in 1955 revealed the statue's true value.
Sad Facts
81. The 2004 tsunami, caused by the Indian Ocean earthquake, killed approximately 8,000 Thai people. An estimated 1,500 Thai children lost their parents to the natural disaster.
82. Her Royal Highness Princess Ubol Ratana's only son, Bhumi Jenson, was killed by the 2004 tsunami on the island of Khao Lak.
83. Bangkok was at once labeled "Venice of the East" because the majority of its houses stood stilted in canals. Over the years the majority of canals have been paved over to accommodate the rising population.
84. Air pollution levels in Bangkok are so bad that an estimated 20% of the capital's police force have some type of lung disease. Police wear masks and stations are equipped with oxygen tanks in case an officer is taken sick with a respiratory problem.
> Read more about Pollution in Thailand
85. At one time more than 100,000 elephants lived in Thailand. In the present day there are about 5,000, with less than half living wild. The majority of elephants are subject to suffering through offering rides to tourists or street begging.
> Read about the Elephant Nature Park
86. Even though Buddhist values promote the care and kindness to all sentient beings, abhorrent practices such as cock fighting and buffalo fighting still take place in many rural areas.
87. You can still get the death penalty in Thailand for drug smuggling and murder. Execution is now done by lethal injection.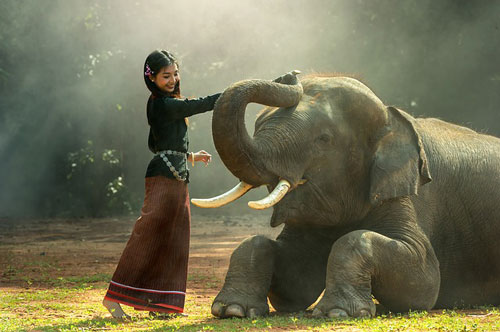 Random Facts
88. Approximately 10,000 Americans live in Thailand, but a whopping 300,000+ Thais live in America. The UK houses an estimated 30,000 Thais.
89. Approximately 30 million tourists visit Thailand each year.
90. Thailand is the only South East Asian country to have never fallen under foreign rule.
91. The words "sawadee krup/ka" (male/female) can be used to say hello and goodbye, though there are other words for goodbye.
92. Koh Samui and Koh Samet are the only two islands in Thailand officially declared rabies-free zones. The last reported case in Koh Samui was in 1985.
> Read about Soi Dogs in Thailand
93. Switzerland has more Thai expatriates per capita than any other country in the world. It is thought the attraction for migration is based on the late King Bhumibol Adulyadej having spent his childhood in the country.
94. The late King Bhumibol Adulyadej was an Olympic standard yachtsman.
95. The Thai national anthem was composed by a German named Peter Feit.
> Learn the history of the national anthem
96. It is illegal for men and women to be seen topless in public. It is also illegal to leave the house without wearing underwear.
97. In 1939 it was made illegal not to stand during the playing of the Thai national anthem.
98. Bangkok's Suvarnabhumi airport boasts the world's biggest passenger terminal under a single roof.
99. Thai Buddhist amulets are big business. The most expensive type is 'Somdej Wat Rakhang', which, depending on age, can sell for up to $1m.
> Watch a documentary about amulets
100. Contrary to popular belief, the most valuable Thai bank note isn't the 1,000 Baht note. It is the limited edition 500,000 Baht ($16,000) note issued in the year 2000 to commemorate the King and Queen's 50th wedding anniversary.
Spotted an error? Got an interesting fact of your own? Leave it in the comments section.
References:
National Statistical Office of Thailand
National Economic and Social Development Board
Thailand Meteorological Department
Thailand Ministry of Industry
Department of International Trade Promotion
Wikipedia