I still can't believe how few people are using this visa run option.
It can be done from any airport where Nok Air has a flight into Udon Thani, which includes Bangkok, Chiang Mai and Phuket.
I first used this method because my 90-day stay was up on my Non-Immigrant O Visa and I wanted another 90 days, but this is applicable to anyone who needs to stamp in and out on any visa.
On my most recent trip, I was the only foreigner on the last leg of the trip into Laos. This meant I had the VIP treatment of being the only rider in a brand new minivan, which dropped me to the doorstep of my hotel.
In this updated version for 2021, I'll give you the additional option of staying over a night in Vientiane.
But let's start with the fastest version first:
Please Note: The borders are currently closed due to Covid-19. Check with immigration regarding extensions and amnesty.
Fastest Thai Visa Run in 10 Easy Steps
Option 1: Same Day Return
Not only is the fastest visa run possible, it is also the most comfortable and one of the cheapest.
It costs less than 3,000 Baht, and you don't have to sit cooped up in a minivan with a mad driver risking your life for 10-12 hours of the day.
Documents, Money, Tools Required:
Departure card (filled in).
30 Baht for bus ticket across the bridge (15 Baht each way).
1x photo for Laos immigration.
$35 for Laos immigration (you can change your money up at the airport, but best to be organized and have it beforehand).
Pen.
Lunch (box).
Snacks for journey.
Step 1:
Book a fly n' ride ticket to Udon Thani with Nok Air.
If you want to do this trip in a day then the latest flight you can book is the 12.20 PM flight.
If you go for the 6 AM flight, you could even be back in Bangkok, or wherever you flew in from, before lunch time.
I'm going to explain this from the point of view of the 12.20 PM.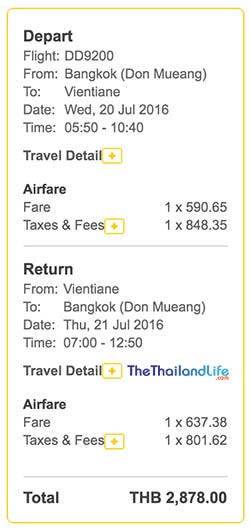 Step 2:
Take a taxi to Don Muang airport, or, if outside of Bangkok, to wherever your local airport is.
It's a domestic flight, so you can check in one hour before. I always do it two hours before, regardless. No risks taken.
Step 3:
You won't need an over night bag, so you'll have no luggage to check-in.
You'll be given a fly n' ride sticker that tells the staff when you land that you are transferring to Vientiane (see the image below).
Go straight to the departure lounge and take advantage of the free WIFI while you wait. Connect to "Nok Wifi" and enter your Nok Air booking ID to login.
Step 4:
You'll land in Udon Thani at 13.25 PM.
As you make your way to arrivals, you'll see a toilet on the right-hand side before you go down the stairs. Use this toilet to go for a wee. You'll be in the mini-van for 45 minutes and the driver won't be making a gas station stop on the way.
Step 5:
Go down the stairs and look for the Nok Air rep with the clipboard. He/she will be waiting for you by the door. Follow the staff member to the minivan.
The van they use is usually a modern one. It has seat belts and air-con vents throughout. The driver tends to drive safely because he is representing the airline.
Step 6:
If you haven't already done so, make sure you have filled out your departure card. This will save you time when you get to Thai immigration. Also use this opportunity to eat your packed lunch.
Be careful not to get out of the van too early. The van usually stops at a travel agents and at a shopping mall fairly near the border. A few people depart here. Your stop is the final stop, as pictured below:
Step 7.
Jump out at the checkpoint and make your way straight to immigration.
Collect a new arrival card to fill in while you are in Laos.
Once through, buy your 15 Baht bus ticket from the nice lady. This bus will take you across the Friendship Bridge to Laos.
Ask if it's the correct bus before you get on! Don't bother sitting if you don't have to; it's only a few minute's ride.
Step 8:
Jump off the bus and walk straight to 'window 1' to get your forms.
Don't bother downloading your form from a site to fill in before your journey. I did this last time and it was refused. Gutted!
Refuse all touts offering you a taxi or to help you fill in your forms.
Sit down on the bench and fill in your forms. Watch your bag at all times!
Go back to 'window 1' and give in your forms, passport, photo and $35. (Never pay in Baht, you will pay more that way). Now go and wait by 'window 3' to get your passport back.
Step 9:
Collect your passport and walk through to show it at the immigration check.
On the other side, a member of Nok Air staff will be waiting to meet you. There's a big Nok Air sign; you can't miss it.
If you have booked a flight back to Bangkok on the same day, you will need to sign to refuse the transfer to Vientiane and let the person know you are going back straight away.
Step 10:
Simply turn around and go back through immigration. Buy a bus ticket for 15 Baht (or 4,000 Kip) and repeat the process in reverse.
Depending on the time you are doing this, you may be too late to get the fly n' ride minivan back to the airport, so you'll have to get another minivan.
I jumped in one for 200 Baht last time I did this in one day.
If you caught the 6 AM flight from BKK, you'll probably be going back on the 16.45 PM flight and will be able to catch the Nok Air minivan on the other side.
If you caught the 12.20 PM flight, then you will have missed the Nok Air van when you turn around and go back into Thailand. The van leaves at 3.15 PM.
You will have to find another minivan to take you or take one of the taxi touts up on their offer.
Alternatively, go with the Nok Air minivan, relax and stay a night in Vientiane. It's a lovely little city. This is the second option.
Option 2: Stay Overnight in Vientiane
I really prefer this option because it means less traveling in one day, and I get to see the sunset over the Mekong, have dinner in Laos and do some shopping at the night market. Oh, and grab a foot massage if I have time.
So, it's all the same steps as above, except at 'Step 9' you jump in the Nok Air minivan and go to Vientiane.
If your hotel is on the way, they will happily drop you off. If not, you will be taken to a travel agents in town named Trans-Express.
This is the official Nok Air drop off and pick-up point. You then have to make your way to your hotel, which will be walkable if you use one of my hotel recommendations below.
Hotel Recommendation 1: IBIS Nam Phu
I've stayed at the Ibis Nam Phu three times. I go back because it's so reliable. I know what I'm getting and it has been a wonderful experience every time.
The staff all speak English (front desk) and are super-helpful.
Here's a quick pros and cons breakdown for you:
Pros:
Centrally located.
Can walk to and from the Nok Air drop-off/pick-up point.
Very clean (international chain hotels have standards to adhere to).
15-minute problem solving policy (they solve any issue within 15 minutes).
Wonderful lobby for relaxing/working.
Close to the night market.
Next door to Nam Phu (music, restaurant and bar).
Close to everything: temples, shops, restaurants, etc.
Comfortable bed.
Flat screen TV with international news channels.
Work desk in room.
Great WIFI.
Good breakfast options.
Bar and restaurant open all day.
Cons:
Not that cheap at around $70 per night, but for the location and the quality you can't go wrong – there won't be any unwanted surprises!
Some rooms are smaller than others.
Breakfast is not usually included in the price. You can get a full breakfast for $8, or the smaller cereal, fruit, coffee breakfast for $5. Don't sweat this, though; there's three cafés, all serving great food, within walking distance.
Hotel Recommendation 2: Lao Orchid
My second recommendation is the Lao Orchid Hotel. I've stayed here twice and you won't be disappointed with this choice either.
Pros:
Fantastic location, opposite a lovely temple and right next to the night market.
Lovely staff.
Wonderful lobby for chilling.
Great restaurant: Open-plan means you can chill there in the daytime.
Has parking if you want to hire a car.
Great breakfast buffet.
Bar and restaurant open all day.
Clean, spacious rooms.
Good WIFI.
Cons:
Can be a tad noisy, though good sleepers won't be affected. On my first visit I experienced dogs barking until 2 AM. I assume they were in the temple grounds.
The night market goes on until 9/10 PM, so it's a solid 11 PM before everyone has gone home to bed. It's a pretty sleepy town though, and there isn't much road noise at all after 11 PM.
Not cheap in comparison to "backpacker" hostels, but mid-priced compared to the Salana and the Dhavara.
Last Steps – Back to Thailand
Step 11:
Okay, this brings us to the last step in this Thai visa run process.
Remember, you need to meet at the Nok Air meeting point, which as I mentioned previously is currently the Trans-Express travel agents.
Arrive here a solid 15 minutes before departure time.
Go inside and sit down on the bench provided. The driver will arrive on-time, with a clip-board on-time, and leave sharply!
Step 12:
If you haven't done so already, fill out your Laos departure card before you leave to save time when going through immigration.
If you remembered to pick one up on the way in, fill out your Thai immigration arrival card too.
Step 13:
You will be dropped off by the minivan at immigration (border control).
Once through, you need the bus ticket to cross the bridge. This costs 4,000 Kip, so make sure you save some kip. You can pay in Baht, but having Kip saves time.
*NOTE: Don't change up too much Kip. You can't change it back to Baht in Thailand or anywhere else for that matter. No one wants this currency!
+ Read my Laos money guide here
Don't sit down on the bus. Stand at the front so that you can be one of the first to get off.
Once you've arrived at Thai immigration, get straight into the queue; the last thing you want is a bus-load of border runners getting in front of you – this could cost you 45 mins or more.
Step 14:
On the other side, walk straight ahead until you see a bench next to a Nok Air sign.
Now, PAY ATTENTION!
DO NOT listen to the touts telling you that you have missed the Nok Air bus.
It arrives at 3.15 PM. If in doubt, call the number provided on the sign. These touts are trying to trick you into taking a taxi/van with them, which will set you back in excess of 300 Baht.
The minivan will arrive. Sign your name and seat belt up for the ride.
You'll have two hours to kill at Udon Thani airport. There's a restaurant on the second floor, before you clear security to go into the waiting lounge. There's also a coffee shop and gift shops on the first floor.
Inside the lounge is a Black Canyon Coffee shop and some snack shops. Being an airport, expect to pay premium prices for snacks.
That's it! You're done.
Get on the flight and return to Bangkok, Chiang Mai, Phuket or wherever you came from or are going to.
Need a Tourist / Non O Visa From the Vientiane Thai Embassy?
It may be the case that you want to go over the border and visit the Royal Thai Embassy in Vientiane.
To do that, you can apply the same steps using the information above, but bear in mind that you will most likely need to stay overnight, unless you take a very early morning flight.
Also note that as of February 2019, you have to make an appointment to visit the Royal Thai Embassy in Vientiane to obtain a Tourist Visa or Non Immigrant Visa. You can't just turn up anymore like the good old days. 
Before submitting the visa application in person at the Embassy, you will first need to schedule an online appointment.
Recently, there have been reports of no available appointments for 2 weeks, so if this is your plan, get onto it quick time.
The online booking platform can be found here.
If you're in a pickle and need that visa much faster, you'll need to think about another embassy – perhaps consider Vietnam (Hanoi or Ho Chi Minh).
You can usually get one done in a day there. Or try Penang, Malaysia; though get there early as they only accept 100 applicants per day.
More Tips for a Better Life in Thailand
Send Money to Thailand:
Use Transferwise. It is fast, cheap, and gives you the market exchange rate. Me and the majority of my readers are using it.
Get Good Health Insurance:
Start with a quick quote from Cigna. Then compare my other recommendations here.
Improve Your Thai Skills:
Learning Thai makes life here easier and more fun. I use Thaipod101. It is free to get started & easy to use.
Protect Your Online Privacy:
A VPN protects you against hackers and government snooping. I always use one. You should too. Read why here.