Not a week goes past without an email landing in my inbox asking me about "jobs in Thailand" for foreigners/expats.
So I thought it was about time I created a post detailing potential work opportunities in Thailand for foreign nationals.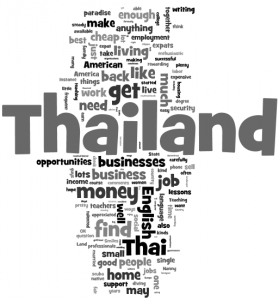 In the last decade, the number of 20-30 somethings relocating to Thailand has increased considerably.
The stereotype of Thailand being a place solely for retirees is fading amidst a new generation of young folk who'd rather live on this side of the world, where at least for now the grass looks greener.
I've met a hell of a lot of people doing different jobs in the last 7 years: From the birth lottery blessed (who don't need to work) to teachers, lecturers, Internet marketers, restaurant owners, condo flippers, NGO workers, eBay sellers and more.
The fact is: if you really want to work in Thailand, you can.
Where possible, I've provided actionable recommendations; things you can do or websites to visit to get started.
Please do note, however, that this is not a silver bullet. Everything worth having in life requires some commitment and effort.
For example, if you want to teach in Thailand you will need to get your TEFL certificate, and if you want to work for a multinational company then you will need to create a really compelling resume and contact those companies directly.
If you want to become a freelance writer then you will need to start at the bottom and work your way up – but you can start today.
If you want to establish a business selling a product online (sourced in Thailand), you will need to do considerable research to assess market eligibility, and do the legwork to find the best products at the cheapest prices.
But know this: There are thousands of foreign nationals in Thailand who initially had the same dream of living and working in Thailand, or somewhere else in Asia, but didn't have a clue what they would do for work.
These people are now working and living their dream. Whether their dream turned out the way they thought it would, well, that's another story.
12. Potential Jobs for Foreigners in Thailand
1. Teach in Thailand
Let's start with the obvious. There's always teaching opportunities available in Thailand. You won't make a fortune, but you'll  start off by making enough to establish yourself in Thailand and pay all your bills and monthly expenses.
Jobs at state level provide a salary of around 30-35k per month, while in the private sector jobs pay between 45-100k+ per month, depending on experience.
Bear in mind that you can always earn extra money on the side teaching privately, and by getting weekend spots at language schools.
Language schools are also worth contacting regarding full-time work. Staff turnover is fairly regular, so leaving your CV for future reference is a good idea.
Language schools tend to provide an environment more conducive to teaching, too. Most teachers teaching in state-run schools will tell you that given the limited resources and ability to influence school curriculum and decision making, it isn't easy to make progress with the kids
To teach you'll need a TEFL certificate. Check out this TEFL post on the most cost-effective and easiest way to get qualified.
2. Real Estate Jobs
Due to the booming condo market in Thailand, there's an increasing number of openings in the real estate market.
Companies like CBRE and Absolute employ a number of foreigners to help take care of developments and sell timeshares.
Jobs can range from riding about on a motorbike in Samui or Phuket trying to recruit would-be purchasers, right up to business development and operational management positions.
3. Work as a Diving Instructor
If you're PADI qualified, you might consider becoming a diving instructor at one of the popular diving spots like Koh Tao, Phi-Phi Island or Krabi.
Instructors earn around 30- 40k per month. If you aren't qualified, you can also take lessons and train to become an instructor.
Check out Simple Life Divers for more info on how to start a career.
4. Become a Freelance Writer
If you're handy with words, there's money to made as a freelance writer on sites like Upwork.com.
And if you're prepared to earn your reputation, it could bag you a lot more than being a teacher in Thailand.
Work will initially average out at $10 per hour, netting you a potential salary of approximately $1,600 per month.
If you're travelling around and need cash, then why not share your experiences and get paid as a travel writer? Of course, you need to be adept at penning magazine-worthy articles, and you'll need to submit work on spec to get your name out there.
If you're good enough, you could well land a few writing jobs with travel websites, in-flight magazines and Thai newspaper supplements, and end up making a good career for yourself.
You don't need to be a travel writer though. There are plenty of writing jobs available all over the web.
=> Check out this writing agency for jobs now
5. Sell a Gig On Fiver.com
You'll be very surprised at just how much some Fiver sellers earn. Popular gigs bag over $100 a day, easily.
Sure, you have to pay $1 of the fee to Fiver, but if your gig takes just 30 minutes or less to complete, and has upsell packages that can earn up to $100 or more on one job, you can make good money in a short time.
This is also work you can do from at any time, from anywhere.
=> Register an account and offer a service here
6. Working for a Multinational Company
People often forget that there are heaps of multinationals operating out of Thailand.
If you've got solid managerial experience, put a resume together and put yourself out there by sending it off to relevant companies. You can even do research on home turf before you make your final move.
Jump on LinkedIn to find companies with offices in Thailand and contact the HR department about possible openings.
If you're currently working a job in your home country, perhaps the company you work for has a branch in Thailand and you can negotiate a transfer.
If you're thinking about this route, take a look at this post. 
7. Get a Job at an Embassy or with The UN
Occasionally job openings come up with foreign embassies and the United Nations. These openings have very specific requirements and the application process can be laborious.
You will need to check these websites regularly to keep abreast of openings. The downside of these job openings is that they are usually awarded to internal applicants as part of career progression, though by law they have to be advertised externally.
8. Become an International Development Worker
If you've got social/aid development qualifications then there may be openings with NGOs, GOs and other aid projects. These positions are usually term-funded, meaning they run for a term of say 1-2 years until the position is renewed, or not, as the case may be.
If you're interested in this sector, sign up for job notifications with Devex.
9. Get into Movie/Extra Work
At the lower end of the scale, a movie extra can make about the same as an expat teacher (state school), and at the higher end of cameo appearances and modelling, earnings can soar past 100k a month.
The downsides are that work can be inconsistent. You'll need to go to lots of castings that will often lead to nothing, and there can be lots of waiting around on set.
Extra work starts at approximately 1,500 Baht per day. Cameo appearances range from 5-20k, and modelling work can fetch anything from 5-150k per job.
For extra work check out the the Actors Association of Thailand page.
10. Manage a Bar, Restaurant or Hotel
Quite often you'll see a foreigner running a bar or restaurant in Thailand, particularly on islands like Samui and Phuket and in downtown Bangkok.
These jobs are usually handed to relocating friends/ family of the owner, but if you've got good experience then it's worth going in and making face-to-face contact.
Similarly, if you've got career experience in hotel management, you'd do well to contact the higher-end hotels in Bangkok. The larger hotel chains do often fill high-level management positions with foreign nationals.
11. Become a Thailand-Based Entrepreneur
Thailand is booming, and as a result there's plenty of room for entrepreneurship.
From exporting goods to marketing consultancy, if you've got the credentials and the drive in a particular niche, there's no reason why you can't start your own business instead of working for someone else.
The great thing about starting a business in Thailand is that you're able to keep living costs low while you set up business. This relieves financial strain and gives you time to find your feet.
I have personally attended Meet-Up Groups for Internet Marketing. These meets are a great way to connect with like-minded individuals with whom you can mutually open doors. You'll also make friends with the same interests.
12. Check Out the TTL Jobs Board
Jobs come up regularly in a variety of positions, but you've just got to be quick to react and get your resume in.
You don't need to look very far either! There's a job board right here on TTL, with new jobs in Thailand added every day.
=> Click here to check out the TTL Job Board.
A Final Word on Working in Thailand
As you can see, there's an abundance of opportunity in Thailand, and the common perception that "the only work is teaching" simply isn't true – at least not anymore.
In fact, unless you're really passionate about teaching and contributing to better the Thai education system, I would look elsewhere for something you're really interested in. Otherwise life will just become the same as the life you wanted to escape back home – a boring, uninspiring 9-to-5.
That said, teaching is always a great starting point and a way to settle in Thailand fairly quickly if you're desperate for a move.
If you're serious about making a life in Thailand, it's entirely possible to do so and earn decent money.
There are thousands of expats living and working in Thailand. However, information on what they do is scarce because most are too busy to be writing about it online. But I bet my bottom dollar the majority fall into one of the categories listed above.
I hope this information helps you in your search for work in Thailand and, if you're already working here, it would be great if you leave a comment detailing your job and how you got into it so that we can make this page a "jobs in Thailand" resource for new expats.
Remember though: it's illegal to work in Thailand without a permit, so be sure to read this post and learn the law.