I moved to Thailand in 2008, when I was 29 years old.
Initially, I came here on an extended holiday; a life break, so to speak. But that adventure soon took on a life of its own, and became my life…
I've since visited all corners of the Kingdom, as well as neighbouring countries such as Laos, Singapore, Vietnam, Malaysia, and Cambodia.
I first stayed in Koh Samui for around 9 months, but soon got itchy feet on the relatively small island. I wanted to explore the country and expand horizons beyond the expat-centric lifestyle.
First I did some traveling in the north to the likes of Chiang Mai, Chiang Rai and the charming Pai, and then eventually settled in Bangkok. I've visited North, South, East and West, met great friends and had a ton of wonderful experiences.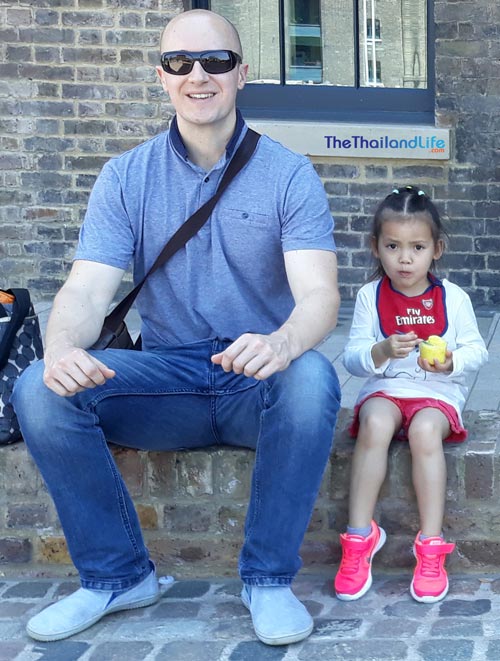 TheThailandLife.com started as an outlet for me to share my experiences with folks back home, but quickly I found that those experiences also helped others with their plans for living/travelling in Thailand.
Fast-forward to today and my humble blog is read by over 100k unique visitors per month.
How Things Have Changed
As for me, I'm married now and have a wonderful daughter – that's her in the picture above. My little shadow.
Now we travel as a unit. It's awesome.
As for Thailand, things have changed massively among the expat community in the last 10 years. Thailand is attracting a diverse crowd of foreign nationals from all over the world.
Thailand is a hub for start-up businesses, international trade, inexpensive and fun living, but still a country quite like no other with endless cultural nuances to explore.
In addition to retirees and working expats, entrepreneurs, web developers, affiliate marketers, writers and other location-independent folk are basing themselves here to work remotely from beaches and big cities.
The broad range of people you meet from all walks of life is incredible.
The job market is opening up too, and more people are seeking jobs with multinationals for the chance to relocate to the land of delicious food, warm weather, beautiful islands and"sanuk" (fun).
The Land of Smiles is an exciting place to be right now, a place where you never know who you might meet and what might happen next.
I'd love to help you on your journey, whether it has already started or whether you are planning for a future move or trip.
How to Get the Most Out of The Thailand Life
I'm certain my blog can help you navigate the journey ahead. It will save you time, money and stress – and that's got to be worthwhile.
You can get my monthly newsletter, and my best tips sent straight to your email.
Simply enter your email address in the box below:
If you're on Twitter or Facebook:
Remember, the success of this blog has been down to awesome people like you, so don't forget to leave your experiences in the comments section of the posts you read.
Have a great day!
Peter ~ TheThailandLife.com
P.S. To find content to read, you can use the 'Reader Favourites' & 'Helpful Posts' sections to the right of this page (below if on mobile), or stick a query in the search box and press enter.