Chiang Mai is a city in northern Thailand known for its rich culture, stunning natural beauty, and friendly locals.
Located in the foothills of the Himalayas, Chiang Mai is the largest and most populous city in the region.
One of the main attractions of Chiang Mai is its rich culture and history. The city is home to more than 300 temples, many of which are centuries old and feature intricate designs and ornate decorations.
Chiang Mai is also known for its handicrafts, such as woodcarving, and pottery, and other art such as paintings and music.
In addition to its cultural attractions, Chiang Mai is also a great place to experience the natural beauty of Thailand. The region is home to lush forests, stunning waterfalls, and picturesque rice fields.
Chiang Mai is also known for its food, which is a blend of Thai and Chinese influences. The city is home to a variety of restaurants, street food stalls, and local markets, and it is a great place to try traditional dishes, such as khao soi (a curry noodle soup), kaeng som (Tamarind soup), and khao niao (sticky rice), of course.
Overall, Chiang Mai is a vibrant and diverse city that offers something for everyone. It is a great place to experience Thai culture, explore the natural beauty of the region, and enjoy delicious food.
So what should you do when you visit the city? Here are my 10 top ideas for you.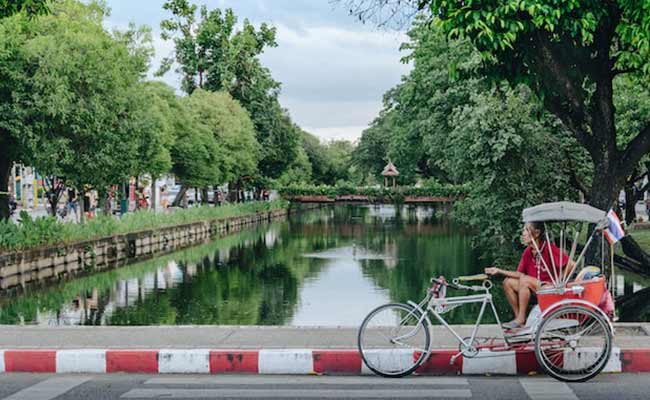 Top Ten Things to Do in Chiang Mai
1. Visit the Wat Phra That Doi Suthep Temple
Located just outside of the city center, the Wat Phra That Doi Suthep Temple is one of the most iconic and popular attractions in Chiang Mai.
Doi Suthep was built in the 14th century, and it is named after a monk who is said to have brought a relic of the Buddha to the temple site. The temple is known for its stunning architecture, which combines Thai, Burmese, and Lanna styles,
The temple is built on a mountain and is home to a stunning golden pagoda that can be seen from many parts of the city.
Visitors can reach the temple by taking a winding road up the mountain or by climbing the 309 steps that lead up to the entrance.
Once at the top, you'll be rewarded with breathtaking views of the surrounding countryside and the opportunity to explore the temple grounds and learn about the history and cultural significance of this important site.
The temple is open to visitors from 6:00 am to 6:00 pm.
2. Visit the Chiang Mai Art and Cultural Center
For a taste of local culture, why not head to the Chiang Mai Art and Cultural Center? Here you'll find a range of exhibits showcasing the art and culture of the region, as well as a number of workshops and classes where you can learn more about traditional crafts and techniques.
Established in 2002, the government-funded center is a multi-purpose cultural complex that includes a theater, exhibition halls, and a library. It hosts a variety of cultural events and activities, including concerts, plays, exhibitions, and workshops.
Its mission is to promote and preserve the cultural heritage of Chiang Mai and the surrounding region, and to provide a platform for artists and cultural practitioners to showcase their work.
The Chiang Mai Art and Cultural Center is home to a number of permanent and temporary exhibitions. The permanent exhibitions showcase the history, culture, and traditions of Chiang Mai and the surrounding region, while the temporary exhibitions highlight the work of contemporary artists and cultural practitioners.
3. Explore the Chiang Mai Night Bazaar
Probably my favourite evening past-time is the Chiang Mai Night Bazaar. Located in the heart of the city, the bazaar is open every night and is home to a wide variety of food, souvenirs, and other local goods.
You'll find everything from traditional Thai handicrafts and textiles to modern clothing and accessories, as well as a range of tasty local snacks and meals.
In addition to shopping, the bazaar also offers live entertainment and cultural performances, making it a great place to spend an evening and immerse yourself in the local culture.
4. Visit Some of Chiang Mai's 300 Historic Temples
If you enjoy Doi Suthep, then you might want to see some more of Chiang Mai's wonderful temples. There are over 300 of them in the city, which would take you weeks to explore, but here's three you should check out:
Wat Phra Singh: This temple is a must-see for its beautiful golden chedi (a type of Buddhist shrine) and intricate carvings. It's also home to a revered Buddha image, which is said to have the power to grant wishes. You must dress modestly and remove your shoes before entering.
Wat Chedi Luang: This temple is home to the partially restored Chedi Luang, a massive stone tower that was destroyed by the Burmese in the 15th century. The temple grounds also feature a hoard of ancient artifacts, including gold and bronze Buddhas.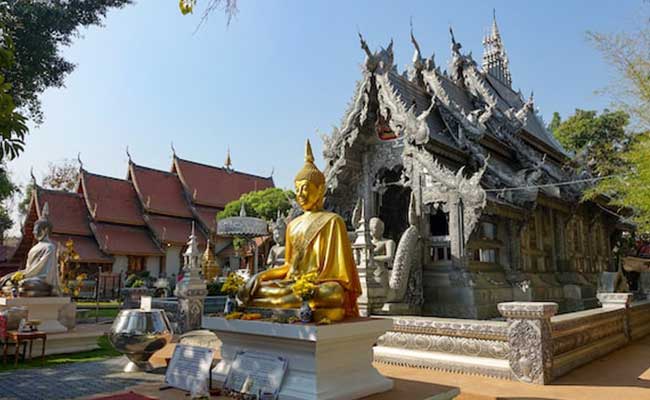 5. Take a Hot Air Balloon Ride
For a memorable experience, see the beauty of Chiang Mai from above by taking a hot air balloon ride. These scenic flights offer breathtaking views of the city, temples, rice fields, rural landscape, and more.
The rides usually take place in the early morning or late afternoon, when the weather is cooler and the winds are calmer. There are a variety of tour options, such as private or group flights, and they often provide additional amenities, such as a post-flight breakfast or a souvenir photo.
A typical hot air balloon ride in Chiang Mai includes a briefing on safety procedures and a demonstration of how the balloon works, followed by a lift-off and a flight of about an hour.
For bookings, simply enquire at a local travel shop, or with your hotel reception.
6. Visit the Elephant Nature Park
The Elephant Nature Park is a sanctuary for rescued elephants located just outside of Chiang Mai. Here you can get up close and personal with these majestic animals and learn about their conservation and care.
The park was founded in the 1990s by Sangduen "Lek" Chailert, a Thai conservationist and animal rights activist, as a response to the widespread abuse and exploitation of elephants in the region.
You'll see more than 70 elephants, most of which have been rescued from abusive situations, such as working in the tourism industry or performing in circuses. The park provides a safe and natural habitat for the elephants, where they can roam freely and receive the care and attention they need.
Visitors to the Elephant Nature Park can interact with the elephants and learn about their biology, behavior, and conservation needs. The park offers a variety of educational and immersive experiences, such as elephant feeding and bathing, and it also hosts workshops and talks on elephant conservation and responsible tourism. There is, of course, no riding.
I wrote an in-depth review of the park here.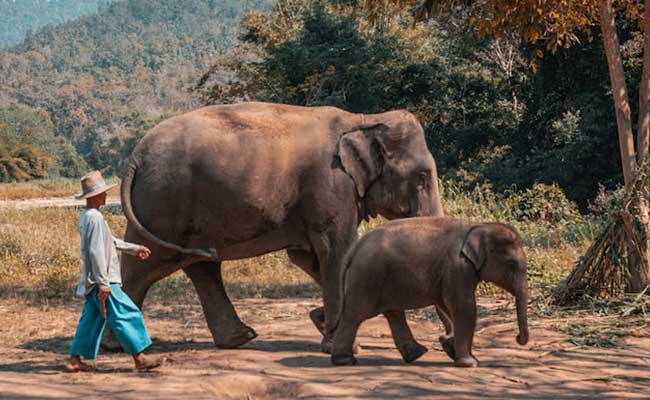 7. Go Rafting on the Mae Taeng River
For an exciting outdoor adventure, try rafting on the Mae Taeng River. Mae Taeng District is about an hour's drive north of Chiang Mai, and known for its crystal-clear water, stunning scenery, and rapids that are well-suited to rafting.
The rafting route varies in difficulty depending on the season and the water levels, but it generally includes a mix of mild and moderate rapids, as well as some larger, more challenging ones.
Rafting on the Mae Taeng River is suitable for people of all ages and abilities, and it is a great activity for families, groups of friends, and individuals.
Most rafting companies offer a variety of tour options, ranging from half-day to full-day trips, and they provide all of the necessary equipment, such as life jackets and helmets.
The tours usually include stops at local villages and cultural sites, where visitors can learn about the history and culture of the area.
In addition to the rafting itself, the Mae Taeng River is also a great place to enjoy the natural beauty of the region. Lush, green forests surround the river, and it is home to a diverse array of flora and fauna.
8. Visit Doi Inthanon
Doi Inthanon is the highest mountain in Thailand, and part of the Doi Inthanon National Park, which covers an area of 482 square kilometers and is home to a diverse range of flora and fauna.
This is a popular destination for hikers and nature enthusiasts, and if you go trekking it might well be here. The mountain is also home to a number of waterfalls, including the Wachirathan Waterfall, which is one of the most popular attractions in the national park.
In addition to its natural beauty, Doi Inthanon is home to a number of ancient temples and ruins. The most notable of these is the Doi Inthanon Temple, which is located at the summit of the mountain and is dedicated to the former King Inthanon, who is revered as a patron of the arts and culture in Thailand.
This national park is open to visitors from 6:00 am to 6:00 pm, and it offers a variety of activities, including hiking, bird watching, and waterfall exploration.
I've written a detailed article on Doi Inthanon here.
9. Take a Thai Cooking Class
Chiang Mai is known for its delicious cuisine, and one of the best ways to experience it is by taking a cooking class.
There are a number of schools and tour operators in the city that offer classes for all skill levels, and you'll have the opportunity to learn how to prepare a range of traditional Thai dishes using fresh, local ingredients.
Some classes also include visits to local markets and farms to learn more about the ingredients and techniques used in Thai cooking.
Whether you're a seasoned chef or a beginner, you'll come away from a Thai cooking class with new skills and a greater appreciation for the flavors and traditions of Thai cuisine.
10. Go Trekking in the Mountains
Beautiful mountains and forests surround Chiang Mai, making it the perfect place for a trekking adventure.
There are a number of tour operators in the city that offer guided treks through the surrounding wilderness, ranging from easy day hikes to multi-day expeditions.
Depending on the trek you choose, you'll have the opportunity to explore the jungle, visit remote villages, and encounter a range of wildlife.
Trekking is a great way to get off the beaten path and see a side of Chiang Mai that many tourists don't get to experience.
Bonus Idea:
Relax at One of Chiang Mai's Many Spas
Chiang Mai is known for its high-quality spas, which offer a wide range of treatments and services to help guests relax and rejuvenate.
Many of the high-end spas are located in hotels and resorts, but there are also standalone spas that offer a variety of treatments. The latter are generally cheaper, and you'll find traditional Thai massage available from shops in the city for as little as 200 Baht.
Thai massage is a form of massage that involves the use of gentle pressure, stretches, and acupressure to relieve tension and improve circulation. Spas in Thailand offer a variety of traditional techniques, such as foot massage, herbal compress massage, and aromatherapy massage, as well as other treatments such as facials and body wraps.
A Final Word…
Chiang Mai is a wonderful city. Whether you're into history and culture, trekking, or just a fan of spicy food, this northern gem has something for everyone.
I've had some great days and nights out there, and even lived there for a while. That said, I wouldn't spend your entire holiday here, as there's no beach and the city center gets familiar very quickly.
I recommend 3-4 days, 6 at most if you're on a 3-week trip to Thailand. That really is plenty of time to see the city and go on a few rural-based excursions.
Lastly, I'd plan your trip outside of late February to early April. This period of the year is affected by crop burning (a farming practice), which causes bad air pollution.
——
Have you visited Chiang Mai, or are you planning on visiting? Leave your comments and questions below.
Tips to Start Planning Your Trip:
Book Your Accommodation
The best hotel rates in Thailand are found at Agoda and Hotels.com.
Don't Forget Travel Insurance
Travel insurance protects you against illness, injury, theft, and cancellations. I never travel without it. I've use SafetyWing for years. It is great.
Traveling from Bangkok to Chiang Mai?
You can take the plane, train or bus. All the info you need is here.