As the old adage goes: April showers bring May flowers. This, however, is not true for the 67 million people living in the beautiful Kingdom of Thailand.
For those residing and working in the popular centers of this country, certain times of the year bring a thick layer of smog and smoke that brings with it a real health threat.
Indeed, in January 2018, Bangkok experienced a smog that caused the government to issue a health warning to "at risk" residents such as children and the elderly.
Air pollution is no new phenomenon. It has plagued Western cities like LA, London and New York for years.
But many expats working and living in Thailand's hubs seem to think these Thai cities experience worse air quality than usual, causing somewhat of a mass migration to other city centers in SE Asia during spring months.
But is there any truth in this? Is air quality bad in Thailand? Is it worse in Bangkok than London, or Rome, Paris or New York?
I want to know if living in Thailand is a recipe for a respiratory disease and poor general health as a result of air pollution. Or is it all roses, as we are often led to believe?
So I decided to investigate: to look at the facts, figures, daily statistics and make comparisons.
Let's get started.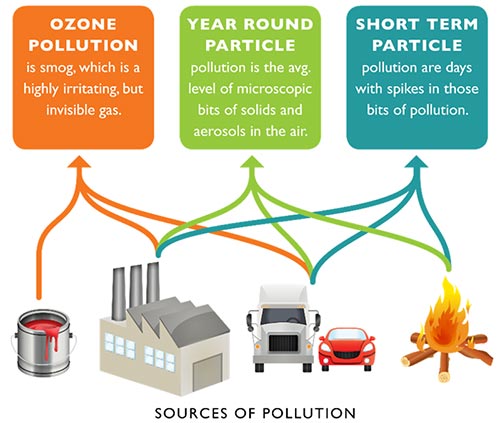 Air Pollution in Thailand
Air pollution is not ugly, it's downright dangerous. In fact, the World Health Organization estimates that each year 2 million people die prematurely from the poisonous gases that make up smog.
These include:
sulfur dioxide: a byproduct of coal burning
carbon monoxide: which can be found in car exhaust or the byproducts of appliances that burn fuel
carbon dioxide: found naturally, but has increased due to car exhaust and assisted global warming
nitrogen oxides: a byproduct of combustion from power plants, integral in the formation of acid rain
volatile organic compounds: solvents in household products that evaporate and cause health issues
particulates: the dark soot from air pollution that sticks to buildings
ozone: in the atmosphere, it protects us- at ground level, toxic
chlorofluorocarbons: the gas used in aerosol cans that is harmful to the ozone layer
hydrocarbons: release carbon monoxide when burned or are released in the air, leading to smog
lead/heavy metals: dispersed into the air through aerosols, fly ash and exhaust fumes
And it's not just breathing problems that plague those in areas with high air pollution: symptoms can range from chest pain, headaches, nausea and increased sensitivity to allergens to aggravated heart disease, reproductive / neurological disorders and even cancer.
When discussing air quality and air pollution, the amount of particulates in the atmosphere is of the utmost importance, as they generally have the most adverse effects on human health.
The World Health Organization has isolated PM10 and PM2.5 as the most detrimental to human health (PM10 being particulate matter 10 micrometers or less, PM2.5 being particulate matter 2.5 micrometers or less). So I'll mostly refer to these two factors in my comparisons.
How Bad is the Air Pollution in Bangkok?
Bangkok is the second most polluted province in Thailand, behind Saraburi. Today it is reporting a real-time Air Quality Index (AQI) of 175 (the daily max was 213!), which is very unhealthy.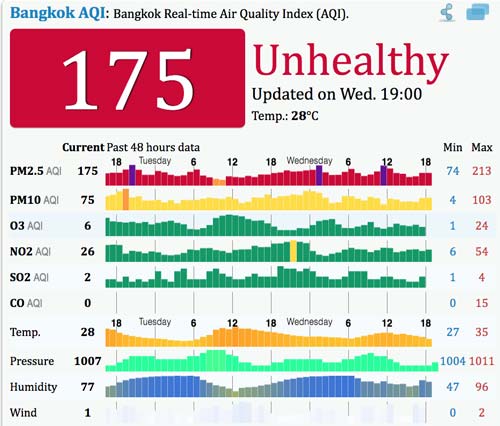 It is worthwhile to note that some areas of Bangkok register much higher on the scale than others. The level of pollution does depend on where you are.
It also depends on the wind factor, because pollution will gather and stick around (smog) if the wind doesn't blow it away from the city.
This is seen clearly here at the Plume website, where some days the advice is that it's good to be out and about, and on other days the advice is to be very cautious.
For example, Samut Prakan and Samut Sakhon, where many factories are based, measured 150 and 160, respectively. Again, both very unhealthy. But Northeastern Bangkok registered at 114 – "unhealthy" for sensitive populations.
There are some areas of Bangkok with more healthy pollution readings, but you have to be careful when looking at the data, because often key data is missing.
For example, Pathum Thani registers a  healthy 32, but don't be fooled: this reading station is not reporting the PM2.5 small air particles, and the PM10 data line has no date in it.  The missing PM2.5 data is exactly what Greenpeace recently called Thailand out for, and branded it "misleading the people". More on that later.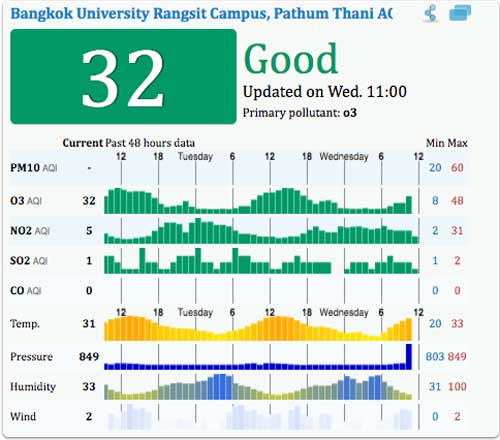 When we look at another reading of Pathum Thani with the PM10 data included, the picture not so healthy. And remember this still doesn't include PM 2.5: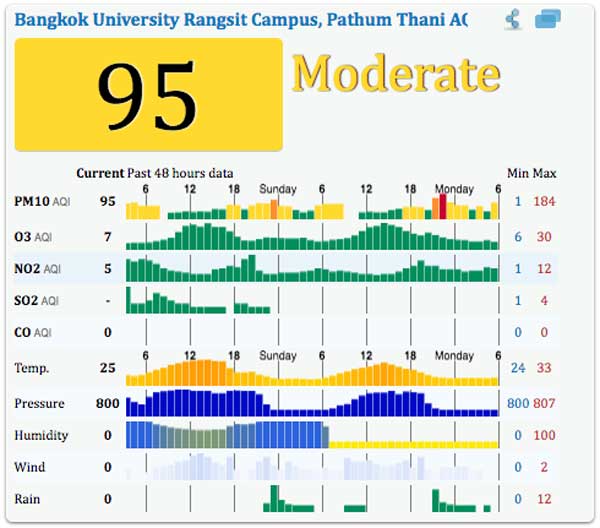 When we look at Bangkok PM10 levels vs. other major cities, Bangkok (overall) is moderate when compared on a global scale, but it is the PM2.5 level in Bangkok that should concern us most. However, PM 2.5 is widely unreported.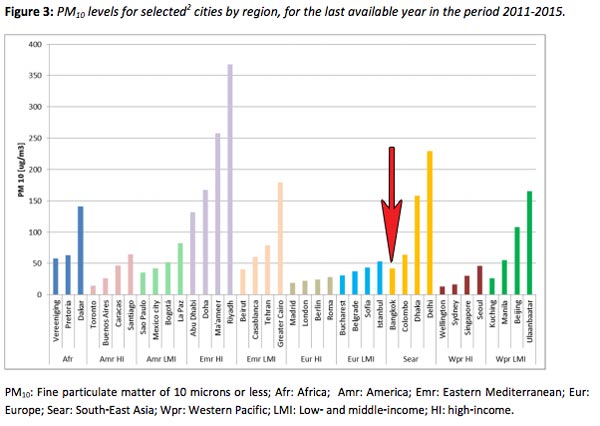 Unfortunately, Bangkok is getting worse. The annual average air quality in 2017 was 72, with a high of over 300: that's twice as bad as London, Paris, Tokyo, Los Angeles and New York but better then Seoul, Shanghai and Beijing.
In the first quarter of 2017 alone, Bangkok registered 300,000 new vehicles, bringing the total to nearly 9.5 million. This rate of expansion will only result in further pollution, unless drastic measures are brought in to combat diesel vehicles and factory emissions.
What's the AQI in Popular Beach Locations?
Surat Thani, provincial home to the likes of Khanom, Samui and Koh Phangan, registered at 21, with a daily high of 41 on PM 10, which is considered 'good.'
Resort and party paradise Phuket registered at 20, also 'good' but tends to bounce somewhere between the low twenties and fifties.
But again, these readings are without the PM2.5 metric. It just isn't reliable to base an AQI on a reading without PM 2.5.
However, accounting for an uplift in PM 2.5, on the surface it seems a trip to the beach better for your health than sunbathing next to Bangkok traffic.
In comparison, Los Angeles, California, registered at 50 today (with the PM 2.5). So about the same, probably, when accounting for the missing PM 2.5 in Thailand's readings.
Areas around Chonburi and Pattaya registered at between 110-165 (with PM 2.5) , which is considered 'unhealthy' for sensitive groups.
For comparison's sake, I also looked into the AQIs of New York, Berlin, London and Rome:
Areas around Manhattan, NYC, registered anywhere from 20 to 40, which is considered 'good'. Berlin was at 36, also considered 'good'; and London was at 55, considered 'moderate'. Central Rome, however, was at 104, considered 'unhealthy for sensitive groups'.
Do note that these are overall statistics, and AQIs will vary for different areas within a city.
How Polluted is Chiang Mai?
Chiang Mai — Thailand's second largest city, located in the North — is the joint third most polluted city in Thailand. When I last checked, the AQI registered at 108, most definitely 'unhealthy.'
But look at the 48 hour max (802!?) If that's correct, it certainly wouldn't be safe to go outside.
That said, checking every couple of days or so, as I do, Chiang Mai is generally less polluted than Bangkok – but not far off!
A huge contributor to Thailand's air pollution is its frequent practice of agricultural burning. This has had a debilitating effect on the air in Northern Thailand, which is home to many agricultural regions, as well as the urban hub of Chiang Mai.
In the Spring months, from February to May, farmers enthusiastically burn fields to make room for new crops, pushing the amount of particulate matter in the air to unacceptable and unsafe levels (> 120 μg/m3).
As farmers continue to burn, haze from Chiang Mai's agricultural regions, and transboundary haze from Myanmar and Indonesia, all combine to create the perfect storm for residents of Northern Thailand, who report an increase in hospital visits, respiratory issues, pneumonia and asthma cases.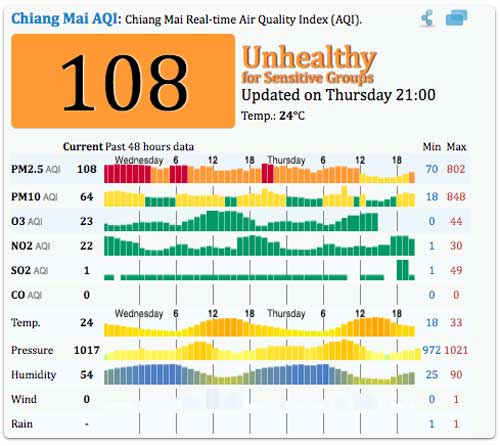 Should People Be Concerned About Air Pollution in Thailand?
Lack of regulation and frequent dumping has led to a rapidly worsening situation. The World Bank estimated that air pollution related deaths in Thailand have risen nearly 20,000 in the past 20 years.
It is evident that higher populated areas of Thailand are more prone to high levels of air pollution and potential health problems. AQIs in Thailand range from the mid 20s to 200+, so is clear that there are healthier places to live than others.
A study on air pollution and mortality between 1999 and 2008 concluded the following:
We found that all air pollutants had significant short-term impacts on non-accidental mortality. An increase of 10 μg/m3 in PM10, 10 ppb in O3, 1 ppb in SO2 were associated with a 0.40% (95% posterior interval (PI): 0.22, 0.59%), 0.78% (95% PI: 0.20, 1.35%) and 0.34% (95% PI: 0.17, 0.50%) increase of non-accidental mortality, respectively.

O3 air pollution is significantly associated with cardiovascular mortality, while PM10 is significantly related to respiratory mortality.

In general, the effects of all pollutants on all mortality types were higher in summer and winter than those in the rainy season.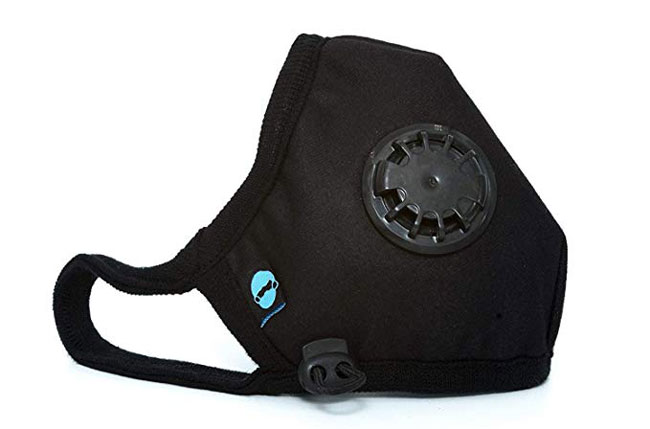 So the rainy season is actually the best time to be in Thailand, generally. And the over-arching fact is that pollution is affecting mortality rates, particularly in the red and blue areas of the map.
Those living in urban centers in Thailand have cause for concern as economic growth in the country has been prioritized over environmental issues, the greatest of which is clean air and water.
In Bangkok, particulate matter from vehicle emissions is at an all time high and routinely exceeds the national safety standard, which is 50 μg/m3 annually and 120 μg/m3 within a 24-hour period.
Industrial growth has supported the developing nation, but at an enormous cost, particularly to those in the Bangkok metropolitan area, which is where 20% of the country's pollution is concentrated and where over 65% of the nation's emissions originate.
These statistics are in absolute contrast to articles such as that in Coconuts Bangkok which report Bangkok to be one of the 'cleanest' cities to live in.
This type of promotional post deceptively looks at overall data, which as it turns out is still worse than London or New York but certainly better than Zabol in Iran, Gwalior in India, or Riyadh in Saudi Arabia. Indeed, looking at the image below, you'd think air pollution wasn't much of an issue.
In coastal regions of Thailand like Rayong, economic development has spurred the use of over 73 million tons of chemicals (including dangerous volatile organic compounds) each year. The use of VOCs can contribute to severe neurological and reproductive disorders.
It's therefore wise not to live in industrial areas. Saraburi is another problem area, today reporting an AQI of 151, and according to Greenpeace the most polluted province in Thailand.
Moving to the islands would probably be a healthier move as there is less industrialization, fewer people and fewer cars and motorbikes. Indeed, the Southern Islands fair quite well.
There's a mix of moderate and healthy up north: Chiang Mai and Chiang Rai can be problematic with crop burning, and Chiang Mai city can be pretty traffic heavy, but areas further north like Nan and Phrae generally fair in the 'good-moderate' range.
Careful though, as reporting stations in these areas often lack the PM 2.5 metric in their data.
In the Northeast, expats in Khon Kaen will not be pleased to hear that pollution is getting worse. Between January to June of 2017, the two most critical cities with the highest half-year average concentrations of PM2.5 were Khon Kaen (44 µg/m3) and Saraburi (40 µg/m3) – over four times higher than WHO air quality limits.
Could this be due to the expansion of the city: more flights, more cars on the road, more business, more expats, even?.
Nakhon Ratchasima is also looking unhealthy today at 120 AQI, as is Loei.
Of course, with all areas of the country, time of day and weather are key influencing factors over the pollution numbers; so if you want to get an overall picture of where you live/intend to live I suggest monitoring the area over a month.
Also look to historical data, and research any environmental issues such as crop burning – which is seasonal.
What is Thailand Doing to Combat Air Pollution?
While there has been some regulation through the creation of the Pollution Control Department, initiatives have been slow to take hold.
More monitoring stations have been added to detect hazardous pollution, but the public have been deceived somewhat, because as we've covered many reporting stations in Thailand are reporting AQI without PM 2.5 being included in the figures . Overall, this has made air pollution appear cleaner than it is.
This deception was recently highlighted by Greenpeace at a seminar called "Big Issues about Very Small Particulate Matter" at the Bangkok Art and Culture Centre.
Is this deliberate? I'm not so sure it is. In my research, it always seems to be reporting stations in smaller areas and provinces that lack the PM 2.5 metric; so is this an infrastructure/technology issue?
If Thailand wanted to hide its PM 2.5 for its citizens, surely it would do so in the worst areas of Bangkok.
In light of this, iitiatives from the Air Quality Control Program have pledged to implement emission standards for used and new vehicles, inspection and maintenance programs for cars, and roadside inspections and traffic management.
Currently, the majority of cars, trucks and motorbikes in Thailand meet the national standards for acceptable pollution levels, though AQIs in Thai cities remain far too high.
There is also a phase out of lead in gasoline, ongoing improvements in vehicle emission standards and better control of power plant based sulfur dioxide emissions.
Regardless, hazardous pollution levels are rising faster than initiatives are taking hold, leaving far more to do to counter the country's continued and largely unrestrained industrial pollution problem.
How Does Thailand Stack Up Against the Rest of the World?
The World Health Organization (2015) reports on ambient air pollution concentration in cities around the globe.
For comparison, below are the emission level figures for the USA, as well as some other well populated European countries:
The US reports an annual concentration of PM2.5 as 9.7 and PM10 as 16.
The UK reports an annual concentration of PM2.5 as 13.3 and PM10 as 19.6.
Italy reports annual concentration of PM2.5 as 22.7, PM10 as 32.
Germany reports at PM2.5 at 16.1 and PM10 at 21.7.
Thailand reports annual PM2.5 as 22.4 and PM10 as 41.4.
As you can see, Thailand's concentrations of particulate matter do not vary immensely from that of Italy, which might surprise residents of both countries.
However, most the UK, USA and Germany report a much lower amount of particulate matter (both PM2.5 and PM10) than Thailand does, meaning that those who immigrate from the West to Thailand's inviting cities are subject to a much higher level of air pollution than they are probably used to.
—————
Planning a holiday?
You need reliable travel insurance.
—————
So Tell Me, Where is the Healthiest Place to Live in Thailand?
Let's start with the worst places to live:
According to a one-year average level of PM2.5 from all 25 PCD monitoring stations in 18 provinces, the five cities with the worst air pollution were Saraburi (36 micrograms per cubic metre of air), Bangkok (31), Samut Sakhon (29), Ratchaburi (25) and Chiang Mai (29). The WHO standard was less than 10 micrograms.
While the coastal and island regions in Thailand have much cleaner air, it may only be comparable to levels in major US and European cities. So unfortunately, if you're looking for a breath of fresh air, Thailand may be the answer – but only metaphorically.
But to put that in context, you won't be any worse off than living back home, if you're from a city that is.
Those seeking to live in the North would do well to live very North, perhaps in the likes of Nan, Phrae or even Pai. Even Lampang is more moderate than Chiang Rai or Chiang Mai, but still not what would be considered low pollution.
Down South, Samui and Phuket are both decent choices, but Phuket will vary like Bangkok, since it is a huge island and the city areas are going to see a more concentrated level of pollution. Chonburi (the province containing Pattaya and Jomtien) is mostly on a par with Bangkok, I'm afraid.
Khon Kaen is getting worse but still considered moderate on most days. Further into Isan, things seemingly get better in the smaller provinces like Kalasin and Roi Et.
Bangkok-wise, Pathum Thani is a good call. If that's too far out, Huay Kwang, Ratchada or Pharam 9 areas are more moderate for air pollution and would be safer than Asok or other central areas, but, to be frank, Bangkok air is generally a health hazard.
If you're interested in checking the AQI in your area, refer to this website.