Obtaining a visa for Thailand can be complex, confusing and in some cases costly. The system has always been convoluted and shows no signs of changing any time soon.
Entering on a 30-day stay or a tourist visa is fairly easy (apply at your local Thai embassy/consulate before you arrive), but if you want a long stay visa, or to come in and out 2-3 times a year and stay for a few months at a time, you may find yourself not so smiley in the land of smiles.
Why? Because the red tape of immigration can be a pain.
90-day reporting, extension of stay, 800k in a Thai bank or an income certificate with a monthly income of not less than 65,000 Baht, proof of residence, marriage certificate… These are just a few of the terms and requirements you may face when dealing with your visa extension or application.
So, for those who'd like to skip the hassle at immigration, for those who can't deal with the bureaucracy and, let's say, have deeper pockets than most, the Thailand Elite Visa might be a game changer.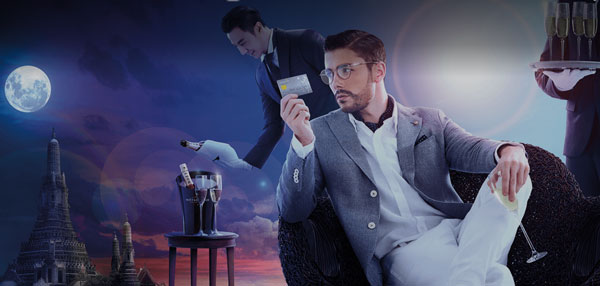 What Is the Thailand Elite Visa?
On July 29, 2003, the Thai government passed an initiative known as the Thailand Privilege Card Project- a program enacted by the Ministry of Tourism and Sports.
The intention behind the Thailand Privilege Card Project is to generate income and revenue from foreign patrons to the Kingdom and also attract those visitors who are involved in business ventures, those who are investors and those who are looking to stay for long periods and improve the local economy.
For these visitors, the Thai government offers an 'elite' visa.
The Elite Visa was founded on the idea that Thailand would benefit greatly from the presence of the aforementioned visitors, while in turn offering multiple benefits for business, leisure, immigration, etc.
The scheme has gone through a number of changes, and this posts documents its current terms and conditions – and my opinion, for what it's worth!
Who's Eligible?
Pretty much anyone with the cash, except those without permission to be in Thailand, those who've been imprisoned in another country, and those who have been declared bankrupt at some point.
Oh, and Elite Members must also be deemed sound and competent, medically. That counts out most of us expats then…hehe.
You don't need to be in Thailand to apply. The form can be submitted electronically on the website.
As an 'elite', you'll be granted a 5-year multiple entry visa. Sounds sweet, right? Maybe…
Bear in mind that those registered as members are the sole recipients of the services, which means your family members won't enjoy all the benefits that you do. They do get some though.
Family members can join you through airport fast track, and benefit from the  limousine service. They may also receive special discounts from shops and spas, but this will be based on the policies of the individual service providers.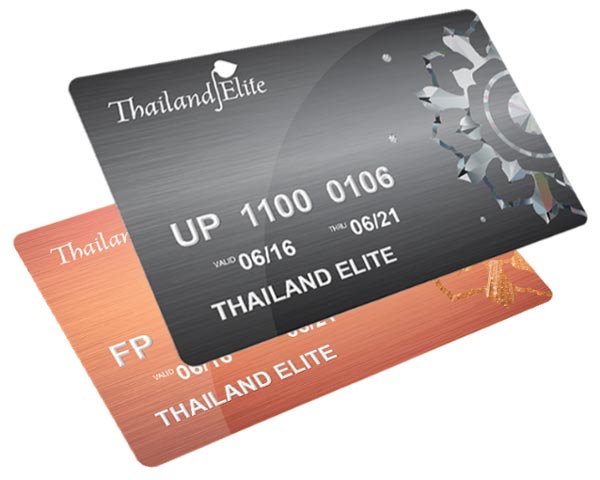 The Different Packages
The Elite membership comes in several different packages, but essentially there are 6 core packages that fall under the umbrella of 4 different cards. There's too many options in my opinion. Why not just have 3 or 4 packages and streamline things. Keep it simple already!
You can upgrade too. So if you find that your "eliteness" isn't enough and needs a boost, simply contact your assistant.
1. Elite Easy Access
– Membership validity of 5 years
– Costs 500,000 THB
– Members can be any age
– Services include: airport service, an arrival and departure lounge, short haul transfer service on international flights, discounts, call centers and government concierges
2. Elite Family Excursion (for minimum 2 persons)
– Membership validity of 5 years
– Costs 800,000 THB
– For additional family members there is a fee of 300,000 THB
– Service includes airport service, departure and arrival lounge access, short haul transfer service (4x per year), long haul transfer service (6x per year), discounts, call centers, and government concierges
3. Elite Family Alternative Package
– Membership validity of 10 years
– Costs 800,000 THB (plus an additional 700,000 THB for additional family members)
– Visa is 5-year renewable
– Services include airport service, departure and arrival lounges, discounts, call centers and government concierges
4. Elite Privilege Access Package
– The fee is 1,000,000 THB and each additional family member costs 800,000 THB
– Members can be any age and the visa is renewable after 5 years
– Services included: Airport service, departure and arrival lounges, short haul transfer service on international flights 18 times per calendar year, annual health check 1x per year, discounts, a call center and government concierges
5. Elite Superiority Extension
– Membership fee of 1,000,000 THB
– Visas that accompany this plan can be renewed after 5 years
– Services include: airport service, departure and arrival lounge availability, discounts, call centers and government concierges
6. Elite Ultimate Membership
– Membership fee of 2,000,000 THB and an annual fee of 20,000 THB
– Members must be over 20 years old
– Visa is renewable after 5 years
– Services include: unlimited airport and limousine pickup, golf / spa services 24x a year, one annual health check up, and government concierges
* The small print says: Membership is contingent upon the Company's approval and receipt of the membership fee. The company may also disclose any and all personal information of the member. The company also holds the rights to terminate the agreement at any time.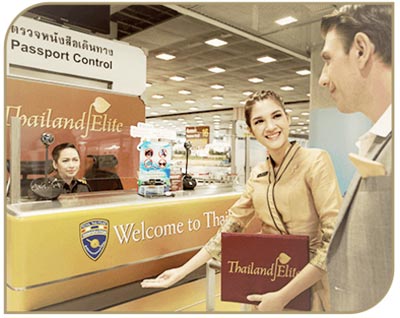 Key Elite Member Benefits:
Okay, so here's an overview of the benefits. After I'm done listing these, I'm going to get into my opinion on whether these benefits are really that valuable, or whether it's just all smoke and mirrors!
Expedited Arrival & Departure
You will be greeted upon arrival by a Thailand Elite personal assistant who will take you to your car and shuttle you to a hotel or anywhere else you want to go. When departing, you'll be whisked through the check-in process and expedite passport control processing. A departure lounge is also provided for those with elite status.
Hospital Check-Up
Members with complimentary annual medical check ups can receive care at a number of  hospitals in Bangkok, including:
Bangkok Hospital – Bangkok
Bangkok Hospital – Hua Hin
Bangkok Pattaya Hospital
Bangkok Phuket Hospital
Bangkok Samui Hospital
BNH Hospital
Bumrungrad International Hospital
Chiangmai Ram Hospital
Lanna Hospital
Cheaper Banking
Elite members are eligible for the following perks with Bangkok Bank when opening a specific FCD (Foreign Currency Deposit Account):
200 THB fee for fund receipt
200 THB fee for fund transfer
No minimum initial deposit
No minimum balance required
Maintenance fee waived
Invitation to become a Bualuang Exclusive Member
Hassle-Free Immigration
Becoming a Thailand Elite Member enables you to bypass long immigration lines at the airport. Thailand Elite has a priority line at immigration checkpoints and the process is facilitated by a Thailand Elite PA. Note that this service is only available in Chiang Mai, Bangkok and Phuket
You don't have to do 90-day reporting at immigration either. You do, however, have to take your passport to an office so that a member of staff can process it for you. You can pick up your passport again after 72 hours.
But! This service is only available in Bangkok, Chang Mai, Phuket and Pattaya. Bummer if you live upcountry.
The official line is:
Members have to do 90-day reporting of address every 3 months of continuous stay.

The process is as follows:

Drop passport with a completed TM47 form at our office from 09.00 – 15.00 every Tuesday.
EPL staff will take the passport with TM47 form to the immigration office on Wednesday.
Passport can be collected at the office on Thursday from 09.00-15.00.
Investment Opportunities
Apparently, you will be entitled to special concierge services to facilitate dealing with both the Thai Government Sector and the Private Sector to enhance business opportunity and investment. I'll speak my mind on this in the next section.
Golf, Spa & Shopping Discounts
Complimentary rounds of golf are available at the Alpine Golf Club, The Bangkok Golf Club, the Bangpra Golf Club, the Banyan Golf Club Hua Hin, the Chiangmai Highland Golf & Spa Resort and many others.
Elite members are also eligible for a free one and a half hour massage. You and your guests get a 15% discount on massages in Laguna Phuket, as well as a 15% discount on selected items at this spa.
Elite Members get a 10% discount on regularly priced merchandise, excluding certain items at the Emporium Department Store, Paragon Department Store and the Em Quartier. So the stuff that is probably discounted already then?
Benefits Value: Elite Visa Vs. Reality (time & cost)
90-Day Reporting Vs. Extension of Stay & Visa Runs
In Thailand, visas can generally be extended for a cost of 1,900 THB. Some, like the Non-O can be extended for 60 days, others like a tourist visa for 60 days.
A visa run (over the border and back) is around the same price.
So let's just say that to stay in Thailand for a year you need to extend 3-4 times or do 4 visa runs, depending on your visa.
Hypothetical situation, anyway. I just want to try and cost the Elite visa vs. the hassle option.
Assuming a prospective visa run to Laos costs on average 2,000 THB (between bus/mini van transportation to the border) and the Laotian visa 1,000 THB on arrival, this process (repeated 4 times) would result in an annual cost of roughly 12,000 THB.
That's a far cry from what the Thailand Elite membership costs – the cheapest option tier is 500k.
Even if you stay in Laos for a holiday, you'd have to be a serious party-goer to spend what you would buying the Elite visa.
Additionally, if you have a Non-O multiple entry visa, you can extend at immigration for 60 days and stay in the country for 5 months straight anyway. On a retirement visa you don't need to leave, just report every 90 days.
Sure, you have the hassle of the financial requirements of a retirement visa (800k in a Thai bank or proving 65k a month income), and on the Non-O most likely having to go with your wife or child and doing all the paperwork, but hey, it it really that bad?
Or is the Elite Visa worth its weight in convenience? You tell me.
Admittedly, immigration can be a hassle. Having someone else to help you with this process saves time and energy. However, remember that this benefit only covers BKK, Chiang Mai, Pattaya and Phuket. If you live outside of these places, you still have to report like everyone else. That sucks.
Airport Concierge Vs. Wait In Line
Is not having to wait in line at passport control worth the high price tag? For some, maybe.
I rarely wait more than 20 minutes in the queue at any airport in Thailand. Though at busy periods a 30-45 minute wait could happen.
For Elite members, once you have the visa in your passport, your personal assistant will take you through fast-track. You still have to queue to check-in with your flight operator though!
I don't know about you, but I plan my air travel well and make sure I leave plenty of time for check-in, immigration, food, coffee, etc. I leave nothing to chance. Moreover, if your flight is delayed, it makes no difference if you get through immigration quickly or not.
You do get the limo service, which is nice. That is one less thing to think about. But that said, a brand new TOT Mercedes taxi is around 1,200 Baht one way. Or you could take Uber black 🙂 More on that here.
Note: Small groups of immediate family members are allowed to use car and limousine access and may also be allowed to pass through exit immigration with you at the discretion of the immigration officer.
Investment & Business Opportunities Vs. Reality
For me this is probably one of the better benefits, if it truly is an in-road to opportunity.
Having a contact who can facilitate government and private sector opportunities would be priceless, especially in Thailand, where who you know goes a long way.
If you have a problem or need a favour, pick up the phone and use your elite status to build bridges.
But what does this actually mean? It's ambiguous. It guarantees nothing.
Can you get the phone number of the person you need to speak to? Does your assistant translate for you on a daily basis? I very much doubt you will get the assistant for a day at a time to take minutes and translate at a meeting.
So I'm skeptical on this. I need more specifics on the resources available.
Free Medical Check-Up Vs. Real Cost
While it may be tempting to opt in because of the 'free and comprehensive check up', in reality this will amount to an approximate saving of 11,000 THB, annually. Honestly, these check-ups are not expensive. My local hospital sends me a 50% off voucher every birthday.
Banking Privileges Vs. Do the Math
The bank savings are pretty minimal. Honestly, this is pittance. I would recommend Bangkok Bank though (the official Elite Visa partner). Using TransferWise will makes those savings and much more. I wrote about that here.
Shopping, Golf & Spa Discounts Vs. High Street Prices
Discounts at the most expensive spas don't appeal to me. I pay 200-400 Baht per massage depending on the location and always give a 100 Baht tip.
Even with the discount, at these high-end fancy places it works out at silly money for what you can get for a 1/3 of the price elsewhere. Okay, maybe I will treat my mum if she comes for a holiday, but generally I wouldn't use it.
I don't want to buy designer clothes at twice the price they are in the UK, either. I can't stand Emporium and Em Quartier either. I'm cool at Terminal 21 or elsewhere with the "average people". Discounted shopping is available at the airport anyway, and at King Power stores. I'm not convinced that this benefit is that big.
Golf rounds at the top courses can be pricey, so some might appreciate the free rounds. I don't really play. I like a visit to the range though.
The Thailand Elite Visa In Summary
The skeptical side of me thinks: It is what it says on the tin: An Elite Visa. It makes you feel good.
A one-off payment: you get a fancy card, you don't wait in line at the airport with the plebs, you don't have to pay for a car to the airport, you can whip out your expensive card at over-priced spas and malls.
On balance though, the real benefits are:
If you live in one of the major cities, you can avoid 90-day reporting at immigration.
You can potentially stay for 5-years, because the visa is renewable in Thailand (can be rolled over – the period is 5 years).
You can avoid the hassle of the financial requirements of a retirement visa.
It's a way for anyone not yet eligible for a retirement visa to stay long term without visa run hassles.
* Remember though: not all the benefits apply to every tier. So you need to analyse the tiers before making a decision.
If you have 500k-2M Baht to spare and your kids won't mind losing this part of their inheritance, it does make life easier.
I personally wouldn't go for one now. I do hate dealing with immigration, but I'm young enough to endure a queue and book my own taxi.
Currently, my Non-O visa gets me 5 months at a time (90 days + 60-day extension). I can then fly home, or elsewhere, and then re-enter for another 90 days. This suits me.
If I have a spare 20 grand (GBP) when I hit 50-65, I would consider it. Hopefully by then they will have eliminated 90-day reporting altogether!
You can visit the Elite Visa website here.
More Tips for a Better Life in Thailand
Send Money to Thailand:
If you are sending money to your loved one, or your own Thai bank account, try Wise here. It is fast and cheap. Me and the majority of my readers are using it.
Get Good Health Insurance:
Start with a quick quote here from Cigna. Then you can compare it to other companies.