The Bangkok Mass Transit System, commonly known as the Skytrain or BTS, is the most efficient means of transportation in in Bangkok.
Since 1999 the BTS has been helping Bangkokians and tourists alike hop easily from one station to another
Aside from convenience and speed, fares are cheap compared to other transport modes, and of course fixed, so you won't have to worry about being overcharged by a tuk tuk!
The Bangkok Skytrain runs on two lines comprising 44 stations.
The Sukhumvit line (light green) runs from Wat Phra Sri Mahathat to Kheha, while the Silom line (dark green) runs from the National Stadium to Bang Wa. These lines intersect at the central Siam BTS Station.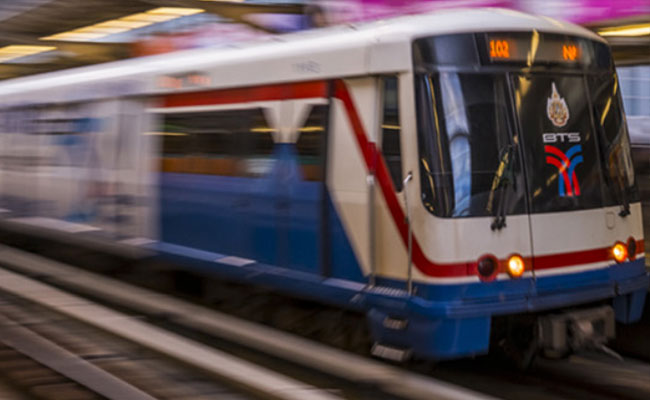 Service Hours
The Bangkok Skytrain operates daily from 6 AM to midnight.
Like every other city, the busiest times are the early morning and early evening, as commuters to and fro from work.
It is best to travel after 10 AM and before 4.30 PM, and then after 7.30 PM.
Key Destinations
The best thing about the Bangkok Skytrain from a tourist's perspective is that is that it enables you to visit different destinations much faster than taking a taxi.
Here's a list of noteworthy stations that will take you to some great places.
And if you want to see a big map, go here.
1. Asok
Asok station intersects with the underground line, the Mass Rapid Transit system (MRT).
This is the gateway to Sukhumvit and, as well as access to the Terminal 21 Mall, you can easily walk from here along to Soi Nana and the Thong Lor and Ekkamai areas.
For those wanting to visit Soi Cowboy, this is also the stop you need.
2. Mo Chit BTS
This station is your gateway to the biggest market in the city, the Chatuchak Weekend Market.
The market boasts over 15,000 shops, run by more than 11,000 stall owners.
The market draws huge crowds on Saturday and Sunday, but note that it's also open on Friday evening from 6 PM.
3. Victory Monument Station
Referred to locally as Anusawari Chai Samoraphum, Victory Monument sites in a highly urbanized neighbourhood with a great street market, fairly priced eateries and plenty of shops.
It is home to the famous Victory Monument landmark, erected in June 1941 to commemorate the Thai victory in the Franco-Thai War.
Victory Monument also boasts Santiphap Park (Park of Peace). This gem of a park is beautifully kept and deserving of a chill-out by the lake.
My advice is to head to the park around 5pm, hang out there until the sun starts to go down, then go for dinner at a local restaurant, and then browse the market. You can even walk into Sukhumvit from Victory Monument afterwards to grab a few drinks.
4. Siam Station
Because Bangkok Skytrain's Sukhumvit and Silom lines first intersect at this station, Siam BTS Station is regarded as the central BTS station.
This is a big shopping district. Here you'll find the famous Siam Paragon, Siam Square, Paragon Cineplex and lots more shops!
5. Ari Station
Not far from Mo Chit BTS Station is Ari, a popular expat area next to the famed La Villa – a luxury-inspired mall that features designer shops and alfresco restaurants.
La Villa, which is open from 10 AM to 10 PM. La Villa is a conceptual mall, combining green space with modern architecture.
It houses an upscale supermarket, banks, service centres and a number of trendy cafés and restaurants to serve neighbouring residents and office workers.
6. Saphan Taksin Station
Saphan Taksin is the station your need for the Bangkok National Museum, and also a way to get to the Grand Palace, holy Temple of the Emerald Buddha, and the Temple of the Reclining Buddha – simply known as Wat Pho.
For the latter, you can alight at Saphan Taksin for the Tha Maharaj Pier.
You can then take the Chao Phraya Express boat down the river of the same name and visit these historic places.
Taking the boat is a great way to see how people live next to the shallows of this famous river.
TIP: Be careful of water drops splashing up into your mouth and eyes. You don't want dysentery.
7. Sala Daeng Station
Sala Daeng station is the closest to the Patpong entertainment district. There's also a popular night market here.
It's not somewhere you'll want to take the kids, though, certainly not after 7 or 8pm.
Patpong is a red light district and famed for kick-starting the go-go culture in Thailand's tourist districts.
The red light area is made up of two parallel streets with the night market in the middle.
There are over 20 go-go bars, as well as the infamous sex and ping-pong shows.
I don't advise going to these shows, as certain shows are famed for scamming tourists with big bar bills.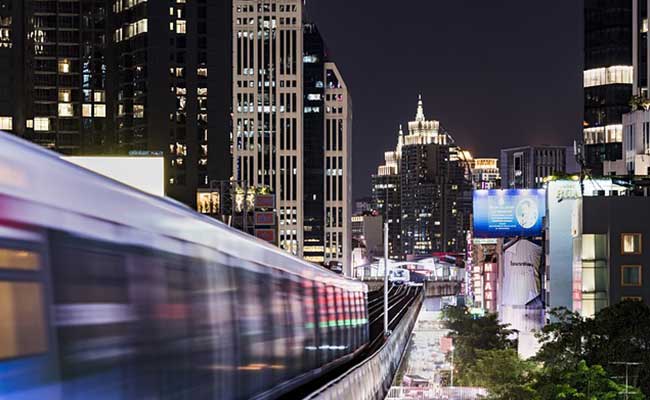 Cost & Purchase
The minimum price on the BTS Skytrain is 16 Baht for a single journey.
The price obviously increases in relation to the length of your journey, and goes up to 59 Baht for the longest journey.
There are no return journey tickets; you simply buy one on the way back, or buy for a return journey at the same time.
You can pay at a machine or use the cashier desks. A few stations have ticket machines that accept bank notes, but most only accept 1, 5 and 10 Baht coins.
If you're unsure, just queue for the cashier; they are always very helpful.
The amount you'll need to pay is detailed at the machine and on signs; it's all really straightforward.
Other Ticket Options
If you plan to roam around Bangkok and visit multiple destinations, then get a day pass – priced at 140 Baht.
If you plan to stay in Bangkok for a while, the BTS Skytrain Rabbit Card will be your best bet.
It is a reloadable card that you can tap on the turnstiles during entrance and exit.
Rates are calculated according to the station you exit, and the amount is deducted from the card.
Aside from being used to pay for fare, the Rabbit Card can be used as an electronic payment method when purchasing goods in some local shops and selected convenience stores.
The Rabbit Card has three types so take note of the type you can avail to get a discount.
The student card can be availed by any local or foreign student who is 23 years old and can show proof of identity as a student.
The adult card suits local or foreign passengers and is priced at 200 Baht. The amount covers a service fee of 100 Baht, and the rest is stored as a usable amount. As a tourist, you can have the service fee refunded if you return the Rabbit Card before you leave Bangkok.
The senior card is exclusive to Thai nationals who are at least 60 years old.
Connecting to Other Destinations
Bangkok Mass Rapid Transit (MRT)
The BTS Skytrain intersects at certain stations where the Bangkok Mass Rapid Transit (MRT) operates.
Currently, some MRT lines are under construction, while the existing ones operate daily from 6 AM to midnight.
The lines are marked as blue and purple, and passengers can transfer from the MRT to the BTS Skytrain at specific stations, namely:
Sukhumvit MRT Station/Asok BTS Station
Silom MRT Station/Sala Daeng BTS Station
Chatuchak Park MRT Station/Mo Chit BTS Station
Phahon Yothin MRT Station/Ha Yaek Lat Phrao BTS Station
Bang Wa
Tickets used on the MRT are in the form of tokens for a single trip, while cards similar to the Rabbit Card are used for multiple trips.
Just like the BTS, the minimum fare is priced at 16 Baht and increases based on the distance of the destination.
You cannot use MRT tickets for the BTS, and vice versa, so you'll have to purchase a new ticket every time you transfer.
Airport Rail Link
If you're looking for a BTS route headed to the Airport Rail Link, use the BTS Sukhumvit Line and alight at Phaya Thai BTS Station.
If you're departing from the Airport Rail Link, join the MRT by getting off at Makkasan Station, exit 2.
Once you have exited, proceed to the Phetchaburi MRT Station using the skywalk that connects the stations. Transfer takes around 8 minutes.
Bangkok Taxis
Upon exiting any BTS station, you'll find yellow or pink taxis hanging around or driving past.
Taking taxis centrally in peak times can be a traffic nightmare, so avoid them where you can.
Make sure that the driver's meter is running before you start your journey; some taxis try it on and charge foreigners fixed fares – this mostly happens in the tourist areas.
Boat Rides – Chao Phraya Express Boat
As mentioned previously, you can connect to boats on the river by going to Saphan Taksin station.
This boat line is an affordable means of seeing the views along the Chao Phraya River.
Current prices range from 10 Baht for the local line service within one zone, up to 32 Baht for a green thru yellow flag trip on its entire route from Pakkret to Sathon), depending on the type of boat and the distance travelled
Here's a rundown of the different boat services that fall under the Chao Phraya Express Boat service:
1. No Flag
This is a local boat service that only operates on weekdays. It stops at every pier and costs 9-13 Baht.
2. Blue Flag
This service is marketed at tourists. It operates each day of the week and stops at nine piers. Each trip will cost you 40 Baht, but you can save more when purchasing the all-day pass, which is priced at 150 Baht.
3. Yellow Flag
This boat service operates on weekdays and is normally used by local commuters. There are 10 pier stops and the rate per trip is around 20-29 Baht.
4. Orange Flag
This boat is available daily and takes the route between Nonthaburi and Wat Rajsingkorn. Only the main piers are used as stopping points, with each trip priced at 15 Baht.
5. Green Flag
Just like the No Flag service, Green operates on weekdays and is mainly used by locals. As an express boat service, this is an ideal boat to take when travelling to the beautiful island of Ko Kret. Rates per trip normally fall around 13 to 32 Baht.
River Ferries
A total of 32 ferry crossings are available along the Chao Phraya River and in some locations in the provinces of Nonthaburi and Samut Prakan.
With cheap rates as low as 3 Baht, you can cross the river with ease.
These river ferries can be found at Sathorn Central Pier, and are connected to the BTS Skytrain through Saphan Taksin Station.
Long Tail Boats
These boats are found at Sathorn Central Pier and can be hired for private use.
If you are in a group, this is a good option for private sightseeing.
Normally offered by private tour companies, the price of long tail boat hire is usually negotiable and dependent on the number of passengers and distance of the journey.
Canal Boats
Locally known as the Saen Saep Boat Service, these boats are docked in the pier near Ratchathewi BTS Station.
Operating hours on weekdays are between 5:30 AM and 8:30 PM, and until 7 PM on weekends. Ticket rates vary but normally cost 8-20 Baht per trip, depending on the distance.
Shuttle Boats
Shuttle boats are located in the Sathorn Central Pier adjacent to Saphan Taksin BTS station. Some of the better hotels in the area offer free rides to guests.
In Summary
The BTS Skytrain in Bangkok is the best way to get around town.
It is air conditioned, which is very welcome after stepping off a 32 Celsius sidewalk.
Unlike the Tube system in London, the BTS is clean and people are generally very respectful to each other.
Don't forget the seat etiquette in Thailand. Monks get priority on seats, followed by the elderly, pregnant women and children; so be prepared to give your seat up to any one of these people if they are standing.
The MRT (the underground) is equally good. It's easy to connect to the BTS and intersects at key stations like Siam and Asok.
As a rule of thumb, try to stay within 6 stops of Asok or Siam station. That way it will be quick and easy for you to get into the centre of town.