Located in west Thailand, the province of Kanchanaburi is best known for the Death Railway that was built during the time the Japanese occupied the country in 1942.
A fairly quiet town with a population of 31,000, it makes for a great rural break from the bustle of Bangkok, and offers picturesque surroundings and notable historical sites.
Many of the top spots that tourists visit are in some way related to World War II, which is super interesting, but there is plenty more to do in Kanchanaburi, as we'll explore later on.
But first, let's look at how to get there.
How to Get From Bangkok to Kanchanaburi
Generally people travel to Kanchanaburi from Bangkok. By car the journey is around 3-4 hours depending on traffic, but if you're not interested in hiring a car you can use the alternative methods of transport below:
1. By Train
Trains headed to Kanchanaburi leave from Thonburi train station. They depart between 7:45 AM and 1:45 PM. A ticket costs 100 THB.
2. By Bus
Sai Tai Mai (Southern Terminal)
Regular buses are located in the west of the main Southern Terminal and depart every 20 minutes between 4AM to 8PM. A ticket costs around 110 THB.
Minibuses or minivans, which are faster but aren't as comfortable and safe as buses, are also available. They depart every 30 minutes and tickets are sold outside the main building for as low as 80 THB.
Bangkok (Morchit / Northern Terminal)
In the Northern Terminal, regular buses leave at 12:00PM and 1:30 PM for 94-120 THB. Minibuses depart hourly for 120 THB.
3. By Shuttle Bus
Shuttle bus tickets can be bought in travel shops around Khaosan Road. A shuttle bus ticket is usually priced at 200 THB, and the buses leave between 9 and 10 AM.
It is recommended to buy tickets in advance, as busses can fill up fast in high season.
4. Minivan from the Airport
Prices vary according to the agency offering van transfers from the airport to Kanchanaburi. Rates may be quoted per vehicle or per person. Rates are around 240-290 THB.
Where to Stay in Kanchanaburi?
The busiest area in the town, Maenamkwai Road, is where you'll find the majority of hostels and accommodations. But like every town and city there's varying levels of accommodation to suit different budgets.
Here's some top-notch recommendations for low, medium and high budgets.
1. Budget-Friendly Accommodation
Baan2rai
Canaan Guesthouse
The Nine Guest House
P.Y. Guest House
Thai Guesthouse
2. Mid Range Accommodation
Good Times Resort
WesTory
Chez Bure – Bure Homestay
Milin Villa
3. Expensive/Luxury Hotels
The Glory River Kwai Hotel
Natee The Riverfront Hotel
U Inchantree Kanchanaburi
=> Compare these hotels on Agoda
and then
=> Compare these hotels on Hotels.com
How to Get Around Kanchanaburi
It's an easy place to explore and due to it being a tourist attraction the town is well-equipped to get you from A to B.
You can hire a moped, bicycle, or rickshaw, and local modes of transport such as tuk-tuk or songtaew are also available.
Watch the tuk-tuks on prices; they do try it on. Ask the hotel what you should be paying per journey.
Songtaew's are a public mode of transport, and while slow and often take the scenic route, are worth taking occasional just for the cultural experience.
A moped gives you the most freedom, but a bike is cheap, leisurely, and safer.
That said, in the hotter months you might find a bicycle way too hot. I'd be careful with kids, or if you're elderly or not in good health – the sun burns and dehydrates you fast.
Travel offices and guesthouses offer bicycles for rent, and some also moped and car hire.
35 Things to Do in Kanchanaburi
This list is divided into categories for ease of reference. From museums to markets, temples and hot springs, you certainly won't be bored!
I apologize that I don't have images from all 35 places, but I've added a few in so that you can get a vibe.
I recommend bookmarking this post in your browser so that you can access it when you get to Kanchanaburi and decide what you want to see.
World War II Destinations
1. The Death Railway
The Death Railway was established as an outpost by King Rama in the 18th century. Originally, the railway connected Thailand to Burma and was 415 km long, but is now just 130 km and ends at Nam Tok station.
Location: Ban Pong
2. The River Kwai Bridge
The bridge over River Kwai, which is featured in literary works and films, is known for its tragic history. It inspired the Oscar-winning British-American film, The Bridge on the River Kwai.
The bridge was made in Japan but was reassembled by prisoners captured by the Japanese during World War II.
Location: Maenamkwai Rd, Tha Ma Kham
3. Hellfire Pass
Completed in six weeks by prisoners toiling 18 hours a day, Hellfire Pass is said to be the most challenging part built along the Death Railway.
The jagged and tough formations took weeks to cut and hundreds of people died from tropical diseases and exhaustion. It is open daily from 9AM to 4PM with no admission fee, but you can make a donation.
Location: Tha Sao, Sai Yok
4. Death Railway Museum
The construction of the Death Railway is tragic, as evident in the number of prisoners and forced labourers who lost their lives just to complete it. Aside from artifacts in building the railway, letters from prisoners are also displayed.
Location: Tha Sao, Sai Yok
5. JEATH War Museum
After visiting the Death Railway Museum, you can also head to this museum which is filled with weaponry, artwork, and photos documenting the construction of the Death Railway.
JEATH is an acronym that stands for Japan, England, Australia, America, Thailand and Holland. The museum is open daily from 8:30AM to 4:30PM.
Location: Ban Tai, Kanchanaburi District
6. Commonwealth War Graves Commission Cemetery
Chungkai was one of the base camps during World War II. Around 1,750 Commonwealth, Dutch, and American prisoners are buried in this cemetery which used to be the site of the Chungkai Prisoner Of War Camp. The cemetery is open daily from 8AM to 6PM.
Location: Tha Ma Kham, Kanchanaburi District
7. Kanchanaburi War Cemetery (Don Rak War Cemetery)
There are 6,982 prisoners buried in this cemetery, mostly Australian, British, and Dutch. These are the prisoners who died during the construction of the Death Railway. It is open daily from 8AM to 5PM.
Location: 284/66 Sangchuto Rd, Ban Tai
Waterfalls & River Activities
8. Fish Spa at the Erawan Waterfall
The Erawan National Park has an expanse of 550 square kilometers. The multi-tier Erawan Waterfall, named after a three-headed elephant, features a tier where you can get a free fish spa from the minnows nipping at your feet. The park opens at 8AM daily and closes at 4:30 PM.
Location: Erawan National Park, Tha Kradan, Si Sawat
9. Sai Yok Noi Waterfall
The Sai Yok Noi Waterfall cascades down a limestone rock and is just a walking distance from the Death Railway's final station in Nam Tok. Locally grown tamarind can also be bought from the street vendors in the area.
Location: Tha Sao, Sai Yok
10. Camp at Pha Tad Waterfall
The Kala mountain range supplies the water that cascades along the three-tier waterfall. Tiers can be seen without climbing up, and visitors often camp in the park before taking the long trip back to the city.
Location: Khuean Srinagarindra National Park, Si Sawat
11. Huai Mae Khamin Waterfall
Huai Mae Khamin Waterfall offers different cascades and pools and it is also quite far from the city, which makes it a perfect place for staying overnight. The best thing about the remote location is that almost no one visits this far, hence you can enjoy your privacy.
Location: Mae Kra Bung, Si Sawat
12. Boat Ride Along River Kwai Noi
River rafting along the River Kwae Noi allows you to see evergreen forests and limestone mountains.
A speed boat tour for about two hours long is also another option, so you can see different landmarks in a shorter period of time. Many agencies offer day tours for exploring the river and these tours can be tied in with other tours to see famous landmarks.
13. Hin Dad Hot Springs (formerly Kuimang Hot Springs)
This hot spring discovered by the Japanese has three pools suitable for swimming.
Since it is by the river, taking a dip in the cool river after soaking in the hot spring can relax tired muscles. A massage parlor is also available in the area.
Location: Hin Dat, Thong Pha Phum
Religious Sites
14. Tham Phu Wa Temple
The temple is best known for housing a Buddha that is over hundred years old. The temple has caves filled with stalactite formations that look stunning in photos. Other Buddhas can also be found along the way up.
Location: Kaeng Sian, Kanchanaburi District
15. Prasat Mueang Sing Historical Park
Known as the Sanctuary of the City of the Lion, this Khmer site can be found along the banks of the River Kwai Noi. The park has two ancient temples built in the 12th century and have been renovated over the years.
The park is open from 8AM-4:30PM daily and entrance fee is 100 THB.
Location: Sai Yok District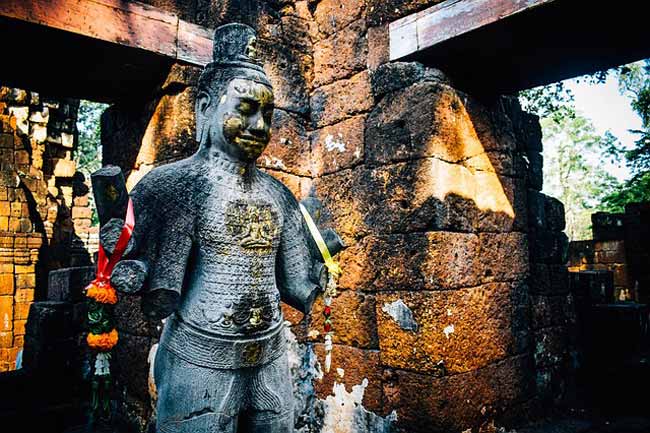 16. Shinto Park
The Shinto Park, built as a Japanese and Thai venture, aims to promote peace in honor of the people who sacrificed their lives in building the Death Railway. It is a local history museum where you can relax and look at the sculptures. The park is open daily from 10AM to 5PM.
Location: Lat Ya, Kanchanaburi District
17. Wat Tham Suea and Wat Tham Khao Noi
Wat Tham Sua, translated as Tiger Cave Temple, features beautiful scenery. Wat Tham Khao Noi, located on the same hilltop as Wat Tham Sua, is a seven-tiered Chinese-style pagoda that boasts intricate details and also offers a picturesque view of the town, the dam, and the river.
Location: Tha Muang
18. Phra Phoetisat Guan Im Shrine
This Buddhist temple, located just across the famous River Kwai Bridge, hosts colorful buildings, statues, fountains, and dragon sculptures.
This place is perfect for a visit after crossing the bridge, as it is easily accessible and not flocked by tourists. The shrine is open from 8AM to 6PM.
Location: Tha Ma Kham, Kanchanaburi District
Historical Sites
19. Chinese Cemetery
This Chinese cemetery is a sharp contrast next to the Kanchanaburi War Cemetery, as it features uniquely designed tombs. Graves in this military cemetery are either in round mounds or Thai reliquaries.
Location: Ban Tai, Kanchanaburi District
20. Mon Bridge
The Mon Bridge in Sangkhla Buri is the longest wooden bridge in Thailand and second longest in the world. On one end of the bridge affordable meals are sold by locals, and on the other end you'll find numerous hotels. Boats are also available to rent for those who want to see the sunken temple.
Location: Nong Lu, Sangkhla Buri
21. Kaeng Lawa Cave
The Kaeng Lawa Cave is the largest cave in Kanchanaburi and has many chambers and Buddha statues. You might also see the smallest bat in the world. With a 10cm wing span, the Khun Kitti bat is occasionally sighted here.  The 450m long cave is open from 8AM until 5PM daily.
Location: Wang Krachae, Sai Yok
22. Three Pagoda Pass
Three pagodas were built in the border between Thailand and Myanmar as a symbol of peace, hence the name of this pass in the Tenasserim Hills. The journey going to this pass is interesting because of the views you have to pass by.
Location: Nong Lu, Sangkhla Buri
23. Mallika R.E.124
Mallika R.E.124 is a recreation of a 1905 Thai town that allows visitors to immerse into the culture of Old Siam. Activities such as cooking, sewing, and pottery can be learned while in the place as well as wearing traditional Thai costumes. The village is open to visitors from 9AM to 8PM and admission fee for adults is 250 THB and 120 THB for children.
Location: Sing, Sai Yok
24. Pak Prak Heritage Street
Over 20 heritage buildings can be found along this historical street that displays Chinese, European, and Thai architecture. Park Prak is also known as Kanchanaburi's oldest community.
Location: Ban Tai, Kanchanaburi District
Culture Immersion
25. On's Cooking Classes
Indulge in cooking authentic Thai cuisine, vegetarian style. Rates are affordable and traditional ways can be learned from the locals. On's Thai Issan restaurant that not only serves delicious food but also offers cooking lessons.
Location: Kanchanaburi District
26. Street Food at Chukkadon Market
Instead of going to pricey restaurants, you can enjoy eating street food like a local in this market. Vendors serve fresh food and local dishes such as delicacies, dumplings, and curries that are cheap and satisfying. The market is open daily from 5AM and closes at 8:30AM before it reopens at 3:30PM until 6PM.
Location: Chai Chumphon Rd., Pak Phraek, Kanchanaburi District
27. Pilok Village
Pilok is a subdistrict in Thong Pha Phum. Its main settlement, Ban I-tong, is a remote village on the Myanmar border, and is surrounded by Thong Pha Phum National Park. The tiny, isolated village is almost frozen in time, and situated amidst luscious thick forested hills. Worth a visit.
Location: Thong Pha Phum District
28. ElephantsWorld
Unlike the usual elephant camps, ElephantsWorld is an animal rescue facility that takes care of old, sick, and abused elephants. You get to enjoy spending time with these elephants as you wash, feed, and play with them from 10AM to 4PM.
Location: Wang Dong, Kanchanaburi District
Relaxation & Fun
29. Bo Phloi Gems Handicraft Center
Bo Phloi is one of the villages active in the gemstone mining industry in Thailand. If you have a penchant for precious and semi-precious stones, try this place for stones fashioned into rings and brooches. Do haggle. Don't spend big unless you know your stones!
Location: Bo Phloi, Bo Phloi District
30. Tham Krasae Railway Walk
The train on the Death Railway route stops at the Tham Krasae station so tourists can go out and walk along the railway to bask in the scenic views. Souvenirs can also be bought and a nearby restaurant is also open for lunch.
Location: Lum Sum, Sai Yok
31. Tree Top Adventure Park
Travelers who aren't afraid of heights can enjoy zip lining, sky biking, swinging, and chilling in a hammock. The park is open daily from 8AM to 5PM.
Location: Tha Sao, Sai Yok
32. Sunset / Sunrise Over the River Kwai
If your hotel faces the river, you can enjoy watching the sun rise and set at Guan Im Shrine. To see the view, you can also go to a river restaurant or simply cross the bridge over the river.
Location: Kanchanaburi District
33. Spa Relaxation
Spa resorts and massage salons are aplenty in this district. And you'll need them after all this sightseeing. Most of the shops open at around 9 or 10 in the morning and close at around 8 or 9 in the evening.
Location: Kanchanaburi District
34. Kanchanaburi Nightlife
The riverside is lined with a number of pubs and bars, most of them open until the wee hours. Nightclubs host live bands and DJs, but it's not quite Chaweng (Samui) or Patong (Phuket); this is a more reserved town.
Location: Mae Nam Kwae Road
35. JJ Night Market
This list wouldn't be complete without a good, old night market. You may well find cheaper goods here than some of the other big tourist destinations, so do your shopping  here, and grab dinner. It is open from 6 to 10PM.
Location: Ban Tai, Kanchanaburi District
Get a Quote on Tickets to Kanchanaburi