Have you ever dreamed of earning money while actually enjoying life and having some freedom to explore and travel?
Yes, that is a thing, really!
Unfortunately, many of us are stuck in jobs we don't really want to do for the mere reason that we need to pay bills to live.
But there is another option, and it's not just for the few either. Teaching in Thailand is a viable way to jack in your job, up sticks and move to another country.
It doesn't have to be a permanent move. It could be a plan for a year or two.
Perhaps you've just had enough of looking out of the same window from the same office, or perhaps you have got a job at the moment and you just looking for something inspiring to do with your life.
The thing I've learned about teaching English abroad is that it opens up many opportunities.
Many of the people I know who started out teaching in Thailand have gone on to teach back home or in another country; or been offered an opportunity in a different industry in a company in Thailand; or have simply stayed in teaching in Thailand because they love it.
The thing about life is that you have to take a chance, you have to put one foot in front of the other to make change happen.
There will always be people telling you about the potential negative things that could happen, but in my experience, after near on 11 years of living in Thailand, those same people are still back home doing the same job, moaning about the same politics, complaining about the same partner, and the same weather patterns.
I'll tell you straight off the bat that teaching in Thailand won't make you a millionaire, but what I can tell you is that it will open the door for you to have fantastic life experiences that won't be replicated anywhere else any time of your life, and you will look back with fond memories and be very pleased that you did it.
In this guide, I walk you through exactly what you need to do to teach in Thailand.
I give you a rundown on visa requirements, the educational requirements, how to get a job, the salary that you can expect, living expenses, and give you a bunch of other tips that you won't find anywhere else.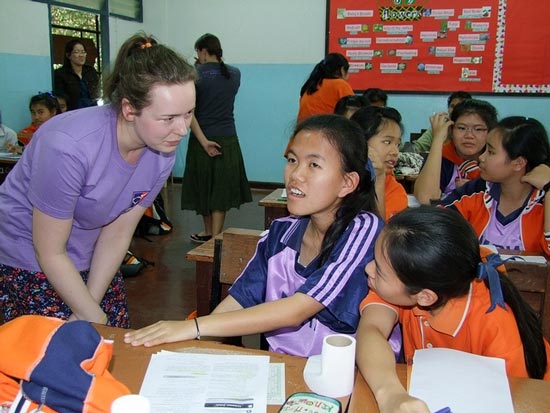 Requirements for Teaching in Thailand
Almost everyone with a good grasp of the English language can land a teaching job in Thailand, but it's fair to say that native speakers always have it relatively easier. Let's take a look at the requirements required to find work and start teaching.
A Degree
A degree can help you get a teaching job in Thailand. it may be a requirement for some state schools in cities such as Bangkok, and you will certainly need one if you want to teach international schools, but there are plenty of jobs that do not require a degree.
There are plenty of teaching jobs in language schools, through agencies, and in rural government schools where only a TEFL, which will get on to later, is required.
So a degree is helpful but is not essential, and it certainly is an essential to do your TEFL certification. Additionally, it doesn't matter what subject you have a degree in. Whether it's in the area of architecture, music, or animation, you have the green light to teach.
Anyway, as long as you have a strong grasp of the English language and have the proper documents in place, you will get a job.
A TEFL Certificate
Also known as TESOL (Teachers of English to Speakers of Other Languages), TEFL (Teaching English as a Foreign Language) is essential before you try to look for a teaching job not only in Thailand but everywhere else where English is not an official language.
Although not a legal requirement, many – if not all – schools will ask for a TEFL certificate.
TEFL doesn't refer to a single certifying body or organization and is simply the training one should undergo to familiarize themselves with the fundamentals of teaching. It is extremely helpful for those with no prior teaching experience.
There are many companies offering TEFL courses, and nowadays, most of them are taken online. So whether you're in the US, UK, or Australia, you can study a course. If you're in Thailand, you can also choose from various organizations that provide such training.
In fact, a lot of teachers in Thailand suggest the latter as it will allow you to learn more about the educational system and culture of the country, not to mention the lower cost.
The two best TEFL courses in Thailand are by SEE TEFL and TEFL Heaven.
If you want to do a course online, check out i-to-i or TEFL Academy.
I have a full article on TEFL courses, which you can read later by clicking here.
The large majority of people can take a TEFL certificate without a degree or being a native English speaker. There are 3 basic requirements:
You're interested in learning and teaching.
You have at least a C1 or Advanced English level. If this is unknown, a written task and interview process will measure your level.
To be 18 years of age.
Getting a Visa
Your visa circumstances the teaching will vary depending on your situation. By that I mean whether you secure a job before you leave for Thailand, or whether you are going there 1st to study a TEFL and then find a job, or whether you already have a TEFL certificate but haven't secured a job.
However, whatever the situation, everyone who teaches in Thailand needs a work permit. The route to getting a work permit is via a Non-Immigrant B visa.
If you already have a teaching job lined up in Thailand, you would get a Non-Immigrant B visa from the Thai embassy in your home country. When you get to Thailand, your employer will apply for your work permit on your behalf (usually) on the basis that you have this visa.
If you don't have a job lined up in Thailand, then you would enter on a tourist visa. When you find a job, you would go to a neighbouring country such as Laos, and visit the Thai embassy there to obtain your Non-Immigrant B visa. You would then return to Thailand and your employer would sort out the work permit for you to begin teaching.
Non-Immigrant B Visa Requirements
The Non-Immigrant B visa has a 90-day validity from your date of entry and is issued to foreign individuals who are going to work in Thailand.
This visa is required for an employer to process your work permit. Once you get your work permit, you can extend your stay in the country for as long as the duration of your employment contract.
Additionally, keep in mind that a Non-Immigrant B visa is generally issued to those with a degree; otherwise, your visa will be Non-Immigrant O visa. You can apply for this visa at any Thai embassy or consulate. The visa fee varies depending on where you apply for it, and the processing time is generally two days.
If you already have secured a job before flying to Thailand, you can obtain the necessary documents from your employer and along with the other requirements, apply for this visa at your local Thai consulate or embassy.
Below are the requirements for application:
Passport or travel document with at least 6 months validity
Completed visa application form
Recent (4 x 6 cm.) photo with white or blue background
Letter of acceptance from employing institute or school in Thailand
Letter of approval from government agencies
Evidence of educational qualification
School license or business registration, list of shareholders and school profile
Resume
Optional – Police certificate or letter from authorized agencies verifying that you have no criminal record
Additional documents as requested by consular officers
Tourist Visa
With a single entry tourist visa, you're given 60 days to stay in the country. You have the option to extend the validity to 30 days for a fee of 1,900 Baht at an immigration office. If you already have a TEFL certificate and want to try your luck searching for a job personally in Thailand, it is best to go there using this visa.
Once you accept a job and obtain sponsorship from your employer, you can hop over the border to a neighbouring country and apply for your B visa.
Dependent Visa (if you have a child or other)
This is quite topical, because just recently I had a comment on the blog from a lady who had accepted a teaching position in Thailand but wondered how she would be able to bring her daughter with her to stay in Thailand.
If you plan to migrate to Thailand with your child or another member of your family, you can apply for a dependent visa, which falls under the Non-Immigrant O visa category. You can sponsor your children, spouse, and parents if you meet any of the following:
You're a holder of a Non-Immigrant B visa and have Work Permit.
You're a holder of a Non-Immigrant O visa and have Work Permit to be employed in a charity or foundation.
You're a holder of a retirement visa and your dependents are under 50 years old.
Below are the requirements your dependents are required to submit to apply for a dependent visa application:
Passport or travel document with at least 6 months validity
Completed visa application form
Recent (4 x 6 cm.) photo with white or blue background
For spouse, original and copy of Marriage Certificate
For children, original and copy of Birth Certificate
Copy of your Thai Work permit
Copy of your passport Info page and Thai Visa page
Visa fee (varies depending on the Thai consulate or embassy)
Additional documents as requested by consular officers
Teaching License
A teaching license is something that not many people are aware of. Whether you need one actually depends on the school and how long you have been teaching. The license is issued by the TCT (Teachers Council of Thailand), a board of professionals responsible for setting and implementing teaching standards and ethics of teachers and educators.
One thing is certain: if you're a new teacher, you don't need to have a TCT license immediately. Instead, a provisional teaching permit is put in place. As soon as you've been hired, the school will apply for a provisional teaching permit on your behalf.
The said permit is granted for two years, which allows the school a grace period for you to meet the TCT requirements for a license. Teachers can acquire two provisional teaching permits before they are mandated to get a permanent teaching license.
Work Permit
As discuss previously, to work legally in Thailand, you need to have a work permit.
To obtain one, you first need to secure a teaching job and have your B visa and other documents (as discussed above) in place. Once everything is in place, your employer should handle your work permit application for you. It is actually quite straightforward, and once it's done you can begin teaching.
The last thing to bear in mind is that when you work as a teacher, you have to report to immigration every 90 days. This is a requirement for everyone on a type of Visa that allows them to stay in the country long-term. Sure, it is a bit of a hassle, but if you go early and get yourself to immigration before 10 AM you should have it done fairly quickly.
Types Of Teaching Work
Now we have got the boring Visa stuff out the way, let's get on to the type of teaching work you can expect to undertake:
Government Schools
A government school is a public school ruled over by the Thai government. Like in many other countries, a teaching job in a government school is among the stable jobs a teacher can land. In order to get into a government school as an English teacher, you need to have your TEFL certificate in place.
If you want to go in at a grassroots level and experience what it is like in these state education system, this is for you.
International Schools
With higher pay come stricter rules. Compared to other schools, international schools have a more rigid set of rules and requirements for teachers, typically including a degree in a particular subject for which the job is advertised, and usually some experience in teaching in your home country. Some may also require a teaching training certification. Typically, work hours in these schools are longer than government ones.
Private Tutoring and Training Agencies
Aside from schools, there are also many private agencies that offer tutoring and training services to students. These agencies almost always hire teachers that are native English speakers. Pay is usually by the hour and, while you can get a full-time job with such companies, they can be an excellent source of additional income for teachers who are teaching at state schools.
Private Tutoring
Many teachers in Thailand supplement their income through private tuition. As a foreign English teacher you can expect to charge between 300 and 600 Baht per hour depending on the location. Of course, teaching in rural Thailand attracts a lower salary compared with the cities such as Bangkok and Chang Mai. That said, living in Bangkok is more expensive.
Where to Teach in Thailand
With its vast scope and unique culture, Thailand has a lot to offer to those who want to explore the country and work as an English teacher at the same time. Aside from the beauty of the country, it is also very close to other Southeast Asian countries such as Malaysia, Singapore, Vietnam, Cambodia, and Laos, allowing you to travel conveniently.
From stunning beaches to serene countryside to bustling cities, you have a lot of options The teaching locations. Here are some of the most common places where the demand for English teachers is high.
Bangkok
Home to extravagant hotels, ever-energetic nightlife, thousands of restaurants and cafes and lots of traffic, Bangkok is not for those who aim to find a quiet stay.
If, on the other hand, you're the type who can't stay away from the city life for long, you'll certainly love staying and working here. With all the uncertainties in life, one thing's sure in Bangkok: you'll never run out of things to do.
Many expats live in the capital, so if you're a first-time teacher, you might want to consider Bangkok as your first teaching ground. The city is very modern and international, so you'll have a more comfortable adjustment period there.
Chiang Mai
Located in the northern part of the country, Chiang Mai is a small but popular city. It is known as the cultural centre of Northern Thailand and is the place to go to for trekking, wilderness, rivers, ethnic groups, elephants, and temples.
Unlike Bangkok, life in this city is slower and quieter, but don't get me wrong, the expat community here is great. Chang Mai is actually developed a reputation for being a healthy lifestyle hub.
There is plenty going on in terms of yoga and Thai cooking classes, cycling, plant-based food joints and lots of meet-ups. There's also some good live music to be found in Chiang Mai. one thing I have to say about Chang Mai is that tyres and foreign nationals tend to blend and mix together very well.
Phuket
If Chiang Mai is for elephants, Phuket is for beaches! The island is famous for its white beaches and crystal clear waters — the reason it is the favourite holiday spot for many locals and foreigners.
Because of the place's popularity, nightlife is a big feature and clubs and bars are plenty. Having said that, the island also has more peaceful parts, which is perfect for those who are laid-back.
Life in Phuket is somewhat a mixture of that in the big city and on an island. Schools are keen on hiring native English speakers, so you might find your first job here in no time.
Keep in mind though that the cost of living in Phuket is a bit higher compared to other places in the country. Consequently, salaries are also usually higher.
Other Islands
There's more to Thailand's islands than just Phuket. Some of the most popular that offer significant opportunities for those seeking an English teaching job include Koh Tao, Koh Phi Phi, Koh Phangan, Koh Samui, and Koh Lanta. Island life is definitely a life worth having — away from city stress and offering a healthier, laid-back lifestyle.
Rural areas
Aside from the big, modern cities and touristy islands, much of Thailand is very rural. In such areas, there are no beaches and nightlife, but mostly farmland and flat ground, particularly in the northeast.
There is a demand for foreign English teachers in schools, so if you're aiming to teach in a place that can give you some serenity, away from the city noise, consider the village life in Thailand.
The most popular rural teaching region is probably Isan, located in the north-eastern part of the country, where you can find smaller cities such as Korat, Khon Kaen, Udon Thani, and Ubon, all of which have teaching opportunities.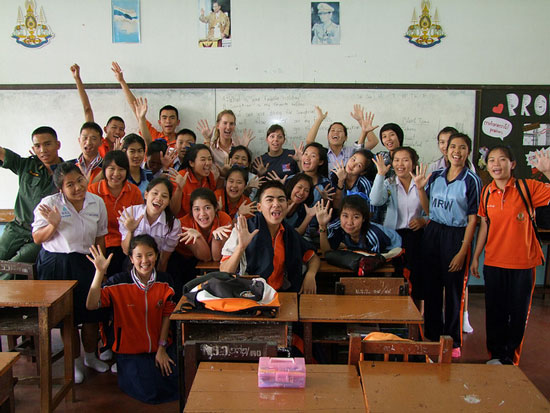 Salary Expectations
Salary for TEFL jobs varies due to many factors such as location, the type of school, and your experience. Since the cost of living in the capital and other big cities and touristy islands is relatively higher, you can expect higher salary offers.
The large majority of people start off on around 30,000 Baht in their first teaching job. As you gain more experience you can demand a higher salary of course your employment will be in high demand.
There's also a significant variation in salaries of teachers working in different types of school.
Check out the table below for a quick comparison on starting salary ranges for TEFL grade teachers.
Note international school salaries very much depend on your experience and qualifications, and on the reputation of the school. Some pay 70,000 to 120,000 Baht per month, and the very best ones (ISB, NIST and BPS, etc) pay well over 150,000 for qualified, experienced teachers.
Benefits
Health Insurance
If you land a teaching job in Thailand, it's common for the school to provide health insurance; however, you shouldn't get too hyped when they do as it will most likely be basic coverage. If health insurance is not a part of your benefits, you'll typically pay for it via salary deduction or be eligible to acquire medical help from public hospitals.
Many foreign teachers opt to purchase long stay travel insurance to cover them, particularly if they are doing just a years worth of teaching. You can also purchase medical cover locally as part of a bank account or through an insurance company.
If you're quite young, then I'm sure your family are quite worried about you going to teach abroad, and therefore they may want to get you a comprehensive health insurance policy.
Check out this page here for more details.
Housing Allowance
In Thailand, the provision of housing allowance depends on the type of school you're employed in. If you work for an international school, there's a high chance of getting free accommodation or housing allowance that's non-taxable.
Government schools, on the other hand, don't usually provide this to teachers. that said, some do offer an allowance. I won't be much, perhaps 1-3,000 Baht a month. still, in some areas of Thailand you can get a nice little studio flat for less than 5,000 Baht per month. Ask about this at your interview.
Food
Thailand is known for its mouth-watering foods — a great thing for foodies. Most schools in Thailand provide foreign teachers free lunch. But if this isn't the case, don't worry as you can have a large appetizing meal at a very cheap price.
Other Benefits
Just like local workers, there are many other benefits that foreign teachers are entitled to.
Sick leave: Employers are mandated by Thai law to provide annual sick leave to employees. The number of days varies from school to school, but typically, it should be at least 10 days. A doctor's note or medical certificate is required if you were absent for three consecutive days.
Maternity leave: Schools in Thailand are mandated to give new mothers leave for 90 days, with 45 of that being paid.
Vacation leave: Foreign teachers are entitled to the 13 normal Thai national holidays and an extra six-days vacation after you've rendered a one-year work. In reality, though, many English teachers in Thailand get the mentioned days plus an additional six to eight weeks paid vacation.
There are also benefits that don't apply to foreign teachers, and two of these are retirement benefits and social security. If you plan on staying in Thailand for good, you should have your own plan to save for your retirement. Employees in the country retire at the age of 60.
Bonuses
Depending on your performance as a teacher, you may receive a bonus. Some schools also offer an enrollment bonus as an incentive to join.
It is also common for schools to offer a bonus when you sign another contract with them after your former one expires.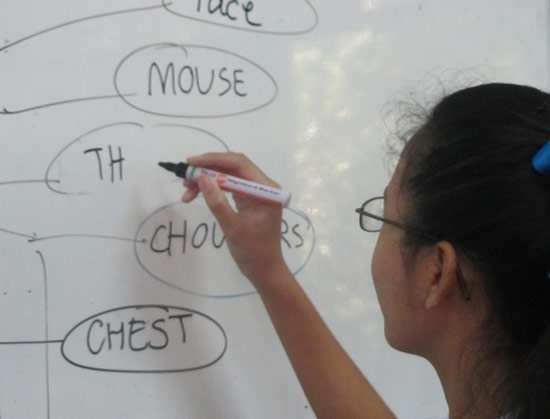 Cost of Living Basics
Aside from the beauty and charm of the countries, the reason many Westerners choose Southeast Asia as a place of work is its affordability. Below are some of the common expenses of expats in Bangkok, so if you're aiming to work in rural areas, you can expect a significant decrease in the listed amounts.
Of course, as is always the case with cost-of-living expenses, it depends on your expected standard of living.
Some people eat a lot less than others. Some people like to buy very healthy, organic foods.  Some people don't drink alcohol or go clubbing, and some people would rather walk than take a taxi. Some people think Starbucks is a rip-off whereas others have to have it every day.
The cost of living really does depend on how you live and how frugal you are.
For a more detailed living expenses guide, visit this page.
Arriving in Thailand
We are coming to end of this guide now, so I thought it would be a good idea to include a quick summary of what to expect when you do arrive in Thailand, which also serves as a reminder of what you should have in place:
Enter Thailand with your Non Immigrant B visa / Tourist visa. If you have a dependent with you, then they need to enter with their relevant visa too.
If you are arriving in Thailand to take a TEFL course then you will have most likely sorted out your accommodation through the company. If you haven't, is a good idea to book into a hotel for a few days and then searched the locality for an apartment to rent for the duration of your course. similarly, if you have secured a job already and you know the area in which you will be living, again it would be a good idea to check into a hotel for a few days while you do an apartment search. Long-stay accommodation can always be secured cheaper in Thailand than it can online through a rental agent.
If you don't have a TEFL certificate yet, now's a good time to enroll and get one. See here.
Look and apply for teaching jobs. Check out my job board for opportunities.
Once you land a job, you will need to leave Thailand and go and apply for your B visa at a Thai embassy outside of Thailand with your documents, one of which is the sponsorship letter from your employer.
Once you've obtained the Non-Immigrant visa, return to Thailand. Provide a copy of your passport to your employer for the processing of your work permit.
Receive your work permit. Start working.
Quick Fire FAQ
Thought I would finish with a quick-fire FAQ, as there are a number of common questions that come up with the topic of teaching in Thailand.
Here are some of the commonly asked questions regarding TEFL in Thailand.
Question: Can I teach without a degree?
Answer: Some schools prefer individuals with a diploma/degree, but there are hundreds of foreign teachers teaching in Thailand without a degree. As long as you have your TEFL certificate, and you are presentable, then you will have a very good chance of getting a job very quickly.
Question: Can I teach without a work permit or visa?
Answer: Technically speaking, you can't work unless you have a work permit. Realistically though, schools delay the process of obtaining such because they want to make sure you've got what they need. A maximum of three months probation (teaching without a work permit) can be expected as long as the school can provide proof that your work permit is in process.
Question: Can I still get a job if I'm a non-native English speaker?
Answer: Many schools in Thailand want native English speakers, but there's a plenty bunch that also accept non-native speakers. However, the salary offered may be lower. my advice is to get your turf or TEFL and indeed an IELTS certification if you can, and prove your competence in speaking English. A degree will also help.
Question: What is the age limit for teaching in Thailand?
Answer: Generally, there is no age limit for those who want to teach in Thailand. Although the retirement age for Thai nationals is 60, you can still land a job even in your senior years as long as you're deemed qualified by the school. There are plenty of teachers teaching in their 50s and 60s. That said there is some age discrimination in Thailand and you may come across that in your search for a job.
Question: Do I need to provide a background check to teach in Thailand?
Answer: The Thai Ministry of Education requires foreign English teachers to have a criminal background check (CBC). However, in reality, the need for such depends on certain factors such as the school's requirements, your physical appearance (yes, in Thailand, you'll be judged based on how you look pretty often), and the immigration officer that processes your visa after you have accepted a job. To be sure, and to avoid any hassle, get a CBC in your own country before flying to Thailand.
Question: How many hours will I work a week?
Answer: Many foreign teachers in Thailand work for just 20 to 30 hours a week, leaving them with plenty of spare time. Some schools, on the other hand, require their teachers to be within the school premises during school hours, which is usually seven to eight hours a day. you can pretty much guarantee you'll be done by 4 o'clock though, which leaves some spare time for perhaps some private tutoring, or simply chilling out!
Question: How easy is it to get work?
Answer: The demand for qualified English teachers is at an all-time high in Thailand. If you're a native speaker with a TEFL certificate, you'll find yourself teaching in no time. If you or not a native English speaker, don't worry, if you are confident in your English there are still many jobs available.
Question: Should I get a TEFL?
Answer: Technically, a TEFL certificate is not required by Thai law; however, the large majority of schools expect to see one, particularly for those who do not have a degree. Furthermore, a TEFL certificate can increase your chance of getting a job, especially if you have no teaching experience — as it indicates that you have a decent grasp of the fundamentals of teaching English as a foreign language.
Need a TEFL certificate?
=> Click here to find out which course is best for you