While the majority of travellers spend a lot of energy finding the cheapest hotel options in Bangkok, some are looking for the exact opposite – the most super-luxurious, expensive option available.
To a certain group of holidaymakers only the best will do. Be it for a luxury breakaway, special occasion, honeymoon or just a splurge of that year-end bonus, the options for luxurious, pampering sit-back-and-relax hotels in Bangkok are abundant.
I've put together a list of the arguably the best, based on luxury, customer rating, facilities and price. Each hotel has its own unique reasons for making this list, so go on, pick your favourite and spoil yourself senseless!
Located in the historic Dusit district, where most of Bangkok's must-see cultural and historical sights are found, The Siam offers a glorious mixture of 38 spacious, individually designed suites and pool villas all including a king bed, wi-fi, mini-bar, bath tub, walk-in shower and a personal butler on request. Yes, I said personal butler.
Set at the foot of the Chao Phraya River, guests can enjoy a wide range of health, beauty and wellness facilities, and request private tours and transfers at their leisure. The price tag of 15,000 + Baht per night makes The Siam one of the most expensive hotels in Bangkok.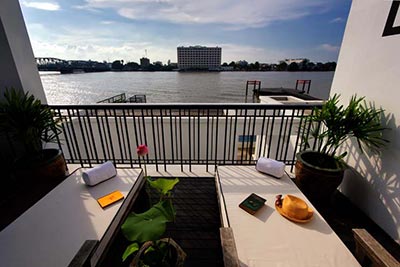 Stand Out Features:
With both limousine airport transfers and speedboat services to the BTS Skytrain on offer, guests can put aside the hassles of traffic or finding reputable tour operators and enjoy the river as and when they choose.
The Siam offers a number of restaurants, bars and bistros, including world-class sushi by world-renowned chef Tsutomu Oba. The hotel hosts a Spa and Wellness centre too, along with a hair and nail salon, gym, infinity pool and cooking school. The hotel also provides private tours in and around Bangkok.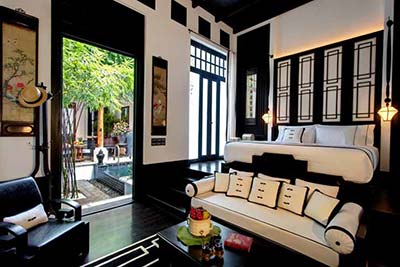 Room Price & Customer Rating:
Room rates start at around 15,000 Baht
Hotels.com Rating: 4.7 / 5
Set on the Chao Phraya River, the spectacular Mandarin Oriental Hotel offers a mix of 374 elegant, luxury rooms. With no less than nine restaurants, the hotel is sure to satisfy any type of cuisine you can possibly desire. A world-class spa and wellness centre can be found on site and the hotel provides flexible but expensive family packages and rooms for those who wish to bring the kids along.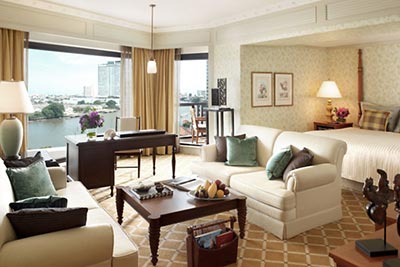 Stand Out Features:
The hotel offers a remarkable nine dining options, serving foods from across the globe, including sea food, barbecue, French and Italian cuisine, Thai food, Chinese and more. To keep the heart, body and mind in shape, the hotel offers 15 treatment rooms, two swimming pools, yoga, fitness centre and two outdoor tennis courts, a squash court and outdoor running track. Cultural and cooking programmes are available for guests wishing to immerse themselves in local tradition.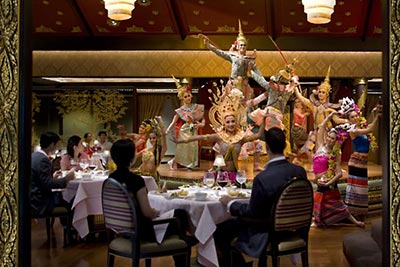 Room Price & Customer Rating:
Room rates start at around 12,000 Baht
Hotels.com Rating: 4.7 / 5
What makes this hotel one of a kind is the fact that it's Bangkok's only luxury hotel offering a resort-like experience bang in the middle of the city centre. The Siam Kempinski is located in the heart of the city's shopping and entertainment district but feels like you are a world away from the hustle and bustle.
The hotel offers 303 contemporary, luxury rooms and suites and 98 serviced residences. Many units have private balconies overlooking the pool area and all of them include soft drinks and local beers, as well as free wi-fi – as one would expect at that price! On-site bars and restaurants provide a variety of international and local tastes.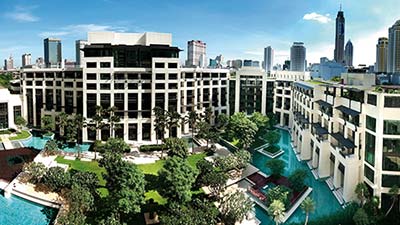 Stand Out Features:
The Kempinski Spa will customise treatments to your body's needs and provide you with essential knowledge about your lifestyle requirements, something you won't find at a local 200 Baht massage shop.
Located within an easy reach to the BTS Skytrain, the Siam Kempinski is an ideal location for both business and leisure guests with a variety of activities inside the hotel and immediate surrounding area. Enjoy fine dining in one of the three restaurants, have a drink in one of the bars or simply relax outside sipping champagne while enjoying a fine cigar.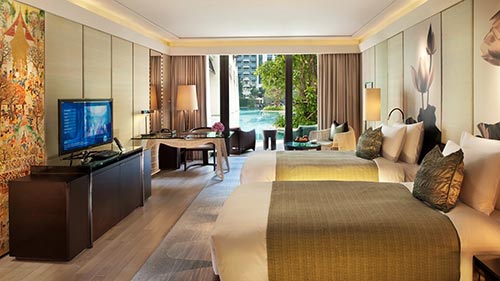 Room Price & Customer Rating:
Room rates start at around 12,000 Baht
Hotels.com Rating: 4.7 / 5
4) The Conrad Bangkok Residences
The Conrad Bangkok Residences is located within the Conrad Bangkok Hotel, and part of the prestigious Hilton group. This alternative luxury stay provides the freedom and privacy of fully serviced apartments while allowing guests to enjoy all the facilities of the hotel.
Entertainment, shopping and the major business districts are within easy access, making it perfect for the leisure or business traveller. Fitness, wellness, relaxation and dining options are all found at The Conrad Bangkok Residence.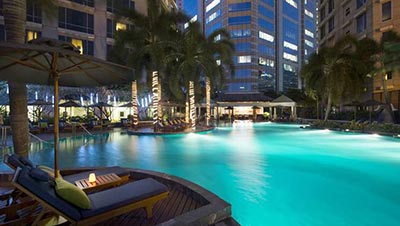 Stand Out Features:
The hotel offers a variety of double rooms along with one and two bedroom units. 11 luxurious treatment rooms, a steam room and a sauna are available on site to provide you with a wide variety of relaxation options.
You can opt to cool down in the outdoor pool, enjoy a game of floodlit tennis or burn some calories in the gym and rooftop running track (very cool). And if that's not enough, you can select from a list of on site classes such as yoga, boxing, pilates or Tai chi. Nearby attractions include bowling, golf, night markets and cooking classes.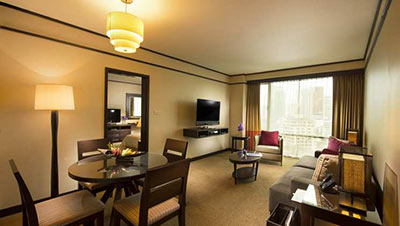 Room Price & Customer Rating:
Room rates start at around 9,000 Baht
Agoda Rating: 7.7 / 10
Hotels.com Rating: 4.3 / 5
The Okura Prestige Bangkok lies in the centre of Bangkok. This delightful, luxurious hotel offers 240 rooms and suites with magnificent views of the city's skyline through triple-glazed windows.
Rooms are equipped to satisfy the needs of both business and leisure guests and quality dining can be enjoyed in one of three on-site restaurants. Guest can relax and enjoy the impressive cantilevered pool, or spend time at the superior fitness centre or fully equipped Okura Spa.
Stand Out Features:
The hotels offers a selection of 11 room categories, of which features include flat screen tv's, touch screen controls, wi-fi, refreshment cabinet, Egyptian linen and more. The on-site Park Ventures complex provides easy access to a pharmacy, bank, convenience store and indoor golf centre.
Experience fine dining at the hotel's three on site restaurants offering Japanese, contemporary cuisine and Asian and Western options. A spa, fitness centre and 25m cantilevered swimming pool is available to make sure you are fully relaxed whenever need be.
Room Price & Customer Rating:
Room rates start at around 8600 Baht
Hotels.com Rating: 4.6 / 5
The St. Regis offers a modern spot of luxury for the contemporary expensive hotel seeker. Its 228 rooms include 51 beautifully appointed suites with floor-to-ceiling windows offering unobstructed views of the city skyline.
Incredible attention to detail, refined amenities and St. Regis Butler service make it one of the most highly-rated hotels in town. Treat your taste buds to exquisite dining complimented with vintage wines, or find peace and relaxation at the exclusive Elemis Spa.
Stand Out Features:
The optional St. Regis Aficionado program offers guests unprecedented privilege on special food, wine, fashion, art, sport and spa options. Just the very fact that St. Regis uses 300 thread-count Egyptian cotton sheets in every room shows you the level of quality this hotel offers, not to mention the marble bathroom with a separate shower and bath.
Ideal for the successful business traveller, televisions can be connected to a notebook, iPad, or iPod, and LAN lines along with power outlets are provided by the hotel. There's also a fantastic business centre, spa, swimming pool and dining options are available at the hotel.
Room Price & Customer Rating:
Room rates start at around 7,900 Baht
Hotels.com Rating: 4.5/5
In the heart of Thailand's capital lies the luxurious Anantara Siam Bangkok hotel, offering 354 units varying between delightful rooms and superior suites. Discover traditional Thai architecture, hand painted silk ceilings, a grand lobby and glorious gardens that create a feeling of serene exclusivity in the midst of the bustling city. If you want luxury combined with Traditional Thai furnishings, the Anantara is for you.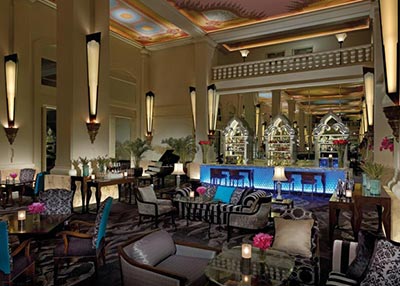 Stand Out Features:
The hotel offers guests the luxury of 11 dining options, a superb spa, a wedding galleria for honeymooners, private tours around town to take in cultural sites, shopping, nightlife and street cuisine, a health club that rivals any top gym, complimentary handy smartphone in all rooms and much, much more.
The Anantara Siam also provides a fast track greeting service for international flying guests, which will escort you through a quick custom checks, provide you with luggage assistance and a limousine transfer service. Now that's what I call a VIP service.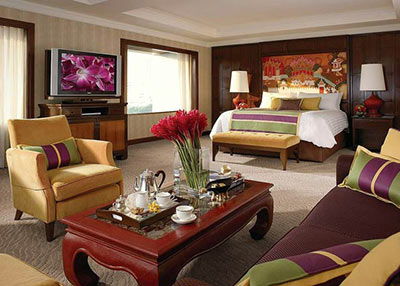 Room Price & Customer Rating:
Room rates start at around 6,600 Baht
Hotels.com Rating: 4.5/5
8) Grand Hyatt Erewan Bangkok
The Grand Hyatt Erewan offers a balanced blend of city life combined with a resort-style atmosphere . With 380 rooms and suites, and 4 different luxury room types, the Erewan is a slightly more affordable option than most on this list. But don't let than not so expensive price tag fool you.
The Erewan has no less than 4 restaurants, a bakery and a tea room! The hotel is well situated too, standing right near the popular Erewan Shrine and close to Central World shopping Centre.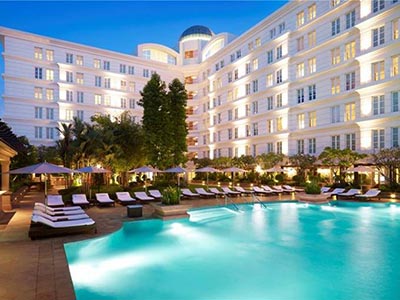 Stand Out Features:
The Grand Hyatt Erewan offers an array of facilities and services including limousine transfers and tours, a Greenhouse fitness centre, 14 meeting rooms for business guests, an outdoor swimming pool, spa and a Grand ballroom accommodating 1,500 persons for those planning a special event. Aside from the generous eating options, the hotel boasts a number of personal services such as babysitting, mail delivery and on-site doctor.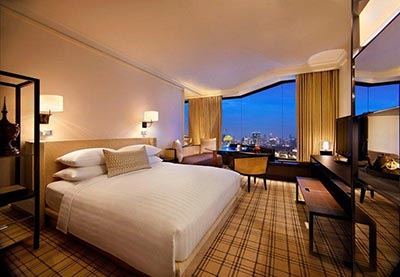 Room Price & Rating:
Room rates start at around 6,500Baht
Agoda Rating: 8.6/10
Hotels.com Rating: 4.5/5
The Tower Club at Lebua Hotel has been named the World's Leading Luxury All-Suite Hotel at the World Travel Awards. From floor number 51 to 59, the views from the hotel's 221 suites are magnificent and the units provide separate bedrooms, living room and kitchenette.
To add that special touch, the rooms come with a complimentary non-alcoholic minibar, Nespresso coffee machine and premium bathroom amenities, along with continental breakfast, light lunch, afternoon high tea plus canapés and alcoholic and non-alcoholic beverages until 6pm.
Stand Out Features:
The Hotel hosted the cast of the famous Hangover movies while they were filming in Bangkok, hence the name for the Hangover Suite. The is absolutely divine, paying incredible attention to every detail, including the selection of your preferred type of pillow. You will also find a modern fitness centre, outdoor pool and spa, and fully serviced conference and function rooms.
The property offers a collection of fine dining and drinking venues including Mezzaluna, the award-wining fine-dining mecca renowned for its innovative cuisine, all of which are widely considered the best restaurants and bars in Bangkok. But above all, simply sitting in the rooftop bar taking in the breathtaking views is well worth your stay.
Room Price & Customer Rating:
Room rates start at around 6,000Baht
Hotels.com Rating: 4.5/5
The Peninsula offers a massive variety of ten different room types for guests to select from. All rooms enjoy breathtaking views of the Chao Phraya River and city. A selected number of rooms offer landscaped balconies where guests can unwind, take in the magnificent views or enjoy an intimate fine dining experience of their choosing. All units combine traditional style with modern technology, along with the renowned Peninsula 24-hour, anything you need service.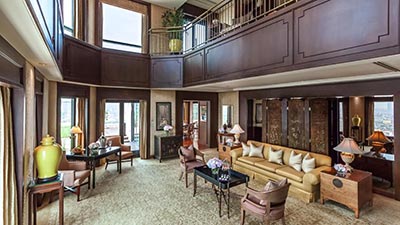 Stand Out Features:
The Peninsula Bangkok is home to one of the most diverse and distinctive collections of Asian contemporary art by 25 artists from eight South East Asian countries. Another massively impressive feature that sets the hotel apart from many is the Naturally Peninsula Garden, where the hotel chefs grow a range of chemical-free herbs and vegetables such as Thai eggplant, fennel, lemongrass, kaffir lime, basil, pandan leaf and more.
In addition to these unique qualities, guests can enjoy a number of dining options in a relaxing setting by either the  pool or riverside, or indulge in a game of tennis on the well-kept court, or relax in the spa and wellness centre.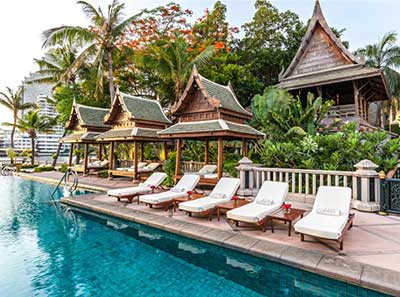 Room Price & Customer Rating:
Room rates start at around 6,000Baht
Hotels.com Rating: 4.8/5