If you want to enjoy Bangkok without the hassle of carrying your luggage around, there are a number of storage options to choose from, and all very reasonably priced, too.
Even if you want to stash your luggage somewhere for a few days, or perhaps a week, while you hop over to Laos or Cambodia with just a backpack, there's a service you can use.
In this post, I'll cover the luggage storage options in Bangkok. I'll look at the locations, pricing, payment options and security of each service in detail, so you can choose the best service for your trip.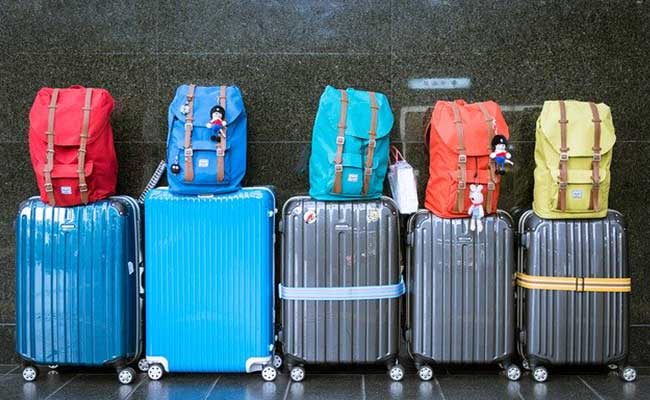 7 Best Luggage Storage Options in Bangkok
Radical Storage
Radical Storage is my go-to service for keeping my luggage safe while I hop around town.
They have locations all over the world that connect travelers to partner businesses offering storage services.
You can book via the websites, or use their app on both Android and iOS.
Locations:
Radical Storage operates 3,000 locations in 300 cities, and one of those cities is Bangkok.
Radical Storage uses proprietors of small or medium-sized businesses like cafes, restaurants, groceries, bars, bike shops, and even hotels to store luggage safely.
In Bangkok, there are currently 16 locations, each strategically located near airports, downtown and popular tourist areas.
From Suvarnabhumi and Don Muang airports to Hualampong Station, MBK, Terminal 21, and China Town, there's a Radical Storage service provider almost everywhere you're likely to be.
Pricing:
Pricing is fixed regardless of size and weight.
In Bangkok, the charge is 100 Baht per bag per day.
Daily rates are calculated from 12 AM to 11:59 PM. Picking up your luggage after midnight will result in an additional daily charge.
Any luggage, regardless of size, must be declared when booking online. This is to make sure that providers only accept the number of items indicated on the booking.
The names and addresses of the service providers are kept private and can only be seen once you have make a booking.
Payment/Sign Up
Providers will only accept bookings made through the website or the mobile app.
You can book online using a PayPal account or a credit card.
You'll receive a confirmation email that contains all your booking details. Note that reservations are considered non-refundable.
Security:
All Radical Storage service providers go through a strict verification process. Each piece of your luggage is insured for 500 Euros.
+ Go to the Radical Storage website
Vertoe
Vertoe is a virtual platform that connects travelers and shopkeepers, so that your luggage can be safely stored in big cities around the world.
The concept was realized after the founders experienced difficulty in finding a storage service on a multi-city trip.
The company derives its name from the Latin word 'verto', which means exchange or transformation.
Locations:
Vertoe locations are local businesses such as hotels, restaurants, and retail shops that have extra space capable of storing your items in a safe and affordable way.
There are numerous Vertoe locations in Bangkok, notably Suvarnabhumi airport, Don Mueang airport, MBK, Central World, and Terminal 21.
Pricing:
Vertoe fees start at around 190 Baht per day.
The longer you store your belongings, the larger discount you'll receive. For example: storing for a week or more gets you a 15% discount, while a month gives you 30% off.
There is no size or weight limit for luggage, but shop owners are given the right to refuse an item that weights over 35kg. In such cases, you will be fully refunded.
Payment/Sign Up:
All bookings are made via the website. You simply type in your preferred location, check-in and checkout time of your luggage, and the quantity of items, and the storage locations will be revealed.
The exact addresses of the premises available to store your luggage can only be seen once your booking is confirmed. You'll receive a booking confirmation via text message.
Security:
Partners are manually verified. Shopkeepers are interviewed and the premises inspected for suitability.
Data privacy is handled securely through the website, so the business owner does not see your personal information.
Upon arrival, you will be given uniquely coded tamper proof seals for your bags. Your booking is covered by an insurance policy of $5,000.
One of the best features of Vertoe is the ability to enable someone else to pick up your bags. If there are multiple people in your party, you can add a guest to your booking, either when you book or afterwards.
When picking up the bags, the guest will need a copy of the booking confirmation and image of the tamper-proof seal.
Airportels
Airportels is, as the name suggests, an airport storage and delivery service, but the service also has storage options at five major locations in Bangkok.
The service has no restrictions in terms of size, dimension or weight of your bags.
Bicycles, golf bags, and other sports equipment are accepted, as well as electronic devices like a laptop.
Locations:
Suvarnabhumi Airport (BKK): 150 square-meters wide and can store up to around 2,000 items. It's on Floor B, near the Airport Rail Link station.
Don Mueang Airport (DMK): located at gate 9, 1st floor, Terminal 2.
MBK shopping mall: located on the 6th Floor in B Zone.
Central World shopping Mall: located on the 1st floor of Grove Zone.
Terminal 21 Asok: located in Tokyo Zone.
All counters in the shopping centers are open from 10 AM to 10 PM.
Pricing:
Counters in Suvarnabhumi International Airport and Don Muaeng Airport offer a fixed price of 100 Baht per item for 24 hours.
Other counters in Bangkok offer free storage services: MBK Centre is free for the first 2 hours, Central World is free for the first 2 hours, and Terminal 21 is free for the first 3 hours.
The luggage delivery service starts from 199 Baht per item.
Payment/Signup:
Booking and payment for storage and delivery is done online through the website – 24 hours a day.
Security:
Airportels' promises privacy and property damage protection, and provides item insurance up to 100,000 Baht.
Bellugg
If you want to leave your bags at Suvarnabhumi airport, or have your bags delivered to your hotel, Bellugg provides a similar service to Airportels.
They also have a delivery service at Don Mueang, and storage locations at Chatuchak Market, Em Quartier, Icon Siam, Grand Diamond Suites, and more.
Location:
For delivery and storage, go to Floor B1 , next to the Airport Rail Link Counter. This is open 7.30 – 11.30 PM.
For storage only, go to Floor 2, Gate 4, next to the rest room, or Floor 4, gate 7, between counters P and Q. These locations are 24-hour.
Pricing:
| | | |
| --- | --- | --- |
| Small: up to 35 x 56 x 22 cm | 100 Baht | 50 Baht |
| Medium: up to 45 x 65 x 28 cm | 120 Baht | 60 Baht |
| Large: over to 45 x 65 x 28 cm | 150 Baht | 75 Baht |
Payment/Signup:
Delivery bookings can be made on the website, while storage fees are paid in person at the counter.
Security:
Aside from benefiting from airport security, they offer insurance up to 50,000 Baht.
Redd Premium Self Storage
Redd Premium Self Storage offers short and long-term storage options, with a minimum of 7 days.
This is a good option if you plan to go outside of Thailand, say to Laos or Cambodia, or if you're visiting the islands for a week.
Aside from leasing storage spaces, Redd also offers meeting rooms, parking spaces, and pick-up and delivery services.
Lifts and drive-in units are available for transporting heavy items.
Location:
Redd is based on Rama 9, at 866 Rama 9 Road, Suan Luang.
Check-in time is between 9 AM and 6 PM, with 24-hour access.
Pricing:
Storage types range from XS to XL, with the largest available space at 21 sqm.
For travelers, XS (o.45 sqm) is the best option. This will fit luggage dimensions of 0.6 meters wide, 0.75 meters long, and 2.6 meters high.
The rate per week for XS is 380 Baht, including VAT.
Payment/Sign Up:
Book online and pay by credit card.
Security:
Redd allows you to access your storage unit at anytime. To ensure your goods are safe, CCTV monitors and security guards are on watch 24 hours a day. In addition, doors are alarmed and units have humidity control.
Bangkok Self Storage
Bangkok Self Storage was established in 2004 under foreign ownership. The company offers lockers and mini-warehouses to the general public.
Drop-off and pick-up services are available seven days a week from 9 AM to 5 PM. After-hours access and extension of the pickup date can also be arranged.
Locations:
Bangkok Self Storage has two branches in Central Bangkok.
ArdNarong: 37/1 ArdNarong Road, Kwaeng Klongtoey, Khet Klongtoey.
Soi 50: 816 Khwaeng Phra Khanong, Khet Khlong Toei.
You can check the map on the website to see how far the branches are from your current location.
Pricing:
There are three storage types available: Business Storage, Personal Storage, and Traveller Storage.
Prices vary for Business and Personal Storage options. For Traveller Storage, the rate for backpacks is set at 150 Baht, or 5 USD per week. Larger items are priced based on size.
To get a quote, contact via the website with your name, phone number, email address and the storage type you'll need. You can also call using the numbers listed on the website.
Payment/Signup:
After requesting a quote, a representative will contact you with details to pay by Western Union or SCB Bank.
Once the deposit is completed, upload the bank transfer slip on the website along with the date of transfer, the unit number assigned, and your name.
Credit card payment is coming soon, apparently.
Security:
Storage locations are guarded by security and 24-hour video surveillance.
The steel units are designed to tolerate heat, humidity, water, and protect against insects and other pests. The units are also regularly cleaned to ensure sanitary conditions.
If you choose the Personal Storage option, you will be given a padlock so that only you can access your unit.
I-Store
I-Store provides short-term and long-term storage services in Bangkok.
In addition to personal and business storage, the company operates a wine storage cellar.
This is a longer-term storage option orientated towards expats. The website quote form starts from one month, with no daily storage plan.
Locations:
I-Store's Bangkok facilities are based in Silom and Sukhumvit 24.
The headquarters is located on Soi Sukhumvit 24, about 500 meters from BTS Phrom Phong Station, and just opposite the Marriott Executive Apartment.
Pricing:
Pricing is based on the space required and there are a number of tiers ranging from Luggage (0.5 sqm) to Locker (1.3sqm) to Premium (18 sqm).
If you are looking to store a couple of suitcases, you'll be fine with the smallest option. To get a quote, you'll need to submit your requirements using the quote form on the website.
Payment/Signup:
Payment to I-Store can be made via bank transfer to Kasikorn Bank or the Government Savings Bank.
Security:
A security system is in operation 24 hours a day, with CCTV installed on every floor.
Secure accessibility to the units is through a key card system. Smoke detectors are also in place for protection against fire.
In Summary
There is no shortage of affordable luggage storage options in Bangkok. Whether you need daily luggage storage or a more long-term arrangement for bigger items, you have a good selection of affordable services.
For luggage I recommend Radical Storage. It's a great service and very affordable at 100 Baht per day, per piece of luggage. They also boast at 0.00% missing luggage rate. Can't get more secure than that!
Vertoe is a close second. It is 90 Baht more expensive than Radical per day per piece of luggage but it doesn't have a higher insurance cover, so if you have expensive items in your suitcase it may make sense to pay the extra.
Airportels is also a good option, starting at 100 Baht. They also offer luggage delivery to your hotel, and parcel delivery.
If you require storage for a week or more, Redd and Bangkok Self Storage are both centrally located and affordable options. I-Store will suit expats looking to store goods for a month+.
From 100 Baht a day ($3), you can't go wrong. It certainly beats lugging your cases all over town!
——
More Tips for Planning Your Trip
Get Your Travel Insurance:
I use Safetywing. Super flexible and affordable. Get a quote here.
Book Your Accommodation:
The best hotel rates for Thailand are found at Agoda and Hotels.com.
Staying Longer Than 30 Days?:
You will probably need a Tourist Visa. Find out here.