If you stay in Thailand long enough you'll eventually end up visiting a hospital for one reason or another.
My first time was with a friend who fell off a motorbike; my second when I contracted flu, and my third was when my wife had our daughter.
It sucks to get sick, but the upside is that most Thai hospitals are well run. Many are just as good, if not better, than you'll find back home, and cheaper too – certainly if you're from the US.
In fact, many people fly in from the Middle East and other parts of Asia just to get treatment in Thailand.
It's not only cheaper than many other countries, but there are many highly qualified doctors available who've studied in Europe and the US.
Of course there's a considerable difference between government and private hospitals in Thailand, and that's one of the key areas we're going to look at in this post, along with waiting times, procedure, pricing, in-patient care, and more.
Hospitals in Thailand
You'll hear two types of hospital referenced in Thailand: private and government hospitals.
The experience between the two is very different, though as an expat you can get treated in both. As a rule of thumb, if you can afford the extra, go to a private hospital.
Government Hospitals
Government hospitals are focused on lower income Thai nationals rather than middle-to-upper class Thais, expats and international patients.
It is through these hospitals that Thais can claim treatment on the 30 Baht healthcare scheme put in place by former prime minister Taksin Shinawatra. A Thai person can pay a base rate of 30 Baht and it covers all treatment for that visit.
Generally speaking, these hospitals are overcrowded and have long wait times, but they do have similar expertise and medical equipment to private hospitals.
Some big public hospitals run by medical schools such as Siriraj Hospital, Chulalongkong Hospital, and Ramathibodi Hospital in Bangkok have capabilities beyond that of the private hospitals, and people are sometimes referred to these hospitals from private ones for specialist treatment.
Patience is a virtue at a government hospital in Thailand. You may have to wait a solid few hours to see a doctor for just a few minutes.
That being said, in rural areas the wait times will be shorter, but offset by a lower standard of healthcare than in Bangkok.
Don't expect high-level customer service either. The staff are overworked and underpaid.
Bear in mind that nurses and admin staff are unlikely to speak good English. Some may speak basic English but it could be a struggle to communicate at times, so you may want to take a Thai person with you. The doctor will probably speak better English than the nurses, but you will still want someone with you.
The benefit of a government hospital is the cost. It's far cheaper and, unlike private hospitals, they don't overcharge for medicine.
Private Hospitals
Private hospitals offer high-level customer service with all the bells and whistles. Think of a car dealership vs. a local mechanic for servicing your car. You're paying extra for the comfy seats and coffee and tea.
But even though it's a little superficial, it's nice to have the comfort and friendliness when you're not feeling well.
You get what you pay for, as the saying goes. And at a private hospital you'll have far more time to talk with your doctor about your illness.
I remember the appointments with our pediatric doctor. Unlike the NHS in the UK where they are ushering you out the door, we were able to ask as many questions as we wanted to and never felt rushed.
The perks come with a price, though. A standard doctor's appointment is around 500 Baht. On top of that you might need a blood test or two, plus your medicine.
My flu trip cost me around 2,000 Baht. Still, that's only £40/45. I had a blood test, saw the doctor, and got some pills.
It was worth it to get a good night's rest and know that I wasn't dying.
If you prefer a premium hospital, try Bumrungrad International Hospital. They have experienced specialists, modern facilities and provide complete medical care.
If you don't want to pay the medical costs that come with visiting private hospitals, but still want the superior service, you can get a local health insurance policy from Mr Prakan.
You'll know exactly how much you need to pay per year rather than hoping your hospital visit won't bankrupt you!
Other notable hospitals in Thailand include Samitivej Hospital, Bangkok Hospital, BNH Hospital, and Phayathai Hospital.
Premium Clinics
Some government hospitals have special clinics, known as "premium clinics."
These clinics are basically an upgrade on government services and provide medical services outside of working hours, with lower wait times and in some cases more experienced doctors and specialists.
Part of a premium clinic's income is put aside to treat poor patients who need specialist treatment but can't afford their medical bills. This adds an element of kindness to your visit, because your treatment at a premium clinic will directly benefit someone less fortunate.
My wife visited a premium clinic for a smear test. It cost around 500- 1,000 Baht if I remember correctly. We didn't wait long and it was very convenient.
Again, staff and doctors will be able to communicate in basic English but you should bring a Thai translator – friend or family member – to help you fully understand what is being said.
Likewise, the staff are super-busy, so don't expect the 5-star treatment you'll get at a private hospital. That said, I generally find all nurses in Thailand to have a friendly bedside manner.
Wait times for surgery at premium clinics will also be longer than private hospitals, but not as long as government hospitals.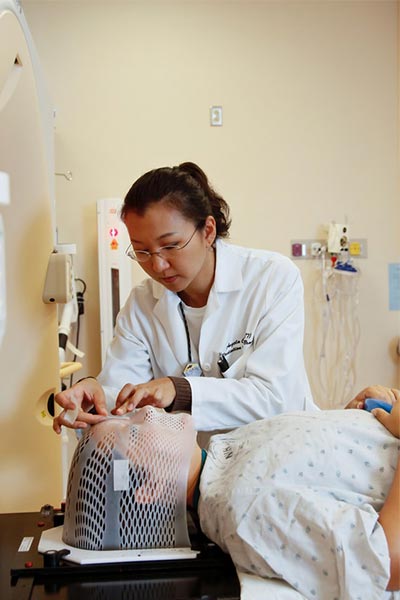 Doctors in Thailand
You're probably wondering what kinds of doctor are available in Thailand and whether they will match the expectations you'd have back home.
At government hospitals, you may see one of three types of doctors:
Resident doctors: Those who are licensed to practice medicine but are learning a specialty
Fellow doctors: Those who have completed their residency and are doing additional specific training
Attending doctors: Those who are experts in their specialty and have their own healthcare team
Note that when visiting a government hospital you may be asked to be a case study for intern doctors or medical students. This is quite normal but doesn't happen often.
It has happened to me twice in the UK under the NHS, where a bunch of students watched an examination I was having, and again when I had a mole removed and a trainee surgeon attended.
At private hospitals, the majority of doctors are fellow doctors and attending doctors.
The reason for this contrast is that Thai private hospitals, especially those with the best reputations, want to provide only the most qualified doctors to their patients.
Premium clinics have fellow-doctors and attending-doctors from medical university hospitals.
Hospital Waiting Times
The waiting time for government hospitals is naturally longer than private hospitals.
If you have a medical emergency then of course you'll be seen as a priority, but what may seem like an emergency to you may not be one for the nurses.
Upon arrival, you'll take a queue number and be asked to wait. Thing is, at most government hospitals the queue closes at 7 or 8am. Miss the queue and you'll have to return the following day.
If you have a pre-booked appointment then the wait time won't be too different from that of a private hospital. However, pre-booked appointments are usually follow-up appointments.
If you already have an advanced appointment the waiting time is not that different from private hospitals.
It is worth noting that you may have to wait many months or even a year or more for an operation. Even then, scheduled operations are often postponed. Government hospitals are always receiving emergency cases and this extends the waiting list for treatment.
I remember when my mother-in-law was diagnosed with cancer. She had to travel a few hours to a hospital in Nakhon Ratchasima. They didn't have a bed in a ward for her and instead she was put on a makeshift ward (with others) in the hallway. It was open air, too!
Private hospitals offer a hotel-like service. You can choose a time to attend an appointment whenever it's convenient, and booking in for an operation is equally as easy. You are a paying customer, so you have the whip hand.
The results of blood tests and medical check-ups come back very quickly in private hospitals. My blood test result for flu was given to me within an hour or so at Praram 9 hospital, Bangkok.
How Much Does Hospital Treatment Cost in Thailand?
Providing estimates on treatment is difficult because there are so many illnesses and medical problems that cost varying amounts to assess and treat.
Generally speaking, if I take my flu trip as an example, you should expect to pay around 500-1,000 Baht at a government hospital and double that at a private hospital.
If you want top class care you can use a premium hospital such as Bumrungrad Hospital where you'll might pay approximately 2,000 -3,000 Baht for the same trip. My brother went here when he cut his hand quite badly at my cousin's flat in Bangkok. The service was first class.
The further you travel out of the center of Bangkok the cheaper hospital care is likely to be. As I noted, I have used Praram 9 hospital, which is 5 or so stops from Asok on the MRT line. The service is excellent and the pricing is notably cheaper than those more centrally situated.
Other hospitals expat tend to use are as followed:
If you are hospitalized in a private hospital you can expect to pay 20,000 to 30,000 Baht per night. If it's a critical emergency then the cost of treatment could be as much as 100,000 Baht per night.
This is why it pays to have private health insurance in Thailand. If you're wondering how much it costs, grab a free quote here from Cigna, and Mr Prakan for comparison.
Having a Baby in a Thai Hospital
If you're considering having a baby in a private hospital, then you can choose from a number of baby delivery packages. Most private hospitals offer these packages but they generally cover only the birth and your post-birth stay in hospital.
Baby delivery packages usually start at around the 100,000 Baht mark and go up to 200,000 Baht for twins.
Most Thai women actually pre-book a cesarean section to avoid birthing pain and keep their shape post pregnancy. This was very strange to me because I'm from a culture where medical advice is always to give birth naturally, if possible.
This culture, however, makes it easy for hospitals to develop packages, because they know exactly how long the procedure is likely to take and the recovery time required.
My wife wanted a natural birth but complications ended up making it a cesarean section. My wife needed a blood transfusion prior to the surgery and then had to stay in hospital for around 4 days afterwards.
All in all the cost was just over 150,000 Baht.
Bear in mind that the birthing packages usually don't include all the doctor visits you need leading up to the birth. There may be blood tests along the way, too.
The care was amazing and the doctor's decisions actually saved my wife's life. The nurse even brought my wife and baby home in an ambulance and helped us get settled.
Making an Appointment
Government hospitals and premium clinics provide a walk-in service, so there's no need to make an appointment. Even if you have a follow-up appointment, you will need to arrive early and have to wait a fairly long time. Try to get there before 7am.
If it is your first visit to a government hospital, arrive as early as possible – around 6am – to fill in your registration forms and get a queue number.
You can also walk-in to a private hospital at any time, if you need to be seen with some degree of emergency. Regardless, even if you just walked in and wanted to see a doctor they would likely accommodate you.
However, for a regular check-up with a doctor or specialist you should book an appointment, either over the phone or by email through the website. A member of staff will call you back within 24-48 hours.
Make sure you arrive a solid 30 minutes before your private hospital appointment. You'll need to check in and then find your department.
Some hospitals are pretty big and it may take you a few minutes to get where you need to be. Then, depending on what your appointment is for, you may need your blood pressure checked and your weight taken before seeing the doctor.
If you are visiting a hospital in Bangkok then you'll need to factor in travel time. I'd take the BTS or MRT over using a taxi, as traffic is the number one cause of being late in Bangkok.
If you're not very good at keeping dates and think you'll need an appointment reminder, many of the bigger-brand hospitals offer a one-day prior notice service so that you don't forget.
Registration
All hospitals will require your passport for registration.
Once you arrive, a member of staff will check you in at the front desk and create a hospital card for you. This process requires a webcam picture to be taken, which sucks when you are feeling ill and have barely slept the whole night!
The hospital card will save you time on checking in on your next visit.
If you have a health insurance policy, it's important that you tell the person on reception. You will need to show your insurance card or provide details of your provider and your account number.
If it's your first visit, a member of staff will show you where you need to go.
For government hospitals, as previously mentioned, if you don't speak Thai then you'll need to bring along someone who does. I do think it's possible to get through the process in English but it may cause a bit of a kerfuffle.
At premium clinics, you can register for a hospital card with the admissions department prior to a visit. You can then make an appointment over the phone if you require medical treatment. Registering in advance will save you considerable time.
Seeing a Doctor or Specialist Consultant
The process when visiting a Thai hospital without an appointment is pretty much always the same:
Once you reach the department for your appointment you will be screened by one of the nurses on duty. The nurse will check your height, weight, blood pressure and temperature (if you are running a fever).
The nurse will quiz you about your symptoms and then ask you to take a seat.
Standard procedure to see a specialist is that you have to go through a general practitioner doctor first. However, this is avoidable and you can request to see a specialist first. This is certainly the case when booking in advance.
You can research specialist consultants on the hospital's website and request to see one that you like the sound of.
Being Admitted to Hospital
Hopefully you won't need to be admitted to hospital, but as you age it's inevitable at some point. Upon being admitted you will be offered a list of available rooms, from private and VIP rooms to shared options with up to 10 other patients.
The upmarket hospitals have room options akin to that of hotels: think big TV, en-suite bathroom, super comfy bed, etc.
A hospital will usually list room prices on its website, so if you have a stay scheduled you can check the cost of your options beforehand.
Government hospital options will be limited, though in less busy parts of the country you may get a bed more to your liking. Some do have an upgrade option, so you can have a room on your own, but be prepared to share.
A private room in a government hospital is usually pretty inexpensive – perhaps 300-400 Baht a night. In some cases they may have no beds available, in which case you'll have to look elsewhere, or wait for a bed to be found where you can be placed in an overcrowded ward.
Paying Your Hospital Bill
If you don't have insurance, you'll have to cough up for the entire bill when your treatment has finished. There's no payment plan option, so cash or credit card it is.
At the majority of hospitals the procedure for paying your treatment bill is as follows:
You will visit the cashier area after your appointment and take a ticket. Once it's your turn, you will pay your bill, including any medicine you need. Once paid, you will head over to the medicine collection area and wait for your number to be called.
If you have health insurance, there are a couple of payment scenarios.
If your health insurance provider is a partner of the hospital, then you will just need to sign off on some paperwork and the insurance company will pay the hospital directly.
If your provider isn't a partner of the hospital, you may need to pay up front and keep your receipts for reimbursement at a later date.
It really depends on the conditions of your policy. If the cost is over a certain amount, some insurance companies will pay the hospital directly. This is certainly the case when a person is admitted following an accident and needs expensive surgery and a lengthy stay.
Local Clinics & Pharmacies
Before I sign off on this guide, it's worth mentioning the many local clinics found all over Thailand.
There are times when popping into one of these local clinics might be far more convenient. In remote areas it may be quite a trek to the nearest hospital, whereas the local clinic might be just a short walk away.
Such clinics can prescribe basic medication, offer common injections, and do blood tests. Additionally, as we have in the West, there are specialized clinics for physical therapy and maternity needs.
That being said, be careful, as some local clinics may not be the best option for your illness. You may be seeing a nurse rather than a doctor, and you may be prescribed a broad antibiotic medication that isn't suitable for your condition.
Furthermore, you will probably find that you end up going to a hospital a day or so later anyway, so you'll be paying twice.
The same goes for local pharmacies. You can get many medicines over the counter in Thailand that you wouldn't be able to get back home. But self-medicating isn't wise, unless it's basic ibuprofen or Paracetamol for a common complaint.
The people working in these pharmacies may know what medicine you want, but do they know whether you need it or whether it is safe for you to take it?
Don't risk your health to save a bit of time or money. Make sure you get the attention and care you need in the first instance.
—–