Located approximately 200 km and just 3-4 hour's drive south of Bangkok, Hua Hin is a pretty costal town with a five-mile long beach and the highest density of world class golf courses.
This charming fishing town of Thailand, and neighbouring Cha-am, have long been a favourite getaway place for Thai high-society, with businessmen and movie stars escaping the intensity of the City of Angels for a weekend of fresh air and pure relaxation.
Hua Hin is perhaps most famous with Thais for Klai Kangwon Palace (meaning Far From Worries) , built in 1928 by King Rama VII . The Palace remains an official royal residence, with King Rama 9 staying there from 2002-2006. Its presence is said to be one of the reasons for the town's very apparent clean-cut and well-managed image.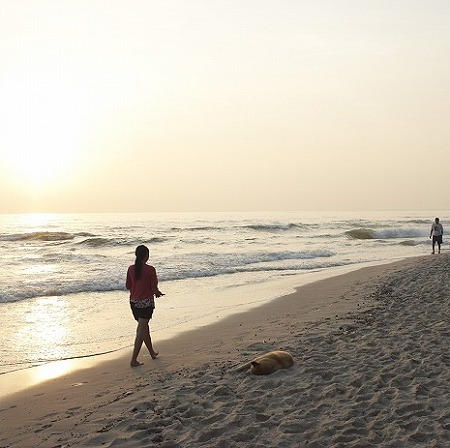 What's the Weather Like?
The weather in Hua Hin remains warm to hot throughout the year, with only small variations in temperature. The year begins with the dry season (December-April), before the monsoon arrives in May. Rains then ease from June to August before the heaviest rains begin in September and continue through November.
Central Hua Hin might be small and quiet in comparison to Bangkok and Chiang Mai, but it packs into it's perimeter everything you need, including some fantastic cuisine in both budget-priced Thai restaurants like Moon Smile Platoo and upper-end foreign dining such as Le Grappa.
If you're looking for nightlife, however, stay in Bangkok or on one of the popular islands. Hua Hin is like a ghost town after 10pm! But then that makes it the perfect place to get up early and really enjoy the fruits of Thailand.
What's the Beach Like?
If you're looking for an out of town beach getaway for a couple of days then หัวหิน (the Thai spelling) is perfect. It's not the best beach in Thailand, I must admit, but it's the best option for a Bangkok getaway.
The beach is also really long and wide, so if you like walks and the kids love space to play then it's spot on. And, if you hire a car, Cha-Am is only 20 km down the road, which also has a worthwhile beach offering various water sports and delicious Thai street food.
You'll find mainly Thais at Cha'am beach, but if you want the authentic Thai beach experience, this is it; pure chilling, eating, talking, playing games and NOT going in the sun until after 4pm!
Hua Hin beach isn't a tropical looking beach as such, but it's vast and thought-provoking spaciousness coupled with great sunsets and epic views make it rather special in my opinion.
Its core appeal is that it tends to be much quieter than the popular beaches down south, and therefore makes it a great place to walk and catch up with your thoughts, so to speak.
While it may lack the coconut trees of Samui or the rock-blessed hills of Phuket, it really does offer a different experience. And although the donkey rides can be a tad annoying during high season, the main strip that runs alongside the Hilton Hotel pleasantly lacks the hassling hawkers and over bearing tourist presence of the likes of Chaweng in Samui or Kata in Phuket.
Things to Do in Hua Hin
Other than strolling along the beach and watching the divine sunsets, there are a number of activities you can consider for the family.
Like all tourist destinations in Thailand there's the usual Thai massage and spa places, cooking courses, trekking, cycling, diving, snorkelling, water sports, and fishing. But for something a little different check out the  sea cruises to Sam Roi Yod National Park.
In recent years Hua Hin has become renowned for its kite-boarding. People flock from far and wide to this coast to catch the winds that come off the sea and provide the thrill of surfing with a kite.
Of course this is largely a seasonal activity in the windier months, but if you like a thrill, you might want to check out this wind map.
My personal "must do" list starts with the pretty Hua Hin railway station. It's Thailand's most famous, dating back to the 1920s. I wouldn't recommend catching a train though,  as the schedule seems somewhat relaxed (Thai style); it was four hours behind when I enquired!
I suggest you also visit Kaeng Krachan National Park and climb the waterfalls. The layers seem to go on indefinitely but I believe there are 16. Be sure to take a big bottle of water though, or you might struggle on the way down, as I did in the soaring heat. It's a fair drive from Hua Hin, so get a taxi if you haven't got a car. You could do the journey on a moped but it would be a fair old trip.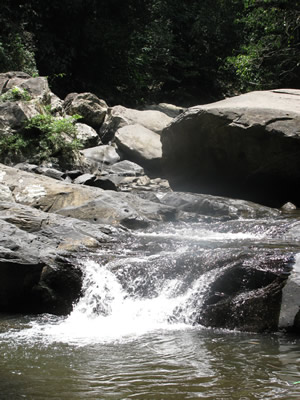 You really shouldn't leave without visiting Wat Huay Mongkol, either, This temple was home to the immensely popular monk Luang Pu Thuat, famed for performing miracles. The beautiful Wat Huay Mongkol houses the largest statue of Luang Phor Thuat in Thailand in a park-like setting. Seriously, you won't believe how big this is!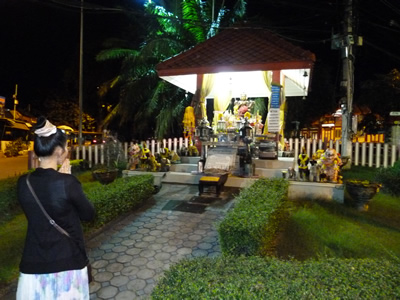 Lastly, for more shopping, check out the charming Cicada Market, a delightful shopping strip nestled under huge, old trees offering contemporary art, handicrafts and general cool stuff. If you need more information on markets, check out this website: http://huahin.sawadee.com/huahin_shopping.html
After Dark in Hua Hin
Hua Hin after dark is pretty quiet, which suits the type of holiday you'll have here. And once you've had a nice meal, it will be time to head off to the Hua Hin Night Market. 
The market is a lot smaller to the night markets you'll find in Chiang Mai, for example, but it houses some great restaurants serving both Thai and European food. It's also a treat just to soak up the vibe and have a stroll. You may find things are a tad pricier than Bangkok, but then it's always good to contribute to the local economy, and they'll be a fair few nik-naks you won't resist, I'm sure.
Once you've had a meal, eaten Svenson's and bought a Hua Hin t-shirt, you'll need to head over to near the beach road to find a bar, most of which are pleasant enough, but a tad dingy all the same.
It's not as bad as some of the bars you might run into in downtown Bangkok, but if you want something a bit classier I suggest heading for a drink at the awesome Lotus Sky Bar, housed at the top of the Hua Hin Hilton Hotel – the view is incredible!
Hua Hin isn't for the party animal and the pace is pretty slow. But its beauty is that it's different.  And that's one thing I've come to love about Thailand – every corner of the Kingdom has something unique to offer; be it tradition, food, architecture or history.
Whatever you do, don't overlook this coastal jewel in the crown on your travels. Even if you visit for just a few days to recharge the batteries, you won't regret your stay.
How to Get to Hua Hin
Railway:  Hua Hin railway station is part of the southern rail route that starts in Bangkok. Trains run all day and night between the cities. Don't expect to arrive or leave on time!
Bus: There are buses direct from Bangkok to Hua Hin and those that make numerous stops on the way. Pay extra and go direct – this will take about 7 hours.
Minivan: Catch a minivan for approximately 200 Baht from Victory Monument in Bangkok – takes about 4 hours.
Air:  Hua Hin airport as suspended the daily flights schedule from Bangkok to Hua Hin. I'll update this when the flights resume.
Where to Stay in Hua Hin?
I've been to Hua Hin three times on my travels and stayed in three different hotels.
The first time I stayed a the Taniwit Hotel, which was average; clean, a little dated but a decent breakfast and about 5 minutes walk to the beach.
The second time I stayed at the Chalelarn Hotel, which had lovely rooms and great rooftops views of the coast and city. Breakfast was good and the hotel is very central; only 5 minutes from the beach.
And the third time at the Hilton Hotel (see picture below) which is simply amazing and sits on a prime beachfront location. From the rooms to the food and the Sky Bar, it's well worth the 80 quid a night.