History is fascinating, and there's something about living in a new country that sparks a desire to learn about its past.
Every town I visit I try to learn at least a little about how it was established and what it's famous for. Even the most unassuming of places can have an interesting past.
Whatever your political stance on monarchies, the dynasties that have ruled Thailand through the centuries make for interesting reading.
The kingdoms have shaped the people, culture, landscape and economic structure, and today's constitutional monarchy continues to play a huge role in people's lives.
The King of Thailand , King Maha Vajiralongkorn (Rama X), holds titles that include Head of State, Head of the Royal Thai Armed Forces, Adherent of Buddhism and Upholder of religions (1).
But what about past Thai kings and their reigns?
Well, there's a lot of names to learn and dates to remember, so I though a post documenting each kingdom and the name of each king from the current Chakri dynasty would be helpful.
It also gives me a chance to share some interesting postcards I bought that feature pictures of King Chulalongkorn (Rama 5) and King Bhumibol Adulyadej (Rama 9) and their respective families.
Thai History and Pre-History (Major Kingdoms)
Here are the major kingdoms in chronological order:
Devariti (Mon): 6th – 9th centuries
Lopburi (Khmer): 9th – 13th centuries
Srivija: 8th – 13th centuries
Sukkothai: 13th – 15th centuries
Lanna: 13th – 18th centuries
Ayutthaya: 1351 – 1767
Thonburi: 1767 – 1782
Rattanakosin: 1782 – present
Here are the names of the Thai kings of the current Chakri dynasty:
First reign: King Rama I – Phra Phutthayotfa (1782 – 1809)
Second reign: King Rama II – Phra Phutthaloela (1809 – 1824)
Third reign: King Rama III – Phra Nangklao (1824 – 1851)
Fourth reign: King Rama IV – Mongkut (1851 – 1868)
Fifth reign: King Rama V – Chulalongkorn (1868 – 1910)
Sixth reign: King Rama VI – Vajiravudh (1910-1925)
Seventh reign: King Rama VII – Prajadhipok (1926 – 1935) – the last absolute monarch and the first constitutional monarch of the country.
Eighth reign: King Rama VIII – Ananda Mahidol (1935 – 1946)
Ninth reign: King Rama IX – Bhumibol Adulyadej (1946 – 2016)
Tenth reign: King Rama X – King Maha Vajiralongkorn (2016 – present)
It is worth noting that the common English spellings for some of the Thai Kings may sound fairly inaccurate to Thai people. These are the most common transliterations, but expect to be corrected for mispronunciation.
Old Pictures of The Thai Royal Family
I picked these postcards up for 5 Baht each at a market. I don't usually buy postcards but I found these to be very interesting, particularly the more natural ones of the children.
It isn't often you see pictures such as this these days. We are used to seeing the royals carry out their public duties on television in a formal manner, but seldom see natural family interactions.
The pictures are mostly of King Bhumibol Adulyadej (Rama IX) and his family, but there's also a couple of Rama
If you right-click on a photo you can copy the image URL and paste it into your web browser. This will open the full size image, in case you want to download one and have a copy.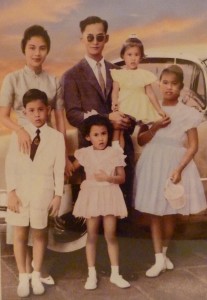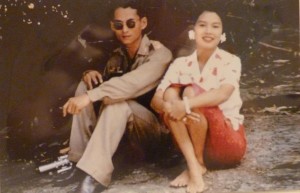 Please note: Comments will be moderated in line with the rules concerning language used when addressing the Royal Family. I appreciate your cooperation.