It is deep into December and despite some spoof pictures on Facebook there's no sign of snow in Thailand, yet!
I'll bet you 100 Bitcoins it won't happen, but…
According to Thailand's national weather archives, it did snow, once!
The only ever official (I use that word loosely) snow recorded in Thailand was in Chiang Rai on 7th January 1955 (see the picture below).
According to the notice on this picture, the snow (sort of) came after rainfall at 6pm.
This event was well documented by locals and officially covered by newspapers.
The story has been passed down through generations and is now firmly seated in folklore.
Snow in Thailand: Back in the Winter of 1955
The story goes that there after the rain came snow-like-hail, which produced a white blanket of snow on the ground.
You have to admit, the ground does look white and fluffy in that picture.
This "snow" remained for about 14 hours and then melted away.
This story is fiercely contested by snow geeks who say the "snow" was formed by hail and therefore doesn't constitute a proper snowfall.
However, residents beg to differ and boast proudly of their claim to snow fame.
Snow or not, this is as close as you're going to get to it in Thailand, because this is the one and only time "snow" has ever fallen.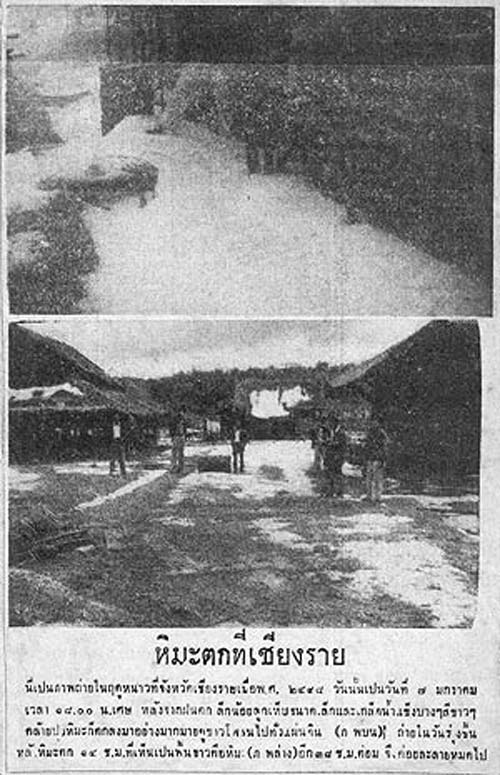 Those who live in the North will know that it does get pretty chilly come December thru February.
The lowest temperature ever recorded for Chiang Rai is 2°C, about 35°F.
Heavy dew is quite common up North and frost on leaves and vegetation in the very high grounds is sometimes reported late in the year.
Bangkok doesn't get that cold by a long shot.
The big mango hit its coldest record in 30 years on January 23rd 2014, when the temperature fell to 15.6°C – basically a warm day in Scotland! but quite a shock for the residents who are used to more like 30°C year-round.
The lowest ever recorded temperature in Bangkok was 9.9°C (49.8 °F) in January 1955, which coincidentally was the same year snow fell in Chiang Rai. So maybe this was snow, after all.