So you've decided to settle in the Big Mango for a while, but you're wondering, where is the best area to live in Bangkok?
I've lived in a number of areas in my many years here, and visited all corners of the city, so I have a pretty good take on what each area has to offer.
In this post, I'll help you answer this question by giving you an overview of each of the most popular places to live in Bangkok, all within 10 stops of the town center on the Skytrain (BTS) or underground (MRT).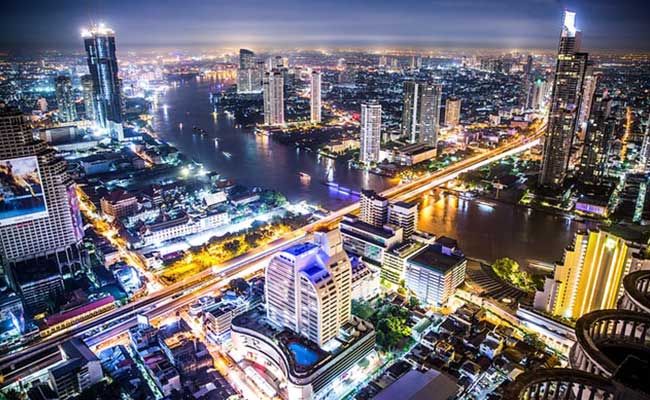 1. Sukhumvit
Sukhumvit Road (soi) is 488 Km long and cuts right through the heart of Bangkok. It's the most well-known road in the city, at least by expats, anyway.
Generally, though, when people refer to Sukhumvit they are referring to the centrally located district that encompasses a number of popular areas in central Bangkok.
We'll cover some of these specific areas below, but I thought it would be useful to start with an overview of Sukhumvit as a whole.
Central Sukhumvit is bustling with shopping and entertainment. Real estate is at a premium and one might compare it to central London, Paris, or New York.
As a rough guide, look for a place to stay between Sois 1-65, which is generally considered lower-mid Sukhumvit and the most convenient area.
All the areas within lower Sukhumvit are thriving with cafes, restaurants, malls, and co-working spaces.
Staying in Sukhumvit makes it very easy to hop on and off the BTS Skytrain, and connect to the MRT (at Asok), helping you avoid the traffic you'd encounter coming in to town in a taxi from the suburbs.
In a nutshell, if you love the hustle and bustle of the city and want more shopping and nightlife than you could ever dream of on your doorstep, lower Sukhumvit is the place for you.
Now let's get into some specific areas.
2. Asok
Asok is arguably the most convenient area of the city and well known as a meet-up point.
Its BTS station interconnects with the underground (MRT) and the BTS escalator takes you straight into Terminal 21, a huge mall and popular hangout.
Asok is also home to the Makkasan Airport Rail Link (ARL) that connects Bangkok to Suvarnabhumi International Airport.
Everything you need is here on your doorstep, including the lush green space that is Benjakitti Park – popular with joggers, cyclists and those seeking a green-space to chill.
Next to the park is the Queen Sirikit National Convention Center, where many fairs and events are held.
An area of contrasts, Asok is also home to the infamous Soi Cowboy red light street. Soi Nana, one stop away but also walkable from Asok, is another naughty road.
All in all, a fun area to live, but expect rent to be high.
3. Phrom Phong
Trendy and somewhat upmarket, Phrom Phong is home to luxury malls, home decor stores and bespoke tailors.
Here you'll find the Emporium and EmQuartier malls, with the likes of Tiffany & Co., Cartier, Dior, Chanel, and Chopard gracing the halls.
It's very "yummy mummy" in places, with the wives of rich Thai and Japanese businessmen taking their kids to places like the Thailand Creative and Design Center, a visionary children's experience that offers high-tech for little ones.
Phrom Phong's nightlife is cool but a little less intense than Nana. Here you'll find mid-30-to-50-somethings enjoying cocktails at hidden speakeasies and packing the area's craft-beer venues, hole-in-the-wall karaoke bars, and trendy clubs
In terms of eats, you'll find chic Asian and European restaurants and casual ramen shops and pizzerias.
Perhaps a little too pretentious for some, but lashings of glamour for those who like the finer things in life.
4. Thonglor
Thonglor is considered an upmarket area. It's home to many wealthy people and is a favorite living location for city professionals.
The rents are fairly high here and you'll find boutique shops and high-end restaurants to match.
It's also a popular night-time hangout for the young, rich and famous, and their hangers on, too :).
Personally, I think it is overpriced in terms of rent, though the higher up into Thonglor you go the more affordable it gets.
I do like Thonglor for the vibe, though. It's great for cafes, bars and eateries,
5. Ekkamai
Ekkamai is more down to earth than Phrom Phong, and is less serious than Thonglor.
It's still fairly upmarket – home to many a wealthy person (see some of the huge houses down the side streets) – but retains a diverse, hip vibe.
It's tends to be a place that attracts young entrepreneurs, start-up businesses and arty types, not least because Hubba- a popular co-working and networking space – and a number of art spaces like Dot Art and Shibui are located here.
Ekkamai is also surprisingly suburban in places, too. Veer off the main roads and dip down some of the side streets and you'll find spacious, quiet tree-lined roads.
6. Phloen Chit
Phloen Chit is conveniently located near Wireless Road, where a number of the embassies are situated.
Here you'll find some of the most expensive apartment blocks in Bangkok towering over spacious roads that are not unlike the deeper parts of Ekkamai and Thong Lor.
Coffee shops and high-end restaurants serve the expat community, many of whom work on contracts for foreign multi-nationals and governmental organizations.
Here you'll find the Central Embassy shopping mall, where you'll pay over the odds for everything, just to experience how the other half live :). That being said, the Central Mall restaurant is a lovely, affordable place to eat.
Nightlife in Ploen Chit is a bit on the quiet side, though fancy bars like Char make for a great place to meet friends for a tipple.
7. Victory Monument
Home to the famous military monument located in the middle of a huge roundabout, Victory Monument is a great place to live. I should know, I used to live there!
It's situated on the BTS line and gets you to Siam Station in four stops, and Asok Station in eight.
You can walk to either, too. Many times I have walked into Sukhumvit and Siam from Victory Monument, and walked home after a night on the town.
Apartment rental prices vary and there's something for all budgets.
You can get a decent sized studio near the park for as little as 7,000 Baht per month, or a 1-bedroom in a modern block, with a swimming pool, for 10,000 Baht per month.
Victory Monument is heavily populated by young people; students in particular. As such, it has many affordable restaurants offering Thai and foreign cuisine (see Soi Rangnam).
It's home to a busy street market that really gets going of an evening, and home to its best feature, the small but beautiful Santiphap Park (Park of Peace).
There is a Thai-orientated mall here (Fashion Mall), which is somewhat dated but good enough as a local shopping center.
Victory Monument has everything except a big supermarket: There's massage shops, dentists, opticians, 7-Eleven's galore, and more.
8. Ari
Located to the north of Victory Monument and with easy access to the Sukhumvit BTS line, Ari is a charming place that offers a local, somewhat suburban vibe without compromising convenience.
Having gone through a period of gentrification, Ari is now known for being an upscale residential area and hipster hangout.
It's known for excellent restaurants, cool cafes, bars and pubs, all minus the fast-paced life.
Ari is popular with expats who work in the center of town, as it is somewhat greener, cleaner and quieter. And, because of its chilled vibe, it's popular with locals too – particularly students.
Ari is still being developed and will no doubt lose its charm at some point, but for now it's an attractive place to live if you want convenience with a slower pace of life.
9. Silom
Known as the Wall Street of Thailand, Silom is the financial and central business district of Bangkok.
The BTS Green Line and MRT Blue Line meet at this point, with the huge Silom Complex (a mall with a food court and supermarket) just next to the BTS station.
It's not all skyscrapers and bankers, though. Silom is home to the beautiful Lumpini Park, which boasts 57.6 hectares of grass, ponds and walkways
It has a solid nightlife scene too. From the seedy neon-lit bar fronts of Patpong (Thailand's oldest red-light district) to the charm of the Sky Bar at Lebua State Tower, Silom is an interesting area.
Silom is way more diverse and culturally-rich than meets the eye, too.
Take for example the Lalai Sap Market, a hidden bazaar tucked in the narrow back alleys, or the impressive Sri Maha Mariamman Temple, which is dedicated to the Hindu Goddess of the same name.
Silom is pretty darn cool.
10. Sathorn
Sathorn is a major commercial district that stretches from the wonderful Lumpini Park down to the Chao Phraya River.
It's awash with skyscrapers, offices and upscale condos, but also culturally-blessed with lots of pushcart food vendors and open-air kiosks along Sathorn Road.
The Bangkok Skytrain (BTS) connects the area via the Surasak and Saphan Taksin stations, and the area benefits from close proximity to Silom and Siam
Longtail boats flood the busy Sathorn Pier, which is a commuter hub that connects the area at the water's edge.
Sathorn has a great nightlife scene, with well-to-do revelers sipping drinks in cocktail lounges, jazz bars and nightclubs.
The Sathorn neighborhood is home to some of Bangkok's trendiest hotels, including the Sukhothai, W Bangkok, and the Banyan Tree.
For expats, the area is teeming with upmarket serviced apartments and a variety of fine restaurants serving local and international cuisine.
11. On Nut
On Nut is a good pick for a reasonably priced and somewhat residential area that is still close to the center of town.
Just five stops from Asok, the BTS gets you into the thick of things in 10-15 minutes.
On Nut still feels very much like lower Sukhumvit, yet rents are much cheaper.
It's a busy area and everything you need is here, from transport to the Big C and Tesco Lotus supermarkets to plenty of places to eat. It's home to the Habito Mall and Century Movie Plaza, too.
On Nut is definitely a place to consider if you want the convenience of being fairly central with better value for money.
12. Phra Khanong
I won't deep dive on Phra Khanong because it's just one stop up from On Nut, but it is definitely worth a mention. It's a little more expensive and less crowded than On Nut, with a good selection of mid-range apartments and high-end condos.
Pra Khanong is also home to the W-District Market, an arty beer garden surrounded by small shops and food vendors. It's a great place to hang out, and one people travel to from surrounding areas.
13. Udom Suk
Udom Suk is nine stops away from Asok and the furthest down the Sukhumvit Line.
It's down at Soi 103, which sounds far away but, since the BTS line extended down there a few years back, it has become increasingly popular with expats due to cheap rents and a more "local" vibe.
Udom Suk is not too far from the Bangna intersection, which is not far from the Bangkok International Trade & Exhibition Centre (BITEC) – well suited to those doing business at trade fairs.
It's easy to get to the airport from this end of Sukhumvit Road. It takes approximately 21 min to drive to Suvarnabhumi Airport (the main airport of Bangkok).
Health and wellness is a growing theme here, with the innovative Bangkok Float Centre (sensory deprivation) located here and plenty of massage shops.
With the bustle of lower Sukhumvit just 25 minutes away by Skytrain, it's a definite consideration for those on a lower budget.
14. Praram 9 (Rama)
Praram 9, or Rama 9 as it is often referred to due to the name of the road, is on the opposite site of Sukhumvit Road to the likes of Asok, Ekkamai, and On Nut.
For that reason, those seeking to live in Bangkok often overlook this very convenient area.
The BTS and MRT intersect here and it's just four stops into Asok.
The area plays host to a Big C shopping center and the epic CentralPlaza Grand shopping mall. There's also the infamous Fortune Town Mall (famous for electronics).
One stop up, and walkable, is Esplanade (Thailand Cultural Center Station), a smaller mall with a cinema, some nice eats and cool coffee shops.
There's a good hospital (Pharam 9) close by, too. Apartment wise, you have a good selection of budget-to-high-end places.
By all accounts there is everything here you need in this area, and it is certainly a contender for best area to live in Bangkok.
15. Huai Kwang
Two stops up from Pharam 9 and located on Ratchadaphisek Road, Huai Kwang is an area that has, in recent years, increased in popularity.
It's a bustling area that boasts a great market and affordable restaurants, and even a few bars.
It's home to one of Bangkok's most visited shrines, too. Located at the Huai Kwang intersection, Thais flock to worship the Ganesha, the Hindu god, who is believed to be the god of accomplishment, wisdom and wealth, and the destroyer of obstacles.
Huai Kwang is well located for traveling to both Don Muang and Suvarnabhumi airports, and very easy to get into town on the MRT, which goes straight into Asok in just five stops.
Having lived in Huai Kwang, I can say from experience that it's a down to earth place where the people are generally easy going and what I would call "everyday Thais".
It's not the prettiest of areas, but it is very convenient, both locally and for getting to other areas of Bangkok.
———–
Got experience of living in another conveniently located area? Where do you think is the best area to live in Bangkok? Drop your comments below and let's help other readers find their happy home in Bangkok.