Chiang Rai is a city in northern Thailand, located in the province of the same name. Located just a couple of hours north of Chiang Mai, this quiet city is surrounded by lush green hills and mountains that offer a stunning backdrop for outdoor activities such as trekking and cycling.
The city is home to many temples and museums that showcase the region's rich cultural heritage. One of the most famous attractions in Chiang Rai is the White Temple (Wat Rong Khun), pictured below – a stunningly beautiful temple with a unique, all-white design.
Chiang Rai (เชียงราย) is a backwater that combines natural beauty, rich cultural heritage, and modern amenities, making it a unique and memorable destination for travelers, and a retirement destination for many expats and their Thai partners.
So, what should you expect if you visit, or even choose to live in, Chiang Rai?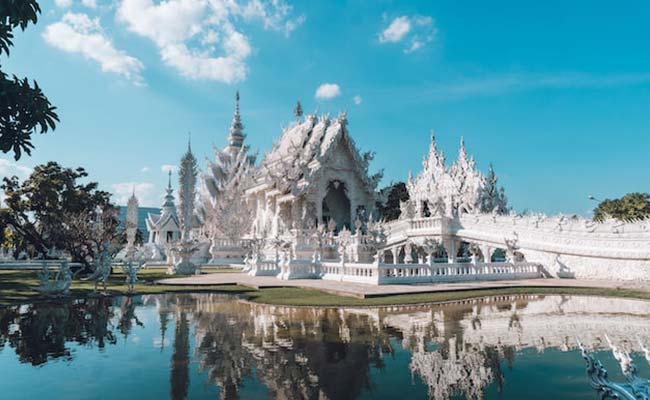 Living in Chiang Rai
One of the benefits of living in Chiang Rai is the relaxed pace of life, which can be a welcome change for those coming from fast-paced cities.
The cost of living in Chiang Rai is relatively low, making it an affordable option for those who want to live in Thailand on a budget.
The city has a fairly small but warm expatriate community, which offers the opportunity to meet new people and participate in local events and activities.
As is usually the case in rural Thailand, the locals are friendly and welcoming of foreign visitors.
It's a beautiful province, especially if you appreciate the natural beauty of northern Thailand. One drawback is that it is nowhere near a beach. There is, however, a makeshift beach known as Chiang Rai Beach, with sandy banks along a river. For a real beach, your best bet is to fly down south.
Cost of Living
The cost of renting a one-bedroom apartment in Chiang Rai will vary depending on several factors, including location, amenities, and quality of the building.
On average, a one-bedroom apartment in a central location, with basic amenities, can cost between 5,000 and 8,000 THB per month (approximately $160 to $255 USD). If you are looking for a higher-end apartment, with more luxurious amenities, the cost will be upwards of 10,000 THB per month (approximately $320 USD).
For travelers, it is worth noting that prices can vary depending on the time of year, with prices generally being higher during peak tourist season. It is best to research and compare rental options and prices before making a decision.
For a general guide to the cost of living in Thailand, please see here.
We'll look a few hotel options further down the page.
Local Transport
Local transportation in Chiang Rai is relatively convenient and affordable. There are several options for getting around the city, including:
Tuk-tuk: These three-wheeled motorized vehicles are a popular and convenient form of transportation. They are inexpensive and can take you to most places within the city.
Songthaew: Songthaews are pickup trucks with benches in the back and are a common form of public transportation in rural Thailand. Much slower than a tuk-tuk, but super cheap.
Bicycle: Renting a bicycle is a great way to explore the city and its surroundings at your own pace. There are several rental shops in the city center, and many hotels and guesthouses also offer bike rental services.
Motorbike: Renting a motorbike is another popular option for getting around the province. It's a convenient way to explore the surrounding countryside, and there are several rental shops in the city center. Don't forget to adhere to these bike safety tips.
Taxi: Taxis are also available in Chiang Rai, but they tend to be more expensive than other forms of transportation.
International Hospitals
If you're thinking about retiring in Chiang Rai then you'll no doubt be interested in healthcare options.
The good news is that there are several international hospitals in Chiang Rai that offer high-quality healthcare services. Some of the most well-known international hospitals in Chiang Rai include:
BGH-Chiang Rai International Hospital: This hospital is a joint venture between the Bhumibol Adulyadej Hospital in Bangkok and Chiang Rai Hospital. It offers a wide range of medical services, including orthopedic surgery, internal medicine, and gynecology.
Chiang Rai Ram Hospital: This hospital offers comprehensive medical services, including general surgery, orthopedic surgery, and obstetrics and gynecology.
Medicover International Hospital Chiang Rai: This hospital is part of the Medicover Healthcare Group, which operates international hospitals in several countries. It offers a range of medical services, including general surgery, orthopedic surgery, and cardiology.
Chiang Rai Mission Hospital: This hospital is run by a Christian mission organization and offers a range of medical services, including internal medicine, pediatrics, and surgery.
If you want to know more about hospitals in Thailand, read my healthcare guide.
Thinking of retiring in Thailand and? Get a health insurance quote here (takes 2 mins).
Getting from Chiang Mai to Chiang Rai
A popular route is a city hop from Chiang Mai to Chiang Rai. The two provinces are located approximately 180 kilometers (112 miles) apart by road. The driving time between the two cities can take anywhere from 2 to 4 hours, depending on traffic conditions and the route taken.
Additionally, there are several transportation options available for travel between Chiang Rai and Chiang Mai, including private car, public bus, and flight.
Taking a flight is the quickest option, with a flight time of approximately 30 minutes, but is obviously more expensive when compared to other modes of transportation. That said, flights cost as little as 1,500 Baht.
Taking a public bus is a more economical option, but can take longer due to stops along the way.
Private car or taxi is a convenient option for those who prefer a more comfortable and flexible travel experience. The cost is approximately 2,000-3,000 Baht.
Getting from Bangkok to Chiang Rai
If you're arriving in Bangkok and traveling onto Chiang Rai, there are four main transportation options.
Flight: There are several flights daily from Bangkok's Suvarnabhumi Airport to Chiang Rai International Airport, with a flight time of approximately 1 hour. Flights start at approximately 1,500 Baht.
Bus: There are regular long-distance buses that travel from Bangkok's Mo Chit Bus Terminal to Chiang Rai's main bus terminal. The journey takes approximately 12-13 hours and is a budget-friendly option. Tickets start at around 500 Baht.
Private car or taxi: You can also hire a private car or taxi to drive you up from Bangkok, which takes approximately 9-10 hours. This option provides more flexibility and comfort, but is likely to cost upwards of 10,000 Baht.
Train: Taking the train from Bangkok is also an option, but it is not the most convenient or quickest route. The journey involves taking a train from Bangkok to Chiang Mai, then transferring to bus, mini-van or taxi to take on the next leg of the journey.
5 Things to Do in Chiang Rai
1. Visit the White Temple (Wat Rong Khun)
The White Temple, also known as Wat Rong Khun, is a contemporary Buddhist temple located in Chiang Rai, Thailand. The temple was designed by Thai artist Chalermchai Khositpipat, who was born in 1951 in the local village of Rong Khun.
It is considered one of the most unique and spectacular buildings in Thailand. The temple is entirely covered in white and adorned with glass fragments, making it shine in the sunlight. The intricate and ornate design of the temple incorporates both traditional Thai temple architecture and modern elements, making it a unique blend of old and new.
2. Explore the Hilltribe Villages
The surrounding hills of Chiang Rai are home to several hilltribe communities, including the Akha, Lahu, and Karen tribes. Visitors can take a tour to learn about their unique cultures, traditions, and lifestyles.
3. Visit the Blue Temple (Wat Rong Sear Tean)
Wat Rong Sear Tean, also known as the Blue Temple, is a Buddhist temple built in 2016 by the artist and architect Thanaphum Moemake. The temple is famous for its striking blue exterior, decorated with intricate glass mosaic artwork, and its intricate carvings, sculptures, and frescoes inside. The temple also features a large golden Buddha statue and a beautiful pond surrounded by lush vegetation.
4. Visit the Golden Triangle
Located at the intersection of Thailand, Laos, and Myanmar, the Golden Triangle is a popular destination for visitors to Chiang Rai. Here, visitors can take a boat trip along the Mekong River and explore the local markets and temples in the area.
5. Visit the Chiang Rai Flower Festival
Chiang Rai is known for its tulips, which blossom in the cooler months at the end and beginning of the year. The Flower Festival is an annual event that takes place in February and showcases the region's beautiful and diverse flora, including locally grown flowers such as tulips, roses, and orchids.
During the festival, there are various events and activities that visitors can enjoy, including flower exhibitions and competitions, live music and cultural performances, and local food and craft markets.
Recommended Hotels in Chiang Rai
Here is a couple of highly recommended hotels in Chiang Rai:
1. Le Meridien Chiang Rai Resort
This luxurious resort is set in beautiful gardens and offers spacious rooms, a large outdoor pool, and a range of dining options, including an Italian restaurant and a bar serving cocktails.
3. The Riverie by Katathani
This hotel is set on the banks of the Kok River and offers comfortable rooms with beautiful views, a restaurant serving Thai and international cuisine, and a range of recreational facilities, including a swimming pool and a spa.
+ See best prices on Chiang Rai hotels here
Will I Be Bored Living in Chiang Rai?
I always get this question when someone is contemplating a move to rural Thailand. The fact is, whether you will be bored depends on your interests and lifestyle.
If you want 24/7 action, or even just a handful of great bars and clubs, this probably isn't the place for you. That being said, there are a few bars and restaurants in the city, so you will find some entertainment.
Much of the province is your typical sleepy rural Thai lifestyle. It's "real Thailand", so to speak.
Chiang Rai is rich in cultural history, with several unique temples, museums, and galleries to explore. And while this is great for a holiday, you'll soon get bored of these attractions if you lived here permanently.
On the other hand, if you're an outdoors person, the province is blessed by beautiful landscapes, including forests, hills, and rivers. There are many opportunities for outdoor activities such as trekking, cycling, and rafting.
The thing is, as an expat, you can always stay a few months and then go for a slice of city life in Bangkok for a while, or fly down to the southern islands, or even just drive down to Chiang Mai for the weekend. Cheap domestic travel is one of the best things about living in Thailand.
——
Do you live in Chiang Rai? Ever visited? What do you think of this beautiful backwater?
Tips to Start Planning Your Trip:
Book Your Accommodation
The best hotel rates in Thailand are found at Agoda and Hotels.com.
Don't Forget Travel Insurance
Travel insurance protects you against illness, injury, theft, and cancellations. I never travel without it. I've used SafetyWing for years. It is great.
Visiting Chiang Mai too?
Check out my guide on the top 10 things to do here.