I am not a fan of zoos in general. The idea of animals being imprisoned in an unnatural environment and exploited for our viewing pleasure is abhorrent.
But since I was in town, I paid the entrance fee to see what condition the animals were in and what readers could expect if they decided to go.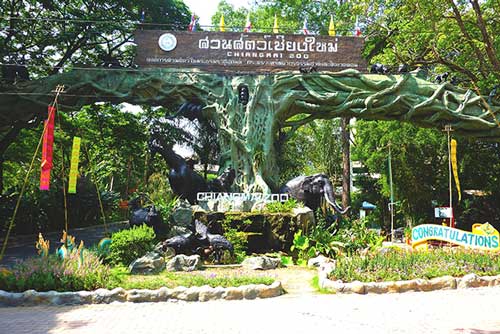 If you want the short version, I have to say that by and large it was quite depressing. The animals looked depressed, particularly the tigers who roamed back and forth as if they were mentally unstable, which is not surprising considering the size of their enclosure.
The elephants had their ankles chained to wooden posts too, which wasn't a pleasant sight — though those feeding them didn't seem to notice.
Linping The Panda
There has been a lot of fuss recently about Linping the Panda (donated by China to Thailand) who now has her own TV channel being broadcast out of the zoo. It was definitely the highlight of the day. Even though I don't like zoos, I can't help but marvel at these wonderful animals.
The Panda enclosure is fairly large, well guarded (there is literally a security guard) and tranquil. It's clear that the Chinese would not accept anything less than 5-star accommodation for their beloved panda. All movements are broadcast around the world from an ever present TV crew, so the zoo staff must be on their best behaviour.
I enjoyed watching the Pandas chew their way through bamboo and roll around together, despite my dislike for zoos. Panda lovers will appreciate the variety of Panda gifts available at very reasonable prices.
The Snow Dome
No animals in here, and to be honest it seems like one of a few attempts to make up for the rest of the zoo.
Decorated with Christmas themed decorations and one rather fun snow slide for both kids and adults (the second best highlight of the visit), the enclosure is pretty small and, for 150 Baht per person, it's hardly worth it unless you live in Asia and have never seen snow.
I was also told off for taking pictures too, because they want you to pay another 300 Baht per picture for their services once you exit the dome. Yawn.
The Aquarium
I refused to pay for the Aquarium- because I was rather peeved at having to pay for what should be free to get in having paid the entrance fee for the park. I think it was 750 Baht per adult.
The Train Ride (Monorail)
On a hot day, I suggest you get a tour cart to take you around the zoo. It will come at an extra expense though. Alternatively, catch the monorail which is its heyday would have looked pretty cool. It all looks rather dated and 70s-like now – no guarantees on safety though (this is Thailand, remember!)
Chiang Mai Zoo Fees
The overall problem with Chiang Mai Zoo is that everything costs extra once inside. Rather than one price all in, you have to keep paying for extra attractions.
The thing is, the extras aren't all that impressive. So if you have a large family and thought Thailand would be a cheap holiday, this might make you think again.
Here's a run down of the fees (note these have probably increased by now):
Parking Fee:
Car 50 baht / Motorcycle 10 baht / Bicycle 1 baht
Entrance Fee:
Adults 100 baht / Children 50 baht
Panda Fee:
Adults 100 baht / Children 50 baht
Aquarium Fee:
Please contact aquarium staff at aquarium ticket booth
Snow Dome Fee:
Adults 150 baht / Children 100 baht
Adventure Park Fee:
Adults 20 baht / Children 10 baht
Open Sided Bus Fee:
Adults 20 baht / Children 10 baht
Monorail Fee:
Adults 150 baht / Children 50 baht
The Restaurant
Food choices were pretty limited. Menu options were things like chips, omelettes, a selection of Thai dishes, drinks and ice cream. The flies were annoying as hell inside the seating area, and the inside area was prison-like and unappealing in terms of decor. The toilets were fairly clean, so that was a plus point.
The Mini Market
One blessing of the visit was a little market area with all manner of crafts and gifts at reasonable prices; great presents for the folks back home. The traders were very friendly and comfortable with browsing, although I am sure you will buy something
In Summary
The kids will probably enjoy the zoo, but for anyone of an age where they are able to pick up on the unhappy and haggard look of the animals,  it might feel rather depressing.
The entrance fee is reasonable, but all the up-sells like the aquarium and snow dome are annoying and make the trip feel restrictive and might make it pricey for large families.
To take two kids plus mum and dad to see everything would cost at least 3-4,000 Baht, for some that is more than half a month's wages.
Why not just charge 500 Baht per person on the door and save people the time having to pay at every stage. It's just annoying and spoils the flow of the visit.
My advice, if you still want to go, is pay the entrance fee, see the Pandas, browse the stalls and head out after taking some snaps of the grounds, which are pretty in places.