Koh Samui, the second-largest island in Thailand, is a popular destination for tourists seeking the best beaches and an authentic island experience, complete with modern comforts.
From its pristine white-sand beaches, beautiful waterfalls, breathtaking jungle vistas and culturally-inspired man-made structures like the Big Buddha temple, Koh Samui offers a plethora of attractions that make for a great holiday.
Having resided there for a couple of years and having visited countless times, I know a thing or two about how to make the most of your time on this island.
The best part is that you don't need to spend a fortune to have an incredible time, as the list below includes numerous free activities that you can enjoy.
15 Best Things to Do in Koh Samui
1. Swim at Choeng Mon Beach
Cost: Free
I was first introduced to Choeng Mon Beach by a friend who has been living on the island for many years.
I was truly thrilled to discover this place because, at that time, the area wasn't as developed as it is now, and very few people came to swim there.
Although this part of the island has seen growth with the addition of a hotel and shopping mall, it still holds its charm and is definitely worth a visit.
For those staying longer than a week, it offers a welcome respite from the bustling Chaweng and Lamai beaches, both of which can get quite crowded, especially during the high season.
Choeng Mon Beach lines the northeast coast of the island, providing a mile-long stretch of sandy shoreline, accompanied by a handful of delightful restaurants and cafes.
The sea there is perfect for paddling, as long as the tide is favorable.
2. Visit Fisherman's Village
Cost: Free
Fisherman's Village is a charming and picturesque village nestled in the area of Bophut. Though it may be somewhat inconspicuous from the main road, it is an absolute gem worth exploring, be it during the day for a relaxing drink with a sea view or in the evening for a delightful dinner experience.
One of the highlights of Fisherman's Village is the vibrant night market that takes place every Friday evening. During this time, the one-way Bophut Beach Road, where the village is situated, is closed to vehicles, transforming into a bustling pedestrian street filled with live bands and a variety of reasonably priced food and drink options at the local restaurants and food stalls.
What adds to the appeal of the village is that many of the beachside restaurants have one side open, offering guests a glimpse of the beautiful seascape while they dine. Additionally, some eateries even set up tables directly on the sandy shores, creating a unique and memorable dining experience.
Despite its lively and somewhat modern atmosphere, Fisherman's Village still retains a sense of history and culture. The century-old homes built by Chinese immigrants in the 19th century lend a homely and nostalgic charm to the place, adding to its allure for both locals and visitors alike.
3. Visit Big Buddha (Wat Phra Yai) & Wat Plai Laem
Cost: Free
The temple of the 12-meter-tall Big Buddha, known as Wat Phra Yai, is located in the northeast corner of Koh Samui.
For a small donation, you can receive a blessing from a monk and write your name on a tile that will be used in the ongoing construction of the temple structures.
Upon reaching the top of the stairs, you have the opportunity to take a stick and strike numerous large bells around the Big Buddha while making wishes for prosperity.
The courtyard area of the temple is filled with souvenir vendors, and food stalls offer snacks for purchase after climbing the dragon-styled staircase leading to the Big Buddha.
In addition, Wat Plai Laem, another temple located near Wat Phra Yai, houses the statue of Guanyin, the goddess of fertility, mercy, and compassion. The temple is surrounded by a lake and features a laughing Buddha statue and a wonderfully designed ceremonial hall, locally known as the 'ubosot'.
Both Wat Phra Yai and Wat Plai Laem are free to visit, and they accept donations.
4. See Na Muang Waterfalls
Cost: Free
Located in a park about 12 kilometers south of Nathon Bay, the scenic Na Muang Waterfalls is composed of two falls: the first one flowing into a natural pool at the bottom of the rocks, and the other taking approximately 30 minutes to climb to by foot.
However, as you visit this beautiful natural wonder, it's essential to be aware of a concerning issue near the entrance to the waterfall. There are a couple of elephants kept there, which are used for tourist elephant rides. Unfortunately, some people may find this distressing, as the elephants display typical signs of abuse. We strongly urge you not to pay for a ride or support such activities.
This practice remains a stain on Thailand's tourism industry, and responsible travelers should refrain from participating in activities that exploit or harm animals. Instead, focus on enjoying the splendor of the waterfalls and the surrounding natural beauty, while advocating for ethical and sustainable tourism practices.
Swim in the falls, hike the trails, and have a delightful picnic, but let's collectively work towards promoting responsible tourism that respects and protects the environment and wildlife. Together, we can make a positive impact and ensure that our travels contribute to the preservation of Thailand's natural treasures.
If you want to visit an elephant sanctuary, there are three to choose from:
If you are not wearing appropriate footwear for climbing, be cautious in walking to the falls, as the path tends to be steep and slippery in places.
Visiting Na Muang Waterfalls is free of charge and is often included in as part of the itinerary on Samui tours. It costs 5 Baht to use the toilet.
5. Views from Khao Hua Jook Chedi
Cost: Free
Sitting close to Chaweng Lake, Khao Hua Jook Chedi is a temple that offers spectacular 360-degree views of the coast and countryside.
The temple showcases impressive gold statues of Buddhas, and its Buddhist art and architecture are particularly notable, making it a visually captivating destination.
To reach the temple, visitors must embark on a hike, as it sits atop a hill. Please be aware that there is no public transportation available to the temple, so you have the option to either make your own way there or book an organized tour.
Khao Hua Jook Chedi is a place of spiritual significance, and it also provides an excellent opportunity for panoramic photography enthusiasts to capture stunning views of the surrounding landscapes and coastline.
As an additional note, it's advisable to wear appropriate footwear and bring some water during the hike, as it can be physically demanding, especially in the tropical climate of Koh Samui. However, the effort is undoubtedly rewarding, as the temple's serene atmosphere and captivating vistas create a memorable experience for travelers seeking tranquility and cultural exploration.
6. A Sunrise SUP Tour (Bangrak Beach)
Cost: 1,200 Baht per person
Experience the tranquil beauty of Bangrak Beach, also known as Big Buddha Beach, with Sunrise Tours' stand-up paddleboard (SUP) adventure.
Embark on a serene paddle at sunrise when the beach is quiet and the shore uncrowded. This magical time of day allows for an intimate encounter with nature, as wildlife awakens with the sun, and the locals begin their day.
As you glide (hopefully) along the coast, keep your eyes peeled for water buffalos roaming near the shoreline and local fishermen casting their lines. You may also spot the sight of shellfish being collected by ladies in the shallows, adding to the authentic charm of the experience.
This 2-hour paddle tour caters to both beginners and experienced paddlers, ensuring an enjoyable time for everyone. To maintain a personalized experience, the tour only accommodates small groups of up to 4 people.
While no previous SUP experience is necessary, all participants must be able to swim for safety reasons. Rest assured, all the necessary equipment for an enjoyable paddle is provided, allowing you to focus on immersing yourself in the beauty of the surroundings and creating unforgettable memories on the tranquil waters of Bangrak Beach.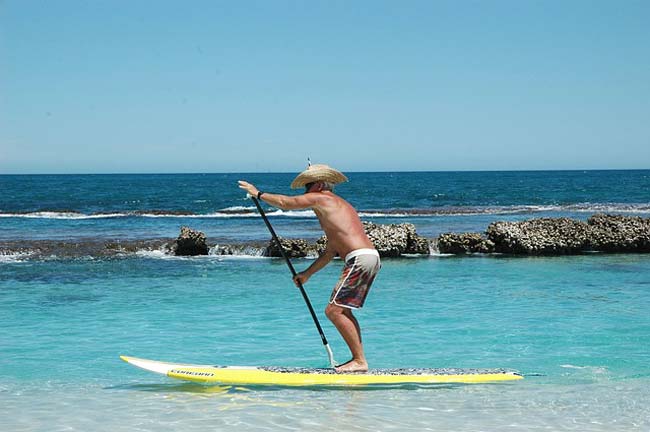 Do wear sun lotion!
7. Visit Ang Thong National Marine Park
Cost: Tours start at 1,000 Baht
Ang Thong National Marine Park is a stunning 100 square kilometer area located in the Gulf of Thailand, boasting a collection of 42 captivating islands. Without a doubt, it stands as one of the must-visit destinations in Koh Samui.
What sets this marine park apart is its breathtaking landscape characterized by hundreds of limestone monoliths. These impressive formations have been sculpted into awe-inspiring shapes over time by the forces of erosion, adding an extra layer of allure to the park's natural beauty.
For water enthusiasts, Ang Thong National Marine Park offers a plethora of exciting activities, including diving, kayaking, and snorkeling. Exploring the crystal-clear waters and vibrant marine life around the islands is an experience you won't want to miss.
If you're an adventure-seeker, there are ample opportunities for hiking and jungle exploration. The park's diverse terrain features mountains and waterfalls, making it a haven for those who love to immerse themselves in nature and seek out thrilling experiences.
When planning a trip to Ang Thong National Marine Park, it's essential to know that visits are generally organized through tour companies. The entrance fees are usually included in the tour package rate, which can vary depending on the inclusions and activities offered. It's always a good idea to research and choose a reputable tour operator that aligns with your preferences and budget.
The park's protected status ensures that its pristine beauty remains preserved, offering visitors a glimpse into the unspoiled wonders of nature. Exploring Ang Thong National Marine Park promises to be a memorable and awe-inspiring adventure, providing a perfect blend of relaxation, exploration, and appreciation for the breathtaking landscapes of Koh Samui.
8. Visit Koh Som
Cost: Free
Koh Som, also known as "Orange Island" due to its orange-colored soil, is a slice of tropical paradise located just a short distance from Koh Samui.
Situated only 2000 feet (700m) away from the North East coast of Koh Samui, Koh Som is easily accessible by a boat ride from Plai Laem Pier.
The island's shallow and crystal-clear waters on one side make it a perfect spot for snorkeling and bathing, allowing visitors to indulge in the stunning underwater world and enjoy a refreshing dip in the sea.
One of the most alluring features of Koh Som is its silky white sand, which creates an idyllic and dreamy setting akin to being shipwrecked in paradise. The abundance of coconut trees adds to the island's charm, offering you the chance to relish in the goodness of fresh coconuts.
While Koh Som is not permanently inhabited, a few workers are present to serve food to visiting tours, ensuring that visitors can enjoy a delightful culinary experience during their stay.
For travelers seeking a tranquil and picturesque escape from the bustling life of Koh Samui, visiting Koh Som should undoubtedly be at the top of the list. Its serene atmosphere, stunning landscapes, and secluded ambiance make it a favorite destination for those seeking an unforgettable experience on Koh Samui.
9. See Grandmother & Grandfather Rock (Hin Ta & Hin Yai)
Cost: Free
Hin Ta and Hin Yai, meaning "Grandfather Rock" and "Grandmother Rock" respectively, are renowned rock formations situated along the Southern shoreline between Lamai and the fishing village of Hua Thanon on Koh Samui.
These rocks have gained popularity due to their distinctive shapes, which amusingly resemble male and female genitalia. According to local folklore, the names and the story behind these rocks are as follows:
The tale originates from Samui Island's folklore, narrating the story of an elderly couple named Ta Kreng (Grandpa Kreng) and Yai Riem (Grandma Riem), who lived with their son in the southern province of Nakhon Si Thammarat. As their son reached the age for marriage, the couple felt it was time for him to find a wife.
To seek a suitable bride for their son, they embarked on a sea journey to the neighboring province of Prachuap Khiri Khan. Unfortunately, their boat was caught in a storm, and the old couple tragically lost their lives at sea. As a testament to their true intentions, they transformed into the rocks we now know as Hin Ta and Hin Yai.
The rocks, still standing to this day, serve as a poignant reminder of their journey and the love of a devoted couple.
To visit Hin Ta and Hin Yai, you can travel approximately two kilometers from the central part of Lamai Beach. Transportation options include taking a taxi, a songtaew (local shared truck), or riding your own moped.
10. Visit Lamai
Cost: Free
Those sex-inspired rocks conveniently bring us onto the area of Lamai.
In terms of resort areas on Koh Samui, Lamai comes in a close second to Chaweng. However, what sets Lamai apart and makes it appealing to some travelers is its more peaceful and family-oriented vibe.
One of Lamai's main draws has always been its affordability compared to Chaweng. However, over the past five years, Lamai has seen significant development in luxurious accommodation options and additional attractions, which have narrowed the gap in pricing between the two areas.
Lamai Beach itself is a beautiful stretch of shoreline, making it a must-visit destination even if you aren't staying in the area. Consider taking a day trip to soak in the sun and enjoy the tranquility of the beach.
For those who choose to explore the island on a moped, a ride up to Lamai is highly recommended. The journey offers breathtaking views across the island, making it a memorable and scenic adventure.
One remarkable experience not to be missed is the Lamai viewpoint at sunset. Watching the sun go down over the horizon is undeniably one of the most beautiful and cherished things to do on Koh Samui.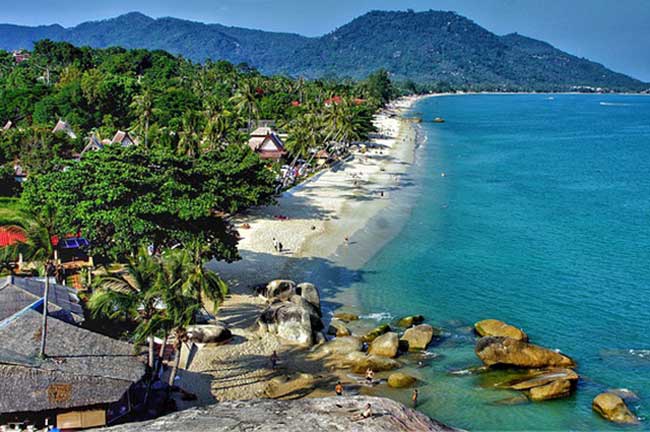 11. Chill at Nikki Beach Resort & Spa
Cost: 6,000 a night, or free to visit for a drink or two.
Nikki Beach, nestled in the serene area of Lipa Noi, is a luxurious resort that offers both accommodations and a fantastic place to unwind and chill out.
Drawing inspiration from both traditional and contemporary influences, Nikki Beach pays homage to the island's rich culture while offering a truly elevated and upscale experience for visitors to enjoy.
From the pool and private changing and shower facilities to the indoor and outdoor restaurant, bar, beach beds, pool beds, sun loungers and private cabanas, every aspect of the resort exudes the Nikki Beach touch.
Undoubtedly, Nikki Beach was created to be a high-end establishment, and its vibrant parties give it a distinctive Ibiza-like vibe.
The beach club at Nikki Beach is especially renowned for its elegant setting, featuring plush loungers and stylish cabanas, all complemented by the serene ocean views. It's the ideal spot to bask in the sun and enjoy the company of friends.
Additionally, the resort frequently hosts lively events and themed parties. Whether you're looking for a relaxing stay, daytime retreat or a chic nighttime affair, Nikki Beach caters to a diverse range of preferences.
12. Visit Laem Sor Pagoda
Cost: Free
If you are seeking a tranquil retreat, far from the hustle and bustle of the Eastern side of Samui, consider venturing to the Western side, where the enchanting Laem Sor Pagoda awaits.
The pagoda, adorned with vibrant yellow tiles, creates an illusion of being made of gold when seen from a distance. This stunning effect is achieved by the reflection of sunlight bouncing off the nearby sea and casting a bright, glittery hue upon the structure. Set against the backdrop of the deep blue sea, the sight is truly mesmerizing and offers a breathtaking contrast.
The creation of this magnificent pagoda is credited to a revered monk who holds a special place in the hearts of the locals. They pay their respects to his wax casting, which is housed in a boat within a small hall on the temple grounds.
As Laem Sor Pagoda is situated near the beach and is part of the Wat Laem Sor temple complex, there is no admission fee, making it an accessible and captivating destination for visitors.
13. See the Mummified Monk
Cost: Free
The mummified monk can be found at Wat Khunaram temple, located on Route 4169, approximately six kilometers away from Lamai Beach.
In 1973, the revered Buddhist monk, Luang Pho Daeng (Phra Khru Samathakittikhun), peacefully passed away while in deep meditation. In a unique tradition, his body was preserved in a glass case, creating the mummified form that is now on display.
While some may find it surprising or even shocking to witness a mummy in such a state, Thais, in general, have a cultural acceptance of death and view the mummified monk as a point of contemplation and reflection.
Before his passing, Luang Pho Daeng conveyed his wish to his followers, instructing them to have his body cremated if it were to decompose, or to be displayed if it remained intact. Remarkably, only his eyes disintegrated, which led to the unusual sight of the mummy wearing sunglasses to cover this part of his remains.
Similar to many other temples in Thailand, entrance to Wat Khunaram is free of charge, and visitors have the opportunity to make donations to support the temple and its ongoing activities.
14. Watch a Ladyboy Cabaret Show
Cost: 250 Baht + per person, depending on the venue
Thailand's katoey, commonly referred to as the third gender or ladyboys, have made significant contributions to the development of the entertainment industry in the country. Over the years, ladyboy cabaret shows have become a popular attraction in numerous tourist destinations.
These captivating cabaret shows typically feature a combination of elements, including the singing of popular songs through lip-syncing and live singing, meticulously choreographed dancing, and performances in extravagant costumes adorned with colorful make-up.
Koh Samui, as one of Thailand's popular tourist locations, is home to several renowned ladyboy cabarets that have captivated audiences from all over the world. Among the most famous ones are:
Paris Follies Cabaret (formerly known as Moulin Rouge Cabaret): This spectacular show takes inspiration from the iconic Parisian cabarets and offers a dazzling display of talent, music, and vibrant performances.
Starz Cabaret Samui: Known for its energetic and high-energy performances, Starz Cabaret promises an entertaining evening filled with delightful surprises and engaging acts.
The Cabaret Lamai Beach: Situated in the vibrant area of Lamai Beach, this cabaret show features a diverse range of acts, dazzling costumes, and impressive dance routines, making it a favorite among visitors.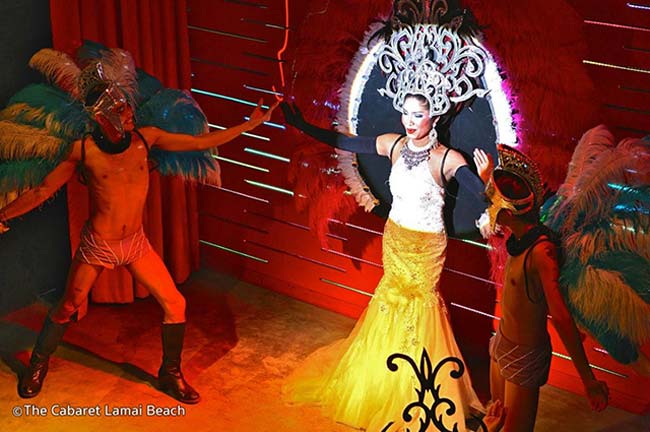 15. Visit Koh Tao
Cost: Ferry to Koh Tao from Samui starts at around 600 Baht
Translated as "Turtle Island," Koh Tao has been a popular tourist destination since the early 1980s and continues to captivate visitors with its natural beauty.
Renowned as one of Thailand's top scuba diving spots, Koh Tao's allure extends beyond its underwater wonders. The crystal-clear waters boast an incredible diversity of marine life and vibrant coral reefs, making it an ideal destination for both experienced divers and amateur snorkelers. Check out Haad Tien, also known as Rocky Bay. Snorkeling in this area provides an opportunity to spot reef sharks.
Traveling between Koh Samui and Koh Tao is made easy by the Koh Samui Koh Tao ferry route. The ferry journey takes around 3 hours to cross, and currently, the Songserm ferry company operates this route, providing service seven times per week.
Mae Haad Beach is the main town on Koh Tao, where most of the tourist activities are centered. It serves as a lively hub with various accommodations, bars and dining options.
Tips to Start Planning Your Trip Now:
Don't Forget Travel Insurance
Travel insurance protects you against illness, injury, theft and cancellations. I never travel without it. I have been using SafetyWing for years. You should too
Want more info on Koh Samui?
Check out this guide on the best way to get there