Koh Samui is the second largest island in Thailand and is a go-to place for tourists who want the best beaches in the country and the most island-like experience, with all mod cons.
From white-sand beaches, rock formations, waterfalls, and jungle views to man-made culturally-inspired structures such as temples and pagodas, Koh Samui is a wonderful place.
I lived there for a couple of years and have been there on holiday more times than I can remember, so I know a bit about how to spend your time on this island.
It's actually really easy to have a great time without spending a lot of money, and in this list you'll find numerous free activities.
15 Best Things to Do in Koh Samui
1. Swim at Choeng Mon Beach
Free
I was first introduced to Choeng Mon Beach by a friend who has lived on the island for many years.
I was really thrilled to discover this place because at that time the area wasn't as built up as it is now and very few people came to swim there.
This area of the island now boasts a hotel and shopping mall, so it isn't as quiet as it once was. However, it is still definitely worth a visit.
For those staying more than a week, it certainly makes a welcome break from the busy Chaweng and Lamai beaches, both of which can get pretty crowded, particularly in high season.
Choeng Mon Beach surrounds the northeast coast of the island. It offers a mile-long stretch of sand, with a handful of restaurants/cafes to eat and drink.
The sea there is perfect for paddling, as long as the tide is favorable.
2. Visit Fisherman's Village
Free
Fisherman's village is a quaint village tucked away in the area of Bophut. It's actually quite easy to miss from the main road but absolutely worth the visit, either in the daytime for a drink overlooking the sea, or in the evening for some dinner.
Every Friday evening, the one-way Bophut Beach Road where the Fisherman's Village is located is closed for vehicles to make way for the night market. The street is busy with live bands and fairly priced food and drinks at restaurants and food stalls.
Most of the beachside restaurants have one side open to offer a glimpse of the seascape and tables are also set up on the sand.
Despite the fun and somewhat modern vibe of the village, the 19th century homes built by Chinese immigrants still provide a homely, cultural feel.
3. Visit Big Buddha (Wat Phra Yai) & Wat Plai Laem
Free
The temple of the 12-meter-tall Big Buddha, known as Wat Phra Yai, is located in the northeast corner of Koh Samui.
For a small donation you can get a blessing from a monk and write your name on a tile that will be used in construction of the temple.
When you reach the top of the stairs you can take a stick and hit numerous large bells around the Big Buddha while you make wishes for prosperity.
The courtyard area of the temple is filled with souvenir vendors as well as food stalls where you can buy snacks after climbing the dragon-styled staircase that leads you to the Big Buddha.
Additionally. Wat Plai Laem is a temple near Wat Phra Yai that houses the statue of Guanyin, the goddess of fertility, mercy, and compassion.
The temple is surrounded by a lake and features a laughing Buddha statue and a wonderfully designed ceremonial hall, which is locally known as 'ubosot'.
Wat Phra Yai and Wat Plai Laem are free to visit and donations are accepted.
4. See Na Muang Waterfalls
Free
Located in a park about 12 kilometers south of Nathon Bay, the scenic Na Muang Waterfalls is composed of two falls: the first one flowing into a natural pool at the bottom of the rocks, and the other taking approximately 30 minutes to climb to by foot.
If you are not wearing appropriate footwear for climbing, be cautious in walking to the falls, as the path tends to be steep and slippery in places.
You can easily spend the best part of a day swimming in the falls and hiking in the area. There are stalls selling food but it's also a perfect spot for a picnic.
Visiting Na Muang Waterfalls is free of charge and is often included in as part of the itinerary on Samui tours.
5. Views from Khao Hua Jook Chedi
Free
Sitting close to Chaweng Lake, Khao Hua Jook Chedi is a temple that offers spectacular 360-degree views of the coast and countryside.
Gold statues of Buddhas can be found in the temple and the Buddhist art and architecture is particularly notable.
Going to the temple requires a hike as it sits atop a hill. No public transportation is available, so you can either make your own way there or book an organized tour.
6. A Sunrise SUP Tour (Bangrak Beach)
The waters of Bangrak Beach (also known as Big Buddha Beach) can be explored using a stand-up paddleboard (SUP).
You'll paddle at sunrise when the place is quiet and the shore empty. At this time of day, you'll experience a more intimate encounter with nature, as wildlife wakes with the sun and the locals rise.
As you paddle along the coast, you will likely see water buffalos near the shoreline, as well as fishermen casting their lines and shellfish being picked up by ladies in the shallows.
This 2-hour paddle tour is ideal for both beginners and experienced paddlers. They only take small groups of 4 people. All participants must be able to swim. All necessary equipment is provided.
7. Visit Ang Thong National Marine Park
Ang Thong National Marine Park is a 100 square kilometer area in the Gulf of Thailand. It boasts 42 islands and is undoubtedly one of the top places to visit in Koh Samui.
The area is characterized by hundreds of limestone monoliths, carved into fantastic shapes by years of erosion.
Water activities such as diving, kayaking, and snorkeling can be done in various areas of the park, and hiking and exploring the jungle, mountains, and falls are perfect for adventure-seekers.
Going to the marine park is generally organized through tour companies, so the entrance fees will already be charged along with the rate for the tour. Rates will vary depending on the tour inclusions.
8. Visit Koh Som
Free
Koh Som, translated as "Orange Island", is a one kilometer slice of tropical paradise just a short trip from Samui.
Koh Som is just 2000 feet away (700m shore to shore) from the North East coast of Koh Samui. You can take a boat ride from Plai Laem Pier.
The sea on one side of the island is really shallow, which makes it perfect for snorkeling and bathing.
The silky white sand is a dream, and it truly feels like you've been shipwrecked on paradise. There's also loads of coconuts trees, so grab yourself a fresh one.
Koh Som is inhabited by a handful of workers who serve food to visiting tours, but no one lives there permanently. That could all change soon though. The island is for sale for a few million dollars.
Visiting Koh Som is one of my favorite things to do in Koh Samui.
9. See Grandmother & Grandfather Rock (Hin Ta & Hin Yai)
Free
Hin Ta and Hin Yai ("Ta" means grandfather and "Yai" is means grandmother) are the famous rock formations found on the Southern shoreline between Lamai and the fishing village Hua Thanon.
The rocks are famous for their shapes, which resemble male and female genitalia. The names were derived from folklore, as the sign at the entrance explains:
A folklore of Samui Island tells the story of an old couple by the name of Ta Kreng (Grandpa Kreng) and Yai Riem (Grandma Riem) who lived with their son in the southern province of Nakhon Si Thammarat. Since their son had come of age, they felt that it was time he got married.

"One day they decided to sail to the neighbouring province of Prachuap Khiri Khan to ask for the hand of the daughter of a man named Ta Monglai. During their sea journey, their boat was seized by a storm.

The old man and his wife were unable to swim ashore. They died at sea, turning into rocks as proof to the would-be bride's parents of their true intentions. The rocks stand there to this day.
The rocks are located two kilometers away from the central part of Lamai Beach. Grab a taxi or songtaew, or ride your moped. Entry is free.
10. Visit Lamai
Free
Those sex-inspired rocks conveniently bring us onto the area of Lamai.
In terms of resort areas, Lamai comes a close second to Chaweng. However, some prefer Lamai due to its more peaceful and family orientated vibe.
It's certainly more sensible, but Chaweng has some great nightspots.
Lamai has always been attractive because it it less expensive than Chaweng, but with the development of luxurious accommodation and more things to do in the area the gap in pricing has closed over the past 5 years
Lamai Beach is lovely, so if you aren't staying in the area you certainly should do a day visit.
If you hire a moped, make sure you go to Lamai. The ride up there has some amazing views across the island.
Aside from the Hin Ta and Hin Yai rocks mentioned above, other tourist attractions in Lamai are Silver Beach and Coco Splash Adventure & Water Park.
Also checkout Lamai viewpoint at sun down: watching the sun go down is one of my favorite things to do in Koh Samui.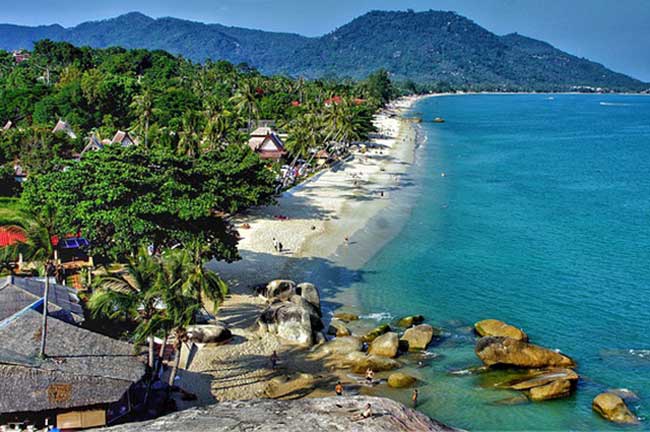 11. Chill at Nikki Beach
Located in Lipa Noi, Nikki Beach is a luxurious resort that you can stay at or simply visit for a chill. I've been there a number of times to soak up the vibe and always enjoyed the ambience.
This is a fairly high-end joint, and in terms of the parties it has and clientele, some might say it has an Ibiza vibe about it.
You don't need to stay there to enjoy it though, and for me it's a little too far over the "other side" of the island. But for an afternoon lounging around the pool sipping cocktails, it's perfect.
12. Visit Laem Sor Pagoda
Free
If you are looking for a quiet place, far from the hustle and bustle of the Eastern side of Samui, you may consider going to the Western side where you'll find Laem Sor Pagoda.
The pagoda is made of yellow tiles but from afar it looks like it is made of gold.
The bright and glittery color of the pagoda is created by the reflection of sunlight bouncing off the sea onto the structure. The backdrop of the deep blue sea makes for a wonderful contrast and a real sight to behold.
The monk who built this magnificent structure is revered by locals, who pay their respect to his wax casting, which is housed in a boat within a small hall.
Because the pagoda is located near the beach and is within the complex of Wat Laem Sor temple, admission is free.
13. See the Mummified Monk
Free
The mummified monk is located at the Wat Khunaram temple on Route 4169, roughly six kilometers away from Lamai Beach.
In 1973, the Buddhist monk Luang Pho Daeng (Phra Khru Samathakittikhun) passed away while meditating and his body was preserved in a glass case.
For some it may be shocking to see a mummy like this in full view, but Thais, in general, are accepting of death and see the mummy as a point of reflection.
Before his death, it is said that Luang Pho Daeng advised his followers to have his body cremated if it decomposes and displayed if it does not.
The only part of his body that disintegrated were his eyes, and so these have been covered with sunglasses.
Just like other temples, entrance to Wat Khunaram is free and donations are accepted.
14. Watch a Ladyboy Cabaret Show
Thailand's katoey (third gender) community has contributed considerably to the development of the entertainment industry, and over the years ladyboy cabaret has established itself as a popular attraction in a number of tourist locations.
Cabaret shows usually involve the singing of popular songs through lip-syncing and live singing, choreographed dancing and extravagant costumes and colourful make-up.
Some of the most famous ladyboy cabarets in Samui are Paris Follies Cabaret (formerly Moulin Rouge Cabaret), Starz Cabaret Samui, and The Cabaret Lamai Beach.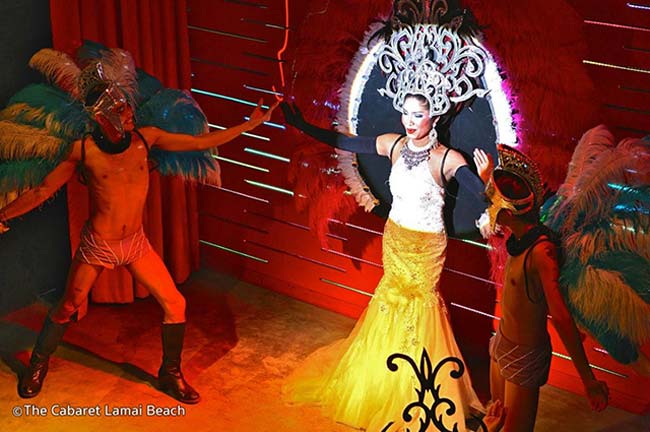 => Your Next Read: 8 Ways to Spot a Ladyboy
15. Visit Koh Tao
Translated as "Turtle Island", Koh Tao has been a tourist destination since the early 1980s and remains a beautiful destination.
It is one of Thailand's top scuba diving spots, but also worth visiting for the beautiful surroundings.
Aside from the clear waters and the white-sand beach, the island flaunts a variety of sea creatures and coral reefs that make it ideal for diving and amateur snorkeling.
The Koh Samui Koh Tao ferry route connects the two islands and takes around 3 hours to cross. Currently there is just one ferry company operating this ferry service, Songserm, operating the journey 7 times per week.
Some of the attractions of Koh Tao include Haad Tien (Rocky Bay) – a white, sandy each with crystal clear waters – which boasts reef sharks that can be seen when snorkeling; and Mae Haad Beach, the main town where most of the tourist activity can be found.
Tips to Start Planning Your Trip Now:
Book Your Flight
Find a cheap flight to Thailand using Momondo. This is my go-to search engine.
Don't Forget Travel Insurance
Travel insurance protects you against illness, injury, theft, and cancellations. I never travel without it. I've been using World Nomads for 15 years. You should too.
Want more info on Koh Samui?
Check out this guide for the best modes of transport