The shorelines of Thailand are a main draw for tourism, and for those who've watched Jaws one too many times, there may be some fear around swimming and diving in the turquoise waters of Thailand.
It's easy to fret about the potential of sharks in the water, but while there are indeed sharks in Thailand, they're more friend than foe.
Fatal attacks are incredibly rare in Thailand, with just one confirmed death and one anecdotal account of a death over the years. There have been a number of bites, though – we'll look at those in more detail later on.
Fortunately, most species of shark in Thailand are completely harmless, so those with a phobia can rest assured they generally won't see a dorsal fin, unless they specifically go diving to see one.
9 Species of Shark Found in Thailand
1. Leopard Shark
Type: Houndshark in the Triakidae family
Features: Small in size and distinct in appearance, the slender Leopard Shark is often covered in dark spots. It has two distinct dorsal fins and rarely reaches a length of more than four or five feet. Diminutive and shy, these sharks are easily spooked by humans and prefer to hide from larger animals.
Distribution: Leopard sharks can be found around Thailand's Similan Islands in the Andaman Sea, as well as around Phuket and the Phi Phi Islands.
Risk to Humans: Exceedingly shy and unlikely to interact with humans, the Leopard Shark poses no threat to individuals exploring its habitat.
2. Bamboo Shark
Type: Carpet shark in the Hemiscylliidae family
Features: These brown sharks, without distinctive markings, are small in size, reaching a maximum length of two and a half feet. They are bottom dwellers, laying their eggs on the ocean floor and feeding on small shrimp, mollusks, and crabs.
Distribution: Found throughout Thailand, both in the Andaman Sea and the Gulf, near Koh Dok Mai, Anemone Reef, and Shark Point.
Risk to Humans: These small sharks tend to gather in groups and are generally afraid of humans. They pose no threat.
3. Blacktip Reef Shark
Type: Requiem shark in the Carcharhinidae family
Features: These sharks are easily identified by the black bands on their dorsal and caudal fins. They typically reach an average length of about 5 feet.
Distribution: These sharks prefer to inhabit shallow waters near tropical coral reefs, although they can also be found in sandy flats. In Thailand, they can be spotted along coastlines throughout the country, with popular locations being the Phi Phi Islands or the Similans.
Risk to Humans: Known for their timid nature, Blacktip Reef Sharks usually avoid human interaction, unless there is the presence of food. However, caution should be exercised by waders near shallow water, as there is a slight risk of a leg bite.
4. Whitetip Reef Shark
Type: Requiem shark in the Carcharhinidae family
Features: These sharks typically reach a maximum length of 5 feet and have a slender body shape. They are characterized by their broad heads, nostril flaps, oval eyes, and dorsal and caudal fins with distinctive white tips.
Distribution: Divers near the Similan Islands are likely to encounter Whitetip Reef Sharks, as they are known to frequent deep drop-off points.
Risk to Humans: Whitetip Reef Sharks generally do not exhibit antagonistic or aggressive behavior towards divers. However, they may approach swimmers out of curiosity. Spear fishers should be aware that hungry Whitetip sharks may show more aggression in attempting to steal their catch.
5. Grey Reef Shark
Type: Requiem shark in the Carcharhinidae family
Features: These sharks possess the classic shark appearance, with wide and round snouts, large eyes, and a maximum length of around 6 feet. They often have a black outline on their tail fin, and the area between their fins is typically smooth and rounded.
Distribution: Spotting a Grey Reef shark in Thailand is rare, but divers may encounter them at dive sites near the Similan Islands such as Christmas Point, Deep Six, or Elephant Head.
Risk to Humans: While generally shy, Grey Reef sharks can become aggressive towards divers if they feel cornered or threatened. They may exhibit aggressive behavior by dropping their fins and swimming in a zigzag pattern. If you come across one, it is advisable to maintain a safe distance and give the shark plenty of space.
6. Whale Shark
Type: Filter-feeding carpet shark in the fish species
Features: These magnificent creatures reach an average length of 30 to 40 feet and weigh over 40,000 pounds. They have massive bodies with wide, flat heads, two dorsal and pectoral fins, and pale yellow speckles on their backs.
Distribution: Whalesharks can be encountered throughout Thai waters, but the best locations to spot these gentle giants are the reefs of the Similan Islands (particularly Richelieu Rock) and Hin Daeng, as well as the Chumphon Pinnacle in Thailand's Gulf.
Risk to Humans: Since Whalesharks exclusively feed on plankton, they pose no threat to humans.
7. Nurse Shark
Type: Elasmobranch fish in the Ginglymostomatidae family
Features: The Nurse Shark typically grows to an average length of 8 feet. They have a brown coloration and sport two dorsal fins and pectoral fins that are characteristically rounded. These sharks are also known for their broad heads.
Distribution: Nurse shark sightings in Thailand are rare, but lucky divers can spot them among the rocks of the Similan Islands. These sharks prefer to dwell near coral reefs or sandy areas sheltered by caves or crevices.
Risk to Humans: Although Nurse Sharks appear calm and slow-moving, it is best to exercise caution around them. After all, Nurse shark bites rank as the fourth most common shark bites to humans. Divers should be careful when encountering them in their natural habitat and give them a wide berth if sighted.
8. Tiger Shark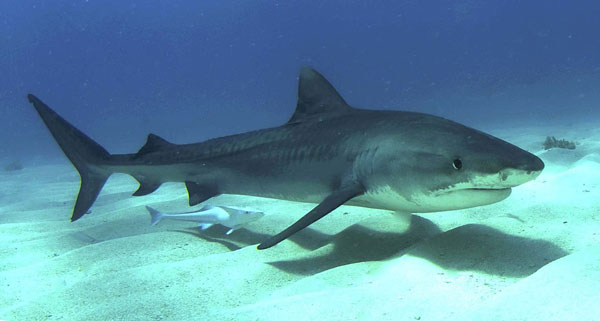 Type: Requiem shark in the Galeocerdo genus
Features: Tiger Sharks are known for their large size, reaching nearly 16 feet or even larger. They have distinctive stripes on their sides, which give them their name, although these markings tend to fade as the shark grows older. These sharks possess two dorsal fins, five characteristic gill slits, narrow snouts, and serrated teeth.
Distribution: Tiger sharks are extremely rare in Thailand, as they prefer cooler and deeper waters. However, they can still be found in Thai waters, most likely around the Surin Islands.
Risk to Humans: Tiger sharks are responsible for the highest percentage of fatal shark bites to humans. It is important not to underestimate them. Fortunately, actual shark bites from Tiger sharks are infrequent.
9. Bull Shark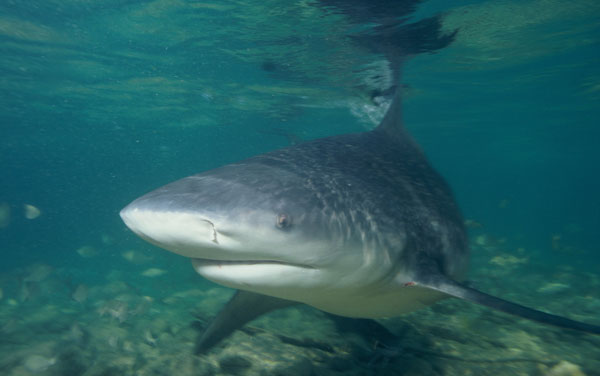 Type: Requiem shark in the Carcharhinus genus
Features: Bull Sharks can grow to nearly 12 feet in length, although the average size is about 7 feet. They have a rounded snout resembling that of a bull and possess a large, triangular dorsal fin. These sharks are gray in color with white bellies and have sharp, jagged teeth.
Distribution: While sightings of Bull Sharks in Thailand are rare, they occasionally appear at Hin Daeng and Koh Tao, as well as at Chumphon Pinnacle in the Gulf area.
Risk to Humans: There is no denying that Bull Sharks are dangerous. They are responsible for many unprovoked attacks and are known to inhabit both rivers and freshwater environments.
Fatal Shark Attacks in Thailand
Attack 1:
Fortunately, though some of the sharks in this list can and may bite, documented cases of shark killings in Thailand are incredibly rare.
The last seems to have been in 2000, when a German diver named Stephan Kahl emerged from the waters around Phang Nga Islands with severe bites and blood loss. Though no shark was ever identified in the wake of his death, the bites indicate he may have been killed by a Tiger shark.
"It is likely that he was bitten by a shark", Pol Lt Suthas Promaksorn said, though he added that no shark sightings had been reported in the area. German embassy officials were unable to provide further details of the case.

Local residents said the man might have been bitten by a brindle bass rather than a shark, but fisheries experts said these fish had never been known to attack people. The brindle bass can weigh up to 100 kilos, but is thought to venture out of undersea caves very rarely.
Attack 2:
In 1979, a pirate attack on a boat in southern Thailand left one survivor, who reported that an unlucky soul who had fallen off the boat had been eaten by a shark. The body was never recovered, but the incident was documented in the report below:
Non-Fatal Shark Attacks in Thailand
Though fatal shark bites are few and in between, there have been a number of instances of sharks biting swimmers, divers, and fisherman.
Bite 1 – 2022:
In Phuket, eight-year-old Napat Chaiyarak Christenko was bitten by a shark.
Napat recounted to the police that he attempted to free himself from the shark by kicking it, and then he struck it on the head beneath the waves. His right calf was bleeding profusely.
Doctors initially suspected that Napat had been attacked by an 80-120 centimeters long barracuda based on the bite marks. However, marine and shark specialists later examined the wound and determined that it was inflicted by either a blacktip reef shark or a bull shark, commonly found in the Andaman Sea. They believe the shark's vision may have been obstructed by cloudy water, causing it to mistake Napat's leg for prey.
Dr. Kongkiat Kittiwattanawong, the director of Phuket Marine Biological Center, described the attack as "very violent" and explained that sharks typically hunt fish in surf zones. He stated, "It might have mistaken the boy's calf as a fish and bit it."
Dr. Kittiwattanawong pointed out that both the upper and lower teeth were used simultaneously, resulting in sharp wounds on both sides. He further explained that the shark approached Napat under the assumption that he was food, but upon realizing its mistake, it did not launch a subsequent attack.
Bite 2 – 2020:
A German tourist sustained severe injuries in what was almost certainly a shark attack at Nang Thong Beach in Phang Nga province.
Hans-Peter Malten, 75, was swimming near an unidentified "big fish" when his leg was bitten, according to a report by Maj Ekkachai Siri of the Phuket Tourist Police.
According to Maj Ekkachai:
Mr. Malten mentioned that he and his wife were taking a morning walk along the beach on Sunday morning. At approximately 7:15 a.m., Mr. Malten went for a swim while his wife stayed on the beach." He further explained, "While swimming about six to seven meters [19.6 feet to 23 feet] from the shore, he sensed the presence of a large fish nearby, and then he was bitten on his right leg.
The bite resulted in a severed tendon and a substantial 7.9-inch semicircular wound on his leg.
While authorities could not confirm the exact species responsible for the attack, shark expert Gavin Naylor, director of the Florida Program for Shark Research and curator of the Florida Museum of Natural History, noted that the semicircular bite mark on the victim's leg is likely from a shark. Naylor mentioned that considering the location, a bull shark or a blacktip reef shark could be possibilities. He also noted that both species are known to inhabit the area and tend to frequent relatively shallow waters.
Local marine expert Dr. Thon Thamrongnawasawat from Kasetsart University echoed these possibilities, suggesting that the culprit could be a bull shark or a blacktip reef shark, with the bite size indicating that a blacktip reef shark would leave a smaller mark than the recent injury.
Bite 3 – 2015:
In 2015, an Australian woman named Jane Neame was bitten on the foot and ankle at Karon Beach in Phuket.
Mr Martin of the PMBC spoke with the victim and explained the following to the Phuket Gazette:

She told us that she was playing in the waves where the water is about one meter deep and that suddenly she felt something biting her foot. She says it was a strong bite, and then a second strong bite with a bit more shaking.

The animal must have had rows of triangularly shaped teeth side by side laterally, with a wide base because the clear teeth marks on the bottom of the foot were wide on the skin, deep and also side by side.

The only animal that could have caused this bite, given all the information, is a small shark.  The location of the incident, shallow, murky water with a sandy bottom, is the habitat of one such species, the bull shark.

It's the only case in Thailand so far. Yes, it's very rare. It's bad luck for the lady that had the injuries. The beaches of Thailand are still very, very, very safe from any shark attack. – (Source: Phuket Gazette)
Bite 4 – 2001:
In 2001, a 10-foot shark is said to have bitten the legs of a fisherman who fell off a banana boat in 2001 at Laem Mae Pim Beach in Rayong Province. The species was never confirmed, but said to be 3 meters in length.
Bite 5 – 1966:
In 1966, a 28 year-old Thai native named Vinit Tantikarn was said to be bitten, though due to poor record taking, the geographic location of the bite is unknown.
A Prank Gone Wrong: Thailand's Most Bizarre Shark Attack
Perhaps the low number of shark bites and deaths in Thailand can be attributed to the vigilance of local villagers, as unfortunate tourist David Smith found in early 2018.
What makes this story so bizarre is that it wasn't a shark in the water at all.
Smith, on a vacation to Pattaya with friends, decided to don a fake shark fin to scare his swimming companions. He was almost immediately hit by nine harpoons from local fisherman. Badly injured, he's now in stable condition.
His friends saw him rapidly emerge from the water, screaming with pain.
We never even saw David or his fin approaching.We just saw a bunch of fishing boats hurrying past us and firing dozens of harpoons.

He got his head out of the water and yelled 'I'm not a shark!', but he was immediately hit by two other harpoons.
Let this be a lesson to anyone thinking of playing this prank!
Great White Sharks in Thailand
The first question on the mind of someone with a shark phobia visiting Thailand is whether or not they will encounter a Great White Shark, just like the one depicted in the Jaws movie I referenced at the start of this post.
You can sigh a sign of relief now, though. While the great white shark (Carcharodon carcharias) is known to inhabit various coastal regions around the world, including areas with warm waters, it is not commonly found in Thailand.
The waters around Thailand, particularly in the Andaman Sea and the Gulf of Thailand, are not typically part of the natural habitat of great white sharks. The shark species that are more commonly encountered in Thai waters include bull sharks, blacktip reef sharks, leopard sharks, and whale sharks.
In fact, the closest to the Kingdom a Great White has ever been found is 185 miles (300 km) from Phuket, on Malaysia's Pangkor Island in Perak. The shark was caught by local fisherman and dragged on board.
The report read:
Two human arms fell out from the mouth of the shark, along with some trash. The arms still had some bits of decomposed flesh attached and gave off a foul smell. When the trawler returned to port it was surrounded by curious locals. Police directed the crew to steer the ship out to sea again, where they slit open the shark's belly but found no other bones inside. The carcass was then thrown back into sea. (Source: Sharkattackfile)
9 Tips to Avoid a Shark Attack
While shark attacks in Thailand are extremely rare, there are some precautions you can take to minimize the already minimal risk of a shark encounter when at the beach.
Here are some tips:
Swim in groups: Sharks are more likely to target individuals who are alone. By swimming in a group, you reduce the chances of being singled out.
Avoid swimming at dawn and dusk: Most species of shark are more active during these times, so it's best to avoid swimming during early morning or late evening hours.
Stay close to shore: Sharks tend to frequent deeper waters, so staying closer to the shore reduces the likelihood of encountering them.
Increased visibility: Swimming in clear water allows you to see your surroundings more clearly, making it easier to spot any potential marine life, including sharks. This gives you the opportunity to take appropriate action if you notice any signs of danger.
Avoid swimming in areas with known shark activity: Be aware of any local shark warnings or reports of recent shark sightings. If an area is known for shark activity, it's best to swim elsewhere.
Avoid wearing shiny jewelry: The reflection of sunlight off shiny objects can resemble fish scales, attracting sharks. It's best to leave such items onshore.
Avoid swimming near fishing areas or where seabirds are feeding: These locations may indicate the presence of baitfish, which in turn may attract sharks.
Do not swim if you are bleeding: Sharks have an acute sense of smell and can detect even small amounts of blood in the water. Avoid swimming if you have an open wound or are menstruating.
Follow local beach guidelines and warnings: Pay attention to any signage, flags, or warnings provided by local authorities. They are there to keep beachgoers informed and safe.
Remember that the chances of a shark attack in Thailand are extremely low. Enjoy your time at the beach and have fun!
Seen a shark in Thailand? Let me know in the comments section below!
Tips to Start Planning Your Trip Now:
Don't Forget Travel Insurance
Travel insurance protects you against illness, injury, theft, and cancellations. I never travel without it. I've been using SafetyWing for years. You should too.