"Mr Bond, bullets do not kill. It is the finger that pulls the trigger."
Familiar?
If so, there are two possibilities: you're a baby boomer or generation X, or you've sat in front of the TV with your dad and seen the 1974 James Bond classic (The Man With The Golden Gun) by accident.
If you're a Bond fan and flying to Thailand for a holiday, then no doubt you will want to add James Bond Island to your itinerary.
Aside from it being one of the filming locations in The Man with the Golden Gun, staring Roger Moore and Christopher Lee, the area is of vast natural beauty.
So, where is it, how do you get there and what is there to do?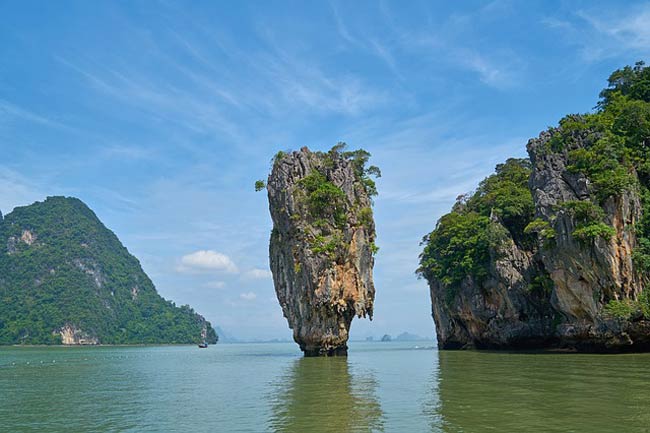 Where is James Bond Island?
The island, formerly known as Koh Tapu, which means Nail Island – thanks to its spiky shape – is a popular landmark in Phang Nga Bay.
Phang Nga Bay lies between southern Thailand's mainland and Phuket Island. Also known as Ao Phang Nga National Park, it is characterised by limestone cliffs and rock formations, as well as mangrove forests and small islands.
Before the 1974 movie 'The Man with the Golden Gun', no one outside of Thailand knew of the island.
Now, both Koh Tapu and the island next door, Koh Phing Khan, which translates to 'hills leaning against each other', are referred to as James Bond Island by locals and foreigners alike.
Although the islands in this area can get really crowded with tourists and longboats, particularly in peak season, its picturesque scenery and pristine emerald waters make it a worthwhile trip.
How to Get to James Bond Island from Bangkok
It really depends on your travel plans. If you have already planned to stay in Phuket, that's fine. Just join a tour or hire a private boat from Phuket. Phang Nga is about 45 Km away.
But Phang Nga is closest and the surrounding area is very beautiful; you won't regret staying there. It borders the Andaman Sea on the west coast of the Malay Peninsula.
Staying on Phang Nga means you can also visit the national park and surrounding islands on other days.
Don't try and do a one or two day trip from Bangkok though. It simply wouldn't be worth it. Check out the various travel options and prices for getting to Phang Nga from Bangkok below.
Island Tour Options
Before garnering international fame, James Bond Island was difficult to get to. Now, the island is tourist attraction and must-visit for both Bond addicts and non-fans.
Depending on how you want to spend your time in the area, there are three ways/options to get there.
1. Half Day Tour:
If you wish to spend a whole afternoon on the island, it's best to get a full-day James Bond Island tour – offered by numerous travel agencies.
Usually included is a convenient hotel pickup and lunch. You'll travel by traditional longboat or speedboat, depending on your budget.
You'll then spend the entire afternoon unlocking the gems that are Koh Phing Khan and Koh Tapu.
2. Full Day Tour:
If you want to visit multiple islands in a day, you can avail a full-day excursion to Ao Phang Nga National Park and Phang Nga Bay where James Bond Island and other equally beautiful islands are found.
You"ll stop at the Talu and Naka islands for opportunities to enjoy the scenery, swim, and canoe.
By speedboat gives you the most for your money: You'll see more than 100 islands, including James Bond Island, with their epic limestone cliffs and clear waters.
Cave and kayak before rounding up your journey by enjoying the sun or swimming in the cool emerald Andaman waters.
3. Private Longboat Hire
If you're travelling with a large group, or want to have more freedom to roam, renting a long-tail boat from Surakul Pier in Phang Nga is an option.
A boat can carry a maximum of ten and costs less than £50 for three to four hours. Not bad if you split the bill.
Top Things to Do on James Bond Island
James Bond Island is a top attraction in Thailand, so while the view is literally breathtaking, it does get flooded with tourists.
If you want to witness the island's beauty in isolation and take pictures without photo-bombers, be sure to begin your day early. Get up at the crack of dawn and hire a private long boat.
The island is under national park protection, which means that boats are required to stay at a safe distance from the island.
To get the best view of James Bond Island, you can either stay in your boat or go to a small beach on Koh Phing Khan.
Aside from taking pictures, take advantage of the chance to explore Koh Phing Khan. On the outside, this island looks like an epic, high leaning rock, but the magic starts once you begin to explore its small caves. Super fun.
Koh Phing Khan's eastern beach is a little crowded, with stalls selling souvenirs made from seashells and wood. It is always worth supporting the locals, though, so take something home for a loved one.
James Bond Island is also a major destination for sailing and kayaking. So if that's your thing you can book a tour with that in mind.
Other Activities Around the Island
Once you've seen the film locations and trigger-posed for 10 selfies, the whole James Bond novelty will wear off pretty quickly.
My advice is that you make a day of it and visit the other islands of Phang Nga Bay, either as part of a tour or through the hiring of a longboat (with captain).
I prefer the latter because I get to go at my own pace. I remember one boat tour I took off Samui. We saw lots but always seemed to be getting ready to go to the next destination. I think less is more in this situation.
I'd rather hang out and fully appreciate three islands than see 10 and hardly take anything in.
Here are some activities you can consider:
Koh Panyi: It's a Muslim fishing village which strangely hosts the world's only floating football pitch.
Elephant trekking at Phang Nga Elephant Park: I don't recommend this. Read here why and what to do instead.
Tham Suwan Kuha Temple: Aside from being a functioning place of worship for local Buddhists, this temple is also a tourist destination featuring a complex of caves. At the entrance, expect to find a troop of monkeys, always on the lookout for food handouts.
Kayaking around Phang Nga Bay caves and lagoons: Phang Nga Bay is home to numerous caves and lagoons.
Swimming and snorkelling in Hong Island: Dreamlike waters, a fine white-sand beach and impressive limestone formations. Get your snorkelling gear and marvel at a wide variety of colourful fish.
If you're a Bond fan James Bond Island is a must-do. If you're not fussed about The Man With The Golden Gun it's still an area of natural beauty you'll want to visit.