Pattaya is a city on the eastern coast of the Gulf of Thailand, about 100 kilometers southeast of Bangkok. The city has a tropical climate and is hot and humid throughout the year, with an average temperature of around 28°C.
Sounds great, right? Well, the truth is, Pattaya doesn't have the best reputation. It has long been know as an R&R (rest and recreation) destination, which dates back to the Vietnam War.
During the war, the United States army operated from a number of bases in Thailand, one of which was at Utapao (Pattaya International Airport.  Because of its proximity to the coast and local beaches, Pattaya became a destination for soldiers on leave, particular those based at Utapao.
This kick-started the development of the small fishing community into a bustling beach town, complete with ladies of the night and plenty of booze. 
However, while Pattaya is still thought of by many as a place to spend a fortnight propping up a barstool and ogling a cattle-market of scantily-clad single-mothers from the poorest regions of rural Thailand, there is way more to the city and surrounding areas than most realize.
In fact, it's an easy beach-getaway from Bangkok, with many family-orientated activities available in the locality.
So, for those looking for something other than Chang beer, Go-Go bars and naughty massages, I've assembled 10 things for you to do that don't include sitting on a bar stool or engaging in a carnal encounter.  A couple of them are free, too!
Let's begin…
1. Art in Paradise – Pattaya
In north Pattaya, you'll find Art In Paradise, a 3D art experience that explores anamorphosis art; the art of illusion.
Visitors are encouraged to enjoy the museum interactively by touching and taking photos with 3d illusion paintings.
The museum has a number of themed galleries, including a dinosaur gallery, a fantasy gallery, and a cultural gallery, among others.
This place is great for the whole family, especially the kids. Make sure you keep your selfie stick handy!
Location: Art in Paradise Pattaya, 78/34 Moo 9 Pattaya Second Road, Pattaya 20150 Thailand.
Opening hours: 9.30am – 10.30pm. (Ticket Booth open until 9.30 p.m.).
Pricing: 400 Baht for adults, 200 Baht for children.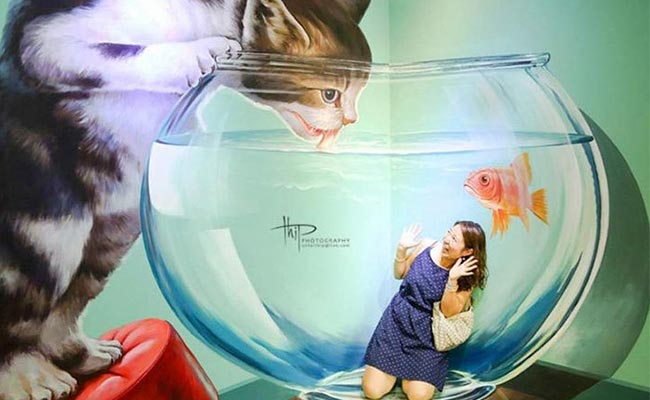 2. The Sanctuary of Truth (Prasat Satchatham)
This award-winning museum-cum-temple is made entirely of wood and is decorated with intricate carvings and sculptures that depict scenes from Thai and Buddhist mythology.
It is a massive structure that is over 100 meters tall and covers an area of more than two acres. Its spire reaches approximately 105 meters high.
With its beautiful location right by the sea, this holy place is said to reflect the importance of religion in our world.
Visitors can take guided tours and learn about its history and significance. The temple is also used for cultural events and religious ceremonies.
Location: 206/2 Moo 5, Pattaya-Naklua Road, Banglamung, Chonburi 20150.
Opening hours: Open every day 8am – 6pm.
Pricing: Adult  500 baht/person. Children (height 110-140 cm. )  250 baht/child. Monk, priest, disabled (with certificate) discount 50%, 250 baht/person. Group with more than 30 people. Discount 20%, 400 baht/person.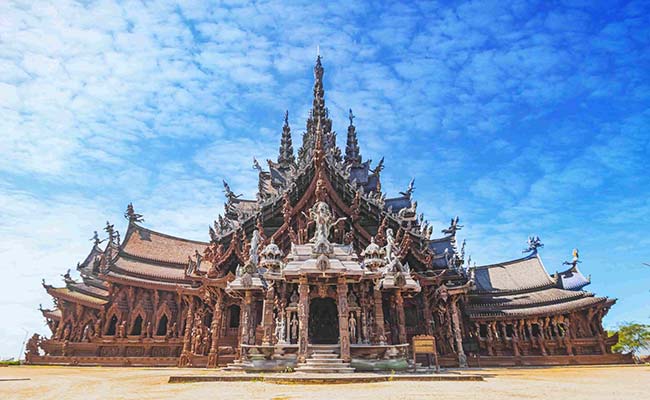 3. Water Park and Fun Park, Pattaya Park Beach Resort
Who doesn't like a waterpark?
The park is located within the Pattaya Park Beach Resort complex and features a variety of water-based and amusement park rides and attractions.
You'll find giant water slides, amusement rides, a whirlpool by a private beach, and tons of fun in the sun for kids and adults alike.
This is a really popular destination for families and is a great place to spend a fun-filled day with the kids.
4. Baan Sukhawadee (Eden House)
If decadence is what you seek, Baan Sukhawadee (Eden House mansion) will have you feeling like you've stepped into an episode of Lifestyles of the Rich and Famous. This home is an incredible must-see landmark.
This huge beach house was built in the year 2000, in Romanesque style architecture, by Mr. Panya Chotitawan,  owner of Saha Farm, one of the biggest agricultural product exporters in Thailand.
The house, or should I say palace, was built at a time of huge economic crisis, when many businesses in Thailand had collapsed and were taken over by foreign companies. Mr. Panya decided to build this luxurious palace with over hundred people working together in unity, to show that Thai people were still in harmony and had potential and dignity that could rival other nations. 
The palace covers  80 Rai (128,000 square metres), complete with 400 metres of beach and.
Location: 219 Mu 2, Sukhumvit Road Bang Lamung, Chon Buri
Opening hours: Open every day 8.30am – 6pm.
Pricing: Adult – 500 Baht. Child – 100 Baht.
5. Ripley's 'Believe it or Not' Museum
The world famous Ripley's Museums never disappoints when seeking the weird and wondrous. There are several Ripley's museums located around the world, including this one in Pattaya.
Pattaya has a collection of more than 300 mystical, exotic and unusual items from all over the world, including optical illusions, primitive torture devices, masks made from human skin, humans with 4 eyes, horses with 3 legs, a replica of the Titanic made from a million matchsticks and way more.
If you have a weak stomach, it may be best to go before you eat lunch.
Location: 218, Moo 10, Beach Road, Pattaya 20150 Thailand
Opening hours: Open everyday 11am – 10pm
Pricing: Various. Approx 500 Baht per person.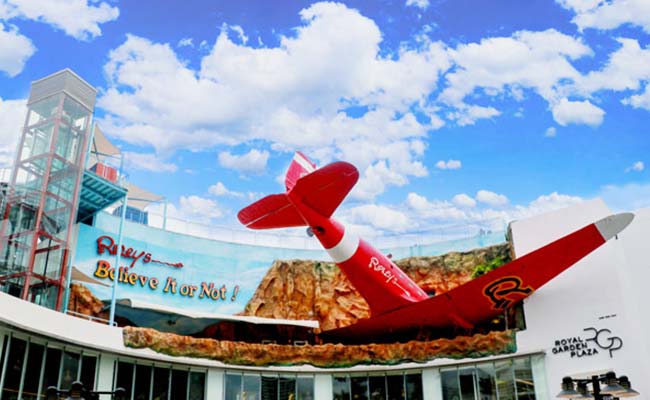 6. Phratamnak Hill (Khao Pattaya)
Phratamnak Hill is a residential area home to many expats and foreign tourists. The spot is known for its beautiful views of Pattaya Bay and the surrounding area, and it is a popular place for tourists to visit and take in the scenery.
There are also a number of restaurants and shops located on Phratamnak Hill, making it a convenient place to grab a bite to eat or do some shopping.
The top of the hill is one of the best vantages for checking out the crescent bay of Pattaya. The most popular times to take in the view are during sunset and at night when the city is lit up.
Go before night fall and you'll be able to check out a few monuments of some famous Thai figures, as well as an image of Buddha in the Subduing Mara gesture.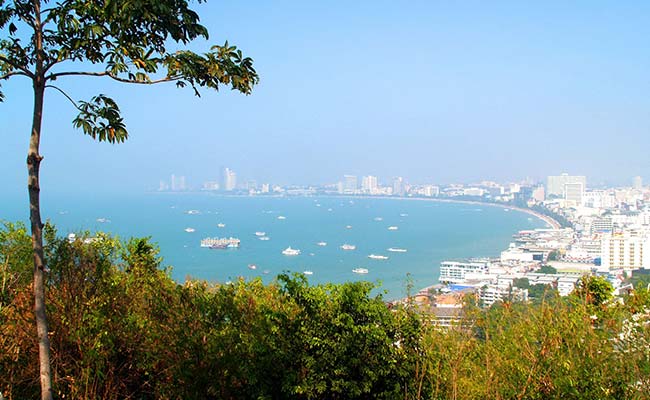 7. Nong Nooch Garden
Nong Nooch Tropical Garden is a botanical garden and cultural park located about a 20-minute drive from Pattaya.
The garden covers an area of more than 500 acres and features a variety of attractions, including gardens, sculptures, and cultural performances.
Tropical plants from all over the world adorn every path, and you'll also find the largest variety of orchids in Thailand.
From flowers to fruit, this park has it all, as well as a unique skywalk from which you can see the gardens from an arial view.
The garden also features a number of cultural performances, including traditional Thai dance and martial arts demonstrations.
Location: 34/1 Moo 7 Najomtien District, Sattahip, Chonburi 20250 Thailand
Opening hours: Open everyday 8am – 6pm
Pricing: Foreigners price for entry and gardens ( no shows ) – 500 Baht. Thais, and foreigners with Thai driving license – 300 Baht. Foreigners price for entry + shows – 800 Baht.
8. Mini Siam
Mini Siam is a miniature park that features miniature replicas of famous landmarks and buildings from around Thailand and the world.
The park covers an area of over 20 acres and has more than 100 miniature models on display, including replicas of the Temple of the Emerald Buddha, the Eiffel Tower, and the Great Wall of China, among others.
Mini Siam is a unique way to learn about the history and culture of Thailand and other parts of the world.
Location: 143 on Highway No. 3.
Opening hours: Open everyday 9am – 10pm.
Pricing: 250 Baht for adults, 120 Baht for children.
9. Three Kingdom Theme Park (Sam Kok)
The Three Kingdom Theme Park, also known as the Siam Kingdom Park, is inspired by the history and culture of ancient China.
The design is based on the Chinese philosophical system of harmonizing people and environment. 
It boasts some very distinctive Chinese-Thai architecture and landscaping, where you'll learn the epic story of Sam Kok on the wooden patio and delicately painted veranda displays.
The park is home to a number of replicas of historical landmarks and buildings, as well as cultural performances, such as traditional Chinese dance and music.
Location: Huai Pong Bang Lamung Chon Buri 15120.
Opening hours: Open everyday 8.30am – 5.30pm.
Pricing: 150 Baht for adult, 50 Baht for children.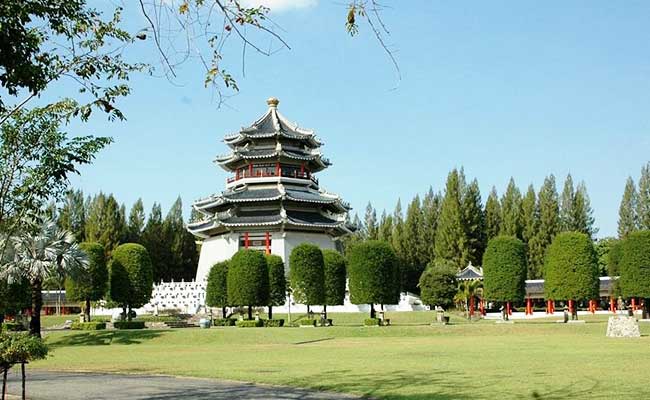 10. Pattaya Floating Market
Pattaya Floating Market is a riverside attraction set amidst a beautiful ancient Thai riverside community.
Here you will see Thai style houses built with different regional architectures, all constructed within the waterways, and sellers offering food, crafts, and other souvenirs. 
Wooden bridges allow you to walk from shop to shop, but if you don't feel like walking you can try the boat service and experience waterway life. 
Come hungry. Food sellers are everywhere and they don't break the bank.
There's also a wood carving museum, traditional Thai dancing, and a sea boxing show to watch.
Location: 451 304 หมู่ที่ 12 Sukhumvit Road, Muang Pattaya, Bang Lamung District, Chon Buri 20150
Opening hours: Open everyday 9am – 6pm.
Pricing: 200 Baht.
Things to Do in Pattaya  – Summary
It's no secret that Pattaya has a sordid side, but don't let this put you off a place that has plenty more to offer than a financial fumble.
Pattaya is full of welcoming locals and has a ton of stuff to do outside of the main strip. 
People tend to forget that Pattaya is home to families that have lived there for generations. These are everyday working people, whose kids go to school there. Only a minority works in the sex industry; keep that in mind.
Hopefully this list has given you a good variety of activities to choose from, both indoors and out. There's always the beach, too.
Furthermore, as is the case all over Thailand, there are always markets and malls to explore, and plenty of sights to see free.
——
Got a question about Pattaya, or a positive story to share? Please leave it below in the comments section.