It's always a difficult question to answer because a holiday in Thailand can be as cheap or expensive as you like.
I suppose this can be said for most countries, but Thailand is different. It really is an all-budget country.
To give you an idea of what I mean, some Thais live on $6 a day while others spend hundreds. And the same applies to tourists, too.
You can stay in a hostel or guesthouse, a beach bungalow or in a luxury resort.
You can save on food by eating at local street stalls, or you can eat in high-end restaurants.
You can take private cars or public taxis.
You can take an 8-hour overnight bus journey or arrive in a few hours by plane.
You can shop in malls at brand-name shops or in street markets.
I've read a bunch of posts online and seen numerous YouTube videos about how cheap Thailand is and that you can exist on $5 a day, etc. But ask yourself: does that sound like a good holiday?
Sure, if you're living here you can get by on 500 Baht a day or less, some days. But you're on holiday to let your hair down a bit.
You don't want to be stressing out over spending 40 Baht on a Pad Thai, thinking you could have got it cheaper 10 minutes down the road, or denying yourself another beer because you don't want to go over your allocated budget.
It's a holiday, not a reality show for "living like a student". You don't want to spend your whole holiday comparing prices.
So rather than looking at the cheapest existence possible, let's look at some reasonable numbers that will allow you to stay in hygienic accommodation, eat well, and enjoy some nightlife and a few excursions.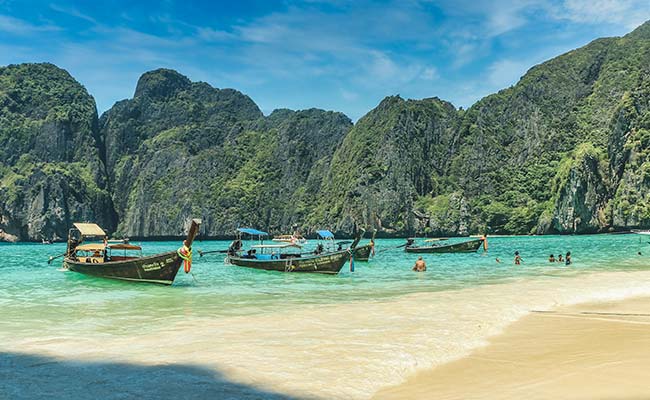 Backpacking Budget
If you're traveling around Thailand and staying in different locations – in guesthouses and beach bungalows – budget for about $60 per day.
I've read figures of $30-40 online and, while you might spend that on some days, I think $60 per day will be much nearer the mark overall.
You can go cheaper, but that will mean accommodation with a fan (no air con) and shared bathrooms.
This $60 will include your accommodation, food, drink, bits of shopping and the occasional trip.
Remember that staying on islands like Phuket and Samui are more expensive than staying up country in Chiang Mai, Pai, or anywhere in the Northeast (Isaan), so costs will vary by location.
Let's look at the total cost for 30-days, since most people are allowed to enter on a 30-day exemption stamp.
Accommodation:

400-500 Baht per night.

Food:

500-800 Baht per day.

People talk about street food and how cheap it is, but I need more than a noodle soup to get my fill. Holidays make you hungry! In a tourist area a veggie burger and chips and a fruit shake is going to set you back  an easy 150 Baht.  You need three meals a day, plus you might want some ice cream to keep cool during the day and some fruit along the way for added nutrition.
Water:

100 Baht.

You should be drinking at least a couple of liters a day in this heat.
Evening Drinks:

400 Baht per day

. You will save a lot if you don't drink alcohol, but you will still need a drink of some sort.
Transport:

200 Baht per day

. You may not spend this every day, but if you don't spend on transport for a few days you may well put that budget towards a boat or trekking trip, so it will balance out.
30 Baht is approximately $1 (US).
You will be looking at about $1,800 for the 30 days. At the lower end you could get away with $1,500. Budget for $2,000, though, as there may be unforeseen travel plans or medicine you need to buy.
On top of this you will need to pay for your flights and travel insurance. And remember that if you want to extend your stay in the country that will cost you 1,900 Baht at an immigration office (30-day extension).
Holiday Maker Budget (mid-priced)
If you're not a backpacker and like a little added luxury, your costs will be higher. Let's look at a plan to stay in Bangkok for a few nights and then go off to visit a couple of islands.
Based on 3 or 4-star hotels, I would say you should budget for about $100-130 per day, somewhere in the region of $3,000 for 30 days.
The thing about a holiday is that you will have a handful of days where you do little else but sip coconut juice by the pool. But the saved budget from that day will no doubt be spent on a splurge at a nice restaurant or drinks on a rooftop bar on another.
Accommodation:

1,500-3,000 Baht per night.

Deals depend on the time of year.
Food:

1,000 Baht per day.

Nightlife/Drinks:

1,000-2,000 Baht per day.

Shopping:

500-2,000 Baht per day.

This really does vary. On a night market trip you might spend 2,000 Baht and on another day you might but a t-shirt for 100 Baht and nothing more.
Transport:

400-500 Baht per day
No doubt people will say this is expensive and you can do it for less. And it's true, but this is realistic for the average medium-spend holiday. There are tips to reduce costs, which I will discuss later down the page.
As a person who likes their creature comforts, you're more likely to get dressed up of an evening for a meal at an air conditioned restaurant, and want a few cocktails to wash it down. You are more likely to shop at a mall, and take a private car instead of a bus.
If your idea of a good holiday is 5-star hotels, private beaches, private cars, and first-class travel then the sky is the limit in Thailand and no doubt you don't really need to budget.
7 Tips for Saving Money on Holiday in Thailand
Within every reasonable budget there is room to save a little extra. Here's 7 ways you can keep more of your moolah in your pocket while in the Land of Smiles.
1. Take Cheaper Transport
You can save a lot of money by taking trains instead of planes and buses instead of taxis. But consider that time is money, so what you'll save in cash taking a 12-hour bus trip you will lose in time on your holiday.
If you're staying in the same place for a while you might consider hiring a moped. This will save money on local taxis and tuk tuks.
You can take minivans and trains instead of planes, which are usually quicker than overnight buses too.
That said, I personally think it's worth spending the extra on better transport. For one, it's safer: there are more minivan accidents than plane crashes, and there are more moped accidents than taxi crashes.
And two, the faster, more comfortable the journey, the less tired you'll be when you get to your destination.
2. Stay off the Tourist Trail (or at least be aware you're on it)
Tourist hubs are of course more expensive. Food, accommodation, transport, it all costs more. For a cheaper holiday you might choose places a little more off the beaten track.
This is easily said, but in reality, whether backpacker of on a family holiday, you will want to be somewhere with good amenities and transport links. You won't want to be in bed by 9pm with no convenience store for a late night snack.
You want to be near a lovely beach, and have a selection of restaurants and bars. You probably want to meet other holiday-makers/travelers and not be stuck in a rural Thai village with little kids pointing at you like an alien.
I'm not saying you have to go to tourist strips like Patong, Pattaya, or Chaweng, but don't isolate yourself in Nakhon Nowhere and miss out on the sights, sand, and sea.
What I am saying is that tourist traps are exactly that: they are designed to make you spend money. Sometimes it is worth traveling 5 minutes down the road to a local buffet instead of shelling out hundreds of Baht at that fancy Japanese joint.
3. Lay off the Booze
Alcohol is easily the biggest money eater on holiday. What starts out as one or two can easily become five or six as the sea breeze lures you in.
Go easy on the booze. You're less likely to get ill on holiday and you'll feel better for it during the day. Sure, the fishbowls and buckets are cheap, but they also make you feel like crap.
4. Eat Like a Thai
Western restaurants are more expensive than Thai restaurants, largely because international cuisine requires the sourcing of products from overseas, and of course because they cater for a Western customer base with more loot in their pockets.
If your stomach gets along with Thai food then you can eat at street stalls and Thai restaurants instead and save a pretty packet.
Many Thai restaurants have versions of Western dishes anyway. It might not be quite the taste you're used to but it will save you money.
5. Beware of Tuk Tuk and Taxi Prices
Tuk Tuks are a motorized version of the pulled or cycle rickshaw. You'll find them all over Thailand, particularly in tourist areas. They are notorious for overcharging, so beware.
Ask your hotel or a local expat what you should be paying for a journey before you start using them.
Also note that when in Bangkok you should always take metered taxis. Generally speaking, unless it is a very long journey, don't take the offer of a fixed priced taxi.
If the driver doesn't do it automatically, ask him/her to switch on the meter. It is illegal not to, but drivers like to charge a fixed fare to gain a price advantage.
Sometimes it is unavoidable, particularly during rush hour where no taxi wants to take you because he/she doesn't want to get stuck in traffic for an hour and lose the chance of shorter, more lucrative fares.
6. Book Tours When You Arrive
Tours are usually cheaper when booked at a local travel agents rather than online from your home country. This is mainly because you will be booking in a foreign currency and getting a bad exchange rate.
It's always worth comparing prices online with local agents when you arrive, but generally speaking you can usually negotiate a lower price with an agent if you've been offered a cheaper price elsewhere.
Tours cost anywhere from 450-3,000 Baht. It depends on the type of tour, be that island hopping tour, trekking, or zip-lining.
A couple of tours per location will most likely be enough. Don't go nuts wanting to see everything via a tour. Consider that many places can be seen without a tour and are more fun and relaxed when following your own itinerary.
7. Haggle at the Markets (politely)
You can pretty much always wrangle a discount at a market in a tourist area. Whether it's a handbag, a t-shirt, or some jewelry, don't pay the first or second price you're offered. Negotiate for a third price and be happy with that.
Let's say a bag is 1,500 Baht, you can probably get it for somewhere between 900-1,200 Baht.
Don't be too stingy though. If something is 100 Baht, ask yourself if you really want to reduce the seller's 30 Baht profit. And be polite. Sellers will get annoyed if you come across as too serious with your negotiation. Try to be a little charming and playful. It goes a long way.
———
Planning a trip to Thailand on a budget? Ask me a question about your holiday plans in the comments section below.