The practice of polygamy, or having multiple wives, in Thailand has a rich historical heritage that dates back centuries.
While you would be hard pushed to find a man in Thailand with multiple wives today,  the practice of having a second partner, a "Mia Noi" (เมียน้อย), meaning "minor wife" or "second wife", still exists, particularly among wealthy men who can afford to support a second wife.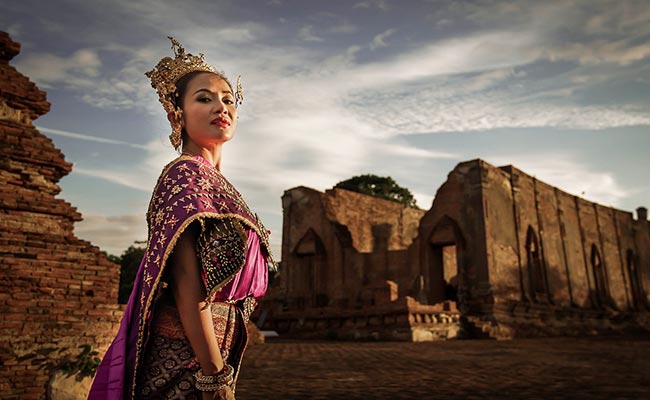 A Mia Noi is a woman who is involved in a consensual, extramarital relationship with a man who is already married. In contrast, a "Mia Luang" refers to the principal or first wife in a polygamous marriage
Here's a brief explanation of these two terms:
Mia Luang (เมียหลวง)

The term "Mia Luang" translates to "main wife" or "first wife" in Thai.
In traditional polygamous relationships, the Mia Luang holds a higher status and may have been the first wife married to the husband.
The Mia Luang is often seen as the wife with whom the husband has the most formal or recognized union.
In terms of social status and legal rights, the Mia Luang typically has a stronger position compared to the Mia Noi.

Mia Noi (เมียน้อย)

"Mia Noi" translates to "minor wife" or "second wife" in Thai.
The Mia Noi is a secondary wife in a polygamous relationship, and her status is lower than that of the Mia Luang.
Mia Noi relationships may vary in terms of formality and legality. Some may involve long-term commitments, while others may be more casual.
While the Mia Noi may not have the same social status or legal rights as the Mia Luang, her role can vary depending on the specific circumstances and agreements within the relationship.
In a true Mia Noi setup, the primary wife would be aware of the second wife but choose to view the minor wife as precisely that: second in line, simply fulfilling a role in providing additional physical interaction for the husband, and attending to duties considered beneath the Mia Luang.
Mia Noi relationships do often result in children, and the husband may end up dividing his time between two families. However, the Mia Luang will always take precedence in terms of importance.
Today, the term Mia Noi is used more loosely. It is often applied to an affair-type situation where the wife is unaware of her husband's extramarital activity.
Historical Context
In ancient Thai society, polygamy was notably prevalent among the nobility and the ruling class. This practice was deeply ingrained in the culture and had several underlying reasons and implications, as explored below:
1. Political Alliances
One of the primary reasons for polygamy among the Thai nobility was to establish and strengthen political alliances. Kings and aristocrats would marry women from different influential families or regions to solidify their political power. These unions were often strategic and aimed at securing the loyalty and support of various factions within the kingdom.
For example, a Thai king might marry a princess from a neighboring kingdom to foster peace and cooperation between the two realms. This marriage could serve as a symbol of unity and a means to prevent conflicts.
2. Strengthening Lineage
Another significant aspect of polygamy was its role in securing and perpetuating royal or noble lineages. By having multiple wives, rulers ensured the continuity of their dynasty and increased the likelihood of producing heirs who could inherit the throne or titles.
For example, a king with several wives might have multiple sons, thereby reducing the risk of a succession crisis in the event that one heir faced health issues or other challenges.
3. Social Status and Prestige
Polygamy was often associated with prestige and social status. The more wives a nobleman had, the higher his social standing within the aristocracy. It was a symbol of wealth and influence, reflecting a man's ability to provide for and maintain multiple households.
For example, a wealthy aristocrat might have multiple wives, each residing in a luxurious palace or residence, showcasing his affluence and opulence.
4. Consolidating Power
In addition to political alliances, polygamy could also serve as a means to consolidate power within a kingdom. By marrying women from various influential families, a king could extend his influence and control over different regions or factions.
For example, a king might marry the daughters of powerful provincial lords, thereby gaining greater authority and control over those regions and ensuring their allegiance to the central monarchy.
While polygamy had deep historical roots and served various purposes in ancient Thai society, it's important to note that its prevalence has significantly declined in modern times. Legal and societal changes have led to a shift away from polygamous relationships, and monogamy is now the prevailing marital norm in Thailand. However, the historical legacy of polygamy still influences certain aspects of Thai culture and history.
Reasons for Mia Noi Relationships
Mia Noi relationships can develop for various reasons:
1. Social Status
In some cases, men engage in Mia Noi relationships to enhance their social status or reputation within their community or social circle. Having multiple Mia Noi can be seen as a sign of affluence and influence, especially in traditional or rural settings where polygamous relationships were historically more accepted.
The ability to financially support and maintain multiple households can elevate a man's standing, demonstrating his capacity to provide for others. A man with several Mia Noi might be perceived as more successful or powerful within his social or cultural context.
2. Financial Support:
Financial support is a significant aspect of Mia Noi relationships. In many cases, the Mia Noi is financially dependent on the man, which can result in an improved quality of life for her. The man may provide for the Mia Noi's living expenses, housing, education, and other needs, contributing to her overall well-being.
Financial support can create a sense of security and stability for the Mia Noi and her children, if she has any. In some instances, the financial support provided by the man in a Mia Noi relationship may go beyond meeting basic needs and extend to a more luxurious lifestyle.
3. Companionship and Emotional Fulfillment:
Men involved in Mia Noi relationships may seek companionship, emotional support, or intimacy outside of their primary marriage for various reasons.
A Mia Noi can provide a man with a companion and someone to share his life experiences, interests, and activities. This can help combat loneliness or provide an alternative to a strained primary relationship.
Emotional bonds formed with a Mia Noi can offer a source of comfort, understanding, and emotional fulfillment. Some men may find it easier to confide in or connect with their Mia Noi.
Mia Noi relationships can also provide an outlet for physical intimacy and affection that may be lacking in the primary marriage. This can contribute to the man's overall emotional satisfaction.
Each Mia Noi relationship may serve different emotional needs, and the dynamics can vary widely based on individual preferences and circumstances.
Having Multiple Mia Nois
The practice of having multiple Mia Noi relationships was more common in the past and in certain rural or traditional communities. In these situations, each Mia Noi would hold a distinct place in the man's life, and the dynamics of these relationships would vary widely.
While some informal or unofficial polygamous relationships may still exist, they are less common, and societal attitudes have shifted away from such practices in favor of monogamous unions.
Legality and Social Acceptance
Polygamy is prohibited under Thai law. The Thai Civil and Commercial Code explicitly states that "a man or a woman cannot marry each other while one of them has a spouse".
Despite this, a second partner, treated as a minor wife, is still referred to as a Mia Noi. Moreover, marriage law isn't always vigorously enforced, which can result in a person marrying more than once. In such circumstances a Mia Noi relationship can lead to legal and financial complications, particularly in cases of inheritance, property ownership, and child custody.
The level of social acceptance of Mia Noi relationships varies depending on the individuals involved. Some sectors of society may view this outcome as an inevitable situation for some men, particularly in the middle and upper classes.
However, gender roles continue to evolve in Thai society; women are gaining more independence and economic autonomy. This has led to a shift in power dynamics within relationships, reducing the prevalence of Mia Noi relationships. This is reflected in the fact that the younger generation is less accepting of this practice.
Mia Noi relationships have often been portrayed in Thai movies, television dramas and literature. These portrayals can range from romanticizing the practice to critiquing its impact on individuals and families. Indeed, modern Thai TV dramas often depict the profound emotional impact of Mia Noi relationships, including jealousy, insecurity and family conflicts.
Can I Have a Mia Noi?
Discussing the idea of having a Mia Noi (a secondary or minor wife) with your Thai wife can be a complex and sensitive matter. The reaction of your Thai wife will depend on various factors, including her individual beliefs, values, and the dynamics of your relationship.
Most Thai women will feel uncomfortable or outrightly disapprove of the idea of their husband having a Mia Noi. They will likely view it as a breach of trust, a threat to the relationship, or as culturally outdated.
In very rare cases, a Thai wife may be understanding and accepting of her husband having a Mia Noi, particularly if there are compelling reasons like a huge age gap (older woman), or an inability to meet her husband's physical or emotional needs. However, this is not the typical response.
Introducing the idea of a Mia Noi may put significant strain on your relationship. It may lead to misunderstandings, conflicts, and emotional distress for both you and your wife. Moreover, Thai women are known to become quite volatile when jealous, so I'd certainly hesitate before considering raising this subject.
The Difference Between a Mia Noi and a Gik (กิ๊ก)
In Thailand, the term "Gik" (กิ๊ก) is slang for a casual or non-committed romantic partner or lover. It is often used to refer to someone with whom one is involved romantically but not necessarily in a serious or committed relationship.
The concept of a Gik is distinct from a committed partner or spouse and may be associated with infidelity or extramarital affairs in some cases. The term is colloquial and informal, and its usage may vary among individuals. Indeed, the term "Gik" may even be used when a man or a woman has a close friend of the opposite sex whom people assume he/she harbors romantic feelings for.
The nature of a Gik relationship can vary widely, but it typically implies a level of secrecy or discretion, as Gik relationships may be kept hidden from one's main partner or spouse.
The key differences between a Gik and a Mia Noi are as follows:
A man or a woman can have a Gik.
The term Mia Noi is used when a man is married.
A Mia Noi is treated as a second (minor) wife, as opposed to someone a man is simply "fooling around with".
In Summary
The concept of Mia Noi and polygamous relationships in Thailand has deep historical roots and continues to exist in certain pockets of Thai society. However, it has evolved and largely diminished in its traditional form.
As Thailand continues to modernize and redefine its cultural norms, the traditional practice of having a Mia Noi has evolved into one more aligned with the traditional extramarital affair, rather than an accepted or agreed-upon third party in a marriage.