The Mae Hong Son Loop is a popular tourist route located in northern Thailand.
It is a 600-kilometer (372-mile) loop that starts and ends in the city of Chiang Mai, passing through the provinces of Chiang Mai, Pai, and Mae Hong Son,
The route takes you through breath-taking landscapes, lush mountains, deep valleys and remote hill tribe villages.
The Mae Hong Son Loop is renowned for its numerous twists and turns, making it a favourite among motorcycle enthusiasts. The road winds through national parks such as Doi Inthanon, and offers opportunities for outdoor activities like hiking, rafting and birdwatching along the way.
Along the route, you'll come across charming towns and villages such as Mae Sariang, Khun Yuam and Baan Rak Thai. These places offer a chance to explore local markets, sample delicious Northern Thai cuisine and visit temples and historical sites.
The loop typically takes around four to seven days to complete, depending on the pace and number of stops you choose to make along the way. It's advisable to have some riding experience and to be cautious while navigating the mountainous terrain.
Best Time to Do The Mae Hong Son Loop
The best time to embark on the Mae Hong Son Loop is during the cool and dry season, which generally spans from November to February. This period offers comfortable temperatures and minimal rainfall, creating ideal conditions for exploring the region.
During these months, you can expect pleasant daytime temperatures ranging from 20 to 30 degrees Celsius (68 to 86 degrees Fahrenheit), with cooler temperatures in the evenings and early mornings, especially in higher elevations. The skies are usually clear, allowing for spectacular views of the surrounding mountains and landscapes.
In contrast, the hot season, which occurs from March to May, can bring scorching temperatures and dry conditions. Daytime temperatures can soar above 35 degrees Celsius (95 degrees Fahrenheit), making it less enjoyable for outdoor activities. I did a section of the loop in hot season once and it was pretty brutal in places. You really need to cover up.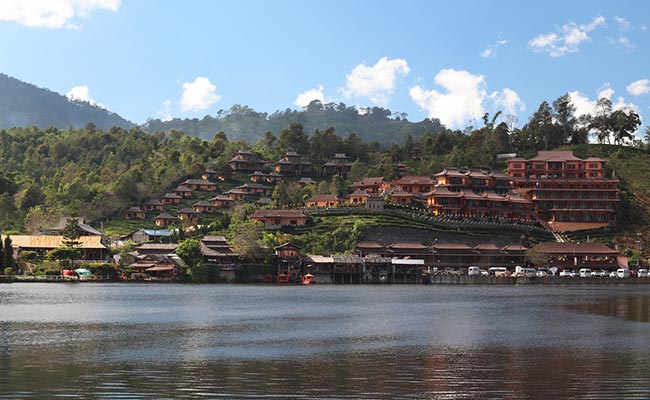 The rainy season in northern Thailand typically lasts from June to October, with the peak rainfall occurring between July and September.
While the countryside becomes lush and green during this time, the roads can be more challenging to navigate due to increased rainfall, potential landslides and occasional flooding. I wouldn't recommend it during this time, as you don't want to have an accident, or get caught in flooding and have to stop.
To make the most of your Mae Hong Son Loop experience, plan your trip during the cool and dry season (November to February) when the weather is more favourable and the landscapes are at their best. However, it's always a good idea to check the weather forecast and road conditions before embarking on your journey.
Trip Preparation
Most people just sling on a backpack with some snacks, a few clothes and some money and head off, but I'd prepare a little better than that.
Here are some things you should consider:
1. Research and Planning
Familiarize yourself with the route, attractions and accommodations along the loop. Have a rough idea of where you will make stops and where you will eat and sleep. Decide on the number of days you'd like to spend and create an itinerary that suits your interests and preferences (see my suggested itinerary later down the page).
2. License & Insurance
Ensure you have a valid driver's license, preferably an international driving permit (IDP), which is widely recognized in Thailand. Check if your travel insurance covers motorcycle riding, and if not, consider obtaining additional coverage.
3. Renting a Motorcycle
If you don't have your own motorcycle, you can rent one in Chiang Mai. Choose a reliable rental agency that offers well-maintained bikes, preferably with insurance coverage. Make sure the bike is appropriate for the terrain and long-distance travel.
4. Gear and Equipment
Wear appropriate protective gear, including a helmet, jacket, gloves and sturdy shoes. Carry a raincoat or waterproof jacket, as weather conditions can be unpredictable at certain times of the year.
Bring a hat, too, to keep the sun off your head when you are off the bike and walking around. Bring a GPS or smartphone with a reliable navigation app to assist with directions. Bring a backup charger for your phone.
5. Pack Essentials
Pack lightly but ensure you have essentials such as a first aid kit, sunscreen, insect repellent, sunglasses, a water bottle and snacks for the journey.
6. Cash and ATMs
Carry enough cash for fuel, meals and any unforeseen expenses. While ATMs are available in larger towns, smaller villages along the route may have limited or no ATM access.
7. Accommodation
Book accommodations in advance, especially during the high season, to secure your preferred places to stay. Options range from guesthouses and resorts to homestays, depending on your preferences and budget.
8. Weather and Hazards
Check the weather forecast before setting off, especially during the rainy season. Additionally, monitor road conditions and any travel advisories to ensure there are no road closures or unsafe conditions.
9. Health and Safety
Carry a basic medical kit with essential medications like TCP, plasters, a couple of bandages, and pain killers. Follow road safety guidelines, ride responsibly and be aware of local traffic rules. Do not drink and ride. Some areas of the loop require serious concentration (see the next section).
10. Communication and Emergency Contacts
Carry a mobile phone with a local SIM card for communication and emergency purposes. Save important contact numbers, including local emergency services, your embassy or consulate and the contact information of your accommodation.
Road Conditions
The roads on the Mae Hong Son Loop offer a mix of experiences, from smooth stretches to winding mountainous sections. Here are some key considerations for your ride on the Mae Hong Son Loop.
1. Highway 108
The main highway connecting Chiang Mai and Mae Hong Son is well-maintained and generally in good condition. It consists of paved roads that are wide and suitable for larger vehicles. This section is relatively easy to navigate and offers scenic views of the countryside.
2. Mountainous and Winding Roads
Once you venture into the mountainous regions, particularly in the Mae Hong Son province, the roads become narrower, curvier and steeper.
The mountainous sections of the route are known for their numerous twists and turns. Some rural roads may have potholes or uneven surfaces, particularly in less populated areas. It's advisable to exercise caution and adjust your speed accordingly.
3. Altitude Changes
The Mae Hong Son Loop involves significant changes in altitude as you traverse through mountainous regions. This means you may encounter steep inclines and descents, which can require careful manoeuvring, particularly if you are riding a motorcycle or driving a larger vehicle.
4. Traffic
The traffic on the Mae Hong Son Loop is generally moderate, but it can be heavier in certain areas such as near towns and popular tourist attractions. Exercise caution while navigating through traffic and be mindful of other vehicles, pedestrians and wildlife on the road.
5. Roadside Facilities
Along the route, you'll find various roadside facilities, including gas stations, rest areas and small shops where you can refuel, take breaks and grab refreshments. However, in more remote areas, these facilities may be less frequent, so it's advisable to plan accordingly and fill up on fuel when available.
While the roads on the Mae Hong Son Loop can be challenging in some sections, they also offer a memorable and rewarding journey through the picturesque landscapes of northern Thailand. It's important to ride or drive with caution, adhere to traffic rules, and be prepared for the varying road conditions.
7-Day Mae Hong Son Loop Itinerary
Here is my suggested 7-day itinerary for the Mae Hong Son Loop. You can adapt this schedule to your preferences, but hopefully it acts as a helpful stating point.
Day 1: Chiang Mai to Pai (147 km)
Depart from Chiang Mai in the morning and head towards Pai.
Enjoy a scenic ride through the mountains and make stops at viewpoints along the way.
Visit the Pai Canyon and explore the laid-back town of Pai.
Overnight in Pai.
Day 2: Pai to Mae Hong Son (107 km)
Depart from Pai and continue towards Mae Hong Son.
Stop at the Tham Lod Cave and explore its impressive limestone formations.
Visit the Fish Cave and witness the unique spectacle of fish swimming in the cave's waters.
Arrive in Mae Hong Son and visit the Wat Phra That Doi Kong Mu for panoramic views.
Overnight in Mae Hong Son.
+ See here for 10 things to do in Pai
Day 3: Mae Hong Son Exploration
Spend the day exploring Mae Hong Son.
Visit the Wat Jong Kham and Wat Jong Klang, two beautiful temples located by the lake.
Explore the local markets and sample traditional Northern Thai cuisine.
Take a boat ride on the Pai River and visit the nearby Karen Long Neck Hill Tribe village.
Overnight in Mae Hong Son.
Day 4: Mae Hong Son to Mae Sariang (162 km)
Depart from Mae Hong Son and continue to Mae Sariang.
Visit the Ban Rak Thai village, a settlement of descendants of Chinese soldiers, and enjoy a cup of tea.
Enjoy the scenic drive through mountains and valleys.
Explore Mae Sariang's temples and relax by the riverside.
Overnight in Mae Sariang.
Day 5: Mae Sariang to Doi Inthanon National Park
Mae Sariang to Chiang Mai is 196 km, so you can break it up with a stop in the Doi Inthanon area.
Depart from Mae Sariang and head towards Doi Inthanon National Park.
Stop by the Mae Ya Waterfall, one of the most picturesque waterfalls in the region.
Reach Doi Inthanon, the highest mountain in Thailand, and visit the Royal Twin Pagodas.
Enjoy the cool climate and stunning views from the mountain.
Overnight in Doi Inthanon area.
Day 6: Doi Inthanon National Park to Chiang Mai
Explore more of Doi Inthanon National Park, visiting the Wachirathan Waterfall and other scenic spots.
Descend from the mountains and make your way back to Chiang Mai.
Take a detour to visit the Doi Suthep Temple and enjoy panoramic views of Chiang Mai.
Return to Chiang Mai and explore the city's markets and vibrant nightlife.
Overnight in Chiang Mai.
Day 7: Chiang Mai City Exploration
Spend the day exploring Chiang Mai.
Visit the historic temples in the old city, such as Wat Phra Singh and Wat Chedi Luang.
Explore the lively Nimmanhaemin area, known for its trendy shops and cafes.
Take part in a traditional Thai cooking class or visit the local art and handicraft markets.
Overnight in Chiang Mai.
Note: This itinerary can be adjusted based on your preferences and the amount of time you want to spend in each location.
In Summary
The Mae Hong Son Loop is a popular adventure because it offers an escape into "real Thailand", away from the touristy areas. It's a chance to experience some remote parts of rural Thailand.
The trip gives you a real sense of freedom; out on the open road, away from mainstream society. Quite often you'll go a while on the loop without seeing anyone. It is just you, surrounded by rainforest. It is quite liberating.
Natural beauty, charming towns, diverse communities; there is so much to see, yet effortlessly so. But do be careful. It is easy to get carried away and feel untouchable on the bike as you traverse the windy roads. Sharp corners, fast down hills, potholes and wet surfaces can creep up on you when your mind is wandering, so go slow.
Enjoy it, but take care out there.
Tips to Start Planning Your Trip:
Book Your Accommodation
Book your accommodation for the Mae Hong Son loop at a discounted rate on Agoda
Don't Forget Travel Insurance
You will need insurance that covers a road trip on a motorbike. I use SafetyWing.
Learn Some Thai
If you plan on sticking around in Thailand for a while, learning Thai is a huge benefit. Get a free account with Thaipod101 here.