The majority of visitors to Thailand fall into the tourist category and require standard travel insurance.
But there are also many thousands whose relationship to Thailand is more complicated, and because of this they need tailored travel and medical insurance.
Throw in the added requirement for insurance to cover COVID-19 and finding cover that suits your situation can be difficult.
Some spend 3-6 months in Thailand and then go home for a while, and in between that hop back and forward from other countries in Asia.
Some work offshore for a few months at a time and then come back to Thailand to join their partner for a while.
Others work all over the world and Thailand just happens to be one of their workplaces.
Some take spontaneous trips to Thailand as and when they can, and others are digital nomads who work from anywhere they fancy at any given time.
Safetywing provides insurance solutions for all these groups and those in between, and importantly cover for COVID-19.
In this FAQ style review, I'll cover exactly what Safetywing provide, key policy inclusions, add ons, pricing and more.
What Is Safetywing?
SafetyWing is an insurance company that specializes in travel and medical insurance for nomads who travel and work in different countries.
The company started out with a travel and medical insurance package called Nomad Insurance, and has now launched a a global comprehensive health insurance plan called Remote Health, which can be used by individuals or companies seeking cover for multiple employees.
What's the Difference – Nomad Vs Remote Health?
Nomad Insurance:
This is a travel-medical insurance. It is built with Digital Nomads who have health insurance coverage in their home country but need coverage abroad while traveling.
All the usual health and liability is covered, including COVID-19, as well as trip cancellation and baggage.
You can travel wherever you want and still be covered.
Remote Health:
This is a comprehensive health insurance for traveling nomads and remote workers, and also for people who still stay in one spot as expats or are in their home country.
The cover is far more extensive than the Nomad policy. You can get fully covered in your home country and any other country for cancer, pre-existing conditions and COVID-19.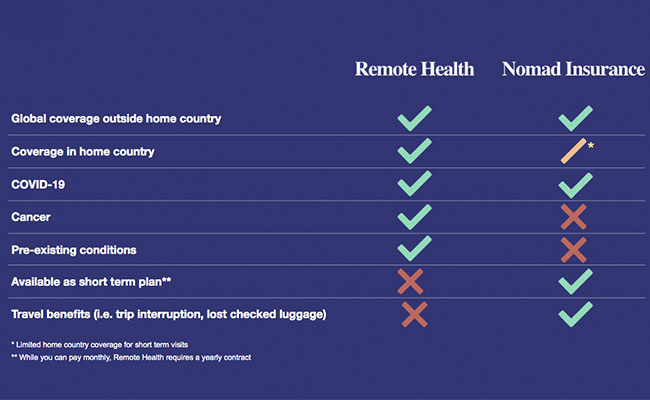 Who Needs Safetywing Insurance?
Straightforward travel insurance and global health insurance is easy to come by but often has restrictions on the amount of time you can be traveling for, the countries you can claim in and the amount of cover you are allowed in a specific country.
Typical Safetywing customer groups would be:
A digital nomad who travels in different countries while working from their laptop and wants comprehensive travel or travel+medical insurance.
Part time nomads or expats who would like one plan to cover

them whether they are at home or abroad

Part time nomads or expats who prefer the efficiency of private health care when they are home
A company who has remote teams with members in multiple countries
Does Safetywing Provide COVID-19 Insurance?
Yes. Both the Nomad and Remote plans cover COVID-19, and all pandemics.
Testing for COVID-19 will only be covered if deemed medically necessary by a physician. The antibody test is not covered, as it is not medically necessary.
It's one of the few insurance plans available that covers pandemics.
COVID-19 Isolation:
Covers treatment in an isolation ward if this is deemed necessary by your medical practitioner.
COVID-19 Hospital Cash Benefit:
Even if coronavirus is already covered for you, you may be eligible for a cash pay out.
If you stay in a free-of-charge hospital (example: a public hospital in your home country), you are eligible for a cash pay out of up to $125 per night, for up to 30 nights.
COVID-19 Claims
Extra fast turnaround times for treatment pre-authorizations and claims for members diagnosed with COVID-19.
Key Policy Benefits:
Coverage up to 1million USD per year.
Worldwide coverage: 175 + country full coverage and emergency coverage for planned trips in every country in the world.
See the details here.
You can choose between different add-ons and tailor your coverage plan.
Visit any public or private hospital in the world.
Emergency treatment pre-authorization will happen in less than two hours.
Regular claim reimbursements take a maximum of 7 days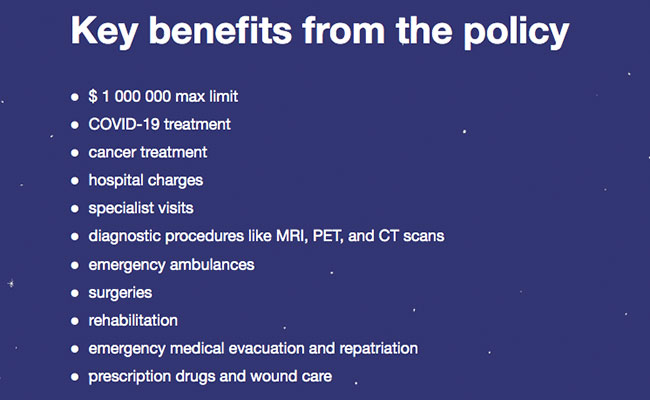 Fully Comprehensive Coverage Includes:
hospital charges, medical practitioner and specialists fees
cancer treatment
COVID-19 treatment
day-patient and out-patient surgery
drugs and dressings
in-patient emergency dental treatment
diagnostic procedures
rehabilitation
emergency ambulances
evacuation and repatriation
newborn coverage.
Add-Ons (customize your coverage)
Out-patient and prescriptions
Dental
$0 deductible & 0% co-pay
Screenings & vaccines
USA, HK and SG coverage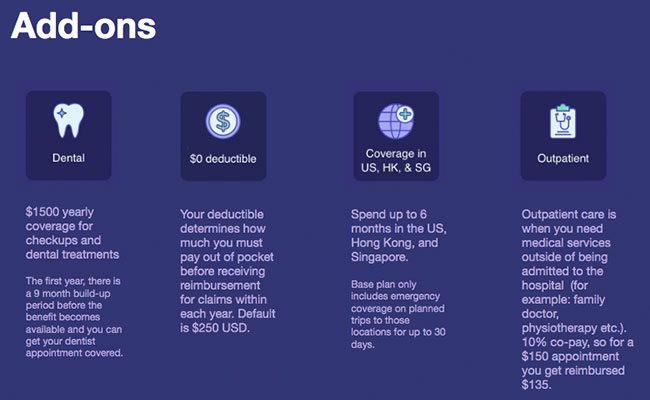 Nomad Insurance Pricing
A base policy starts at $40 for 4 weeks.
Your insurance will automatically charge a recurring payment every 28 days until you cancel or until 364 days have passed, when they will request that you renew your policy.
If you add the US to your plan, the price rises to $68 for 4 weeks.
Remote Insurance Pricing
The base plan starts out at $153, which is the estimated monthly fee per member of age 18-39. Of course this will rise with age and any pre-existing conditions and add-ons. Expect to pay closer to $250.
In Summary
People who are location independent, full or part time, fall between the cracks of many travel and medical insurance policy offerings and, in this regard, Safetywing is a much needed addition to the market.
So many of us live between countries nowadays, and we often don't know how long we will be in one place at any time.
And when we are back home, time is short and taken up visiting friends and family and taking care of admin on the house or business. Waiting around for a doctor's appointment or an operation before our next trip is a frustration and time sucker.
This is something very close to home for me – because the NHS waiting lists in the UK are horrendous.
Just to see a doctor can take up to 2-3 weeks. And you can be waiting over a year for some operations. The Coronavirus crisis has made the waiting times even worse.
Having the luxury of global cover via a policy like the Remote Health option means you can access care in any country, fast.
The Nomad Insurance policy also covers you for medical attention back home but with limited coverage, which doesn't cover cancer or pre-existing conditions.
Thoughts on price
Price wise the Nomad Insurance is very good value, even compared with a monthly travel insurance policy.
The fact that COVID-19 is covered by both insurance policies is much needed in the current climate, and something other insurers have been slow, or just generally reluctant, to do.
The cover is more limited back home thank the Remote Health option, but you can travel to any of 175 countries and be covered for medical care and personal liability, plus trip interruption coverage and baggage loss.
Remote Health starts at around $153 per month, but is more likely closer to $250 once you add on your add-ons.
Having run a few tests, this is comparable to Cigna, but may be more comprehensive for some.
Always compare quotes for the best deal. Get a Cigna quote here.
Remote Health works for businesses too. You can select your number of employees and get coverage for them all, wherever they are in the world.
I didn't discuss this at length in the information above as I thought this was the least likely use case for my readers.
Safetywing is still a young company and they are eventually planning to expand into what they term a "global social safety net". This will bundle the financial security of global health insurance, disability insurance and pension savings into one global membership.
It remains to be seen how cost effective that will be, but it will certainly be an industry disruptor.