The majority of visitors to Thailand fall into the tourist category and require standard travel insurance.
But there are also many thousands whose relationship to Thailand is more complicated, and because of this they need tailored travel and medical insurance.
Throw in the added requirement for insurance to cover COVID-19 and finding cover that suits your situation can be difficult.
For example, some people spend 3-6 months in Thailand and then go home for a while, and in between that hop back and forward from other countries in Asia.
Some people work offshore for a few months at a time and then come back to Thailand to join their partner for a while.
Others work all over the world and Thailand just happens to be one of their workplaces.
Others are digital nomads, who work from anywhere they fancy at any given time.
The good news is that SafetyWing provides insurance solutions for all these groups, and those in between. I've been using their insurance cover for two years now and it works perfectly for me.
In this review, I'll cover exactly what SafetyWing provides, what the key policy inclusions are, what add ons are available, and of course the pricing.
SafetyWing Overview
SafetyWing is a travel insurance company that provides a range of insurance products designed to protect travelers while they are abroad. These products cover travel medical insurance, trip cancellation insurance, and emergency evacuation insurance, among others.
SafetyWing aims to provide travelers with the protection they need to enjoy their trips without worrying about unexpected medical expenses or other unforeseen events. The company's insurance products are available to individuals and groups, and can be purchased online
Cover is streamlined into two categories: Nomad Insurance, and Remote Health. While both categories cover individuals, Remote Health has an option for company cover for multiple people.
Nomad Vs Remote Health Insurance
Nomad Insurance:
This is essentially travel medical insurance and can be used by tourists, long-stayers, and digital nomads. It is for individuals and families, and for persons up to 69 years of age.
Two children can be covered under the policy of one adult, free of charge.
The Nomad Insurance policy provides coverage for medical expenses, trip cancellations, and other unforeseen events that may occur while you are traveling. Nomad Insurance also includes coverage for remote work-related activities, such as loss of income due to illness or injury.
The Nomad plan also covers you in your home country for short visits. See the policy details for specific information.
You can sign-up for cover before you travel or at any point in your journey. This provides great flexibility if you find yourself needing to extend your trip.
Remote Health:
SafetyWing Remote Health is comprehensive medical insurance designed for those working remotely and traveling abroad on a long-term basis. It covers persons up to 74 years of age.
The policy provides coverage for medical expenses that may be incurred while you are abroad, including hospital stays, doctor visits, and prescription medications.
In terms of medical cover the policy is far more inclusive than the standard Nomad policy. You get coverage wherever you are working, including your home country, without limitation.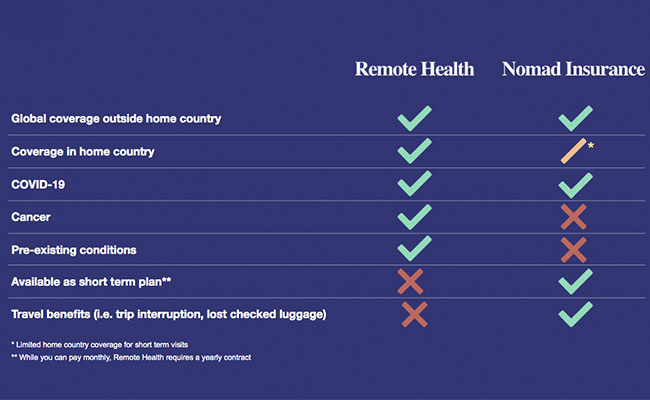 Who Is SafetyWing Insurance For?
Standard travel insurance is easy to come by but often has restrictions on the amount of time you can be traveling for, the countries you can claim in, and the amount of cover you are allowed in a specific country.
SafetyWing is insurance for the modern traveler, taking into account the fact that many people now spend their lives between countries, remote working and traveling around. But it also provides cover for everyday tourists, who are visiting one country at a time.
Typical SafetyWing customer groups are:
Everyday travelers taking a holiday pretty much anywhere in the world (175+) countries
A digital nomad who travels in different countries while working from their laptop and wants comprehensive travel or travel+medical insurance.
Part-time expats who would like one insurance plan to cover

them whether they are at home or abroad.

Part-time nomads or expats who prefer the efficiency of private health care when they are home
A company that has remote teams with members in multiple countries (see Remote Health for teams).
Does SafetyWing Cover COVID-19?
Yes. Both the Nomad and Remote plans cover COVID-19, and all pandemics.
Testing for COVID-19 will only be covered if deemed medically necessary by a physician. The antibody test is not covered, as it is not medically necessary.
COVID-19 Isolation:
Covers treatment in an isolation ward if this is deemed necessary by your medical practitioner.
COVID-19 Hospital Cash Benefit:
Even if coronavirus is already covered for you, you may be eligible for a cash pay out.
If you stay in a free-of-charge hospital (example: a public hospital in your home country), you are eligible for a cash pay out of up to $125 per night, for up to 30 nights.
COVID-19 Claims
Extra fast turnaround times for treatment pre-authorizations and claims for members diagnosed with COVID-19.
Nomad Travel Insurance Policy Coverage
The Nomad Travel Insurance policy covers many aspects of travel and health. Below is a summary of the key policy items:
Medical expenses: Coverage for medical treatment and hospitalization due to injury or illness while traveling. Max limit up to $250,000.
Emergency evacuation: Coverage for transportation to a medical facility or to return home in the event of a medical emergency. Up to $100,000, or up to $25,000 for a pre-existing illness or condition.
Emergency dental treatment: up to $1,000 for the onset of acute pain, as long as you seek treatment within 24 hours.
Physical therapy or chiropractor: up to $50 per day.
Unexpected quarantine due to Covid-19: Up to $3,000 per certificate, and $6000 lifetime limit.
Trip interruption: Coverage for expenses related to interrupting or canceling a trip due to unforeseen circumstances, such as illness or a natural disaster. Up to $5,000.
Trip delay: Coverage for expenses related to delays caused by unforeseen circumstances, such as missed connections or severe weather.
Baggage loss: Coverage for the loss, damage, or theft of luggage and personal belongings while traveling.
Accidental death and dismemberment: Coverage for accidental death up to $25,000 paid to a beneficiary.
Personal liability: Up to $25,000 for third person injury or liability.
Robbery and abduction: Lifetime up to $10,000 and $1,000 cover per personal belonging.
See the details here.
You can choose between different add-ons and tailor your coverage plan.
Visit any public or private hospital in the world.
Emergency treatment pre-authorization will happen in less than two hours.
Regular claim reimbursements take a maximum of 7 days
Remote Health Insurance Policy Coverage
The Remote Health cover is very comprehensive. It provides coverage for persons up to 74 years of age.
Here's an overview of some of the key cover:
$1,500,000 maximum cover, per policy
Private hospital room
Adult companion accommodation
Oncology: cancer tests, medication and treatment
Surgeon and Anesthesiologist Fees
Renal failure and dialysis
Intensive care
Reconstructive surgery after an Accident or Illness
Diagnostic procedures like MRI PET, CT scans
Newborn coverage and Maternity Complications
Rehabilitation
Emergency evacuation and repatriation
Prescription Drugs
Emergency dental coverage
Nurse care at home
Palliative Care
Vision
Add-Ons (customize your coverage)
SafetyWing enables you to customize your healthcare cover by bolting on add-ons that may be of specific interest. Here are some add-ons you may consider worthwhile:
$0 deductible & 0% co-pay
Health screenings
Complementary therapies
Maternity care
Outpatient psychiatric treatment
Screenings & vaccines
Dental checkups and treatment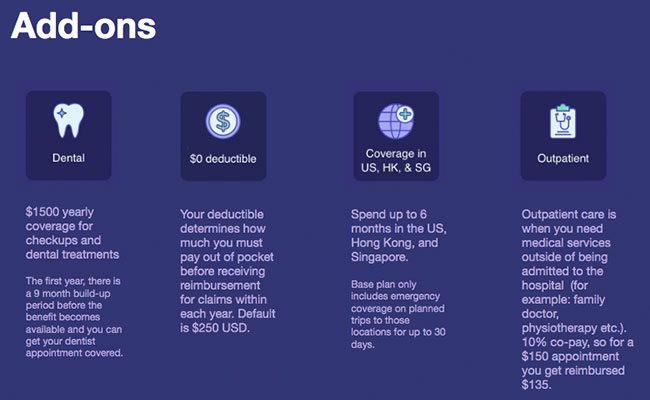 Nomad Insurance Pricing
A base policy starts at $42 for 4 weeks. However, you can adjust the length of your stay to less than 4 weeks on the quote screen.
If you toggle the include US coverage button to on, the policy price will rise to $77 for 4 weeks.
You don't have to set an end date for your policy either. If you don't set an end date you will be billed monthly.
Two children under 10 per family (1 per adult) can be included on your insurance free of charge.
There is a $250 deductible (excess) as standard, and a $250 000 max claim limit.
SafetyWing will cover up to 69 years of age.
Here's a quote I got for a 3-month trip to Thailand.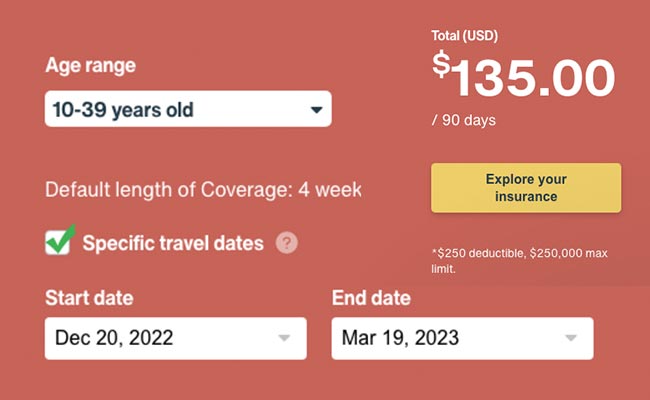 Motorbike Accident Cover
I've purposefully put this information in a separate section because it is so important. Many insurance policies do not cover motorbike riding in Thailand and other countries, but travelers automatically think they are covered.
The bad news comes after an accident, when medical bills are stacking up and the injured person has no funds to pay.
Whether you are a tourist or a digital nomad or expat, the likelihood is that you will ride, or be a passenger on a moped/motorbike at some point.
Given the number of accidents we hear about involving foreign nationals, it goes without saying that you must have cover.
The good news is that SafetyWing Nomad Insurance does cover motorbike/moped accidents. Here is the exact wording:
In case of an accident, while riding a motorbike, moped, or scooter, you are covered for your own eligible medical expenses as long as you are properly licensed for the area where you are driving and you are wearing proper safety gear such as a helmet. Driving while intoxicated and racing are excluded. Personal liability is excluded for operating any vehicle.
The bottom line is that you must have a license to ride, and that license must be accepted in the country you are traveling in.
Making a Claim with SafetyWing
So you fell over and broke your arm. Luckily you are insured, but will the company pay out, or will they find some exclusion you weren't aware of?
Let's face it, no matter how attractive the marketing and pricing of a travel insurance company, what really matters is how they perform when it comes to putting in a claim.
Thankfully, SafetyWing has a very good reputation when it comes to claims.
Here's a couple of recent review left by customers who made claims: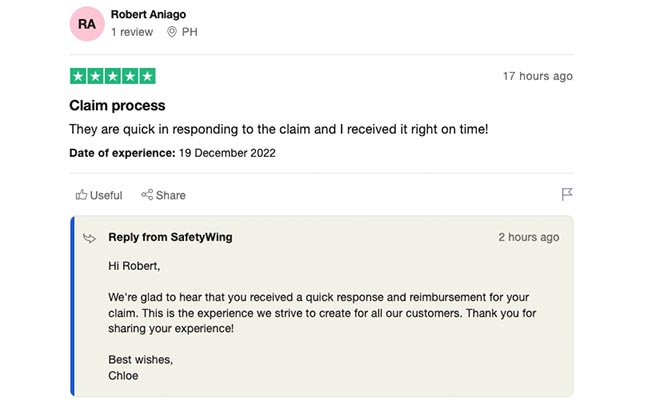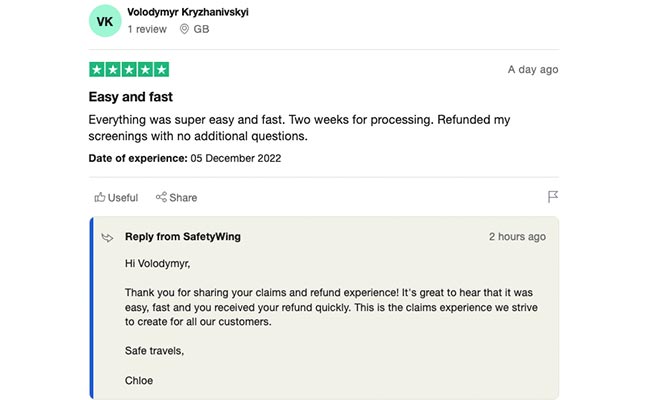 To process an insurance claim with SafetyWing, you will need to do the following:
Login to your account and start a claim. If you are filing a medical claim, make sure to attach the following:

(a) your medical report (a note from your doctor which include symptoms, diagnosis and treatment),
(b) a detailed invoice outlining what you have paid for and (c) proof of payment or receipt.

You will then have to wait up to 3 business days for email confirmation that your claim is in processing.
If approved, you will receive the reimbursement to your bank account by a wire transfer. If your claim is less than the USD $250 deductible and this is your first claim, your refund will be subtracted from your deductible and there will not be a reimbursement until your total claim amount for the certificate period (max 364 days) is more than $250.
Your claim should take less than 45 days to be processed.
Remote Health Insurance Pricing
The base plan starts out at $206, which is the estimated monthly fee per member of age 18-39. Contracts are annual even if you pay monthly.
Of course this will rise with age and any pre-existing conditions and add-ons.
At present you have to sign up to a waiting list, as the new plan is waiting to launch, but should be available in early 2023.
In the meantime, if you are looking for global health insurance I recommend getting a quote from Cigna. It takes just 2 minutes and it will give you something to compare to SafetyWing and others.
In Summary
SafetyWing is an industry disruptor.
It has simplified travel insurance by having one policy that serves multiple categories of person. The policy cover is easily adjusted, and can be taken out when traveling, unlike old-fashioned policies that must be taken out in advance.
The cover takes into account the digital age we live in and the fact that people now combine travel and work in numerous ways. It also provides cover in multiple countries and for short trips back home, which many nomads take intermittently.
It does all this while still providing comprehensive cover for the average tourist.
Pricing is very competitive, too. You've seen my quote above for $135 for 3 month's travel.
People who are location independent, full or part time, fall between the cracks of many travel and medical insurance policy offerings and, in this regard, SafetyWing is a much-needed addition to the market.
The Remote Health Medical Insurance is a separate product, but is also a game-changer for nomads and expats alike. However, like all health insurance, it's going to get more expensive the older you get.
In light of this, if you're planning on staying in Thailand as a retiree, or working here long term, local medical insurance is going to be a much cheaper option.