Known as the former capital of the Lanna Kingdom, Chiang Mai is a cultural beacon of Thailand.
Seated in the north of the country, the city boasts a quaint city rooted in history and surrounded by epic countryside.
Chiang Mai is popular among cyclists, healthy eaters, yoga fans and those who want a more chilled vibe – things tend to shut early.
So if you're staying in Bangkok and want to get away from the hustle and bustle of the metropolis, Chiang Mai is the perfect choice for a break away.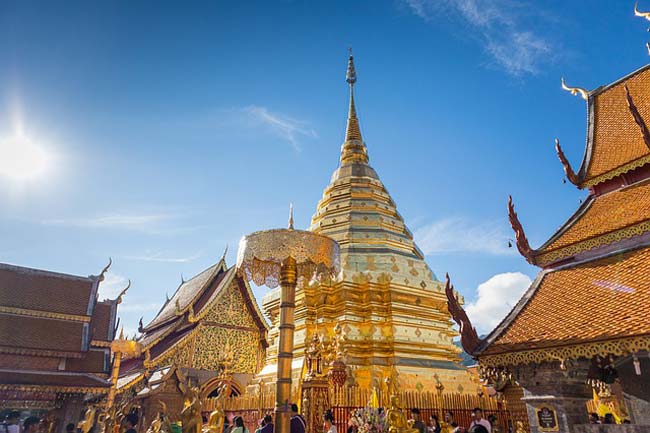 4 Ways to Get to Chiang Mai From Bangkok
Chiang Mai is located approximately 700 kilometers away from Bangkok, so you certainly won't be walking.
But because of its popularity, you can take advantage of numerous modes of travel, including plane, train, bus and private car.
1. By Plane
Without a doubt, the fastest way to reach Chiang Mai from Bangkok is by plane. 700 kilometers is a fair old plod, thus the reason many travelers choose to book a flight instead of going by train or bus.
Direct flights to Chiang Mai  operate out of the two main Bangkok airports, and arrive at Chiang Mai airport. The airport isn't far at all from the city centre, so within 25 minutes you'll be at your hotel or hostel.
At the time of writing the following airlines flying to Chiang Mai from Bangkok.
Don Muang International Airport: Most budget airlines use this airport, including Air Asia (13 daily flights*), Nok Air (8), and Thai Lion Air (8).
Suvarnabhumi International Airport: The main airport of Bangkok, this airport houses two lost-cost airlines, Thai Smile Airways (5 daily flights*) and Thai Vietjet Air (6); and two regular airlines, Bangkok Airways (7) and Thai Airways (5).
Cost:
As always, the downside of traveling by plane is the cost. Airfares vary depending on several factors, including the airline and the time of the year. Tickets promoted by budget airlines can go as low as 1,000 Baht, while the most expensive flights can go as high as 5,000 Baht and beyond.
Duration:
Each direct Bangkok-Chiang Mai flight takes approximately an hour and a half.  But even if you factor in the time that you need to travel to the airport and white for your fly, you will still arrive in Chiang Mai faster than when you board a bus or train.
Tips:
If you are budget conscious then make sure you do some early research and book your flights in advance. Also consider times of the year.
Airfares usually skyrocket on public holidays like Chinese New Year, or if it's high season tourist-wise like in the months of November to February.
If you're flying with a budget carrier, make sure to also check your baggage allowance, as most have baggage restrictions.
2. By Train
If you want a cheaper alternative to planes, board a train from Bangkok to Chiang Mai.
Not surprisingly, trains are very popular with backpackers. Why not though, aside from the cheap tickets, you will get the chance to experience views of the Thai countryside.
Classes and Cost:
Ticket costs vary depending on the class you choose.
You can score second-class fan seats for as low as 800 Baht. Add 200 baht and you can find a second-class seat with AC. If you want to travel in optimum comfort, consider a first-class sleeper which you can get for around 2,000 Baht.
Duration:
Depending on the number of stops the train makes, expect to spend a whole day when you choose to go to Chiang Mai from Bangkok by train.
There are 5 trains per day.Trains depart from Hua Lamphong.
The fastest train departs at 08:30, which takes 11 hours.
The best overnight train departs at 18:10, which takes 13 hours and arrives at 07:15.
Tips:
If you are a good sleeper on airplanes or trains then I would not go for the overnight train. If you're a wherever I lay my hat that's my home type of person, go for it.
Do take plenty of snacks. There will be a vendor roaming up and down selling snacks on the train, but to ensure you have the food you enjoy eating take your own.
You will arrive in Chiang Mai train station, which is just a few kilometers away from the city centre – around 10 minutes drive. You can take a taxi, tuk-tuk, or songthaew to your hotel or hostel.
Make sure to book in advance as tickets in the better classes get sold out pretty quickly.
3. By Bus
The most affordable way to go up north to Chiang Mai from Bangkok is by bus.
Cost:
Bus fares vary depending on the bus type you choose. You can opt for a second-class bus, first-class bus, or a VIP bus.
Second-class: You can get a ticket for as low as 450 Baht. Note, however, that you may be taking a gamble on the AC working.
First-class: Chip in an extra 100 Baht and you'll get a first-class ticket that provides more comfort features (yes, including an AC that REALLY works).
VIP: For maximum comfort, buy a VIP bus ticket for as low as 800 Baht. These buses have more elbow and leg space, seats that recline more, cold AC, and a toilet.
Duration:
Like trains, buses take a while, approximately 9 to 12 hours. It's a full day's worth of traveling.
Tips:
If you have a tablet or computer with the reliable battery, recommend binge watching series or two, and if you can read while on the road, that's a good pastime too.
Staying in Khao San Road is favorable if you want to take a bus to Chiang Mai, as there is a lot of shops that sell tickets there. Ticket prices vary, so it's best to try a few agencies.
Make sure to book at least a day in advance before your trip.
You can also opt to book a Deluxe bus from Mo Chit terminal. These buses offer free snacks.
Lastly, make sure to keep your valuables with you at all times.
4. By Private Car
If you're traveling in a group, say with family or friends, you can rent a car to reach Chiang Mai. The advantage of this is you can leave Bangkok at any time and you will have time on your hands during the trip.
Routes:
There are two routes to choose from:
Route 1:
The first route is shorter, so you will arrive in Chiang Mai that bit quicker.
Go to Nakhon Sawan and turn left to highway number 1. Pass by the provinces of Khamphaeng Phet, Tak, and Lampang, and keep going onto Chiang Mai.
Fancy some pizza? Stop in Lampang and check out the Riverside restaurant.
Route 2:
The second route is longer but will take you through smaller roads via picturesque forests.
Drive up to Nakhon Sawan and take the highway to Phitsanulok (117). And then continue driving to highway 11 until you reach Lampang, then finally Chiang Mai.
If you want some more road trip before going to your final destination (Chiang Mai), you can choose from two alternatives in Phitsanulok:
Turn right towards Phetchabun, the Switzerland of Thailand, so they say, where you can check out resorts with scenic views. You can also visit Khao Koh mountain.
Turn left to visit Sukhothai, a small town popular for its rich history as shown in its parks. You can rent a bicycle and enjoy the sweet old ambience.
Tips:
Make sure you carry your international driving license with you. Don't speed! You will get an on the spot fine if caught.
If you love nature, travel during the day along the scenic route.
If you want a recommendation for a car hire company, I've used Budget a number of times to rent cars in Thailand.
Where to Stay in Chiang Mai?
Chiang Mai used to be super cheap,  popularity continues to grow.
It has become a Mecca for cyclists who enjoy the challenges of huge hills such as Doi Suthep, and for healthy eaters who enjoy the numerous restaurants serving delicious vegetarian/vegan food.
The trekking is good too. See here for trails.
It is always difficult to give examples of prices for hotels and hostels because it depends on the time of year, but on average you're looking at 1,500 Baht+ per night for  The hotel in the city with good access to all local amenities.
Of course there are also many hostels and guesthouses available for travellers, ranging from very budget to a more boutique class.
Do pay that little bit extra to stay within the city walls.
Try to stay within 15 minutes walking distance of Chiang Mai Night Bazaar. Accomodation near Thanon Nimmanhaemin, or east of the Old City in Thanon Tha Phae will be fine.
You don't want to be a few kilometers outside the city because you won't be able to step outside your hotel and walk around the local markets and restaurants, which is one of the most enjoyable things to do in Chang Mai.
Also bear in mind that the city shuts down fairly early. So if you are located a fair way out of the city you need to factor in travel time, and travel costs. Paying to take a taxi or a tuk tuk into the city centre will offset any savings you have made by paying for cheaper accommodation.
Obviously you have hired a car this won't be so much of an issue for you. But for me personally, I prefer to stay closer to the city centre and not have to keep getting in and out of the car.
Getting Around Chiang Mai
And that's a good way to wrap up this article on traveling to Chiang Mai. Once in the city, there are numerous ways to get around.
Bicycles:
The easiest way to get around Chiang Mai is by bicycle. Almost every guesthouse offers bicycle rent for around 50 to 100 Baht per day. Before you go for an adventure in two wheels, make it a habit to check the brakes!
Also bear in mind how hot Thailand can get. It always seems like a good idea to hire a bike in the cooler temperature of the early morning, but by 11 AM, and then into the afternoon, it can get absolutely baking.
You can easily burn while riding a bike, and you will quickly become dehydrated, particularly if you are going on a long ride. If you are not an experienced cyclist or a fit person in general, do not even attempt to try and ride up to Doi Suthep temple, or any other distant, hilly place.
In the cooler months of November, December, January and February, hiring a bike can be quite pleasant –  but even then, Thailand has tropical weather and even when cloudy it can be very humid.
And while we're on weather, try to avoid the burning season because the air pollution can be hazardous.
Motorcycle/Scooter:
If you don't want the extra work that comes with using a bicycle, try renting a scooter or motorcycle. There are plenty of rental shops, and your guest house or hostel may also rent them.
Shops usually ask for your passport as a security deposit; don't worry, as you can get it back without hassle once you return the vehicle. A scooter is a great way to explore Doi Suthep and the entire city, but please do wear a helmet and drive slowly and safely.
If you have never ridden a moped before, then you really should have a day's worth of lessons before doing so.
Some people might say this is over the top and that most people can get on and within 20 so minutes safely drive one around. But personally I'd feel irresponsible suggesting that. If there are two of you and one of you has experience and the other doesn't, then just double up. You'll save money that way, too.
Songthaew:
Directly translated as "two rows", Songthaews are large trucks with benches in the back and are used as a shared taxi.
Songthaews are colour-coded: the red and white ones take you around the city, while the yellows are used to go to some neighboring provinces.
The price of riding a songthaew is generally cheap (15, 20, 30 Baht,  depending on where you want to go), and you can hop on and of as you choose.
Bear in mind that this is the slowest option to get around, because they tend to go all around the houses and travel at a very slow speed. Though I would recommend having a ride, as it can be quite fun to hop on with the locals and just chill out for a while as you snail around the city.
Taxi:
Taxis are plenty in Chiang Mai, but make sure to negotiate with the driver first before starting your trip.  big downside to taxis in China live is that they generally do not use meters. this means you are paying a fixed cost for journeys which can rack up  a fair old bill if you are therefore a few days.
I'd generally try to avoid taxis unless you are desperate for transportation or going to from the airport.
Tuk-Tuk:
Ah, the good old air-polluting tuk-tuk. These motorbike carts are good fun, but many tourists have had negative experiences with being overcharged. I don't want to generalise too much and stain the reputation of all took took drivers, but it really is a numbers game.
When you first arrive, you will most likely overpay on a ride, until you take another one and are charged less,  or speak to someone else who took the same route and paid a lot less. At this point you know the price to negotiate below next time around.
Chiang Mai tuk-tuk drivers tend not to be as unscrupulous as those around the MBK shopping center in Bangkok,  but the likelihood is that the first price you are given will be over what you should be paying.
You should also make it clear that you want to go directly to your destination. Don't be persuaded to visit any seafood restaurants or suit shops. The key is to know exactly where you want to go.
Probably one of the worst things you can do is ask a tuk-tuk driver for a recommendation to a restaurant: You will end being taken to a seafood restaurant where he is given a commission for bringing you in, and then probably being overcharged for the food.
I have been to Chiang Mai numerous times, often staying there for months at a time. I know this city pretty well, and have lost count of the number of times of been up to Doi Suthep. I love the markets, the live music scene, the countryside. It's certainly worth a visit.
From personal experience, I'd say a week is more than enough to pack in a healthy slice of Chiang Mai. In that time you could also visit the elephant sanctuary, and go to Doi Inthanon National Park.
=> Going to Chiang Mai? Visit Pai too
Anyway, the crux of this post is getting there, and there are a number of options.
If you have a question, pop it in the comments and I'll do my best to answer.