While August and September coincide with the rainy season in many parts of Thailand, certain destinations such as Koh Samui, Koh Phangan, Koh Tao, and Hua Hin still provide favorable weather conditions for a summer holiday.
You will likely encounter some rain, but you may get lucky and avoid it altogether. Moreover, the rain seldom lasts for long in these destinations at this time of the year. And, when it does shower, it pleasantly clears the humidity – even if just for a short while.
Why August & September Holidays Are Cheaper in Thailand
Planning a holiday in late August or early September offers big savings on flights and hotel accommodations.
In fact, during a recent comparison, I found that I could save over £3,000 on flights for a family of four, if I took the trip in late August vs mid-July and early August. Flying back in the second week of September saw rates drop by over 50% (on some days).
Several factors contribute to reduced pricing during this period, including the proximity to the rainiest months and the end of the summer vacation season.
1. Off-Peak Season
Late August and early September fall just before the peak of the rainy season in Thailand. Many travelers prefer to avoid the rainy months, resulting in lower demand for flights and accommodations. Though, as mentioned, there are a few places where the rain isn't as intense. We will discuss the reasons why in a moment.
As a result, airlines and hotels tend to offer discounted prices and promotions to attract tourists during this period, making it an opportune time for budget-conscious travelers.
2. Back-to-School
As the summer vacation season comes to an end, families with children start to return home for the start of the new school year. This decrease in tourist activity leads to fewer crowds at popular destinations. The lower demand translates to more affordable prices for flights and accommodations.
For those in the UK, US, and much of Europe, most kids go back to school in the first week of September. This means a family will fly back the week prior. If you fly back after the first week in September, which may mean the kids miss a few days of school, you can secure a much cheaper flight.
3. Competitive Pricing
Airlines and hotels adjust their pricing strategies based on supply and demand. During the late August/early September period, when there is relatively less demand, these establishments tend to offer more competitive rates and special deals to attract customers. This price competition among airlines and hotels can work in favor of travelers, providing opportunities for significant savings.
4. Flexibility in Travel Dates
When planning a trip during late August or early September, flexibility in travel dates can further enhance cost savings. Being open to flying on weekdays or considering alternative departure and arrival dates can potentially lead to better deals and lower fares.
Best Beaches to Visit in Thailand in August & September
As mentioned previously, Ko Samui, Ko Pha Ngan, Ko Tao, and Hua Hin are all good options during these months, based on weather patterns, good beaches, and transportation options from Bangkok.
Note that Hua Hin has lower quality beaches, but there are a few decent spots to be found. Personally, if you're travelling from abroad, and especially if you have kids, I'd go for one of the other options.
At this time of year I wouldn't risk visiting other beach locations such as Phuket, as you are likely to encounter a lot of rain. The reason for this is that Thailand's east and west coasts experience the rainy season at slightly different times due to variations in weather patterns and geographical factors.
Thailand's weather is greatly influenced by the monsoon winds. The southwest monsoon, known as the "wet monsoon," brings moist air from the Indian Ocean towards Thailand, resulting in increased rainfall. However, the timing and intensity of these monsoon winds can differ between the east and west coasts.
The geography of Thailand plays a role in the variation of rainfall patterns. The west coast, including areas like Phuket, faces the Andaman Sea and the Indian Ocean. These coastal regions are more exposed to the southwest monsoon, which brings heavy rainfall between May and October. The mountain ranges in the western part of Thailand also contribute to higher precipitation levels.
On the other hand, the east coast, home to destinations like Koh Samui, faces the Gulf of Thailand. The Gulf is sheltered by the Thai mainland and several offshore islands, resulting in different wind patterns compared to the Andaman Sea. The east coast experiences a milder rainy season with lower rainfall amounts from November to January, while the wettest months are typically from Late September to December.
1. Koh Samui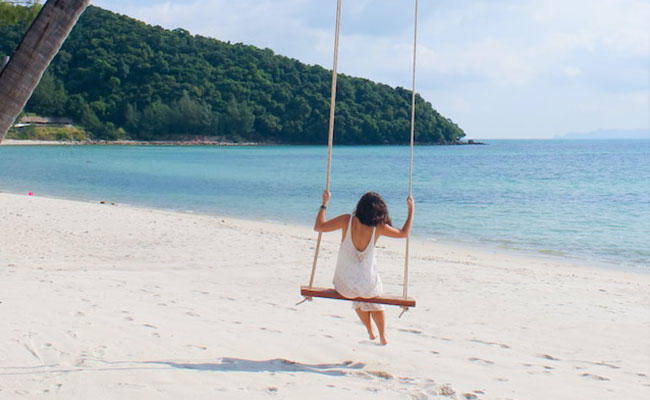 Weather Patterns
During August and September, Koh Samui experiences some rainfall, but the showers are usually short-lived, allowing for plenty of sunshine. Temperatures remain warm and pleasant, ranging from 25°C (77°F) to 32°C (90°F).
Popular Beaches
Chaweng Beach: With its powdery white sands and clear turquoise waters, Chaweng Beach is the most popular and vibrant stretch of shoreline on Koh Samui. It offers a range of water sports activities and a lively nightlife scene.
Lamai Beach: Located south of Chaweng, Lamai Beach provides a more relaxed atmosphere with a beautiful coastline framed by palm trees. It is perfect for sunbathing, swimming, and enjoying tranquil beachside restaurants.
Getting There from Bangkok
Fly from Bangkok to Samui International Airport, which receives regular direct flights from the capital. From there, taxis or hotel transfers can take you to your desired destination on the island.
+ Read things to do in Samui here
2. Koh Phangan
Weather Patterns
August and September witness occasional rainfall on Koh Phangan, but sunny days are still prevalent. Temperatures range from 25°C (77°F) to 31°C (88°F), ensuring a warm and tropical climate.
Popular Beaches
Haad Rin Beach: Known for its vibrant Full Moon Party, Haad Rin Beach offers a lively atmosphere with powdery white sands and crystal-clear waters. Outside of the Full Moon Party period, the beach transforms into a peaceful haven.
Thong Nai Pan Noi Beach: This secluded beach boasts stunning natural beauty, featuring pristine sands, lush greenery, and calm waters. Backed by casual food & drink establishments and shops, it is ideal for those seeking a relaxed, picturesque setting.
Getting There from Bangkok
Travelers can take a flight from Bangkok to Samui International Airport, and then take a taxi to Bangrak Pier. From there, regular ferries or speedboats are available to transport you to Koh Phangan, which takes approximately 30 minutes. There is a desk at Samui airport which can assist you with the transfer.
3. Koh Tao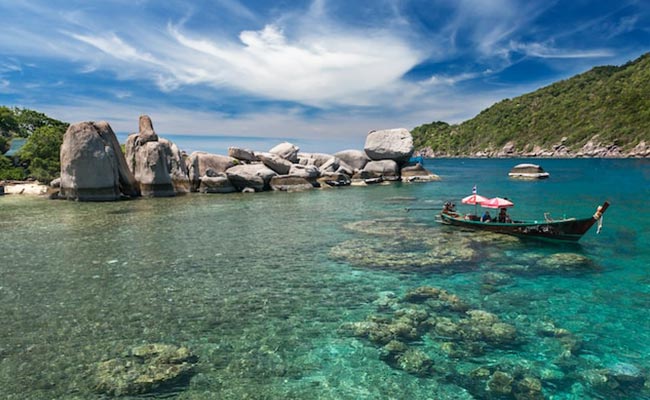 Weather Patterns
Koh Tao experiences minimal rainfall during August and September, making it an excellent destination for sun-seekers. Temperatures range from 25°C (77°F) to 31°C (88°F), creating a pleasant and tropical climate.
Popular Beaches
Sairee Beach: The longest and most popular beach on Koh Tao, Sairee Beach offers stunning views, soft sands, and a vibrant nightlife scene. It is a hub for diving enthusiasts and beachside relaxation.
Freedom Beach: Tucked away in a secluded cove, Freedom Beach is known for its serene and untouched beauty. It offers excellent snorkeling opportunities and a tranquil ambiance.
Getting There from Bangkok
Fly from Bangkok to Samui International Airport and then take a ferry from Bangrak Pier to Ko Tao. Ferry services operate regularly, and the journey takes approximately two hours.
+ Read on transport from Bangkok to Koh Samui
4. Hua Hin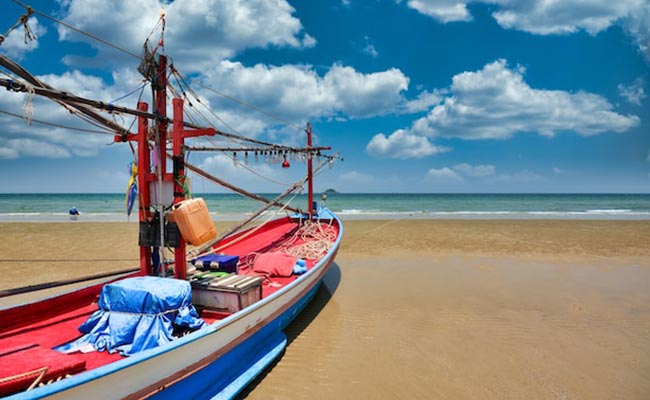 Weather Patterns
August and September mark the rainy season in Hua Hin, but the region still offers pleasant weather conditions with intermittent showers. Temperatures range from 25°C (77°F) to 31°C (88°F).
Popular Beaches
Hua Hin Beach: Stretching for several kilometers, Hua Hin Beach is the main beach in the area, offering soft sands and calm waters. It's a perfect setting for sunbathing and playing on the beach, but it isn't the best water for swimming. Water activities are popular here, think kite surfing and paddle boarding.
Khao Takiab Beach: Located just south of Hua Hin, Khao Takiab Beach offers a serene and relaxed atmosphere. With its golden sands, gentle waves, and the famous "Monkey Mountain" in the backdrop, it provides a unique beach experience.
Getting There from Bangkok
From Bangkok, the most convenient way to reach Hua Hin is by taking a direct train from Hua Lamphong Railway Station. The journey takes around 3-5 hours, if on time! Alternatively, private taxis or buses are also available for transportation to Hua Hin, which take approximately 3 hours.
+ Find out more about Hua Hin here
How to Stay Safe if It Rains
Being outside during monsoon rains in Thailand can pose significant risks. The rain is distinct from typical rainy spells experienced in parts of Europe. You shouldn't worry, but definitely don't stand outside in the rain or walk around the streets.
Here's why:
Flooding
Monsoon rains are characterized by their intensity and the large volume of water they bring. The heavy downpours can result in rapid accumulation of water, leading to flash floods . The sheer force of water during monsoons can cause damage to infrastructure, disrupt transportation, and pose threats to personal safety.
While some areas may experience torrential rainfall, others may receive comparatively lighter showers or remain relatively dry. This non-uniform distribution can lead to localized flooding, with certain areas being more prone to inundation and water-logging. Such conditions can be hazardous for outdoor activities, as even seemingly shallow water can conceal hidden dangers like open drains, debris, or strong currents.
Storms
Monsoon rains often bring with them an increased occurrence of thunderstorms, which can lead to frequent lightning activity. Lightning strikes pose a significant risk, especially in open spaces or near tall objects.  To mitigate the risk of lightning strikes, it is essential to seek shelter in safe, enclosed structures during thunderstorms. Avoid standing under tall trees, near metal objects, or in open spaces.
Electricity
Monsoon rains can also lead to electrical hazards, particularly in urban areas with exposed electrical infrastructure or inadequate maintenance. Flooding and heavy rains may cause damage to electrical systems, leading to exposed wires, malfunctioning equipment, or electrical surges.
To reduce the risk of electrical hazards during monsoons, it is crucial to exercise caution around standing water, as it can conduct electricity. Avoid contact with electrical outlets, exposed wires, or electrical appliances if they are wet or submerged in water. Don't swim a swimming pool during the rain.
Dirty Water
The increased water volume can overwhelm drainage systems, leading to contamination of water sources. Stagnant water provides a breeding ground for mosquitoes and other disease-carrying insects, elevating the risk of vector-borne diseases such as dengue fever and malaria.
In Summary
The rainy season can be very predictable in Thailand, but more than occasionally unpredictable, too. I once visited Railay Beach in Krabi for 4 days during the height of rainy season and had 4 days of sun and pretty much the whole beach to myself!
I wouldn't take a risk on an expensive holiday though, as the rainy season does bring flooding in many places, and rain can be solid for a day or two at a time. However, predictable patterns tend to emerge whereby it rains at a similar time each day, and usually not for long.
Koh Samui, Koh Pha Ngan, Koh Tao, and Hua Hin (not so much a gem for beaches) offer fairly safe bets in August and September, despite the rainy season in other parts of the country.
That being said, do expect some rain. My advice would be to book into a resort at this time of year, so that you have things to do if it does rain for the day. Having a restaurant on site, a bar, a kids club, a gym, etc., will see that you aren't stuck in your room.
Tips to Start Planning Your Trip Now:
Don't Forget Travel Insurance
Travel insurance protects you against illness, injury, theft, and cancellations. I never travel without it. I've been using SafetyWing for years. You should too.