I have always wondered how much the average motorbike taxi worker in Thailand makes per month. If the guys (and one lady) at the top of my road are anything to go by, I'd say a fair packet.
I 'd always been told they have to pay high fees to a "soi boss", which considerably cuts down their takings. Anyway, I was speaking with the coconut shake lady, who, for the sake of clarification is a different lady to the coconut pancake lady you may have heard me mention before, and she explained her husband had recently become a motorbike taxi driver.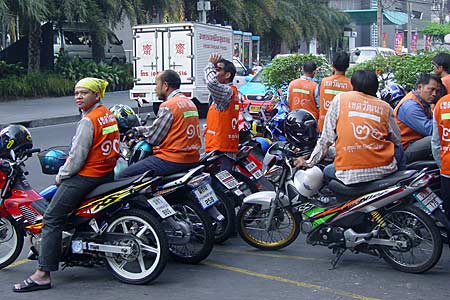 She said the money was great, and even though the profession was considered "low-so", he had given up his previous job because this one had higher financial reward. But, she explained, a position with a good soi (street) isn't easy to  come by, and comes at a price. She explained the employment process like this:
For a busy soi, like the one her husband is working at near the station, positions are rare. Positions are initially bought by drivers when a new rank starts on a road, and when retired, auctioned off to the highest new bidder.
Her husband apparently paid 300,000 Baht to another motorbike taxi guy who was giving up his position. She explained that initially the original owner might have bought the position for as little as 100,000 Baht, but what with all the apartments being built in the area, the value of the job has escalated quickly over 5 or so years.
What I couldn't establish was who originally offers the positions? I mean, when a soi first acquires motorbike taxi drivers, does the first to arrive become the boss and charge others to join the ranks, or do a few guys take control of a soi and then auction positions off? And what are the regulations, if any, for starting a taxi rank in a soi? I also wonder whether the government seeks to take tax from motorbike taxi drivers?
From what the lady told me, once a position has been bought, there is no big boss to pay weekly or policeman to occasionally pay off. She added that her husband can earn upwards of 1,500 Baht on a good day – minus petrol and food costs and that is fairly good salary. I would imagine to get in at a good soi must be pretty hard these days, and one would need the capital to buy a valuable position on a busy street.
The job does carry a fairly high risk of accident and exposure to fumes, not to mention the risk of paying all that money and then being thrown off the soi by the local council, police or any other person in a position of higher power. But if one is lucky, lives economically, and manages to work 25 years, a fair pot could be stashed for retirement to one's province.