At the time of writing there are 104,134 recognised motorcycle taxis in Bangkok, working from nearly 6,000 official pickup spots.
Motorbike taxis are a big part of Thai life and it's a seemingly easy job to get into.
But how much does the average motorbike taxi worker in Thailand make per month? And is it worth it for the return?
It's a tough gig: late nights, early mornings, hazardous roads and high levels of pollution.
I recently read an article where a rider said he earned about 600 baht (£15) a day. Not bad. But I also heard that that they have to pay high fees to a "soi boss", which considerably cuts down their takings.
So how do you become a motorbike taxi, what fees do you have to pay – both legal and to mafia figures- and how much do you earn a month?
Well, I recently got some first hand insight on the industry…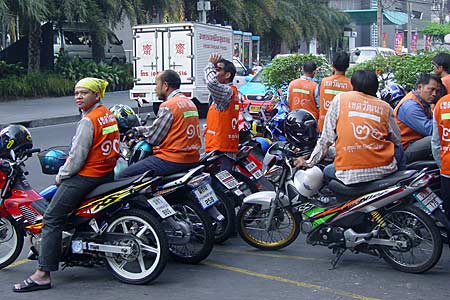 1,500 Baht a Day? No Way!
I was speaking with my coconut shake lady, who, for the sake of clarification is a different lady to the coconut pancake lady you may have heard me mention before.
She explained that her husband had recently become a motorbike taxi driver.
She said the money was great and he could earn up to 1,500 Baht a day!
That's more than the average foreign English teacher working in Thailand.
Hell, that's more than some pretty decent jobs in Thailand: think junior app developer or lawyer, and way more than office or hotel clerical staff.
Most university graduates don't earn over 20k (Baht) until they hit their mid-twenties and over.
She noted that even though the profession was considered "lo-so", he had given up his previous job because this one made more cash. Makes sense.
But, she explained, a position with a good soi (street) isn't easy to come by, and comes at a price.
She broke down the employment process like this:
For a busy street, like the one her husband is working at near the station, positions are rare.
Drivers initially buy positions when a new rank starts on a road. When a position is retired, it is auctioned off to the highest new bidder.
Her husband apparently paid 300,000 Baht to another motorbike taxi guy who was giving up his position.
She explained that initially the original owner might have bought the position for as little as 100,000 Baht, but what with all the apartments being built in the area, the value of the position has escalated quickly over 5 or so years.
So that was her version of how it works, and after doing some research appears she isn't far off.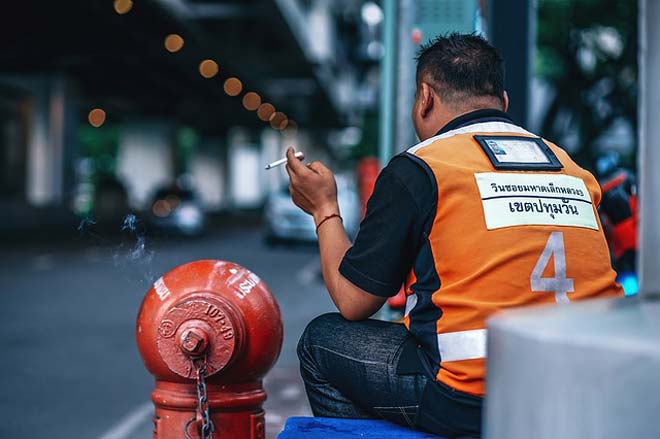 The Legal Way to Become a Motorbike Taxi Driver
After our conversation, I was left with a number of questions:
Who applies for a taxi rank to be started in the first place?
Who assumes responsibility of offering the positions at the taxi rank?
I mean, when a street first acquires motorbike taxi drivers / gets a licence to have a rank, does the first to arrive become the boss and charge others to join the ranks, or do a few guys simply take control of a street and then auction positions off?
And what are the regulations, if any, for starting a taxi rank in a street?
After some research I found out that motorbike taxis have to first register with the Department of Land Transport and obtain a certificate. They are then required to register for a yellow-plated driving licence for public service (1).
At this point a motorbike taxi can technically drive around offering their service to commuters.
However, the problem is that you need to join a taxi rank; otherwise you risk encroaching on the territory of other taxi ranks and risk being beaten up.
We have seen this first hand with the grab a taxi situation. Grab has tried to move into the market, and while they are waiting for official documentation from the government, many of their riders have been attacked.
If you are not attached to a rank, and you have not paid your dues, you are basically alone rider in the wild West.
What also struck me when reading into this is that there are probably a large number of unlicensed motorbike taxis. I would imagine it is also the case that those who are licensed sometimes rent their jacket and bike out to others looking for a job.
You have probably encountered this in taxis in Bangkok: Sometimes you get in and you look at the identification on the dashboard and the person in no way looks like the person who is driving. This is because when the taxi driver wants a day off, or can't work for some reason, he/she can simply sub-rent the taxi.
The Motorbike Taxi Underworld
Taxi rank spots are also supposed to be officially licensed. But this is where there appears to be a disconnect between law and reality.
No profitable taxi rank is going to just allow a rider to join and take a piece of the pie, unless they have so much work that they can't keep up.
So as my informant alluded to: you need to wait for a position in a rank to become available, and the likelihood is that if the rank is a profitable one you will have to pay for that position.
And that's when I came across an article in the Guardian regarding the turf wars between ranks that flared up in early 2019.
Gang mentalities were, he explains, reinforced by unofficial "boss" drivers running the best pickup locations, demanding payments in addition to official city fees to share spots. These costs motivate many drivers to fervently defend their territory, which has no legally binding demarcation (2).
So in addition to the fees you pay to the Department of Land Transport for your certificate, which may or may not be required to be renewed – perhaps someone can enlighten me on that – you will likely have to pay to join a rank, or at the very least pay some kind of on-going fee to a boss, or both!
This is contrary to what my coconut shake lady told me. She said that once a position has been bought, there is no big boss to pay weekly or policeman to occasionally pay off.
I guess different ranks have different rules. Maybe some are truly independent, but I'm willing to bet those that are won't earn you over 200-300 Baht a day. If you want the big paper, you have to pay your dues.
Smash & Grab
As I mentioned previously, Grab Taxi is moving into the market and this has had unforeseen consequences.
Grab probably underestimated the power of the Mafia figures that run the motorbike taxi ranks. They are also operating illegally, which has really rubbed the official taxis up the wrong way (3).
They aren't just going to sit by and let Grab motorbike taxis pickup customers from wherever they want and essentially steal revenue from their ranks.
The Grab workers will have to go the normal route and get licensed, join a rank and pay their dues. Money earned through hail-a-ride apps will be attached to the rank, and the boss will charge a levy at his discretion.
Grab thought it could move into the market and disrupt it by undercutting local operators with short rides for as little as 40 baht (£1). But this isn't London or New York.
What is actually happening is that the market is absorbing Grab and Grab will have to play by the market's rules.
—————-
Being a motorbike taxi can be pretty lucrative for someone with no qualifications and little hope of landing a job for more than 10k a month. But it's a grind. It's a health hazard, and if you come up against another taxi mafia, potentially fatal.
I would imagine to get in at a good rank must be pretty hard these days, and one would need the capital to buy a valuable position on a busy street.