When you  tell a restaurant or vendor that you gin jay, or essentially, eat vegan, Thais will bend over backwards to accommodate your request.
Vegetarians and vegans alike are generally well-accepted in Thailand. This way of living is seen as a compassionate pathway that adheres to purist Buddhist philosophy.
But while admired, in truth it is something most Thais would find very hard to follow — though it has become more popular in recent years, particularly in Bangkok and Chiang Mai.
Why, because Thai people, like the west, have been raised on a meat culture, albeit in generally smaller portions than western countries: you can literally find it hanging from street side vendors on every soi.
From fish balls, to hotdog-fried rice and a surplus of pork sticks, you simply cannot escape the smell of barbecue in Bangkok.
This will not be the case, however, come October 1. So get ready for one of the biggest festivals in Thailand: the Vegetarian Festival, or Tesakan Gin Jay. (เทศกาลกินเจ)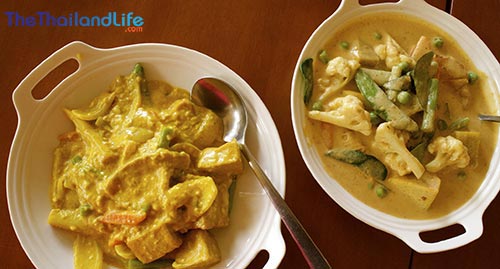 When Is the Thailand Vegetarian Festival?
Every year, the annual Vegetarian Festival returns during the ninth lunar month of the Chinese calendar. This year, the Vegetarian Festival, or the Nine Emperor Gods Festival, will be held Saturday, October 1 and end Sunday, October 9.
This festival is celebrated nationwide, and many provinces pull out all the stops to celebrate this nine-day, meat-free holiday.
What Is the History Behind This Tradition?
The Vegetarian Festival is a religious one that originated in China. It honors the nine Taoist emperor gods. During the Vegetarian Festival, Thai people practice jay, or veganism.
This religious event was first observed in Phuket for the first time some 170 years ago. An opera troupe was working in Phuket to entertain Chinese miners who were working in Kathu, a town in Phuket.
After several months of working, however, the troupe was hit by an epidemic, the theater shut down, and many died.
Superstitions arose, and many thought that they were being punished for not performing religious rites while in Thailand. They then decided to abstain from eating meat and animal oil for a period of nine days and nights.
According to the story, many of those Chinese workers who had fallen ill but later abstained from eating meat got better, and Thai people started to take notice.
From then on, the number of people who participated started to gradually rise, and now, it is one of the biggest festivals in Thailand. Even those Thais who have no Chinese background will be celebrating. This is also a popular festival in Burma, Singapore, and Malaysia, as well.
What Can and Can't Be Eaten During the Festival?
Even though the festival itself is dubbed the Vegetarian Festival, the food that is sold throughout this nine-day festival is strictly vegan, or jay.
Eating jay during this festival is stricter goes beyond just abiding to a vegan diet. Those who participate are not allowed to eat sharp-tasting vegetables, for example, onions. These veggies are said to ignite passion, leading people who eat them towards lustful actions, which would break one of the given rules put in place during the festival.
Other pungent vegetables that those celebrating should abstain from eating include garlic, tobacco, and garlic chives. As is standard for vegans, participating Thais are not allowed to eat milk or eggs.
In addition to not eating meat, those practicing jay must also keep up a high moral standard of living. Those who are devoted to this festival will be seen wearing white and during this time Thais are expected to be mindful of their actions and thoughts, as they attempt to cleanse both their minds and bodies.
Where Can I Join in the Celebrations?
Restricting yourself from eating meat will supposedly help obtain good health and peace of mind. This belief originates from the Chinese community.
It is because of this that the best cities to celebrate this festival are those with the largest Chinese communities.
Some of the best celebrations for the Vegetarian Festival are in provinces such as Trang, Songkhla, and Chonburi. Bangkok and Phuket, however, have the largest celebrations of them all.
Celebrating in Phuket
In Phuket, a sort of face mutilation kick starts the holiday. According to a September 29, 2014 Huffington Post article titled, "The Phuket Vegetarian Festival Reaches New Levels Of Ritualised Body Piercing," one person died and 74 more were injured during Phuket's celebration of this festival. Talk about a party.
The men (and sometimes women, though rarely) who participate in this self-mutilation ritual are said to be mah songs. Mah songs are men who are possessed by gods during the Vegetarian Festival. The god inside the man protects him from feeling any pain, which could explain why it is that so many Thai men are shoving everything from razor blades to fish hooks into their mouths.
Regardless of these seemingly strange and painful traditions, Thais abide by an impressive number of rules that are put in place during the Vegetarian Festival. The rules are as follows:
No killing any living things (and abstain from eating meat products)
No stealing
No lying
No alcohol
No sex or adultery
No gambling
No bedecking jewelry or leather goods
People should preferably wear white during the festival
Women in menstruation or those who are pregnant should abstain from any of the rituals
Kitchen utensils and containers should be kept solely for the festival (no sharing)
There will be fire-walking rituals in Phuket throughout the week. Locals believe that those who have been cleansed will avoid being seriously burned. There will also be chanting and readings, food offerings, worshipping rituals, bladed-ladder climbing rituals, ceremonial bridge-crossings, and fireworks, specifically firecrackers. It is believed that firecrackers welcome the nine-emperor Gods.
If Phuket is your destination of choice for the celebration, be sure to visit any one of its shrines in honor of the celebration. One of the most famous is the Jui Tui Shrine on Ranong Road. Many Thai people will be there to give offerings and pray. Here is a list of alternative shrines you can visit.
Kathu Shrine
Sapam Shrine
Gim Su Ong Shrine
Sheng Leng Tong
Sui Boon Tong Shrine
Bang Liao Shrine
Lim Hu Tai Su Shrine
Jong Nghi Tong (at the Ton Sai Waterfall)
Jeng Ong Shrine
Sam Sae Su Hud Shrine
Getting Your Vegan on in Bangkok
Bangkok is strongly influenced by Chinese immigrants who were in the capital before it was formed. As the new capital underwent construction in the 1780s, many Chinese were hired as laborers.
Eventually, they migrated to today's Chinatown in Bangkok. It is here, specifically on Yaowarat Road, where you will find the best celebrations and activities during the Vegetarian Festival.
This popular foodie road is usually crawling with meat. You will struggle finding anyone selling meat during these nine days, however.
Be on the lookout for yellow flags or signs, proclaiming a restaurant or vendor's meat-free status. There will be a good number of restaurants flying these flags during this festival. There are also a number of different vegetarian and vegan restaurants in Bangkok.
May Veggie Home
Veganarie
May Kaidee
Rasayana Retreat
Dosa King
Broccoli Revolution
Bonita Café and Social Club
Govinda

Eating Chiang Mai Style
If you are in Chiang Mai, the best place to celebrate is at Warorot, the city's oldest market. Chiang Mai is already a haven for vegetarians and vegans alike, with its wide assortment of meat-free restaurants. There will be many more restaurants serving up meat-free dishes this upcoming week.
Carnivores and vegans alike can enjoy the Vegetarian Festival this year. From self-mutilation rituals to great food like Chinese pancakes and traditional fruit-inspired Thai desserts, freshly steamed vegetables and even vegan hot-dogs, the first week of October is sure to delight all those who participate in the festivities.
>> If you are interested in further information on vegan restaurants / foods to buy in supermarkets, check out the Vegan Thailand Facebook page. 
>> You might also appreciate my vegetarian/vegan Thai language guide.