The idea for this post comes as a result of two things:
1. The growing popularity of the Thailand Vegan Facebook page.
2. A chance encounter with some vegans struggling to order food in May Veggie Home, arguably Bangkok's Best Vegan Restaurant.
If you're a vegan or vegetarian travelling in Thailand, then you're going to love this Thai lesson.
These 21 sentences will help you avoid meat and dairy, find vegan and vegetarian restaurants, and let people know why you do not eat animal products.
I've been planning this post for ages, trying to think of the easiest way to present it, and I finally decided on using separate audio files for each sentence.
The reasoning behind this is that if you find yourself ordering food, it would be too time consuming to flick through a video on your phone trying to locate what you want to say.
Download these audio files to your phone, or bookmark this page in your browser for when you need to whip out your phone and play the audio to a restaurant or food stall owner.
I haven't got around to writing the transliterations yet, but I will do that very soon.
By the way, the Thai lady speaking is using "chan" for the word "I". She also says "Ka" at the end of most sentences.
If you are a man, change "chan" to "phom", and "ka" to "khrup". Either way, if you play the stall or restaurant owner the audio, they'll know exactly what you mean.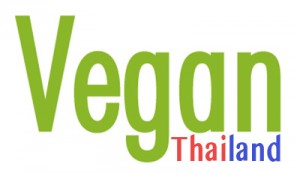 Thai for Vegans & Vegetarians
1. I am a vegan: ฉันทานเจค่ะ
2. I am a vegetarian: ฉันทานมังสวิรัติค่ะ
3. I do not eat meat: ฉันไม่ทานเนื้อสัตว์ค่ะ
4. I do not eat any animal products: ฉันไม่ทานสินค้าที่ผลิตมาจากสัตว์
5. I do not eat eggs: ฉันไม่ทานไข่ไก่ค่ะ
6. I do not drink milk: ฉันไม่ดื่มนมวัวค่ะ
7. No milk please: ฉันไม่ดื่มนมวัวค่ะ
8. No egg please: ไม่ใส่ไข่ไก่ค่ะ
9. No fish sauce please: ไม่ใส่น้ำปลาค่ะ
10. Does this dish have milk in it ?: จานนี้มันมีนมวัวใส่ผสมลงไปด้วยไหมค่ะ
11. Does this dish have egg in it ?: จานนี้มันมีไข่ไก่ใส่ผสมลงไปด้วยไหมค่ะ
12. Does this dish have fish sauce in it ?: จานนี้มันมีน้ำปลาใส่ผสมลงไปด้วยไหมค่ะ
13. Does this dish have meat in it ?: จานนี้มันมีเนื้อสัตว์ใส่ผสมลงไปด้วยไหมค่ะ
14. Does this dish contain any animal products ?: จานนี้ใช้ผลิตภัณฑ์ทดแทนที่ผลิตมาจากสัตว์ไหมค่ะ
15. Do you have any vegan options on the menu ?: คุณมีรายการตัวเลือกต่างๆเกี่ยวกับอาหารเจไหมค่ะ
16. Do you have any vegetarian options on the menu ?: คุณมีรายการตัวเลือกเกี่ยวกับอาหารมังสวิรัติไหมค่ะ
17. Are there any vegan restaurants nearby ?: ร้านอาหารเจแถวนี้มีที่ไหนใกล้เคียงบ้างค่ะ
18. Are there any vegetarian restaurants nearby ?: ร้านอาหารมังสวิรัติแถวนี้มีที่ไหนใกล้เคียงบ้างค่ะ
19. I am vegan because I believe that it is not up to you or me when an animal's life should be ended: ฉันเป็นคนทานเจเพราะฉันเชื่อว่ามันแล้วแต่คุณหรือผม เมื่อสัตว์ที่จะมีชีวิตควรจะให้มันอยู่หรือควรที่จะให้มันตาย
20. I am vegan because I love animals: ฉันทานเจเพราะว่าฉันรักสัตว์
21. I am vegan because it is healthy: ฉันทานมังสวิรัติเพราะว่ามันทำให้ฉันสุขภาพแข็งแรง
I hope you find this useful. If there's any key phrases I've missed, let me know in the comments section and I'll add them in. I'll also get the transliterations up soon.
Tips to Start Planning Your Trip Now:
Book Your Flight
Find a cheap flight to Thailand using Momondo. This is my go-to search engine.
Don't Forget Travel Insurance
Travel insurance protects you against illness, injury, theft, and cancellations. I never travel without it. I've been using World Nomads for 15 years. You should too.