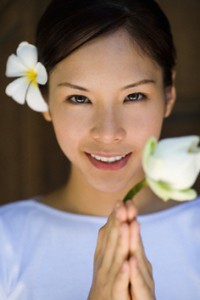 Following on from lesson 1, where I  gave you a set of useful phrases for traveling in Thailand; visiting shops, restaurants and staying in hotels, in this lesson we are going to focus on asking for directions and how to say the names of specific places.
Remember to keep putting the polite "Khrup" (sometimes sounds more like "cup") for a man and "ka" (sounds like "kar") for a woman at the end of your sentences. So for example, "Khun ja pai nai khrup" (where are you going?).
As foreign speakers this is extremely important, not just because it's polite but because it show we are being respectful of the language and learning to speak Thai in a formal, proper manner.
Note that Thai people often shorten sentences, rarely saying all the words. For example, "Khun ja pai nai khrup" (where are you going?) often becomes "Pai nai khrup". As a foreigner, however,  it is better that you get used to forming the whole sentence first, and then once your pronunciation and understanding of the language gets better, you can begin speaking more colloquially. You must still use "khrup/ka", though.
One more note for this lesson, and something a few readers have mentioned, is that Thais often put "na" in front of 'khrup' and 'ka'. For example, "Khop khun mak na khrup" (thank you very much). "Na" sweetens the sentence somewhat, and in many instances offers a more poetic flow. It is generally a way of expressing something in a nicer, more polite way. You don't need to worry about using 'na' at this stage, but I thought I'd point it out as you're bound to come across this soon.
Useful Directions To Know In Thai:
Notes:  Male speakers use Phom ("I"), and female speakers use "chan".  Male speakers use "khrup" at the end of a sentence, and female speakers use "ka".
1. I want to go to Siam Paragon – Phom dong gaan pai Siam Paragon Khrup/ka/ ผมต้องการไปสยามพาราก้อนครับ/ ค่ะ
2. How do I get to the Grand Palace? – Phom ja pai Wat Pra Keow dai yang rai khrup/ka / ผมจะไปวัดพระแก้วได้อย่างไรครับ/ คะ
3. Where is the post office?  – Prai-sanee yuu tee nai khrup/ka / ไปรษณีย์อยู่ที่ไหนครับ/ คะ
4. Where is the toilet? Hong nam yuu tee nai khrup/ka / ห้องน้ำอยู่ที่ไหนครับ/คะ
5. How far is the beach from here? Chai we la gee na tie pai talay  khrup/ka / ใช้เวลากี่นาทีไปทะเลครับ/ คะ
6. Can I walk, or do I need to take a taxi? Phom sa mart dern pai, ruu, chai lot taxi khrup/ka? / ผมสามารถเดินไปหรือใช้รถแท็กซี่ครับ/ คะ
7. Turn left – Leeo sai khrup/ka / เลี้ยวซ้ายครับ/ค่ะ
8. Turn right – leeo kwaa (khrup/ka)  / เลี้ยวขวาครับ/ค่ะ
9. Keep going straight ahead – Drong pai ruay ruay khrup/ka / ตรงไปเรื่อยเรื่อยครับ / ค่ะ
10. Please stop here – Jod tee nee khrup/ka / จอดที่นี่ครับ/ค่ะ
11. Please slow down – Ga-ru-na cha cha noi khrup/ka / กรุณาช้าช้าหน่อยครับ/ค่ะ
12. Please turn around – Ga-ru-na haan lang glap duai khrup/ka / กรุณาหันหลังกลับด้วยครับ/ค่ะ
13. Please reverse – Ga-ru-na toy lang khrup/ka / กรุณาถอยหลังครับ/ค่ะ
14. Be careful! – Ra wang khrup/ka / ระวังครับ/ค่ะ
15. Please pick me up at 7 pm – Ga-ru-na ma rub phom, neung thum drong khrup/ka / กรุณามารับผมหนึ่งทุ่ม ตรงครับ/ค่ะ
Useful Places to Know In Thai:
1. Airport – Sanam bin / สนามบิน
2. Bus station – Sa-tanee rot bus / สถานีรถบัส
3. Railway station – Sa-tanee rot fai / สถานีรถไฟ
4. Police station – Sa-tanee tum rouj / สถานีตำรวจ
5. Hotel – Rong raem / โรงแรม
6. Embassy – Sa-tan tood / สถานทูต
7. Hospital – Rong payabaan / โรงพยาบาล
8. Post office – Prai-sanee / ไปรษณีย์
9. Market – Dtalaad / ตลาด
10. Cinema – Rong nang / โรงหนัง
11. Shopping centre – Hang sappa sin ka / ห้างสรรพสินค้า
12. Beach – Talay / ทะเล
13. Restaurant – Raan ahaan / ร้านอาหาร
14. Swimming Pool – Sra wai nam / สระว่ายน้ำ
15. Gym – Hong ork gam lang gai (Thai people often just say, "fitness", with less emphasis on the "ss" than we would put.  / ห้องออกกำลังกาย
As one of my regular readers pointed out in the comments section of Thai Talk lesson 1, there are 5 tones in the Thai language that assist in defining the meaning of a word, separating it from other similarly spelt or pronounced words.
There are 5 tones to learn, and if you can't read Thai script yet, you won't properly understand how these tones affect the sound of the word. But don't worry for now. Just follow the Thai speaker in the videos I have provided and get used to pronouncing the words like a native speaker. Once you start writing Thai script, everything will soon come together in a a series of many 'lightbulb moments'.
The best advice I can give you is to get out there and start practicing the phrases and words from the lessons I have given so far, and as I always say, Thai people will be more than happy to help you perfect the tone and sound of the phrase/word you are trying to say.
If you haven't done so already, register a free account with ThaiPod101 for some great free audio and video lesson you can learn on the fly.
Now Click here for Thai Talk part 3!