This post is a motivator for you to step up your Thai speaking game, because learning to speak Thai is a game-changer!
So I was thinking: Is it possible to become fluent in Thai in 3-months?
I mean, we know it's possible in other languages,  but Thai is pretty difficult because it doesn't use the alphabet we're used to
But what with online learning programs and videos at our disposal, we can learn a lot in a short space of time.
So I decided to come up with a plan and share it with you, using the resources I have use and still use, and put it into a week-by-week guide designed to fast track your learning of the Thai language.
So, without further ado, here's how you can (maybe) become fluent in Thai in just 3 months…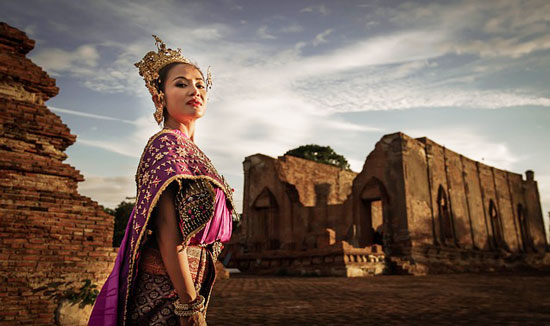 Month 1: Getting to Grips with the Basics
Week 1:
Start with these 3 posts to get reciting some basic but essential, everyday phrases:
Spend the rest of the week practicing these basics with Thai people if you can. If you aren't in Thailand, then practice Thai with this lady on Skype for just $5 for 30-minutes 
Week 2:
Sign up for a FREE Thaipod101 membership and start working on your pronunciation and going beyond "Hello, how are you?" "I'm fine". Read my review of this program here.
Spend the week finding your way around the portal and practicing Thai using the videos, audio and PDF lessons to advance.
Week 3:
Start utilizing YouTube for learning variation. Two of the best teachers I have found are:
Week 4:
Now you've been practicing the YouTube lessons, start introducing yourself to tones.
Thai is a tonal language and words can change meaning depending on the tone. There are 5 tones; low, mid, rising, falling, high.
This is essential to know and you will need a week just on this: Start with this video:
Month 2: The Alphabet, Tones + 100 New Words & Music
Week 1:
Now that you have a basic understanding of tones, you should start learning the alphabet.
Download this easy Thai alphabet system for foreigners.
This week, your time will be split between speaking and writing, but remember the objective is to be fluent speaking in 3 months, and so the writing side of things is just a sideline to give you a better understanding of tones, tone marks and vowel/consonant formation at this point.
Spend the week memorising the 44 consonants and 32 vowels, and learning the tone marks and practicing the tones in that book.
Week 2:
Now it's time to add lots of new words to your vocabulary using my Popular 100 Words Video. You may recognise some of these words from your learning so far, and it's a good sign if you do!
While this is just 100 single words, the idea is that these popular words will help you start putting together your own basic sentences. The translation from the video can be found on this page (with a few corrections).
Week 3:
It's time to go a step further and learn Thai in reverse from an English speaker (Ajarn Adam). He teaches Thai people English on a program called Wink Wink English.
Flipping the table like this will improve your Thai very quickly, particularly your pronunciation.
Check out his YouTube channel: http://www.youtube.com/user/winkwinkenglish
Week 4:
This is a fun part: Use Thai pop songs with English subtitles to advanced your pronunciation and try to sing along with words you've already learned.
I have been using this technique for ages. It's also cool because you become more familiar with Thai artists, which advances your knowledge of Thai popular culture.
Start with these two popular songs:
Month 3: Total immersion – TV/Radio & the Big Test!
Week 1:
This week you will be subjected to Thai soap operas (most foreigners' worst nightmare), Thai music and Thai radio.
Get as much of it as you can. Try to follow conversations and lyrics, picking out the words you know and noting down ones you don't.
If you can't access Thai TV then do so on YouTube, all the series are posted there and there are plenty of Thai songs.
Thai Lakorn (soap operas) are really easy to follow. The actors speak very clearly, and speak central Thai – which is the Thai you want to learn.
You'll find it very easy to pick out common words like "Tammai?" (why?), "man-nee luuk" (come here child), "gin khao luu yang" (have you eaten ye?), "leow jer gaan na khrup" (see you later).
For radio stations see an extensive list here.
Another cool way to get the popular radio stations is if you have an iPod or smartphone. iPods have a radio function that auto-tunes into the local stations. There's free apps too for Android and iPhones.
Listen to talk shows on the radio. Thailand has a bunch of stations that have call-in shows, which provide a great insight as to how Thais converse with each other.
You'll pick up bits of common language like when songs are introduced and when the DJ says the time or comments on the weather.
Week 2:
If you aren't already living in Thailand, then try and plan a holiday for month 3, because in week 2 you won't be speaking any English (or whatever your native language is).
If you can't make it to Thailand, then make a plan to later in the year.
When you do get here though, make sure you avoid solely hanging out in the tourist spots.
Try and go to native Thai restaurants, Thai music bars and local Thai markets. In short, keep it as Thai as possible, so that you are forced to speak Thai.
Speak with as many Thai people in Thai as you can.
Don't be scared! Thai people will happily correct your pronunciation and teach you new words; they will also be elated that a foreigner is making such an effort with the language.
Here's another cool video to help you talk about yourself and others:
When you are in Thailand, take a notebook out and about so that you can write down the phonetic sound of new words you here, and also common public signs that will help improve your Thai alphabet skills.
This is a really useful way to learn because you will pick up slang words (colloquialisms) that Thai people use, which language schools might not teach you.
You will also be very surprised how many new friends you make when they see you making notes and writing down the Thai letters of signs.
Week 3:
Week 3 goes a step further with full immersion.
If you are in Thailand then email home by all means, but try not to call. This week, by all means necessary, you must only speak Thai!
My friend's Greek mother once told me she mastered English quickly because she had no choice. She was sent to a Saturday school where all the "foreign kid"s weren't allowed to talk in their native tongue. It was either say nothing or try to speak English, and that is the rule here too.
If you aren't in Thailand, book a couple of those Skype lessons on Fiver each week that I mentioned earlier on in this post. That way you'll be able to get some regular time speaking with a native Thai.
Week 4:
Yep, 3 months is up already! Now it's time for the The Big Test!
Complete the Following 10 Tasks (in Thai!):
Ask a policeman for directions.
Order a pizza over the phone.
Take a cab and speak Thai, continuing the conversation for the entire length of the journey (regardless of whether the driver is interested in speaking)!
Take the bus and ask the driver to tell you when it is your stop.
Shop in the supermarket and ask questions about price, taste and origin – or anything else you can think of.
Stop a Thai person and ask for the time, comment on the weather and explain that you are learning Thai and want his/her opinion on your efforts.
Tell a Thai friend that they look great today
Go into a bank and change or withdraw money and don't speak in English.
Go to the dentist for a check up and conduct the entire process in Thai.
Order Thai food from a restaurant. First, ask what they recommend, then ask if there are any specials today. Then choose a dish and ask that it be made with no MSG, not too much salt and not too sweet, or whatever your preferences are.
If you made it through that ,you are ready for The Bigger test!
Perhaps the hardest aspect of speaking Thai is phone calls, oh how I dread them.
You can't see the other person's facial expressions and neither do you have hand actions to act as a guide, as you will have found out ordering the Pizza (step 2 above).
So now….
Call Dtac, One2Call, or whoever your Thai mobile network provider is, and DON'T "press 1 for English".
Explain that your phone hasn't been getting a good signal and ask for some recommendations to remedy the problem.
Get through this conversation and I'd say you're on the way to being fluent, or at the very least pretty damn good at speaking Thai!
Want one last test?
Let's see if like Ajarn Adam you are ready for a TV appearance. Can you understand the conversation here?


You Did It! Well, Maybe?
You tried though, so don't stop now!
At the very least I hope this post gave you some helpful learning ideas that will diversify your experience and make learning that little bit more fun.
Some people are awesome at learning languages and pick things up really quickly. For others, like me, it takes a little longer.
Don't compare yourself to others all the time; it will hold you back and create a negative learning experience. Don't criticize others either, instead, help them and where possible learn together.
Hey, even learning two words a day will give you 730 words a year, and that's a lot of words.
Make sure you stick at it, and if you haven't done so already, grab your free Thaipod account here. It's a really useful program that has helped me a ton.