I went to Kata beach first; you can see that review here , and then I went down and shot a video of Karon beach for a comparison.
It's hard to choose between the two as they both provide a beautiful setting, lovely sand, and clean, clear water. As you can see from the picture below, it's a long, smooth, yellow sandy beach with lovely shallow water to bask in.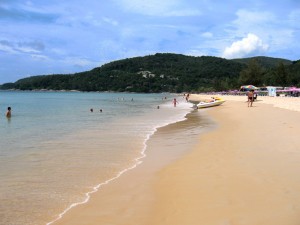 For me Karon edges it slightly over Kata on the basis that the backdrop has more of an island feel to it. Karon beach is about 350m walk from Kata beach, and of course your choice will be based on the location of your hotel. However, they are both certainly worth visiting if you're holidaying in Phuket, and easy enough to get to if you are staying near one or the other.
I have also put some videos up on YouTube of Maya Bay, Phi Phi Don, Monkey Beach and a few other places, so check those out on my channel.