The Pattaya to Hua Hin ferry service officially launched in 2017, and has gone from strength to strength during 2018.
The ferry operates from the Bali Hai Pier in Pattaya, and the Khao Takiab  pier in Hua Hin.
The Pattaya-Hua Hin ferry service is part of the Thai government's East-West Ferry Project, which aims to boost tourism between Chonburi and Prachuap Khiri Khan.
In this post, I provide all the essential details you'll need to use the service, including departure and arrival times, ticket prices, how to book and more!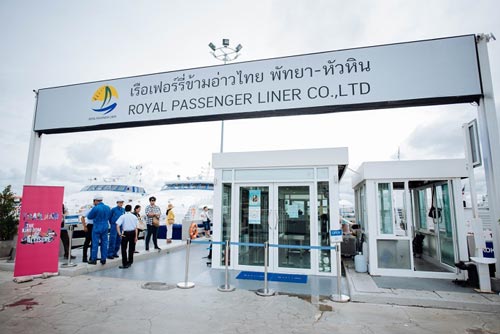 For those who've been to Hua Hin in recent times, you'll know that the pier has recently undergone renovation and is in a much better state than it was a couple of years back. Decrepit is one word I would have used.
This service is being launched following a crackdown on business owners who had set up illegally on the beach at Saphan Pla. On the other side of the water, officials in Pattaya removed speed boats that had operated in Bali Hai Pier for more than a decade.
So, let's get into the details:
1.Who Will Be Operating the Pattaya to Hua Hin Ferry?
The service will be operated by the Royal Passenger Liner Co.
2. How Long Will the Journey Take?
The journey will take approximately 1.5 hours. The ferry service is expected to slash journey times between the two popular resorts by almost two thirds.
However, this is known to be a choppy crossing, so expect it to be longer at times and potentially delays to occur during rainy season. A recent test run took near on 3 hours because of choppy seas.
3. How Much Will the Ferry Cost?
Child (2-12 years):
Economy Class: 950 Baht/Seat
First Class/Business Class: 1,250 Baht
VIP Room (8 persons): 14,000 Baht/Room
Adult:
Economy Class: 1,250 Baht/Seat
First Class/Business Class: 1,550 Baht/Seat
VIP Room (8 persons): 14,000 Baht/Room
4. What Times Will the Ferry Leave?
These are the current departure and arrival times for both ports:
Pattaya > Hua Hin
Departure time: 13.00 PM.
Arrival time: 15.00 PM.
Hua Hin > Pattaya
Departure time: 16.00 PM.
Arrival time: 18.00 PM.
* Please bring your PASSPORT or ID CARD if you are buying tickets on the day. However, it is advisable to pre-book through 12Go.
* Arrival at the pier for check-in at least 45 minutes before actual departure time
5. How Many Passengers Does the Ferry Hold?
The ferry currently has the following capacity:
Economy Class: 1st floor – 286 seats.
Business Class: 2nd floor –  44   seats.
VIP: First Class 2nd floor – 16  seats.
Private room with a capacity of 1 to 8 passengers.
Business class and VIP have more legroom, with larger chairs and a hostess service.
6. Can I Take a Motorbike or Bike on the Ferry?
Only fold-up bikes are allowed. An extra charge of 214 Baht per bike will apply. Motorbikes are not allowed.
7. Can I Take My Pet on Board?
No pets are allowed. No dogs, cats, snakes or any other animals.
8. How Fast Will the Ferry Go?
The ferry will cruise at a speed of around 27 knots during the 113km journey.
 9. What Does the Ferry Look Like?
10. Where Can I Buy Tickets Online?
The cheapest ticket prices are available here,  and will save queuing up, or worse getting turned away from a full ship!
Use the box below to compare the price of tickets for economy and business class, and against other travel options.
11. Does the Ferry Company Have a Website
They do have a website but updates in English are best found on their Facebook page.
You can also contact the company by phone if you have a problem. I have two numbers for them.
Phone 1: 038-488-999
Phone 2: 098-625-9949
The TTL Take…
What are my thoughts on this? This ferry service was long overdue, and can only think it was the illegal businesses on each pier that were stopping this getting going before.
People said it would never be successful, but that hasn't been the case at all.
The ferry has been busy with tours, which have incorporated a trip between the two places as part of their itinerary.
Expats in Pattaya can now take a relaxing break in Hua Hin of a weekend, and those in Hua Hin can opt to leave the quiet life for an "interesting weekend" in Pattaya.
This has naturally had a positive impact on tourism for both sides of the water.
At 2,400 Baht per person for a return ticket it's not cheap compared with a minivan journey that costs 500 Baht. That said, it's arguably safer than a ride in a minivan. It cuts journey time down by a third too.
It's not a trip you'd pay to do on a weekly basis, but as a treat, or as part of a holiday, it's a positive addition to Thailand's tourism industry.