The tiny island of Koh Larn sits in the Gulf of Thailand, about 7.5km from the Pattaya Beach coastline.
Also known as Coral Island, it is the closest island to Bangkok and well worth a visit.
In this post, I'll walk you through everything you need to know to plan your trip
We'll cover how to get to Koh Larn, what the best beaches are, things to do, and where to stay.
Contents:
About
Although just four kilometers long and two kilometers wide, Koh Larn boasts serene white beaches and pristine waters – set against green hills and mountains.
Koh Larn has six main beaches and a number of smaller ones.
Because of its size, it attracts a lot of day tourists who visit to swim, snorkel, or just relax. This means in peak season the main pier areas are very busy.
You'll find all the usual water sport activities such as kayaking and parasailing.
Despite its size, the island is geared up to cater for tourists.
Each beach is equipped with restrooms and showers and plenty of restaurants serving all manner of Thai cuisine.
How to Get to Koh Larn
If you're staying in Bangkok and planning a trip to Koh Larn, you first need to get to make your way down to Pattaya.
From there, most people catch a ferry over.
Bangkok to Pattaya's Bali Hai Pier
I'll assume you're traveling from Bangkok, as this is the most popular route.
It's easiest to take a bus from Eastern Ekamai Bus Station, located just next to Ekamai BTS Skytrain.
Generally, you have two options to choose from – bus or minivan – both of which cost around 150 Baht per person:
Bus
If you have a fair bit of baggage, taking a bus might be more ideal. It's less cramped and therefore more comfortable.
Slower, yes, but travel time is only around two hours anyway, depending on traffic.
Larger buses do not, however, go directly to Bali Hai Pier in Pattaya. Instead, they drop you off at Pattaya bus station.
From there  you will need to look for the songthaew stand next to the bus station and take one to Bali Hai Pier. This costs around 50 Baht.
Minivan
Minivans offer a quicker trip from Bangkok to Pattaya, usually 30 minutes faster than the bus.
Additionally, they will drop you directly at Bali Hai Pier –  if you request so – saving you 50 Baht.
Not much, but possibly enough for a pad Thai at a local food stall.
The Ferry From Bali Hai Pier to Koh Larn
If you are already in Pattaya, you can get to Koh Larn in as little as 15 minutes, depending on whether you take a speed boat or ferry.
Just head down to Bali Hai Pier, which is close to Pattaya's Walking Street:
By speed boat
This is the more expensive yet faster option.
Travel time is 15 minutes each way, and the cost is 300 Baht per person (one-way trip).
If you are traveling with a group, you can rent a speed boat for as little as 2,000 Baht, depending on the boat's size.
Speed boats will take you to Na Baan Pier in Koh Larn.
By ferry
The more affordable mode of transport to Koh Larn is passenger ferry.
A one-way trip costs just 30 Baht.
You have the option to travel to either of the arrival ports on the island: Nabaan Pier in the main village, or Tawaen Beach – Koh Larn's most popular beach.
However, keep in mind that travel time can be as long as 45 minutes.
If you plan to stay on the island for a few days, taking the ferry is probably the better choice, as you aren't pushed for time and have a choice of two docking spots.
At the Bali Hai Pier, the ferry that goes to Na baan Pier is on the right, while the one heading to Tawaen Beach is on the left.
Before boarding, you need to pay the fare at the counter (next to where the ferry is docked).
Ferries to and from Na Baan Pier and Tawaen Beach have different departure and arrival times, so make sure you get a screenshot of the travel schedule for your return journey.
Best Beaches in Koh Larn
Tawaen Beach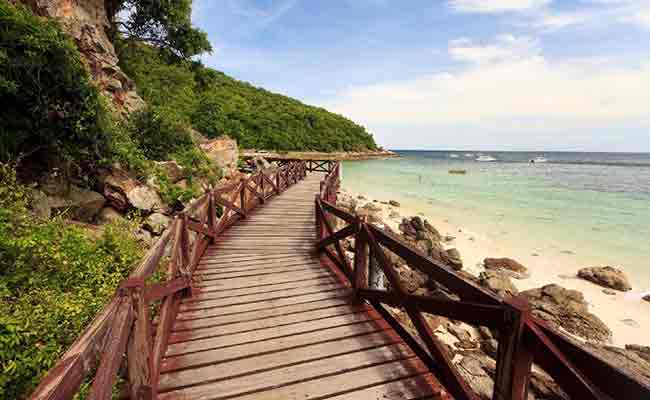 Koh Larn's longest, most popular, and most developed beach is the almost 700-metre Tawaen beach.
It receives approximately 2,500 visitors a day during peak season (higher during weekends and holidays).
Aside from over 20 restaurants serving a range of cuisine, both Western and Asian, you will find souvenir shops and convenience stores close by.
Swimming and other water activities such as snorkeling, boating, and jet skiing are available, so you won't run out of things to do.
The beach itself has a gentle slope, which is perfect for wading, particularly for kids.
If you plan to stay the night close to this beach, it is best to book in advance. This is the main beach on the island and closest to point of arrival, and therefore most likely to be booked up during high season.
The staff working in shops, restaurants, and resorts speak enough English to cater for international visitors, so no worries on that front.
Samae Beach
On the western side of the island is Samae beach, a 530-meter stretch of white sand and clear blue water.
There's an interesting solar panel structure at the far end, as pictured.
Perhaps the best thing about this beach is the gentle breeze that passes through, making it cooler than other on the island.
A motorbike taxi from Na Baan pier to Samae costs around 50 Baht.
There are restaurants here but not as many.
You can rent a beach chair for just 50 to 100 Baht per day. And if you fancy some water activities, there's banana boats, jet skis, and snorkeling on offer.
Tien Beach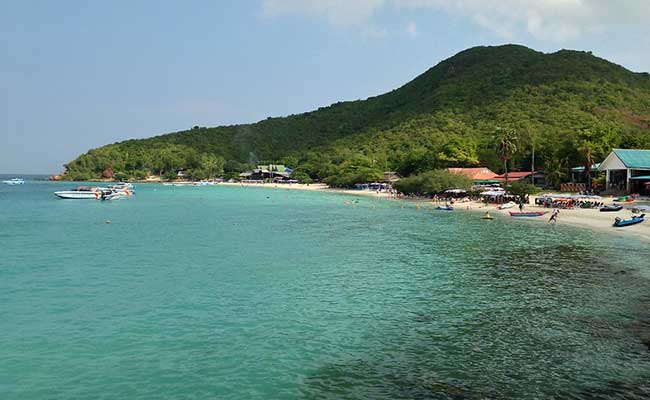 Chasing picturesque views perfect for your blog or Instagram? Then head to Tien beach!
As far as pristine blue waters and white sandy beaches are concerned, this 400-meter stretch bags the crown.
Wait until the sun sets and marvel at magnificent Mother Nature.
There's restaurants and souvenir shops here too, and like the other beaches water activities are available.
A beach chair costs 100 Baht a day, and if you want to stay the night there's a number of resorts.
Tien beach is accessible via speed boat or motorbike taxi from the village.
It's a short 5-minute walk from the taxi drop-off point.
Nual Beach (Monkey Beach)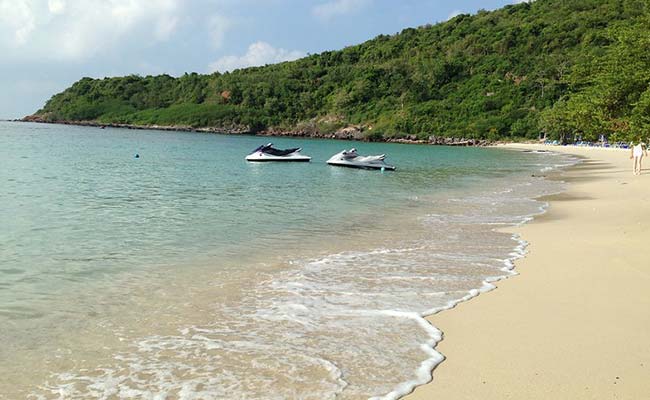 Located on the southernmost part of the island, Nual beach is a charming mid-sized beach.
Nual Beach is unique because of the monkeys that inhabit the hillside behind, thus it's other name, Monkey beach.
You can feed them, but unless you want to be pestered I wouldn't bother.
Nual is generally quieter than the other beaches and perfect for swimming and snorkeling.
The amenities aren't as good as the aforementioned beaches, but you will find food stalls and restaurants and restrooms and showers at this charming spot.
Tonglang Beach
Getting to Tonglang beach used to be a challenging feat, as there were no roads that led to it. The only options were via boat or a hike down a steep path.
Fortunately, a new concrete road now makes the journey faster and safer.
While food and water activities are available, there's no accommodation here – so make a day of it and leave before sundown.
Perfect for a big chill day.
Tayaiy Beach
The smallest beach in Koh Larn, Tayaiy has a modest 140-meter shoreline.
There's just one restaurant and limited accommodation, making it a tad more Robinson Crusoe.
A more minimal scene, this beach has a real island ambience – thanks to the lack of people!
9 Things to Do in Koh Larn
I never get bored of just chilling and looking out at the vastness of the ocean.
But if you fancy doing something more than beach chair and beer, keep boredom at bay with these 10 exciting things to do on Koh Larn.
Parasailing
If you are fond of heart-stopping, adrenaline-inducing activities, parasailing is perfect.
Fly above the blue waters of Koh Larn for as little as 600 Baht per person.
Ride a banana boat
Hop on a banana-shaped boat pulled along a speed boat and hold on for dear life.
Oh, and you can scream your lungs out!
A banana boat ride costs around 300 Baht per person.
Rent a Jet Ski
Jet skiing requires some skill and experience. I personally don't recommend them for newbies, certainly not in Thailand.
Remember, if you damage it, you have to pay.
It costs 1,200 Baht per 30 minutes.
Swimming
It's free, which is always cool.
The clear azure waters of Koh Larn are more than enough to tempt you to dip your toes in.
Couple this with the island's hot weather, and what more do you want in a holiday?
Don't forget your sun cream.
Sea walking
Getting bored with snorkeling ?
Upgrade to underwater sea walking.
Koh Larn is known as Coral Island, so expect to see colorful schools of fish and corals.
Sea walking costs 500 Baht per person.
Roaming the island on motorbike
Aside from its beautiful waters, the Koh Larn landscape is quite something.
Renting a motorbike allows you to go wherever you want and enjoy the picturesque scenery.
Only do this if you have previous riding experience.
A one-day rental will set you back 200-300 Baht.
Shop for gifts and souvenirs
The islands of Thailand often offer up fairly unique gifts for folks back home.
While you have some down time, why not take the opportunity to browse the shops and get some presents.
Souvenir and gift shops can be found at each of the island's main beaches.
Hike the trails of Koh Larn
Koh Larn is a lush green island with various hiking trails that lead to its beaches and hilltops.
If you have the energy to do so, hiking is one of the best ways to explore the island.
Visit the Giant Monk Statue
Ride a songthaew to Buddha Mountain where a giant monk statue can be found. Most islands have one.
It is also the highest point on the island, so ready your eyes and camera for a panoramic view of Tawaen beach.
How to Get Around Koh Larn
Although this is a small island, Koh Larn does have transportation and getting around is easy.
You can choose from the three different modes of transport:
Baht bus
Close to Na Baan pier, approximately 100 meters away, you'll find the Baht busses parked up.
Once you get there, just ask for the bus headed to the beach you want to visit.
Note that the bus does not leave the terminal unless full.
There are also Baht busses on standby at the beaches for return journeys.
Motorbike taxi
Motorbike taxis wait at the Na Baan pier.
They usually carry a map of the island, with each place tagged with the relevant fare.
The fares are charged per person.
Some motorbike taxis also offer an island tour, which costs around 400 Baht.
As long as you don't get a stinky driver it might be a good way to see the island.
Motorbike rental
If you do not want to spend money on coming and going from beaches and want to come and go as you please, renting a motorbike is ideal.
If you're a first timer, you may want to seek some instruction first. Accidents do happen and will happen if you aren't careful.
Wear a helmet and drive slowly.
As mentioned previously, bikes can be rented for 200-300 Baht per day.
Where to Stay on Koh Larn
I wouldn't worry too much about location, since getting to all the beaches and the town is fairly easy from anywhere, and you'll never be more than a 2km walk from a beach.
Just make sure you aren't staying near a rubbish tip. And if you're a bad sleeper find somewhere away from bars and the main piers.
The accommodation on Koh Larn isn't upmarket, but there's some clean, modern, and very reasonably priced places.
Here's a few picks for you:
1. Suntosa Resort (from $60 per night)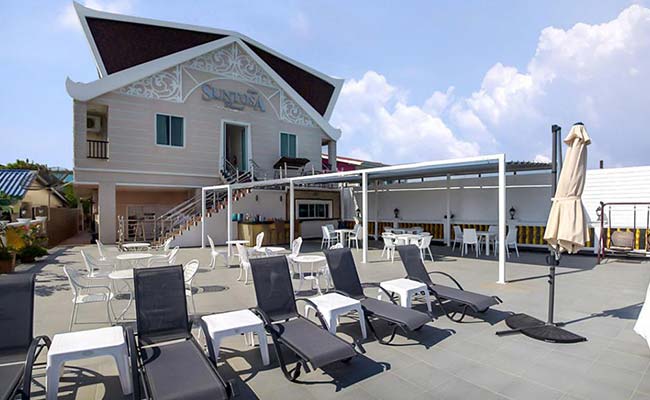 Near to Na Baan pier, Suntosa features 10 guest rooms, most of which include an LCD/plasma screen TV.
Free Wi-Fi in all rooms, Wi-Fi in public areas, room service, restaurant, and laundry service
It's really easy to get from here to  Tawaen Beach.
2. Check-In-Resort (from $50 per night)
Free Wi-Fi in all rooms, 24-hour security, daily housekeeping, shuttle service, and free motorbike hire  (with a full tank of gasoline).
1.2 Km from Tawaen Beach.
Definitely check this place out.
3. Lareena Resort (from $40 per night)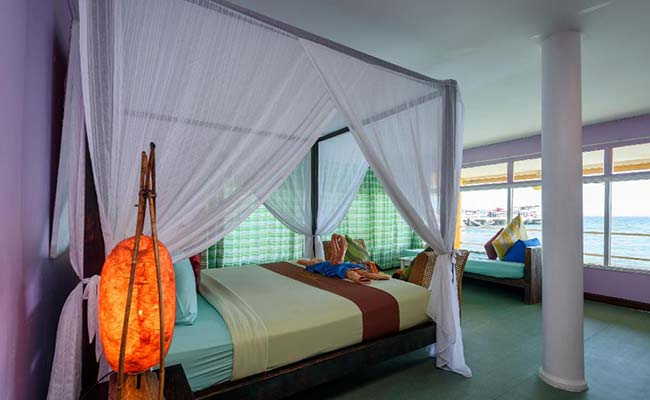 Next to Na Baan pier and the always convenient 7-11 store, Lareena is hugely popular.
You can walk to the beach (900 meters), or rent a bike just next to hotel. Great views too.
The only downside is it is quite near the pier, meaning you will hear a few boat honks here and there.
> Click to see these resorts & more
———–

Tips to Start Planning Your Trip Now:
Don't Forget Travel Insurance
Travel insurance is essential. I never travel without this peace of mind. I've been using World Nomads for 15 years.
Book Your Flight
Find a cheap flight to Thailand using Momondo. This is my go-to comparison site.