Located in the mountains of northern Laos, Luang Prabang is nestled between the Mekong and Nam Khan rivers and reaches 700 meters above sea level.
It was the ancient capital of Laos, until 1545 before it was relocated to Vientiane, and largely acts as the country's cultural capital.
It boasts over 30 ornate Buddhist temples, in addition to a variety of gorgeous natural sights that include waterfalls, hills, forests and limestone caves.
Tourism is the backbone of this somewhat sleepy town, so you may end up paying a bit more for activities and services. But you don't need a big budget, believe me – just chilling out by the Meekong and strolling around for a few days is wonderful in itself.
In 1995, the town was designated as a UNESCO World Heritage Site due to its storied French colonial history. This set about preserving and enhancing historic architecture, and raising the city's international profile.
Many of the temples in the area date back to the 16th century and are important hallmarks of Laotian Buddhism.
It is a popular backpacker destination, but don't expect boozy bars and clubs; this is more a place travellers come to chill out after a spell of late nights, diving and trekking in Southern Thailand.
Things close up pretty early in Luang Prabang, with the only nightlife being a bowling alley that brings together foreigners and locals in a bowling-cum-disco setting.
There are a few spots to join young Laoation people dancing to Mor Lam and Thai pop songs, but as the main town shuts down around 10pm (after the night market), you will probably find yourself enjoying a Beer Laos outside your guesthouse and turning in early.
This way you can wake up early to witness the monks pass through the streets collecting offerings from locals and tourists 🙂
My advice is visit during its dry season, from November to May. Stay near the night market and you will be a stone's throw from the epic Mekong River that winds down through the valleys, carving up the jungle and playing host to wading fisherman casting chained nets into its waters.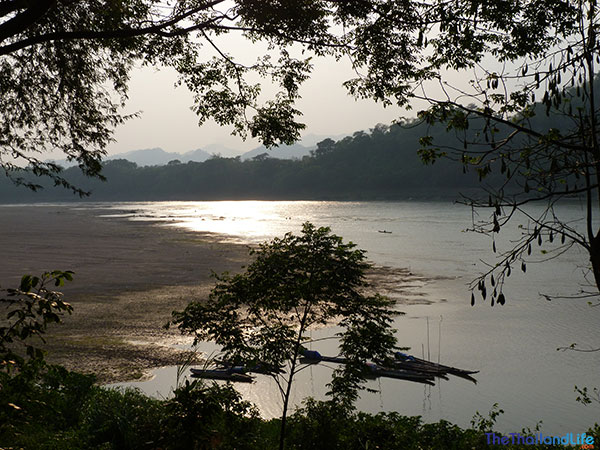 If you're looking to visit the ancient Laotian city, here are 15 of the best things to do in this tiny, cultural town.
The food is very good in Luang Prabang, but if I had to recommend one place it would be the Saffron Coffee shop. You will find an abundance of baguettes and cakes everywhere, a timeless sign of French colonial rule.
If you speak a bit of Thai you can get by bartering in the market and speaking with shop staff, and if you speak Thai-Isaan you will have a considerable advantage as the two dialects are closely related.
However, don't expect the overly open-armed welcome you're used to in Thailand; people are more reserved here and don't seem overly bothered by the tourist presence.
Anyway, here's my top picks of things to do in this quaint town.
15 Things to Do in Luang Prabang
I apologize in advance for the some of the not so great video footage. It was from 2012 on an old camera but it still captures some of the essence.
1. Climb Mount Phousi
Mount Phousi is located in the center of the town, so it's hard to miss. It's not exactly a short walk either- the hill sports 355 steps that visitors must climb to see the incredible views of the valley below, the surrounding mountains, and the Mekong.
Be sure to visit the tiny temple at the top of the hill, and try to coordinate your visit with either the rising or setting sun- it's a view you won't soon forget.

2. Visit the Royal Palace Museum
Also known as Haw Kham, Luang Prabang's Royal Palace Museum is the place if you are interested in the history and culture of Laos. The exhibits date back several hundred years, documenting the colonial era of Laos, up until the present day.
Though the Royal Palace was initial the living quarters of the sitting king, it has since been transformed to suit a variety of purposes, including the quarters for a communist regime some years ago.
3. Purchase at the Night Market
Luang Prabang's extensive and beautiful night market is the perfect place for you to browse and purchase at their own leisure.
Yes, bartering is still part of the equation, but the experience is much less stressful than in other, larger Southeast Asian cities. Explore local, quality-made goods and purchase what you will!
4. Visit the Kuang Si Waterfalls
Kuang Si might just be the most incredible sight in all of Luang Prabang. The series of waterfalls are hidden deep in the jungle-like hills of Laos. What makes this series of falls unique is its turquoise, emerald color.
In some locations, visitors can even swim in the crisp, fresh water. Hikers can even scale the sides of the falls- keep an eye out for monks who regularly make the pilgrimage up and down to different prayer locations.
5. Visit the Pak Ou Caves
Take a trip along the Mekong to the Pak Ou Caves, which are nearly 25 km upstream. You'll experience all that the Mekong has to offer, including amazing views and sights of local agricultural families at work.
The Pak Ou Caves is one of the most holy sites in Laos- the caves themselves (Tham Ting and Tham Theung) are home to over 4,000 Buddha relics, many of them carved out of wood. The relics are hundreds of years old and the caves have acted as a place of worship for thousands of years.
6. Visit the Bear Rescue Center
Located on the same site as the Kuang Si waterfalls, the Bear Rescue Center is an excellent place to learn about the plight of the Asiatic Black Bear, a species which has- for years- been poached in Laos and Southeast Asia.
Walk through the rescue center, observe the rescued bears, and learn about how organizations are working to stop the illegal wildlife market that threatens many species.
7. Take a Trip on the Mekong
Though one way to reach Luang Prabang is by slow boat, a pleasure ride on the Mekong is a great way to spend a sunny afternoon. Take a traditional boat, kick back, buy a beer and enjoy the ride.
You'll be able to see an abundance of fisherman, farmers and other boats. The Mekong also offers great opportunities for visitors to oogle the natural wonders of Laos.

8. Attend Tak Bat
Though it's one ritual that will require an early wakeup call, Tak Bat is an ancient alms-giving ceremony that is not to be missed. The Buddhist monks of Laos walk the main street each morning before their morning prayers and are given food, alms and flowers by the local people as a form of support.
The ritual is largely silent, but powerful as it stresses the symbiosis between the Laotian people and the monks.
9. Monk Chats
Who better to seek advice from than a monk? In many of the temples in Laos, monks will open the doors to inquisitive travelers and will host informal, educational and conversational sessions where visitors can ask questions at will.
It's a great way to connect with a local Laotian and an opportunity for them to practice speaking conversational English.
10. Walk the Bamboo Bridge
Crossing the Nam Khan River without a boat seems difficult, but during the dry season (from November to May), the residents of Luang Prabang construct an intricate Bamboo Bridge that spans the width of the river.
The bridge is rebuilt every single year because the rising water levels from monsoon rains wash it away. There is a small fee to cross, but it's quite the experience as the bamboo is rickety and the bridge is built high over the water. Here is how I got on…

11. Make a Laotian Meal
Take a tuk tuk through the emerald mountains of Luang Prabang to Tamarind, which is a Laotian cooking school in the hills. The experience is holistic- visitors are encouraged to purchase ingredients from local markets and are taught about the intricacies of Laotian cuisine.
Over the course of a day, visitors will learn how to make traditional dishes like Nam Khao, Bamboo and Yanang Soup and Tum Mark Hoong.
12. Attend the Morning Market
Want to experience the real Luang Prabang? Get up early enough, and you can! Make your way to the walking street and you'll find that the morning market extends to small alleyways around the city.
There, you'll find Laotian locals shopping for the day's food and you'll be able to pick and choose your choice of produce, meats or other local goods. For culinary obsessed travelers, this is a must-see!
13. Visit Wat Xiang Thong
This is Luang Prabang's most intricate temple and is absolutely worth a visit- it is also the region's best known monastery. The interior is home to one of the most beautiful mosaics that portrays a giant 'tree of life.'
The temple also houses several impressive Buddhas, including one rare reclining Buddha. Visitors who arrive at the temple before mid morning will be rewarded by few crowds and the opportunity to take pictures of the gorgeous interior.
14. Do Some Yoga
Visitors tired out by their stay in Luang Prabang should consider partaking in a yoga class or retreat, some of which are held along the river to provide guests with the most stunning and relaxing views.
Luang Prabang is the most serene location for visitors looking to escape from the bustle of the rest of Southeast Asia, and a yoga retreat is the perfect way to round out a trip to this Laotian city.
15. Visit the Traditional Arts and Ethnology Center
Explore more of Laotian culture by visiting the Arts and Ethnology Center, which permanently showcases exhibits of Laos' major ethnic minority groups. Exhibits include religious artifacts, handicrafts, traditional tools, and clothing. There is no better way to explore and celebrate the intricacy, richness and beauty of Laotian culture.
How to Get to Luang Prabang
Reaching Luang Prabang from Vientiane is not difficult. Flying is the best way, by Air Asia or Laos Airlines or Bangkok Airways.
Another popular way to reach Luang Prabang is by slow-boat, which could take up to three days. The fast-boats are not considered a safe or viable option for travelers. Accommodations can generally arrange bus or boat tickets.
I assume you might be coming in from Thailand, as Laos is usually where people visit after Thailand. This can be done via plane (the easiest, fastest route) or by bus or boat. Buses from Bangkok and Chiang Mai can be taken to Chiang Khong, a popular crossing location.
From there, a minibus can take visitors over the border into Laos. Though the trip may be long, it will certainly be eventful!
From Vientiane. the bus takes 13 hours. So you could go Bangkok to Vientiane, stay there, and then take the bus to Luang Prabang. Long but cheap!
Where to Stay in Luang Prabang
Accommodation wise, anything between $25-40 will be adequate. $60 upwards will secure more luxurious accommodation. Of course, there are hostels too for $8-$15 per night.
There are a couple of fancy hotels but most places are guesthouse style, beautifully presented in precious woods. I stayed in the Le Sen Boutique Hotel.
It was really cosy with a nice hot shower and breakfast included. You'll love it there.