The state run Transport Company has opened up a new bus line from Bangkok to Laos. The service will provide a direct run from Bangkok to Vientiane, and from Bangkok to Pakse in Laos.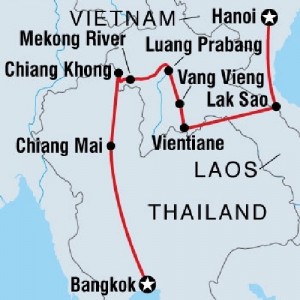 Each destination will be served by one bus a day, and the one-way fare costs 900 Baht per ticket. The bus is air conditioned and will take 11 hours to Vientiane and 13 hours to Pakse.
This is great news for travelers and expats alike, providing a cheap visa run option (see my alternative option here) for long stayers and a great way to get between the two countries for backpackers. Although the journey is pretty long, passengers will be able to sleep through the night, with the bus to Vientiane leaving at 8pm, and the bus to Pakse at 9pm. As with the majority of routes the buses will depart from Mo Chit bus station.
The move comes as part of an initiative to open up transport links between the two countries, and to provide a direct service from Bangkok to Laos in addition to buses already running from Chiang Mai to Luang Prabang and Khon Kaen to Vientiane.
The Transport company doubts the move will impact the low cost airlines such as Nok Air, who offer a fly n' ride (plane and bus) service to Vientiane for around 1,500 Baht, and say that "the move is likely to encourage more Thais and foreigners to make trips between the countries." (Projected figures are a further 200,000 per year using the intra-country service).
Additional routes are being planned for Cambodia and Myanmar.