You can take the bus from Bangkok to Laos with ease, and directly too.
The service runs from Bangkok to Vientiane, and is operated by Transport Co Intl, based at Mochit Bus Terminal.
The bus departs daily at 8pm, and reaches Talat Sao bus station in Vientiane by 7am the next morning.
If you are planning on going to the Thai consulate in Vientiane to apply for a visa, this bus is a good way to get to the consulate in time to complete your application process in a day. Personally, I'd stay over for a night as this is a delightful little town.
Check out this hotel after you are done sorting your tickets.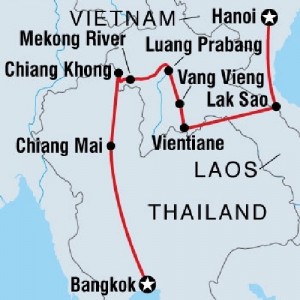 How Much Does the Bus From Bangkok to Laos Cost?
Tickets cost THB1,000. Consider that this is around 1/3 more than the non-direct route, which is to Nong Khai and then by bus to Vientiane from the Nong Khai bus terminal.
That said, the advantage is a direct route without the hassle of having to wait at Nong Khai for another bus.
What Type of Bus Will I Travel On?
The bus is a standard VIP bus with four seats per row. I have to say, some of the buses look a bit old, so don't expect first class. That said, most of these buses look the same on all routes.
It's not the prettiest of transport, but it's a cost effective way to get to Laos.
Will I Get Food & Drink On the Bus?
The bus stops several times at large gas stations. These have food courts and 7-Elevens to make sure you are watered and fed.
Snacks and water are served on board too; you even get a dinner of curry and rice. My tip is to always take your own snacks and water. Take nuts and fruit to munch on.
What is the Timetable Like?
Below is a table of times available to book now. As you can see, departures are in the evening, which is good in a way as you can sleep and won't waste the daytime traveling.
Clicking on the image will take you to more information.
How to Take The Indirect Bus Route (Via Nong Khai)
I recommend paying the extra for the direct route, but if you are looking to save a few hundred Baht you can take this one.
As mentioned previously, you can take the bus from Bangkok to Nong Khai and then from there to Vientiane. Buses for Nong Khai depart regularly from the northern bus terminal at Morchit.
The average journey is 9-10 hours, and the cost is 500-600 Baht.
The downside is that when you get to Nong Khai you will need to get off and take the international bus to Vientiane.
The departures times are as follows:
7.30am
9.30am
12.40pm
2.30pm
3.30pm
6pm
The price is 60 Baht. You buy your ticket there and then at the station.
To get to the border you will need to take a tuk-tuk to the border for around 60 Baht, then get the shuttle bus over the bridge to the other side of the border, which costs 50 Baht. You then need to get a Tuk Tuk or taxi into Vientiane.
How to Book Your Bus Tickets to Laos
You can book tickets prior to your journey from 12go Thailand. It's really easy.
Once you have booked, make sure you arrive 30 minutes before your departure. If you are traveling from Mochit, go to the MRT subway station Khampaeng Phet and then take a taxi which will be less than 50 Baht.
Once there, find the ticket counter or ask at the info box on the ground floor.
Your check-in point will be the northern bus terminal on the first floor. You can go to any counter of the 999 Transport Co. bus company.
This Bangkok to Laos bus route is great for travelers and expats alike, providing a cheap visa run option for long stayers and a great way to get between the two countries for backpackers.
Although the journey is pretty long, if you plan your trip right you can sleep through the night.
If you want to fly instead, you might like to check out this page.