Nestled in the Marine National Park of the eastern Gulf of Thailand, Koh Mak is a small tropical island in Trat province.
Situated just 20 kilometers south of Koh Chang, this quiet haven is just 16 km2, which makes small enough to explore by foot and easy enough to travel across by bike or moped.
In recent years, this once well-kept secret has attracted an increasing amount of tourists and local holidaymakers, but the the laid-back atmosphere and beauty still remains.
While not as popular as Koh Samui or Phi Phi, Koh Mak is regarded as Thailand's family island, as it makes for the perfect family getaway.
As with many other Thai islands, Koh Mak boasts clear blue waters and white sand, but what really sets it apart is its community vibe and lack of development.
Compared with the likes of Phuket, Koh Phangan, and Samui, Koh Mak is still relatively unknown, and the growth of this spectacular island has been slow compared to nearby Koh Chang.
Development is limited to a relatively small number of resorts, guesthouses, and small restaurants. Pleasingly, the island isn't overrun with touts and tour packages, and at times you may find you have an entire beach to yourself.
In this post I'll give you my insider tips on the best beaches, the best places to stay, and cover the best things to do on Koh Mak.
6 Best Beaches on Koh Mak
Koh Mak has two main beaches, Ao Kao and Suan Yai, but a little exploration will uncover a handful of others that most visitors miss.
Probably the best thing about each, aside from their pristine waters and white sand, is that they are rarely busy.
All year-round, Koh Mak beaches treat you to a peaceful holiday – yes, even during peak season.
Additionally, since the island is shaped like a star, you can enjoy the sunset in a different location each night.
1. Ao Kao
Of all the beaches on this beautiful island, Ao Kao is the most active and lively – and even that's not very busy at all.
The sand here is lush; as soft as a baby's bottom.
Here you'll find the majority of accommodation, including Ao Kao Resort, Baan Koh Mak, Koh Mak Cottage, Lazy Day Resort, Makathanee Resort, Monkey Island, and Palm Beach.
Aside from the resorts, numerous small restaurants and shops dwell along the main road offering all the usual Thai food and souvenirs.
Ao Kao is simply delightful, but there's more treats in store.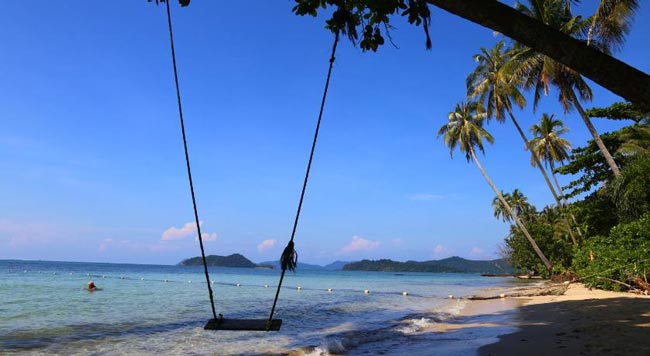 2. Ao Suan Yai
Found on the island's northwest shore, Ao Suan Yai is the other "main" beach on Koh Mak.
Ao Suan offers a long stretch of white powdery sand and a stunning view of Koh Kham.
Koh Mak Resort and Seavana Resort occupy half of the beach, and the other half is home to a more budget resort, Suchanaree Resort, and an almost century-old wooden house of one of the families that founded Koh Mak.
Ao Suan Yai is also the entry and exit point for boats from other islands and the mainland.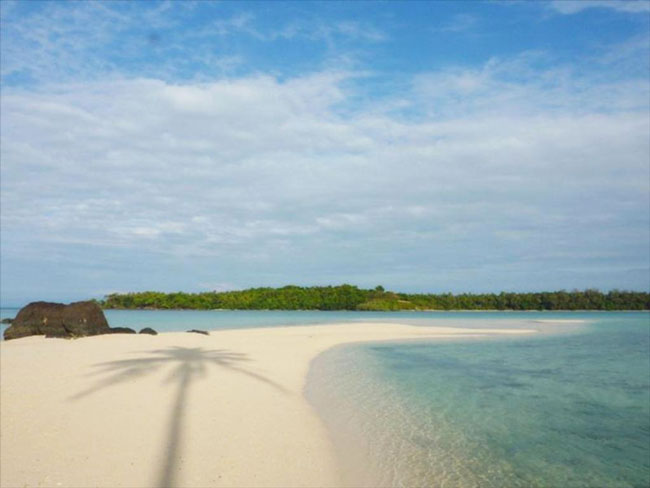 3. Ao Pra
Ao Pra is usually deserted, except for a few locals casting their fishing rods.
The eastern point of Ao Suan Yai extends to Ao Pra and it takes approximately 10 minutes to walk from Ao Suan Yai.
This beach is a shallow bay of clear blue waters, making it perfect for afternoon wading. You can eat there too, at the one small restaurant that adorns the shoreline.
Ao Pra also houses Mira Montra Resort, one of Koh Mak's newest boutique resorts.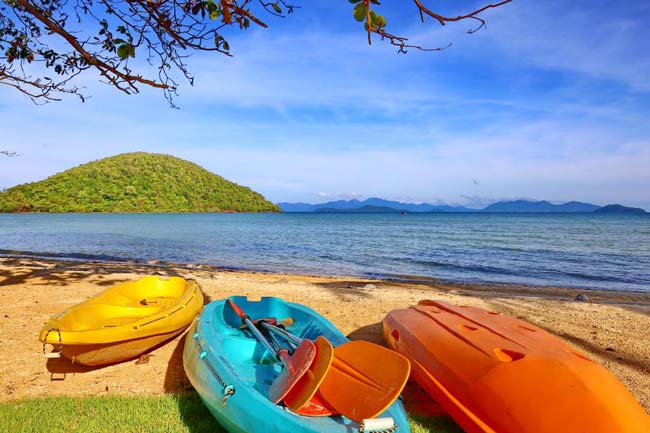 4. Ao Tao Khai
Extending from the northern side of Ao Suan Yai is a small beach called Ao Tao Khai. This beach is a former nesting site for sea turtles.
From Ao Suan Yai, you can reach Aao Tao Khai by walking through the coconut trees or riding your moped or bike along the dirt tracks through coconut fields and rubber plantations.
Take your camera to snap some spectacular views!
5. Ao Kra Tueng
This stretch of sand found on the southwest shore of Koh Mak is home to a number of resorts, including Big Easy Resort, Kham Nature Resort, Koh Mak Holiday Beach Resort, and Sky Beach Resort.
A typical tropical beach with all the trimmings, the low tide stretches out the shallows and makes it perfect for paddling. There's also a jetty in the middle of the beach, which can be used as a vantage point for taking pictures.
6. Ao Tan and Ao Talong
On the northeastern shore of the island you'll find two beaches – Ao Tan and Ao Talong.
The sand here is darker and the shore is lined with more mangroves than the other beaches, making it a little less desirable than other parts of the island.
That said, there are a couple of resorts here, namely Green View Resort with simple huts, and Cinnamon Art Resort for more luxury accommodation.
Bear in mind that the island is small, so if you find cheaper accommodation near one of the not-so-amazing beaches you will easily be able to travel to another.
The video above was shot in January and May.
How to Get to Koh Mak
Koh Mak is approximately 300 kilometers away from Bangkok and 40 kilometers from Trat mainland.
To get to the island from the mainland, you will need to take a speedboat from Krom Luang Pier in Laem Ngop.
Several boat operators offer service between the mainland and Koh Mak, but not all of them use the same piers – so always check the pier closest to your accommodation. Just ask the hotel you book with.
A one-way ticket costs 450 Baht for what is usually a 45-minute trip, and travel times are usually 10:30 AM to 4 PM, daily.
Making a reservation is recommended, as seats are limited.
Bangkok to Koh Mak
If you are going to Koh Mak from Bangkok, you can choose from the following transport options:
1. By Plane
Flying is the fastest way to reach Koh Mak. Check the website of Bangkok Airways for flights to Trat.
Travel time is approximately 1 hour. From Trat airport, hail a cab to Laem Ngop pier, then take a speedboat from there.
2. By Bus
If you are traveling on a budget, consider taking a bus to Laem Ngop pier from either Ekkamai bus station of the Suvarnabhumi Bus Terminal.
It isn't actually that much of a bad trip. Once you've had a sleep, listened to an audio book and had a munch, you're almost there.
From Ekamai Station in Bangkok (BTS Ekamai):
Ticket cost: 261 Baht
Travel time: rougly 6 hours
Departure from Bangkok: 7:45 AM
Departure to Bangkok: 12:30 PM, 2 PM, 3 PM
From Suvarnabhumi Bus Terminal
Ticket cost: 261 Baht
Travel time: more or less 6 hours
Departure from Bangkok: 8:15 AM
Departure to Trat: 6:40 AM, 10:10 AM, 11:40 AM, 1:10 PM, 4:10 PM, 6:10 PM
3. By Private Minibus or Van
A more comfortable transport option is private limousine or min-van.
Travel time usually takes 4.5 hours, and the price depends on the rented vehicle. Generally you are looking at 4,500 Baht for a 3-person car and 5,000 Baht for a 5-person minibus.
Check out ticket prices for various modes of transport below:
Best Time to Visit Koh Mak
Temperatures are warm year-round on Koh Mak and there's certainly no cold weather. However, the best time to visit is between December to March.
Here's a rundown of the seasons on Koh Mak:
December to March: Peak season – dry and sunny
April to November: Okay to visit, might see a couple of showers.
May to October: Rainy season, not advisable but you could take a chance and get an incredible hotel deal.
Where to Stay on Koh Mak
Koh Mak offers a fair variety of accommodation, ranging from high-end resorts to budget hostels.
It is usually possible to book on arrival but for the best deals book online.
If visiting during peak season you should definitely book beforehand.
Luxury Resorts
1. Seavana Koh Mak Beach Resort
Location: Ao Suan Yai (beachfront)
Rate per night: from 3,900 Baht
Facilities: pool, bar, massage, WiFi
2. Mira Montra Resort Koh Mak
Location: Ao Phra
Rate per night: from 4,000 Baht
Facilities: private modern villas, pool, clubhouse, WiFi, outdoor rain shower
3. Ao Kao White Sand Beach Resort
Location: Ao Kao (beachfront)
Rate per night: from as 3,300 Baht
Facilities: tropical bungalows, WiFi, pool, garden, bar, restaurant
4. Koh Mak Resort
Location: Ao Suan Yai
Rate per night: from 3,100 Baht
Facilities: pool, massage, restaurant, bar, safety deposit box, balcony/terrace
5. Islanda Resort Hotel
Location: Ao Suan Yai
Rate per night: from 3,600 Baht
Facilities: infinity pool, pool bar, garden grill bar, spa, WiFi, open-air terraced restaurant, private balcony
Mid-range Accommodation
1. Lazy Day The Resort
Location: Ao Khao
Rate per night: from 3,000 Baht
Facilities: restaurant, WiFi, bar, massage, balcony
2. Good Time Resort
Location: between Ao Suan Yai and Ao Kao
Rate per night: from 3,800 Baht
Facilities: tennis court, fitness centre, private terrace, restaurant, outdoor gym, massage, WiFi
Budget Accommodation
1. Bamboo Hideaway
Location: Ao Pai
Rate per night: from 900 Baht
Facilities: bamboo bungalows, pool, restaurant, WiFi
2. Ao Pong Resort
Location: Ao Nid pier (beachfront)
Rate per night: from 1,000 Baht
Facilities: balcony, WiFi, restaurant, bar, massage
3. Banana Sunset Bar and Bungalows
Location: Ao Kao
Rate per night: from 1,500 Baht
Facilities: pet-friendly, WiFi, free transfer from pier, balcony, restaurant with live music
4. Monkey Island Resort Koh Mak
Location: Ao Suan Yai (beachfront)
Rate per night: from 500 Baht
Facilities: bar, restaurant, sun terrace
How to Get Around
Getting around Koh Mak is easy.
Rent a bike or moped (ask your accommodation if they offer rentals) and you are already halfway to exploring the whole island.
A motorbike usually costs 250 Baht for an entire day.
Taxis are available on the island for 50 Baht per person, but unfortunately the places they can go are limited due to lack of road access. Please note that public transport is not available.
Other Important Tips
Here's some tips on facilities and other important things to note.
Don't rely on the ATM: There is one ATM on the island and it has been known to be out of cash or offline – so bring enough cash with you for your stay. You can exchange foreign cash in some big resorts.
No 7/11s and supermarkets: There are some small shops that offer basics like sunblock, toothpaste, and snacks, but no 7/11 or big supermarket.
Be aware of jellyfish: Warmer waters are ideal for jellyfish so just be aware that it is a possibility. Resorts and locals usually warn tourists if one has been spotted, particularly the box jellyfish. Always carry a small bottle of vinegar with you when going to the beach in case of a sting.
Watch out for sandflies: Another problem on tropical islands such as Koh Mak is sandflies. These nasty insects bite the skin, leaving itchy marks that can last for four days or more. If you are bitten, immediately apply tiger balm on the area.
Riding around the island: Getting about is easy because the island is mostly flat. However it always pays to carry a map and compass, or both on your phone.
10 Best Things to Do On Koh Mak
Koh Mak is a small island but there are a number of things to do. Here's 10!
1. Paddle in glass-bottom kayaks
What's more fun than kayaking? Kayaking with glass-bottom kayaks!
Enjoy the clear waters of Koh Mak as you paddle along with the sunrise or sunset as your backdrop. Ask your resort or accommodation if they have kayaks for rent.
2. Visit the white-sand beaches
Obvious, maybe, but many visitors stick to Ao Kao and miss the glory of the others. It's best to rent a moped and do a beach or two a day, depending on how long you're there for.
3. Learn to dive
Koh Mak offers diving lessons for relatively extra affordable rates. You can enrol at any of its three diving schools, BB Divers, Koh Mak Divers, and Paradise Divers and become a PADI-certified diver. These schools also offer snorkeling services.
4. Go snorkeling
If diving is a bit too involved, snorkeling is a less complicated option. You can either join a snorkeling tour or bring your own snorkel set with you.
Kayaking and snorkeling is a fun combo; just ask your accommodation or the locals where the best snorkeling spots are.
5. Enjoy sunset at Banana Sunset Bar
True to its name, Banana Sunset Bar has one of the best views of the sun setting over the sea.
Grab a drink and some snacks and indulge in the peaceful atmosphere of the bar as you marvel at nature's wonders.
6. Hit some walking trails
Nature lovers will love Koh Mak's forests and coastlines.
By following bicycle paths and walking trails, you can visit several places, such as the oldest house and the original fishing communities Laem Son, and Laem Tookata.
Koh Mak doesn't do traffic, so make the most of it!
7. Take a cooking class
Smile Koh Mak Cooking School offers cooking classes for small groups (maximum of 4 persons). Thai food is awesome, so why not learn how to cook your favorites so you can make them when you go back home.
8. Visit the Buddhist temple
Overlooking Ao Nid Bay and occupied bt several monks, the small Buddhist temple on the island is the central point for the community.
You might notice that the golden statue of Buddha has a more feminine touch. This is because the wife of the island's founder supported the temple's construction.
9. Visit The Kingdom of Somchai's Affection
The Kingdom of Somchai's Affection is not your typical garden of statues. The style of art on display here is quite unique to the artist, Khun Somchai. Take a stroll around the garden and see (or gasp!) at the erotic statues.
This exhibition is suggested for those 18 years +.
10. Muay Thai training
The Hongthong Muay Thai Gym, popular in Bangkok and Chiang Mai, also has a branch on Koh Mak. It's located beside Coco Café at the top of Ao Kao Resort road.
Depending on the package you want, prices range from as low as 400 Baht to 24,000 Baht.
Tips to Start Planning Your Trip Now:
Don't Forget Travel Insurance
Travel insurance protects you against illness, injury, theft, and cancellations. I never travel without it. I've been using World Nomads for 15 years. You should too.
Book Your Flight
Find a cheap flight to Thailand using Momondo. This is my go-to search engine.
Other Beach Options?
Check out Railay Beach for another awesome short break on a lovely beach.