Whether traveling on a holiday or making a more permanent move, you'll want to know where to get the best exchange rates in Thailand.
Over time, a good exchange rate can amount to big savings, which is money you can use to enjoy yourself or invest for a rainy day.
When planning your trip, you'll need to consider a number of questions relating to money exchange:
Should I travel with cash to Thailand and how much?
Is it wise to withdraw from local ATMs using my credit or debit card?
Should I exchange at a bank branch or a money exchange kiosk?
Is it sensible to change money at the airport, or should I travel into town?
Are online transfer services a good option if I have access to a Thai bank account?
In this post I'll answer these questions for you, and help ensure you don't make rookie mistakes that will end up racking up heavy fees.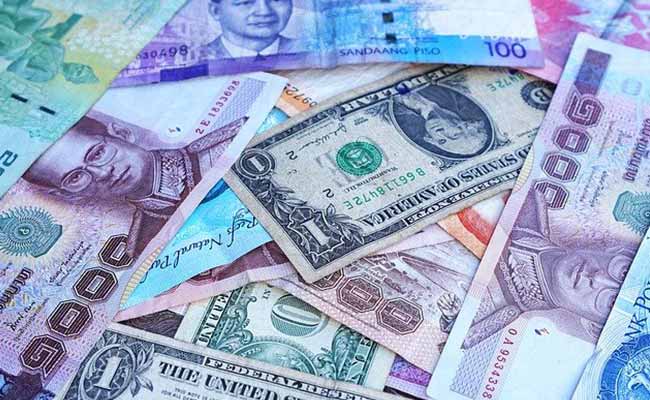 Carrying Cash into Thailand
Thailand is generally a safe country. However, being a tourist in any country of the world can make you a target for petty thieves, especially if you are wearing expensive jewelry or carrying a lot of cash.
If you're an expat, then you already know this, but for those making their first trip to Thailand it's important to note that pickpockets and bag snatchers are opportunists and tend to operate in tourist hotspots.
The easiest way to avoid these risks is to not make yourself a target.
When carrying a lot of cash around, which isn't advisable anyway, avoid nightlife areas and touristy markets. If you have money to exchange, do it in the daytime so that you don't find yourself carrying the cash around in bars, clubs and night markets.
Don't carry money in a backpack that can be unzipped from behind, or a bag that can be ripped from your shoulder. Wear a money belt or bag that straps across the front and can be worn inside (concealed) clothing.
Public taxis are not a risk in terms of being robbed, but if you are arriving with a large amount of cash you might consider taking a private car from the airport to your hotel.
This will save you waiting around in the public taxi queue and, if for some reason you did forget your bag in the car, you'd have more chance of getting it back from a private chauffeur.
Best Currency Exchange Rates
Where major currencies like USD, GBP, EUR, AUS and CAD are concerned, you will get a good exchange rate on your cash in Thailand.
For these currencies, it pays to bring in cash over using ATMs. Having cash will enable you to use a low-cost exchange service like Super Rich or the others listed later in this guide.
That being said, if you're from a country with a less popular currency, it is advisable to exchange your money into US Dollars before you arrive. You can then exchange the USD for Baht once you're in Thailand.
The reason for this is that USD exchange rates tend to be far more favorable than less popular currencies. You will get more Baht for your USD than you would for your local currency.
The same is true when leaving Thailand. You should exchange your Baht into your home currency, or you could change it back to USD and then change the USD in your home country – if your home country has a favorable buy-sell spread.
Declaring Cash at Thai Customs
If you bring more than $15,000 (or the equivalent in any other foreign currency) into Thailand you are legally required to declare it. This rule applies to both air and land borders.
It's not against the law to bring in more than $15,000, but an immigration officer will ask you questions about where the money came from and what you intend to do with it.
This amount should be more than enough for a 30-day holiday. Personally I don't advise bringing that much in cash, but some may be confident enough to do so. Cash certainly does help avoid card and ATM fees.
The Golden Rule of Money Exchange
Always change your money in Thailand and never in your home country. This is the golden rule.
While it is tempting to be super organized and get your Thai Baht from a local bank weeks before your holiday, it is by far the most expensive way.
You stand to lose around 5% to 10% when changing your local currency to Baht in your home country.
You will get the best rate when you exchange your money in Thailand. However, as previously noted, you may not want to carry a large amount of cash on your person.
If you're an expat and have a Thai bank account, or have a partner with an account, you have the option of an online transfer.
Wise is the fastest and cheapest way to send money to Thailand.
Credit Cards
Credit card transactions are generally not advisable, unless you have a card that offers favorable or free international transactions.
If you purchase something on your credit card, you'll pay more in exchange rate fees than on an ATM withdrawal. The rate is usually between 2–2.5%.
This will equate to a $25 fee on a $1000 purchase. On top of that, you will pay interest on your credit card balance, if you don't clear it on a monthly basis.
When you use a credit card for a purchase, you may be given the option to pay in Baht or your local currency. Always choose Baht, otherwise the exchange rate fee could be as much as 5%. Some businesses may just go right ahead and charge you in your home currency, without asking first.
How to Avoid Credit Card Fees in Thailand
A useful tip is to book your accommodation before you travel. That way you won't need to use your card to pay directly at hotels, or withdraw cash on your card inside Thailand and pay heavy fees.
Moreover, the best deals on hotels are available online anyway, saving you more money.
You can of course book accommodation online once inside Thailand, but use a VPN (Virtual Private Network) to switch your location to your home country so that you can pay in your local currency.
Traveler's Checks
Traveler's checks were once a go-to method of saving on fees and exchange rates, and a safer way to carry money. However, the fee for a cashing a traveler's check in Thailand is 153 Baht, making this method somewhat expensive.
Exchange rates on traveler's checks are usually worse than exchanging cash at a bank or kiosk. Siam Commercial Bank (SCB) is the only exception to this.
SCB offers a marginally better rate for traveler's checks than cash. However, you'll be better off finding a bank that exchanges cash at a better rate – see below.
Bank-Owned Exchange Kiosks
Bank-owned exchange counters are available at airports and all over the tourist areas of Thailand. You'll likely pay a higher exchange fee at these counters than if you go directly to the bank.
The exchange rates are similar to what a credit card company will apply for a transaction or withdrawal in foreign currency, but with no additional fees.
The bank exchange desks are reasonable but I recommend changing just small amounts of money.
You can also visit a commercial bank branch and exchange money. Using banks directly will give you better exchange rates than using an ATM.
Below is the fee charged for three of the major banks.
Bank Exchange Fees:
Bangkok Bank – 0.87%
Kasikorn Bank – 0.97%
Siam Commercial Bank – 1.05%
At a USD exchange rate of 33 Baht to 1 USD, here's how those rates work out on $1000.
Bangkok Bank: 32,710
Kasikorn Bank: 32,680
Siam Commercial Bank: 32,650 Baht
Many bank branches also offer a cash advance or cash withdrawal on your debit card, and some don't charge an additional fee, so you'll pay only your bank's fees.
You will need your passport to complete this transaction. This may work out cheaper than using an ATM to withdraw money, depending on your home bank's fees.
That said, DO NOT do this with your credit card, as you'll have to pay the withdrawal and cash advance fees, which will be very costly.
Using ATMs in Thailand
ATMs are the obvious choice for withdrawing cash, especially when you're short on a night out. I have a Thai bank account, and you should get one too if you are an expat or regular traveler, as this will save you money.
However, ATMs in Thailand charge 220 Baht per withdrawal (on foreign cards). And then you need to factor in your bank's charges.
You could end up paying $10-20 per withdrawal, which will stack up to a heavy amount of cash by the end of your holiday.
Again, although not the best in terms of risk, bringing cash with you to exchange is the most favorable option. And changing that cash at an independent kiosk usually works out best.
Independent Money Exchange Kiosks
Money exchange kiosks offer better rates than banks and can save you over 90% on exchange fees and cost you as little as 0.05% of the transaction amount.
When changing USD to Baht, the best rate is given for $50 or $100 bills. Smaller bills get slightly lower rates.
Generally speaking, the condition of the bills doesn't need to be perfect. Some countries are very strict about this, but in Thailand a few creases here and there isn't a problem.
Below is a list of money exchange kiosks in Thailand.
The difference in rates is small and the one you use will likely boil down to convenience. However, Super Rich tends to offer the best rate and has become very popular in recent years. They have a number of kiosks at malls and stations in Bangkok.
The best rates are found at their main branches, mostly located in central Bangkok (I have linked locations to the main branches below).
However, unless you are exchanging over $1ok, using one of their smaller out of town branches won't make much difference.
You will need your passport to complete a transaction. A Thai driver's license, if you have one, will also suffice at most branches.
Online Money Transfers
As discussed earlier in the article, if you have a Thai bank account or know someone who does, you can transfer money from your home country to Thailand and avoid bank fees and inflated exchange rates.
If you use Transferwise, for example, using today's rate you'll get 32,845 Baht for a $1,000 transfer. This beats all the money exchange methods above, except Super Rich.
Again, it's a toss up between carrying cash around and visiting exchanges and having the convenience of a one-time transfer that then allows you to withdraw in local currency.
In Summary
So, what have we learned about getting the best exchange rates in Thailand?
Here's a recap:
Carrying cash into the country and exchanging it at a kiosk like Super Rich will give you the best exchange. Bring in USD in $100 bills if possible. Higher denomination notes for GBP and AUD and EUR are advisable for better exchange rates too. You must declare anything over $15,000 when entering the country.
Online transfers to a Thai bank account are very cost effective too.
Exchanging at bank branches rather than their kiosks offers a moderately better exchange.
ATMs are generally a bad idea unless you have a local debit card (Thai bank account)
Because I live in Thailand, I personally do a combination of things.
When I travel back to Thailand, I travel with a sensible amount of cash, usually under £500-1,000. If possible, I wait for a favorable exchange rate before changing this up.
I generally use Wise to send money to my Thai Bank account when required and then withdraw from an ATM using my Thai bank card.
I also have a debit card that permits free foreign transactions, which is handy. I pay for that benefit though as part of a monthly package with my bank, which also provides phone insurance, etc.
I seldom change a large amount of cash at a kiosk, so I don't stress too much about which one I use. If I do use one it's usually to change up some spare GBP when on a domestic holiday.
Let's face it, if you're on holiday you don't want to be running around haggling over a Dollar or two when you could be enjoying yourself.
——
More Financial Planning Tips
Need life insurance, pension or investment advice?
+ Connect with my trusted personal IFA using this form
Got medical insurance yet?
+ You should have. Get a quote on international cover here.
Thinking about buying property?
+ Read this guide before you make a decision